Bayeux Tapestry, Kent and a diplomatic gift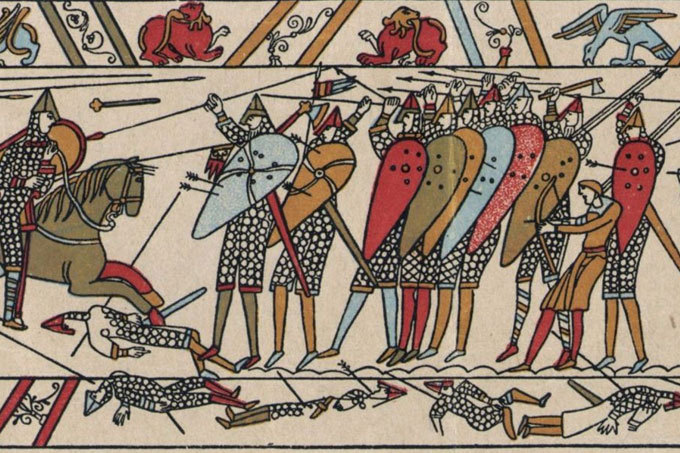 Dr Leonie Hicks explores the Bayeux Tapestry's Kent connections and diplomatic gifts.
The Bayeux Tapestry is in the news again following President Macron's suggestion it could be loaned for exhibition in the UK, providing it isn't too fragile to move.
It is one of the most significant works of art from the eleventh century. Most likely commissioned by William the Conqueror's half-brother Odo, Bishop of Bayeux, it tells the story of the events leading up to the battle of Hastings in 1066. We see Harold's ill-fated trip to Normandy, his swearing allegiance to William on holy relics, preparations for the invasion and the battle itself. It is, at times, a moving reminder of the brutality of war.
The Tapestry (actually an embroidery in wool on linen measuring 70mx0.5m) has a Kent connection. Following the conquest, Odo was given the Earldom of Kent. Current historical scholarship suggests the artefact was designed and made at St Augustine's Abbey in Canterbury by a team of embroiderers. It largely shows a Norman perspective, but with elements commemorating the memory of people associated with the monastic community. The Tapestry's design may well have been influenced by the artwork in manuscripts created at and held in Canterbury.
President Macron's gesture is significant as the Tapestry has never returned to these shores and it is part of our shared European heritage. Macron's actions also fit into a long-established tradition of the loan or gift of precious objects in political diplomacy. But the French President will be expecting something in return.
The Bayeux Museum is planning to construct a new exhibition for the Tapestry in order to display it more effectively. This will allow conservators to stabilise it and scholars to undertake detailed study. Loaning the object to the UK would provide one solution for what to do with it while its home is under reconstruction. It presents a unique opportunity to display the Tapestry alongside comparable artefacts and manuscripts from the eleventh century.
Such loans or gifts are not without financial consequences for the recipients. King Louis IX of France presented King Henry III with an elephant in 1254. The English king then had to cover the expense of transporting the beast back home, and subsequently for its housing and maintenance. The Tapestry, should it come, will also need to be transported, housed and maintained in carefully controlled conditions, but unlike the elephant, it will be returned to France.
Dr Leonie Hicks is Senior Lecturer in History in the School of Humanities.
Canterbury Christ Church University occupies part of St Augustine's Abbey, within the Canterbury UNESCO World Heritage Site, where the Bayeux Tapestry may have been created.