My life right now feels like a constant juggling act. Round and round spin the ever-increasing plates of family, friends and work. And I'm notoriously clumsy. So it's inevitable that, sooner or later, something (or everything) will come crashing down.
I'm trying really hard to be the best I can be. The best wife and mother. The best daughter, sister, friend and colleague. I'm attempting to do my best work and still make time for myself.
I'm not trying to be superwoman. I know I'm never going to achieve the same levels of performance I would under "normal" circumstances. I know I'm doing really well given my personal and professional circumstances. And it isn't just my own inner cheerleader telling me I'm doing a good job – my manager, colleagues, friends and family are also telling me so.
But, despite this, I still feel pushed and pulled in all different directions. There's that other, inner critic voice, whispering… "You could have done x better", "You've not yet done x", "Yes – you've ticked x off your list, but look at all the things you still have to do".
And this is pressure I am piling on myself. It can be a vicious cycle and, if I'm not careful, I could spiral down into a place I don't want to be. I know I must ensure I'm keeping on top of my mental health and wellbeing. This is where the Wheel of Life comes in.
I was first introduced to the Wheel of Life last year, when I took part in the Creating My Personal Mosaic workshop. This simple model really resonated for me and I started to use it to help me 'check-in' with my life.
It's simple: You have a wheel, segmented into 8. Each line of the segment represents a 0-10 scale, 0 being at the centre of the wheel and 10 at the circumference (you can number the lines if you want). Around the wheel, list 8 areas in your life that matter to you. This can be anything you want. Then reflect on each area and mark the corresponding line against how well you feel you are addressing that area – 0 being not well and 10 being brilliantly well. Then, join the marks together.
You'll end up with a diagram that reflects your life in that moment and you will be able to clearly see those areas you feel are being addressed better than others.
At the moment I find myself doing this exercise every week or so. I just scribble out a quick Wheel of Life on a post-it and pop it up where I can see it.
I find it's really helping me see whether I'm getting the balance right across those areas that matter to me. But it isn't just enough to know where the scales are tipping in the wrong direction – I have to actually do something to address it. Even the seemingly smallest of actions can help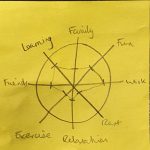 For example, I've noticed that not being able to go to the gym means exercise has taken a hit in my life right now. So I've set myself a manageable goal to use my screen break time to run up and down my stairs as many times as I can and end my day with some yoga before bed.
The Wheel of Life model has really helped me feel a bit more in control of all those spinning plates. They're not gone, and the odd one (or two) may fall – but I have a tool to support me so I don't feel overwhelmed and am reassured that, when things start to shift out of balance, I can notice it in time to fix it.
This year's Mosaic cohort are meeting today. I'm excited to hear if others also found the Wheel of Life model as useful as I do and how it's benefited them. After all:
There are many spokes on the wheel of life. First, we're here to explore new possibilities

Ray Charles
Zoe Connell, Organisational and People Development