The Mental Health Foundation is supporting this year's World Mental Health day with their Tea and Talk campaign. It's an opportunity to get a group of colleagues/friends/family/community together to share a cuppa and cake and talk. Perhaps about mental health, or perhaps just improve your mental health by sharing time together.
Of course, for many of us it's not possible to do this in person. But I hope you might still consider the possibility of doing this virtually. In HR&OD, we converted our regular virtual catch-up meeting yesterday to a Tea and Talk, all our heads filling the screens, and we brought our own tea and cake. We talked about how we stay connected, any recent baking triumphs, and planned a pumpkin carving competition.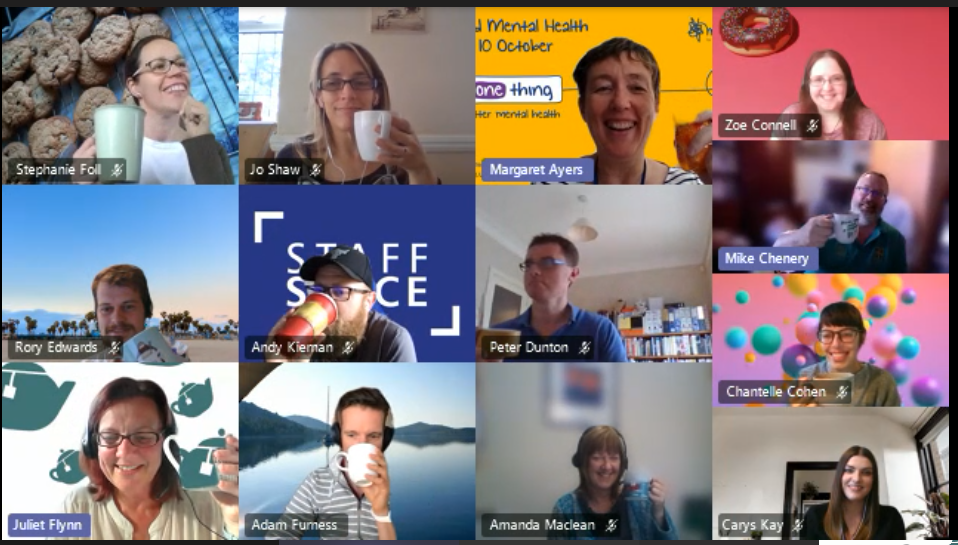 I converted one of the quizzes available in the resources to a mentimeter quiz so we could all join in. I'm happy to share the mentimeter quiz so you can use it in your own meet up, please just drop me a message.
Donations aren't so easy to collect without a tin on the table, but you can set up a fundraising page or you may want to simply encourage colleagues to donate.
Take the opportunity to be with those that matter, talk about things that matter, share nourishment of the body and soul (better known as a fat slice of lemon drizzle washed down with a slurp of Yorkshire tea), and be well.
Juliet Flynn, Organisational and People Development
---
Important notice from the Mental Health Foundation:
We know that Tea and Talk can sometimes trigger emotional responses.
If you are worried about your or one of your colleagues' mental or emotional state, please be aware that you can contact Samaritans completely confidentially and free of charge by calling 116 123.
We are also well aware that people's relationships with food may vary. If Tea and Talk triggers a negative reaction for someone with an eating disorder, we recommend contacting Beat on 0808 801 0677.