It's Sunday morning and the adrenaline starts to kick in. 9.30am: Distance Drift starts in half an hour. I'm responsible for guiding folk around the country, and possibly beyond, through an experiential walk. It's synchronised online, so there is always the fear of tech failure, a blip in phone signal, or just messing up the logistics. Will they like today's theme? Will it work? Will anyone show up?
I am curating this weekly Distance Drift in response to the challenges of walking in lockdown. The aim of the project is to create a communal walking experience during a period of isolation, enabling us to walk alone – together – and share our experiences. #DistanceDrift started on the first Sunday of April with just a handful of folk following prompts from my Drift Deck, a pack of psychogeography prompt cards, as I dealt them live on Twitter. Now, each Sunday, I send out a series of themed prompts and provocations for a walk using the Twitter hashtag. After the synchronised walk, which takes place between 10 and 11ish, the weekly threads can also followed asynchronously. A generous walker, Katy Whitaker (@artefactual_KW), often creates a poster to advertise the walk. The project has grown rapidly and is still going strong now: after an end of June vote, the consensus is to carry on.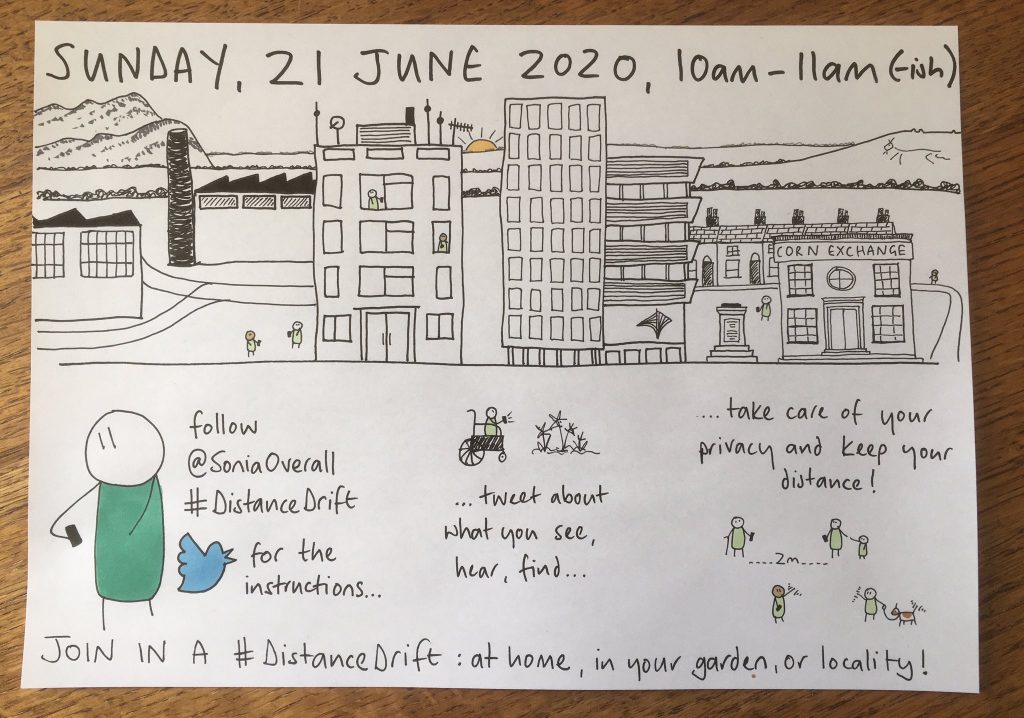 I post today's plan at 10am and the walkers start to check in. Some are regulars; some are new to the drift. They are raring to go and game for anything I throw at them. It's a bit daunting, but also a huge privilege. These walkers, many of them complete strangers and some in long term self-isolation, are putting their faith in me and letting me steer them. We are going to enjoy this time, this hour: this is serious play, exploring the everyday and interacting with it, intervening, relishing.
The garden has that midsummer smell: warm earth after some late-night watering: roses opening with that sweet-icing scent, compost, walked-on grass. Echoes of the coffee I brought outside with me and finished in a last cold gulp. The teenage boys next door are in the garden with toast and the morning radio, their voices morphed over a season from recognisable boys to strange men. Further along are the sounds of hedge-clippers and lawnmowers, a dog barking, the snap and slap of a newspaper. The cat stalks me as I pace about photographing unlikely corners and niches. I have come to fully appreciate how lucky I am to have an outdoor space at home. Some of today's walkers will be confined indoors; others, who can safely explore their immediate environment, are setting out along streets and footpaths. Most of the walkers share their responses to prompts as we go. Eventually, I also move beyond the garden and drift further: through the back gate, between the terraces, out into the street and away.
I'm taking the same route every week and loving the small differences. In memory, this April will be the month of white blossoms and bold birdlife, fearless after the silence of early lockdown: the field of crop by the empty school bustling with blackbirds and jackdaws; sparrows and finches busy in the hedges; the apple orchard in full snowstorm flower. May will be heat and green: incredible days of sun that feel like high summer; rabbits sprinting between patches of shade; VE day bunting and rainbow paintings; a socially-distanced birthday gathering in a cul de sac, an island chain of guests balancing paper cups and plates of cake. June has been cooler and greyer and damper, with days of fat warm rain to feed the borders of lavender and green stems in the cropfields. I've regularly paused to watch a clump of high trees at the end of our road for a glimpse of a visiting buzzard. Without these walks, would I have noticed? Am I missing these gems every spring and summer?
If nothing else, lockdown has reminded me to take pleasure in the now. Curating Distance Drifts has enabled me to escape through noticing the ephemeral, to practice what, as a writer and psychogeographer, I regularly preach, and to join with others doing the same. We are a community of walkers, drifting alone together. Why not come along one Sunday and wander with us?
Follow @soniaoverall and #DistanceDrift to take part in a live Sunday morning walk, or read the thread and try the prompts in your own time.
Dr Sonia Overall, Senior Lecturer, Creative and Professional Writing