Gingerbread Medieval Animal Tiles – We Need your Help, Please!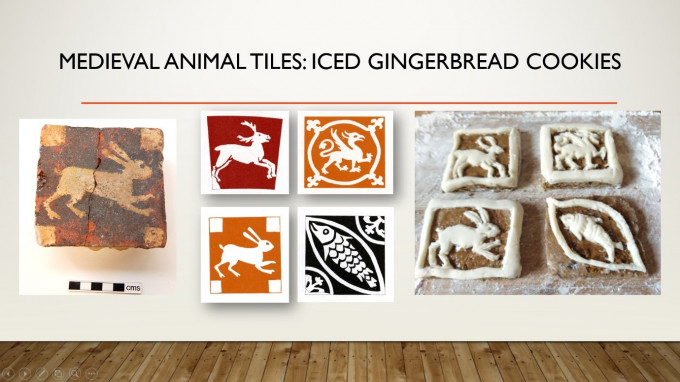 To celebrate the 800th Anniversary of St Thomas Becket's new shrine in Canterbury Cathedral and as part of the Virtual Canterbury Medieval Pageant, we would like children of any age to help design virtual medieval animal tiles and, if you have time, turn them into gingerbread cookies.
Task: In 1220 young King Henry III and all his lords and bishops were invited by Archbishop Stephen Langton to come to Canterbury and celebrate the new shrine to St Thomas Becket. Imagine you are a member of the Medieval Guild of Tile makers. The Archbishop has asked you to make floor tiles with animal themes for this very special occasion at Canterbury Cathedral. What tiles would you design for the boy king and his favourite saint? St Thomas Becket is recorded as having worked miracles not only on people but also on animals including a lamb, a horse, and a falcon. His coat of arms featured choughs, which are like blackbirds but with longer beaks. Animals with medieval royal or elite associations include lions, leopards, dragons, warhorses, swans, unicorns, greyhounds, stags, salamanders (lizards), eagles and hawks, and any animal, real or imagined, can be used in your designs.
We would love you to send us your designs so we can make a virtual tiled floor for Canterbury Cathedral to celebrate the 800th anniversary of St Thomas's new shrine. To make it even more fun, why not transfer your design onto iced gingerbread – so you can eat your tiles (but please send us photographs first)!
Background: Since the Iron Age, clay from Tyler Hill in Canterbury has been made into pots and tiles. In the photograph (credit: Canterbury Archaeological Trust), you can see pawprints of dogs that in Roman times ran over drying tiles.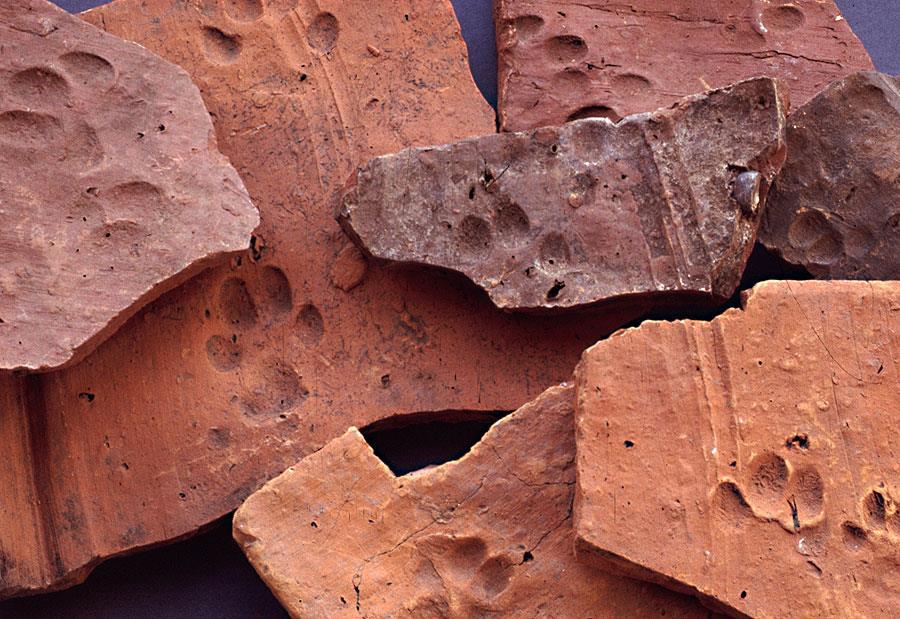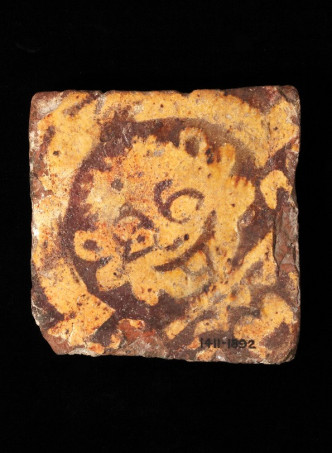 In the Middle Ages, floor tiles using two colours of clay were popular. They are called 'encaustic' tiles. There were many popular patterns and animals were a favourite motif, like this medieval leopard head design (from the V&A).
TILES: Shape: Square (or diamond) please. Size: We think 8 cm x 8cm (just over 3 inches) is a good size for biscuits but smaller or larger is fine too. Designs: We have provided several templates. However, your designs will be even better – you might want a crowned Lion (a Lion King!), or a pawprint, or the head or face of your chosen animal. Medieval people did not separate real from imaginary animals, so Unicorns, Dragons, and Mermaids and your own monster designs are absolutely fine too. A border is optional, extra decoration and added patterns are great too. Please see below for instructions for gingerbread tiles and design templates.
Please send your photographs with your forename and email to: diane.heath@canterbury.ac.uk so we can send you a special certificate for taking part.
Thank you for taking part in the Virtual Canterbury Medieval Pageant and we hope to see you at the live event in 2021. For those of you who would like to follow the Virtual Pageant this year, please go to: https://www.canterburybid.co.uk/canterbury-medieval-pageant/
Instructions for Medieval Animal Tiles Designs and Iced Gingerbread
STEP 1: Please look at the tile design/ templates from the Middle Ages for ideas. If you would like to see more pictures of Medieval Animals, see the gallery of beasts on http://bestiary.ca/
STEP 2: Think about an animal you would like to draw. How would other people know what it is? For example, a cat might have a round face, pointed ears, and whiskers. A butterfly might have four wings, a thin body and two feelers. Sketch out your design ideas.
STEP 3: Draw your favourite design on plain paper 8 cm by 8 cm (just over 3 inches). Colour in your design using one light colour and one dark colour. Take a photograph and send it to us with your forename and email address.
STEP 4: Turn your design into an iced gingerbread cookie – see photographs too. For vegan gingerbread recipes, see this US website https://lovingitvegan.com/vegan-gingerbread-cookies/
Ingredients:
1/4 cup (56g) Vegan Butter (e.g. Vitalite)
1/2 cup (100g) Brown Sugar
1/3 cup (100g) Unsulphured Molasses (Golden Syrup or Black Treacle)
1 Flax Egg (a tbsp of Flax mixed with 3 tbsps of boiled water and left to stand for a minute)
1/2 tsp Vanilla Extract
2 cups (250g) All Purpose Flour (plain flour)
1 tsp Baking Soda (Bicarbonate of Soda) and 1/4 tsp Salt
Spice: 2 tsp Ground Ginger, 2 tsp Ground Cinnamon, 1/4 tsp Allspice, 1/4 tsp Ground Cloves
For a non-vegan simple gingerbread recipe, try this website https://www.janespatisserie.com/2015/11/27/gingerbread-men/
Ingredients:
375 g Plain Flour; 1 tsp Bicarbonate of Soda; 3 tsps Ground Ginger; 120 g Unsalted Butter (cold & cubed); 175 g Light Brown Sugar; 5 tbsps Golden Syrup; 1 Large Egg
You will also need royal icing (icing which can be bought ready made or ready to roll), a teaspoon of jam mixed with a tablespoon of boiled water brushed on the gingerbread to stick the icing to the gingerbread.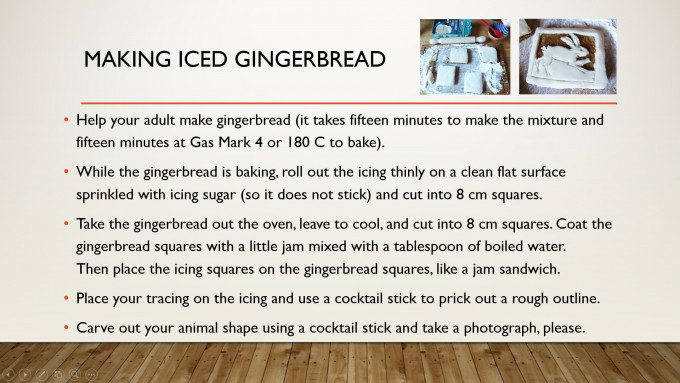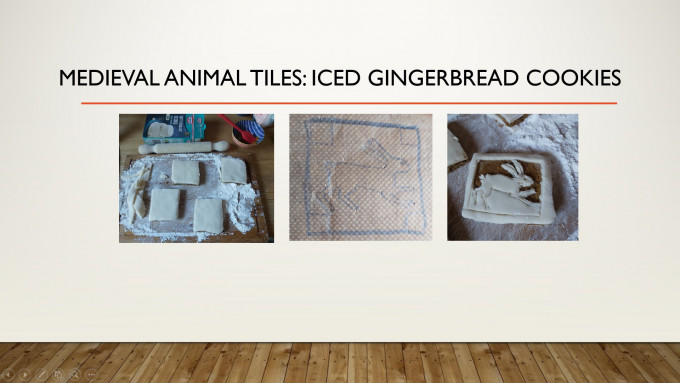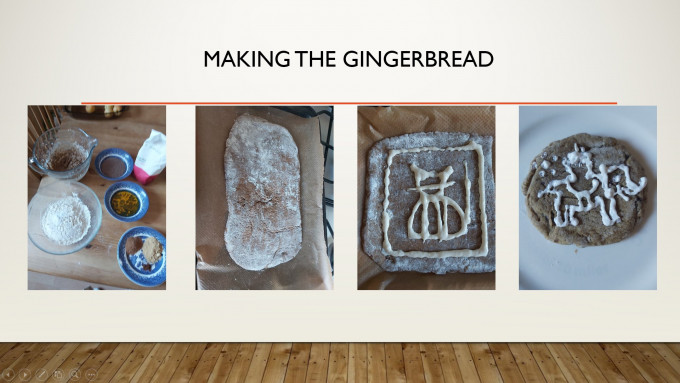 Alternative Ways to Decorate Your Gingerbread/Biscuits
Flour paste: If you do not have icing to hand, cut your gingerbread squares before cooking. Indent or press your designs into the gingerbread before cooking (e.g. with a cocktail stick, spatula or teaspoon end) and then pipe in your design using a flour paste of three parts cooled boiled water to 4 parts flour (with added vanilla or orange essence to sweeten). To make a piping bag, pour the mixture into a food-standard plastic (sandwich) bag, knot the top, and snip the tiniest corner of the bag. Cook the gingerbread as per instructions (15 minutes).
If you use flour paste, you decorate your gingerbread before cooking. If you use icing, you decorate your gingerbread after it has cooked.
Writing icing: You can use icing on a home-made cookie or standard biscuit, using writing icing. Icing pens: Place white icing on your gingerbread or biscuit, using watered jam to make it stick. Either draw your design freehand lightly with a cocktail stick or trace it by pricking the tracing paper with a cocktail stick into the icing and then colour using icing pens.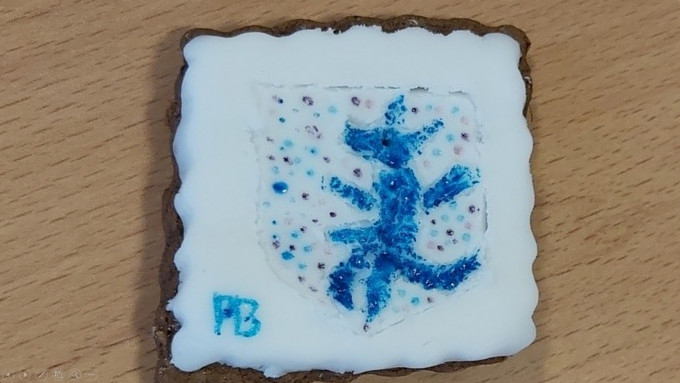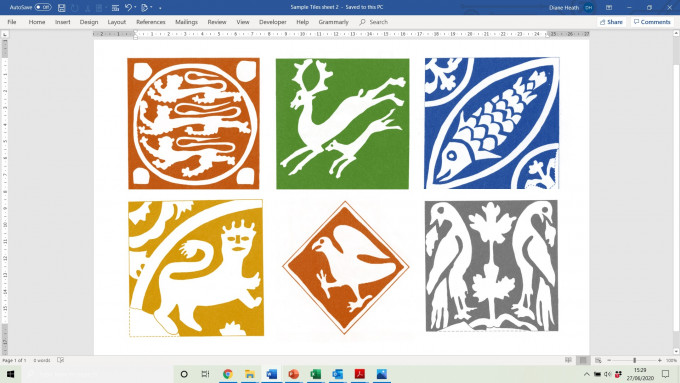 Finally, this activity has been created by Dr Diane Heath and we hope you enjoy making your own 'tiles'! Later this week, I'll be reporting on the research activities of the Kent History Postgraduates and catching up with a Canterbury-centric virtual IMC session.