This week we move from Tonbridge in the west to Dover in the south, Medway in the north and Canterbury in the east.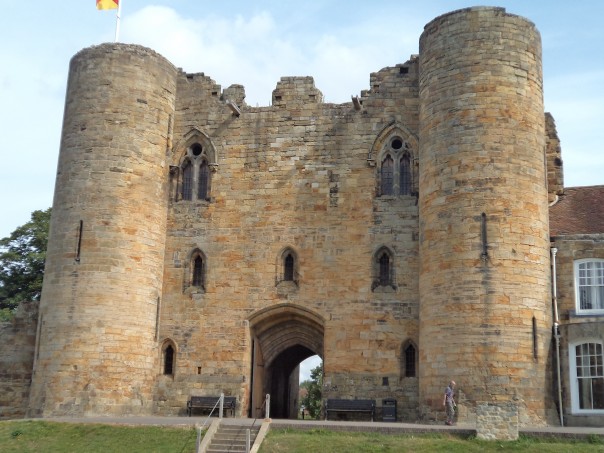 Another busy time as we head to the end of term which means I have several events to cover this week. For example, Professor Louise Wilkinson had a meeting at the House of Lords on Wednesday that relates to Becket 2020 and the Year of English Cathedrals. I know we are almost there now and schedules are beginning to appear on various institutional web sites.
For the blog, I shall be reporting on five other events, which means each one will have to be brief. I'll work through the events chronologically and start with the last meeting of the Kent History Postgraduate group for 2019. This time Maureen Mcleod and Jane Richardson gave the presentations. Maureen opened the proceedings by looking at two early 14th-century manorial accounts for Tonbridge. These are extremely important because so little documentary material survives for the manor of Tonbridge. Even more usefully, Maureen thinks the first covers a time when the confiscation of Hugh de Audley's estates, including Tonbridge, following the rebels' defeat at Boroughbridge by Edward II's army, had yet to affect farming practices on the demesne. In contrast, the second covers a time when the Crown's steward appears to have adopted a different strategy.
So what is the difference you may ask, and the answer is the use of legumes at the earlier date. As Maureen said, she has made extensive use of Professor Bruce Campbell's major project and its findings regarding demesne farming in England, and his specific use of Kent as a case study, see the article in Later Medieval Kent, 1220–1540. Looking at the crop yields and seeding rates from these accounts, it is clear that vetches, and even more beans, were major crops in 1322, the principal grain crop being wheat, while in the later account wheat is still there but the legumes have gone and oats have become the dominant cereal crop. Now broadly the dominant agrarian regime concerning demesne farming in Kent is mixed farming with the high use of legumes which seems to have meant it was not necessary to have a third of the arable land each year as fallow, instead continuous cropping was not an unusual strategy. Thus, Maureen's first account can be viewed as being in line with Kent practices whereas the later one is far closer to the national picture, as say in the Midlands where the classic open field system was dominant.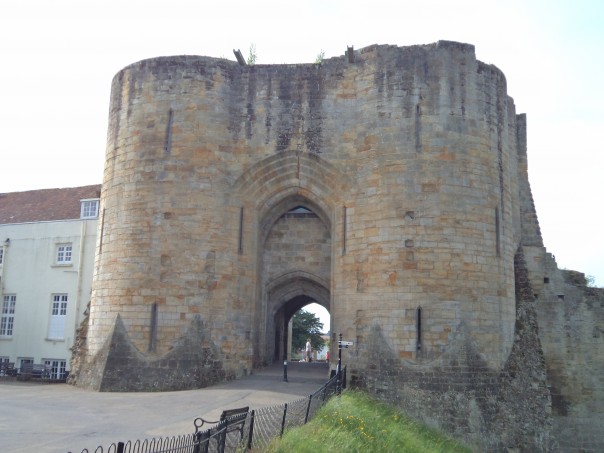 This is significant but Maureen is even more interested in the situation concerning pig farming in Tonbridge and the neighbouring manor of Hadlow. For the documents indicate that extensive pig husbandry, using chase and park for acorns as well as beyond the autumn season, remained a major feature in this area for both lords and tenants. These findings will feed into her chapter on the organisation of the parks and chases in the town's hinterland.
Keeping with the idea of food, Jane Richardson revisited the Tonbridge Priory 'Pittancer's' account as it is known from 1327/8, which is in the Oseney Abbey collection at the Bodleian Library. As readers of the blog may remember, the account covers a period of 39 weeks from Michaelmas 1327 and gives an excellent snapshot of the victuals arriving on the priory's dining tables, as well as charitable gifts to the poor. Jane was keen to highlight the need for historians to go back to the documents themselves and not rely on the interpretations of others.
To illustrate this, she discussed the record of what was provided for the table at Christmas 1327 and in the weeks leading up to this major feast day as well as what was provided during the Christmas season through to Twelfth Night. To provide a context for ideas about the pattern of daily consumption by monastic communities such as the priory, Jane again drew on the research of Barbara Harvey for Westminster Abbey, for which the records are especially good. In particular, she concentrated on the amount of various types of bread produced for different groups in the priory and beyond as alms, as well as commenting on the different types of meat and fish that both came into the larder and made it directly onto these monastic platters. For the meat eaters, pork was certainly there but whether the boar that is recorded as arriving in the larder at Christmas was a wild (hunted) or domesticated animal is not clear.
Turning to the bread, the priory seems to have baked large batches of bread four or five times a month. One type produced was a small loaf, but manchets were perhaps even more important. These possibly weighed over two and a quarter pounds, a very sizable quantity that was generally made of wheat flour, although some bread was produced from a wheat and rye mix. Jane intends to investigate the priory's bread and Janet Clayton, one of the other doctoral students, suggested that she consult Dr Philip Slavin's book on the Norwich Priory accounts relating to the production and consumption of bread and ale.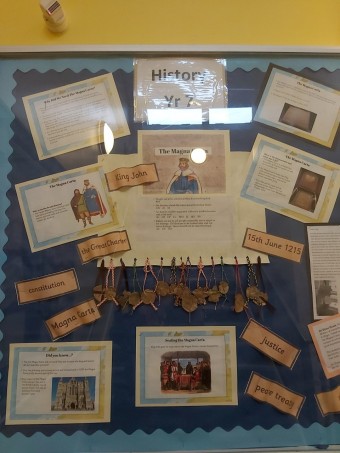 As I expect you can image these two presentations generated some interesting discussion, and in addition to comments about farming practices and food consumption, Dean Irwin raised a point about the account rolls as material culture in relation to their construction and use. He mentioned a recent article by Professor Nicholas Vincent (UEA), and in many ways such discussions began with Michael Clanchy's From Memory to Written Record. For Michael's ideas have been very fruitful as a starting point for many historians and literature specialists, including Dr Claire Bartram (CCCU), the editor of Book Culture in Provincial Communities: Contexts for Reading and Writing 1450-1650 that will be out early in 2020.
All this discussion about food was entirely appropriate in that after the meeting we adjourned to Pizza Express where we met up with Dr Diane Heath for a Christmas meal. This was a great way to conclude 2019 and demonstrated yet again how valuable it is at doctoral level to be part of a cohort that enjoy discussing and socialising together.
Yesterday (Thursday) was similarly busy. As part of Professor Louise Wilkinson's REF Impact case study, Diane Heath was again at the Royal Harbour Academy in Ramsgate where she led two sessions on Eleanor de Montfort as a 13th-century aristocratic woman who managed her own household. The specific period in Eleanor's life that Diane was focusing on was her time at Dover Castle during the baronial wars of the 1260s, for Diane was keen for the students to understand the demanding roles women have performed throughout history. Consequently in the classroom discussions pupils began to understand, as one girl said, "just how fabulous some medieval women were" and that history should be inclusive. Indeed, one of the teachers felt this is often a problem with school history – it is "far too much about men and that women and families seem just as important".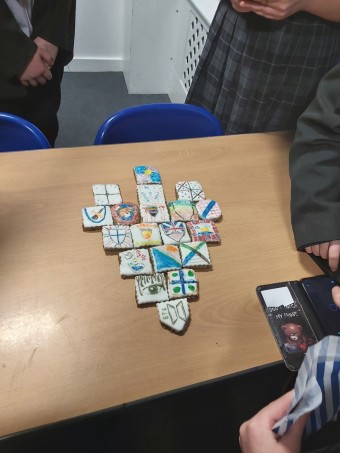 Having talked about Eleanor at Dover Castle and how she worked to create loyalty through networks and alliances, negotiated herself and her supporters out of trouble, and saved the family fortune, the students then had to imagine that they were running a great household and to think how they would do this successfully. Diane followed this up by showing them the Dering Roll with the shields of families caught up in the troubles and asked them to think how they might represent their own family pictorially on a shield; and because it is Christmas, the students then transferred their designs onto vegan gingerbread provided by Diane.
While Diane was at Ramsgate, I was talking to Robert Rotifer, an Austrian freelance journalist based in Canterbury who undertakes commissions for several German and Austrian magazines, papers and radio stations, including the German national broadcaster Deutschlandfunk Kultur. In this instance, they had asked him to do a piece on Canterbury's cultural significance as part of a radio series on cathedral cities. As you might expect he was especially concerned to discuss Geoffrey Chaucer, but we also ranged across the centuries from King Ethelbert's Laws and St Augustine to Christopher Marlowe and on to T.S. Eliot's 'Murder in the Cathedral'. From my perspective it was an interesting experience however much survives for the broadcast and when I know when, because it will be online too, I'll let you know.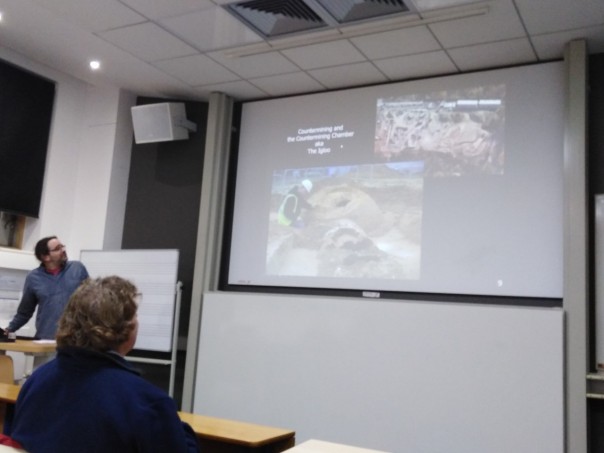 This brings me to my final event this week, the joint Centre and Friends of Canterbury Archaeological Trust [FCAT] lecture on 'The Lower Lines, Brompton – Defence and Experimentation' by James Holman (Canterbury Archaeological Trust). James' talk was based on CAT's archaeological work on the site between 2007 and 2009, supplemented by documentary research including, as James said, lots of military textbooks on defensive measures and the extensive photographic archive of the Royal Engineers.
James provided a comprehensive history on the development of the Lower Lines from its beginnings in 1803, albeit the Chatham defences had been started centuries before that, the earliest construction having taken place in 1580. I don't have space to provided anything other that a very short summary here, and instead I'll just pick out a couple of points, starting with the countermining measures. These were intended to stop the enemy from tunnelling under the great defensive banks and comprised three countermining chambers, although only one had 'almost' survived intact, the others marked by much earlier backfill; a listening gallery; the envelope gallery; communication galleries, and the magisterial gallery.
Although never actually tested in battle, this very extensive and complex system of banks, ditches and mostly brick-built structures was put through its paces by the Royal Engineers who used it from the 1840s for practicing for and against static defences. Indeed, such was the interest more generally in such things coming down to the Lines to see what was happening became a public spectator sport during Victoria's reign.
As James discussed, experimentation was an important aspect, including working on early electric-powered searchlights, tank defences and other innovations. These brought us through to the use of the Lower Lines in the two World Wars, including as the headquarters of the Nore Command in the Second World War. And just to say finally that even though the site was closed for a short period in the 1960s, the Royal Engineers thereafter used it up and into the 1990s.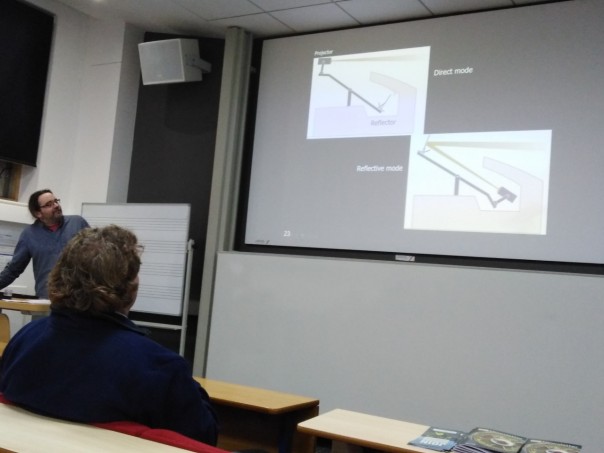 Such a fascinating lecture was greatly appreciated by the enthusiastic audience, some able to contribute their own experiences of visiting the place while it was still a military site. Consequently, James was loudly applauded for his splendid lecture, but I thought I would end with some news for those from the Canterbury area. Before the lecture Paul Bennett, as Director of the Trust, informed everyone that very sadly Lawrence Lyle had just died. For those who knew Lawrence this is a terrible blow, but for those who didn't Canterbury has lost one of its giants whose contribution to the intellectual and social life of the city has been vast for decades. Among other activities, he worked in numerous capacities, alongside Marjorie, in the historical and archaeological organisations across the city, as well as making an extensive commitment to Canterbury Cathedral. He will be sorely missed at a time when people of his calibre, enthusiasm and dedication are perhaps needed more than ever.