Still busy editing Early Medieval Kent this week but at least I now think I have the photo for the front cover. Having been on a Kent Archaeological Society visit in June to Staplehurst parish church I was once again struck by the fantastic artwork in iron on one of the doors. It is extremely early, dating from the eleventh century, and thus is ideal sitting as it does about half way through the period covered by the book. I have two people to thank for this: Rebecca Warren who first introduced me to it and Imogen Corrigan, another long-time friend, who has taken the necessary photograph because she is much better at such things than I am.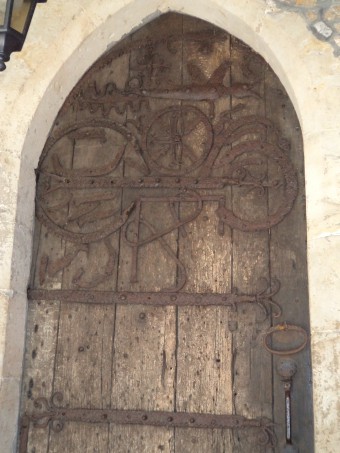 My photo of Staplehurst church door
I think the essay collection is taking shape which is a relief and also meant I was happy to take Sunday off to go with another friend Karen Brayshaw to the Magna Carta exhibition at the British Library as a belated birthday celebration, mine not Karen's. More of that in a moment but first I think it is worth mentioning that the committee organising the Medieval Canterbury Weekend met up today to review progress and plan the next stage in terms of preparations for 1–April 2016. As a result Professor Louise Wilkinson, Diane Heath and I met in Karen Brayshaw's office at Canterbury Cathedral library where Karen is the librarian. Having sampled some excellent French biscuits, we got down to business and the main item on the agenda was publicity. Now that the website is up and running successfully at www.canterbury.ac.uk/medieval-canterbury and tickets can also be purchased by phone (Tel. 01227 782994 or 863690 Monday to Friday office hours) and in person at Augustine House, Canterbury (near to the Police Station), we decided the next thing is to print a flyer that can be distributed as widely as possible – Canterbury, Kent, England. Louise, Karen and Diane are also active in terms of twitter and Facebook, so that too will happen and hopefully Christ Church media people will also create a press release soon. And if there are readers of this who would like to tweet or mention it in other ways through social media, we would be delighted – thanks in advance.
I promised it would be short blog this week so I'll now turn briefly to the British Library's Magna Carta exhibition, not least because two of the 'talking heads' who people could listen to as part of the exhibition are also going to be speaking at the Medieval Weekend. Next year neither professor will be talking about Magna Carta, although they are both keeping within the thirteenth century because David Carpenter will be discussing Henry III and Simon de Montfort and Nicholas Vincent the relics of St Thomas Becket. But I digress. From a personal point of view, the high points of the exhibition were several of the manuscripts on show in the first room, especially a genealogical roll that had roundels with portraits of the kings Henry II, Richard and John sitting on their respective thrones, as well as portrait busts of the children and grandchildren, first of Henry II and below that the same for John. As a result both Richard and John appear twice within this section of the roll.
An earlier manuscript also caught my eye because it depicted peasants. These peasants, in John of Worcester's own manuscript of his Chronicle, are shown tormenting Henry I in his nightmare for they are approaching the sleeping king armed with a scythe, a pitchfork and a spade. Further miniatures show the king threatened by knights and clerics, that is the three orders of society: those who work, those who fight and those who pray, who have come to the king to remonstrate about his failure to keep his coronation oath to maintain good laws and abolish injustices in his kingdom. What is especially interesting about the peasants is that the leader, who is holding a scroll as well as his scythe, has a hat that to my untrained in art history eye looks remarkably like a Jewish hat or one that would not be out of place on safari.
It was also good to see that Corpus Christi's Matthew Paris manuscript depicting the battle of Sandwich in his Chronicle was also on show. However it was somewhat in the gloom in a side display cabinet which meant if you didn't really know what you were looking at it would have been very indistinct. Keeping with indistinct manuscripts, the Canterbury copy of Magna Carta is a poor sight, but it does have the remains of its seal and seeing the amount that can be read using ultraviolet and other forms of light it a revelation. Consequently even though the London copy is far better preserved, there remains something special about Canterbury's, or am I just biased?
That part of the exhibition under the heading 'legacy' is interesting, and seemed to be especially engaging for the American visitors who happened to be there at the same time. Again, personally I was particularly struck by the reporting of William Penn's trial in 1670, the pamphlet being very close to a play script where the jury were chastised and threatened by the court recorder for not bringing in the 'right' verdict of guilty. Other objects also caught my attention, such as the executioner's axe, made for execution of the Cato Street conspirators but not used, and 1066 And All That, a book I have always enjoyed, not least because everyone knows 'Magna Charter was …a Good Thing for everyone (except the Common People)', and on that note I'll stop before this gets any longer. If you have not been to the exhibition and have the time it is certainly worthwhile.