As Dr Sheila Sweetinburgh reminded me (Dr Diane Heath), it has been a year since our participation in the first Medieval Education Day for primary schools in the East Kent area, a scheme launched by Lyndsay Ridley at The Canterbury Tales visitor attraction (see Sheila's blog from last year https://blogs.canterbury.ac.uk/kenthistory/young-medievalists-and-medieval-animals-in-canterbury/).
It had been my idea to print medieval 'tiles' with the primary schoolchildren using rollers and acrylic paint, although both Sheila and I had been rather worried at the time that things might get messy. We had decided to celebrate the upcoming anniversary of the Translation of St Thomas Becket in 1220 by suggesting the children think of themselves as members of the Tilemakers Guild charged with the fabrication of a new floor for the cathedral nave in time for the Translation, using medieval tiles with animal motifs as inspiration. The children produced some terrific and imaginative work – one of my favourite pieces depicted a double-headed hamster.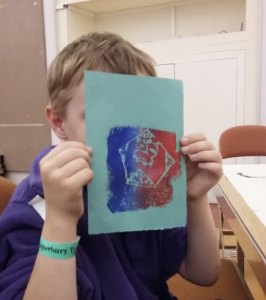 A tile depicting double-headed hamster from the first Medieval Education Day in 2018
This year Sheila and I chose a new theme inspired by Canterbury Castle and Professor Louise Wilkinson's work on Magna Carta and the turbulent events that followed the great charter's first issue in 1215, particularly the Second Barons' War (1264-1267). Again, we worked with school children and The Canterbury Tales, this time with Chiara Pincelli in the driving seat. However, we made the greener decision to use more natural and/or recyclable products such as wood, card, and 90% natural glue, rather than acrylic paint and polystyrene tiles. We were hoping it would be just as much fun.
Before I relate how the Medieval Education Day went, please let me mention, in the finest CKHH blog tradition, the two upcoming events that Sheila will be covering in next week's blog. The first is the free public lecture (with a voluntary retiring collection) on Tuesday 24th September in Old Sessions which opens with a wine reception at 6.30 pm – it's our eighth annual Nightingale Lecture held with the Agricultural Museum, Brook, and this year we are delighted to welcome Professor Carl Griffin (Professor of Historical Geography, University of Sussex) who will speak on 'Retribution, performing passivity and protest anew: social and political relations in Kent after the Swing Riots.' The second event is another joint lecture, this time with FCAT (Friends of Canterbury Archaeological Trust) on Thursday 26 September, and this will be held at Canterbury Christ Church University at 7 pm in Newton NG07, when Dr Ellen Swift (University of Kent) will be talking about 'Recreating the sounds of Roman Egypt through experimental archaeology' with some 3D printed replicas to test, should I make an appalling pun and say it will be a hoot? – probably not.
As I was saying, our theme for this year's Medieval Education Day was inspired by Professor Louise Wilkinson's Magna Carta research and designed to highlight local historical places and spaces, particularly Canterbury Castle, in an accessible and memorable way for the school children. So I began with some scene-setting – taking us back to thirteenth-century Kent and Sussex. During the Second Barons' War, Henry III and his son Edward, Prince of Wales, were captured by rebels headed by Simon de Montfort (Henry III's son-in-law) at the Battle of Lewes in May 1264. I remember Louise telling me about the splendid Battle of Lewes Tapestry she unveiled in May 2014 to mark the 750th anniversary of the battle. Here's a snippet of the tapestry below, showing Simon de Montfort with his shield, and you can read more about Magna Carta battlefields here: https://www.heritagefund.org.uk/news/magna-carta-battlefields-be-showcased-part-800th-anniversary-commemorations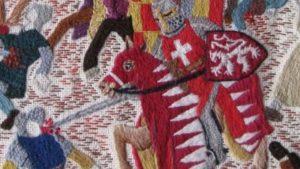 Simon de Montfort, detail, The Battle of Lewes Tapestry (2014)
Credit: Heritage Lottery /Sussex Archaeological Society
One of the sources for the tapestry may have been an image in early fourteenth-century Les Grandes Chroniques de France (London, British Library, Royal 16 G VI fol. 427v) which depicts the Second Barons' War with Henry III  with his three lions shield on the left and Simon on the right with his single lion rampant. These images of a fairly local battle reminded me of the Dering Roll, a heraldic parchment believed to have been created for Stephen of Penchester between 1270 and 1280, when he was Constable (Keeper) of Dover Castle, Sheriff of Kent, and Warden of the Cinque Ports, at the beginning of Edward I's reign.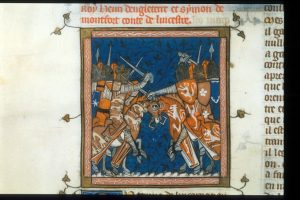 Les Grandes Chroniques de France (London, British Library, Royal 16 G VI fol. 427v)
The Dering Roll (London, British Library Add. Roll 77720) depicts 324 shields mainly belonging to Kent and Sussex knights. It has been argued the roll was based upon 'a castle-guard roll' for Dover Castle. It may also have been a handy list for the young Edward I (who returned from Crusade to take up his throne in early August 1274) to see shields of local knights and their sons, some of whom had fought with him at the Battle of Lewes back in 1264. It may have been even handier for the king to check on other knights (or their families), such as Ralph of Sandwich and Ralph Haringbod, who had fought on de Montfort's side. The Cinque Ports had also supported de Montfort until the Battle of Evesham in 1265 (when Simon and his eldest son were killed) and Winchelsea, one of the main Cinque Ports, was attacked by the then Prince Edward in retaliation for the town's disloyalty. Although, the country was stable between 1266 and 1274, Henry III's mid-reign crisis must have been well-remembered at the beginning of Edward I's reign in Kent and Sussex. Was there some trepidation among Kent and Sussex knights when Edward landed at Dover on 2nd August 1274 and halted at Canterbury before going to his coronation in London on 19th August?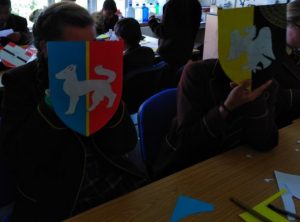 Examples of some of the shields
For the purposes of the workshop for Medieval Education Day, I asked the children to imagine they were Kentish Knights about to meet their new king at Canterbury Castle, shields ready to be noted by the clerks of the Sheriff of Kent, Stephen of Penchester. We then examined the shields depicted on the Dering Roll to garner ideas for their shield designs, noting the simplicity and strength of the originals and their general symmetry. We then thought about the twin purposes of the heraldic shields – to be clearly recognisable in battle and to represent the holder and their family. I mentioned 'canting arms' such as the Luce or pike that represented the de Lucy family – and we examined the Dering Roll to find Ralph Hacket who had three hakes on his shield and Henry 'Bad Hands' Malmains with three hands as his shield. We turned to medieval animals (no surprise to anyone who knows my work) for charges for the children's shields, noting that medieval animals included what are today fantastic beasts and we had fun thinking about unicorns, dragons, mermaids, hydra, and manticores – and thinking about what the charges meant – such as the dragon as a symbol for being a strong protector. The children set to designing their shields and some traced the animal motifs which I had placed on the tables for them.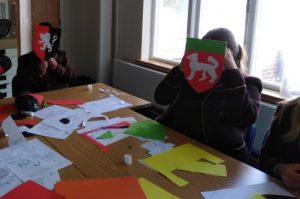 More examples of the many fantastic shields they produced
Draft completed, the wooden shields, glue, and scissors with white, yellow, black, blue, green, red and purple card (argent, or, sable, azure, vert, gules, and purpure) were eagerly taken up and cutting and sticking commenced. The children of Gad's Hill School, photographed here, were enthusiastic and innovative; one of the designs used a red background with three circles to produce a very modern Mickey Mouse shield; one boy made a delightful drawing of a badger; a girl used a round shield for her griffin and golden sun design. It was a pleasure to see them working so thoughtfully and with such enthusiasm. I am very grateful to all the schoolteachers, to Chiara and Meg from The Canterbury Tales, and as always, to Dr Sheila Sweetinburgh.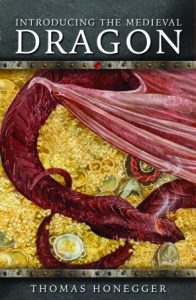 To finish on another high note, this week saw the publication of the first book in our new series on Medieval Animals with the University of Wales Press – Introducing the Medieval Dragon by Thomas Honegger. My completely biased view is that the book is brilliant, and my warmest congratulations go to Professor Honegger and the wonderful illustrator, Anke Eismann.