Roman, Norman and Stuart Canterbury
I thought I would begin this week by mentioning Dr Michael Jones' book launch for his new study on the Black Prince. This will take place at the Canterbury Christ Church University bookshop on Wednesday 19 July at 5pm and is free – all welcome.
Turning now to the three talks that I want to mention this week, the first thing to say is that they are very different because I'll be moving from Dr Mark Hutchinson, a historian of ideas, to Charlotte (Charlie) Young a documentary historian to finally Dr Richard Helm, an archaeologist. Again working chronologically Mark gave his paper last week at the penultimate staff-student research seminar. Mark completed his doctorate in History at Canterbury Christ Church several years ago and since then he has had a Government of Ireland Postdoctoral Fellowship at University College Cork (2011-13), a Junior Research Fellowship at the Lichtenberg-Kolleg, the University of Göttingen Institute for Advanced Study (2014-15), and a lectureship at the University of Lancaster (2015-16). Currently he is lecturing in Early Modern History at the University of Durham and shortly will be taking up a mid-career fellowship back in Germany. Drawing on his doctoral thesis and other ideas, he has published a number of articles and a monograph entitled, Calvinism, Reform and the Absolutist State in Elizabethan England (2015).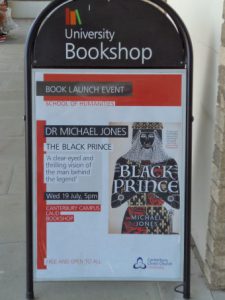 Black Prince book launch at CCCU bookshop.
Mark is particularly interested in early modern religion and politics and his research explores the relationship between reformation thought and changing ideas of 'state', 'commonwealth' and 'liberty'. He is particularly interested in the way in which ideas developed in the English periphery during the years 1550 to 1650, where the challenges posed by disorder and failure pulled apart received and static norms. Initially, he explored such factors in Ireland, but then expanded his focus to consider different forms of community and governmental organisation through his study of these ideas in the New England colonies, as well as English links with the Palatinate in Germany. Thus, as he said, his first project examined the way in which the failure to further religious reformation in Elizabethan Ireland related to a subsequent need to theorize 'the state', where, in the absence of the internal bonds of conscience, political relationships were recast as involving external institutional structures. Furthermore, to provide a comparative dimension, he explored these developments in England.
For his paper, he drew on material for his new project. This comprises a re-examination of the way in which the problem of a sinful humanity reshaped early modern political vocabulary. In particular, he believes political and religious historians have sidestepped the question of original sin, because it sits far from current scholarly presuppositions about the dignity of humanity. Nevertheless, in societies rooted in Calvinist theology, assumptions about humanity's sinful condition would appear to have driven the need to speak of liberty, more in terms of diversity of behaviour, as opposed to freedom from sin and so conformity of action. Taking such political and religious ideas as his starting point, Mark is investigating the shifting vocabularies of 'liberty', 'allegiance' and 'the will' in Ireland and England, alongside English links with the Palatinate in Germany and developments in the New England colonies from 1600 to 1650. For his talk last week, he concentrated on Irish conditions and the responses to be found in New England. The latter offered a very different response and subsequent development regarding the history of ideas and levels of religious toleration, although in part this was consequent upon the very size of the New World that allowed disaffected groups to move away to establish new communities. Mark's paper raised a number of issues, including the reactions to such ideas by members of the Anglo-Irish 'old' aristocracy and just what the city fathers of the various Irish towns thought of these matters as part of their drive for greater autonomy.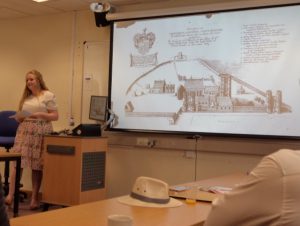 Charlie Young discusses Lady Wootton's residence.
Moving on to Charlie Young's paper, she drew on her research while at CCCU to explore what happened in the 1640s regarding the parliamentary sequestration of Lady Wootton's residence, the dissolved St Augustine's Abbey. This abbey had become a minor royal palace after the Dissolution, as some of you may have discovered at the Tudors and Stuarts History Weekend in April in the company of Professor Paul Bennett (Director of Canterbury Archaeological Trust). However, even though it was used on occasion by Tudor monarchs and Charles I and his new bride in 1625, by this later period it was in the hands of Edward Lord Wootton as the Crown's lessee. Lord Wootton was a major royal office holder and aristocrat in the county. He married twice, his first wife having five children with him, but it is his young second wife who was the focus of Charlie's investigation because she held St Augustine's from her husband's demise in 1626 until her death in 1659.
Charlie has unearthed a treasure trove of documents at The National Archives covering the sequestration and Lady Wootton's attempts to mitigate the problems she faced as a result of the government's actions. As a Catholic who made no attempt to hide her faith, Lady Wootton was an prime target in the eyes of Parliament, and her obvious wealth compounded her vulnerability to such actions. However, for the historian her misfortune provides a brilliant window onto aristocratic households of the early/mid 17th century. Among the surviving inventories of the sequestrated goods taken from such people (the officials were charged with removing two-thirds of the property, leaving the family with a third to live on) is one for Lady Wootton's residence and deer park at St Augustine's. As Charlie noted, the appraiser(s) raided 47 rooms and the park but not Lady Wootton's personal apartments. These ranged from the study and gilded chamber to the buttery, kitchen and servants' quarters, as well as the brew house, bake house and hay barn. Sensibly, the officials did not try to take the 200 deer in the park, but other livestock didn't escape their attention. Normally, such household and estate 'stuff' would have been taken away in carts to a storehouse and then sold off in the market place. This did not take place at St Augustine's, rather the mansion appears to have become some sort of Aladdin's cave and the stuff was sold off piecemeal over a period of 7 months. Even though it is badly damaged, Charlie's second big discovery at Kew is a list of those who bought items from St Augustine's, what they bought and how much they paid for them. Again, an extremely valuable find for those interested in domestic material culture of the period.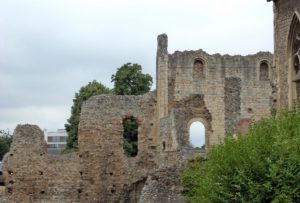 Part of the ruined abbey and later palace.
Another area where Charlie's research can throw light on aristocratic life is her use of the estate accounts for the period 1643-45 that were compiled following sequestration. These records show an attempt to keep the place running at least reasonably effectively, but as disputes between Lady Wootton and the government show, short-term gain in the form of cutting down woodland was a serious issue that she was unable to halt. Consequently, by the late 1640s when she finally regained more control, St Augustine's was in a poor state and she faced an exceedingly daunting task to return it to something like its former state. Such a task was beyond her means, albeit she was still a wealthy woman when she died, as shown by her will bequests. Moreover, in some ways she had less incentive to try to restore the palace for posterity because after her death it reverted to her husband's family, the heirs being his daughters and their husbands, the place eventually passing to another aristocratic Canterbury family, the Hales. Thus, like Mark's paper, Charlie's raised a number of interesting issues, as was seen by the number and variety of questions from the audience.
My third event took place last night when about 50 people came to hear Dr Richard Helm (CAT) give a joint Friends of Canterbury Archaeological Trust [FCAT] and Centre lecture on the various excavations that CAT has undertaken in the area between the Old Dover Road and the slip road to Canterbury East station. These numerous archaeological excavations have taken place over the last decade and Richard is now in a position to start to draw the findings together for this historic landscape. Moreover, in addition to what might be termed 'normal' excavation techniques, borehole samples have also been taken, and the post-excavation analysis has become more innovative too, and Richard and others have employed experts in DNA and isotope analysis to try to understand something about the Roman population of this part of Canterbury, in particular.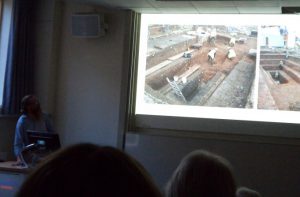 Richard Helm assesses the archaeology.
As a result of these and other findings, Richard was able to take his audience on a journey from the Bronze Age to the arrival of the Normans and how the different communities and perhaps individuals had used the landscape, the changes they had wrought and what had stayed the same. Among the features he discussed was the placement and type of ditches, roads and trackways at different points in time as revealed by the borehole cores and excavations. Furthermore, he considered how the large number of burials, mostly found in discrete cemeteries, fitted into this landscape from late Iron Age to late Roman Canterbury. To do this he drew on evidence from the grave goods and the skeletons themselves, including their alignment, as well as environmental data analysed from residues that showed the presence of ergot and cannabis.
Richard's command of the material was deeply impressive and the audience's engagement with the topic was obvious from the range of questions that followed his talk. Thus, the Centre has had another successful week and tomorrow will see a major change of gear as Professor Louise Wilkinson leads a team from the Centre to the Greyfriars garden off Stour Street as part of the Medieval Pageant and family trail. If you are around in Canterbury, do come and see us there. A report on the day will be in the blog next week.