Museum of Canterbury – exciting opportunity
This week I have been to two meetings among other things, and, although they may seem very different, they actually have common themes such as the value of bringing archaeology and documentary research together, as well as the importance of studying the lives of people in the past who were not royalty or aristocrats, but who made up the bulk of society.
I shall say more about the one on Wednesday afternoon in a minute, but first I want to mention briefly the one on Wednesday evening. As people in Canterbury may now know there is a proposal to close the Canterbury Heritage Museum and radically change the use of the Poor Priests' Hospital building thereafter. I am not alone in thinking this is a detrimental step because it will mean Canterbury will no longer have a City Museum that tells the story of Canterbury and its people through the ages. Such a museum is vital not only for residents but for visitors so that all can appreciate the international significance of Canterbury and its place in east Kent, for it has been a key place since Roman times. Telling that story requires the use of different media, including computer graphics and all the aids modern technology can bring to the table, but just as valuable are the artefacts – the things people used, made, treasured, disposed of – and, as I discussed last week, material culture is a terrific way in to this sense of discovery for young and old alike. Furthermore, if this is seen as an opportunity to bring together under one roof history, archaeology, architecture, literature, drama, heritage and culture, the Poor Priests' Hospital could become a marvellous hub for so many in the city who want to put Canterbury and its environs at the very pinnacle of England's historic cities. Through seeing, listening, engaging those entering its doors would find a bridge whereby they can understand and appreciate much more the city in which it sits – the place of the great Benedictine monasteries, the spaces taken by the friars, the location of specific industries and ethnic groups, the siting of parish and other churches, the guildhall, city gates, prisons, railways, and the ancient road grid itself. Such a scenario could become a reality, as York amongst others have demonstrated. Yet, equally, if the plan I heard about at a different meeting last Friday is implemented without anything else being considered, when the Centre holds its Tudors and Stuarts History Weekend on 31 March to 2 April (http://www.canterbury.ac.uk/tudors-stuarts) the Canterbury Heritage Museum itself will have been condemned to history.
Now to the second meeting, I joined five postgraduates at Canterbury Christ Church who are working on Kent history topics. Two of the five have already benefitted from the Ian Coulson Memorial Postgraduate fund, and it is likely some of the others will apply in the future. Such awards are extremely useful at times of increasing financial pressure on students, not least because most of those present had been to London at least once in the last few months, either to attend training courses in research methods or to work in specialist libraries, such as the Wellcome Trust, the British Library and the Institute of Historical Research.
This was the inaugural gathering of those working on Kent, for even though several had attended the Postgraduate Reading Group organised by Dr Leonie Hicks and Dr Simon Prince, this is more specific. Moreover, having personally worked on a variety of medieval and early modern Kent history topics, as well as having taught in this area and researched modern Kent history as a freelance historian, I have a reasonable knowledge of potential approaches and of the archives. Consequently, after brief introductions regarding how each had come to study at Christ Church as an ice breaker, we turned to the purpose of the meeting – an introduction to the topics they are studying. This had two purposes because in addition to being valuable in its own right, it was interesting to see how quickly common themes and methods came to the fore.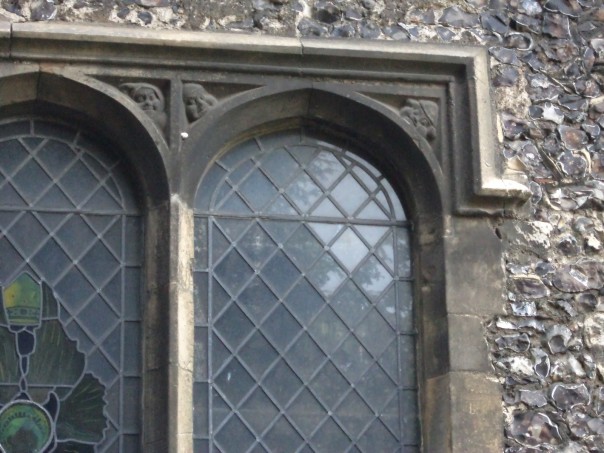 St Mildred's church, Canterbury
Lily Hawker-Yates was the first to introduce her research topic. Having worked in what might be described as the heritage industry; she is interested in bringing archaeology and texts together by looking at how historic, man-made features in the landscape can be interpreted for a modern audience. Taking this a stage further, she is investigating specifically prehistoric features, which in Kent means in most cases round barrows, to explore how they were interpreted in medieval and early modern times, and how this layering of meaning over time can now be used to inform a twenty-first century audience. This is taking her into Anglo-Saxon and Middle English poetry in her hunt for references to burial mounds, and amongst the texts that have yielded examples are 'Beowulf' and 'Sir Gawain and the Green Knight'.
As readers of the blog may remember, Janet Clayton is studying Scadbury Hall in the Cray river valley in north east Kent (now a London borough). Having worked on the archaeology of the site over many years as a leader of the local archaeological group, Janet has considerable knowledge about the local landscape already, and her doctoral study will build on this very promising start. For as she has discovered, this area that includes places such as Otford and Orpington was an important way station for senior churchmen – the archbishop at Otford, the prior of Christ Church Priory at Orpington. Furthermore, there were royal estates in the vicinity and a series of wharves, the former linked to the importance of hunting locally (the area was forested) and the latter perhaps to trade (goods to/from London). Taking these together Janet is examining the inter-relationship between London, especially its merchant class, and landholding, settlement and farming in and around St Mary Cray.
Moving into the early modern period, Tia Lucas described her Masters project. She is seeking to investigate transactional sex during the seventeenth and eighteenth centuries in Kent. As she mentioned, far more has been written about the topic using evidence from London but she is hopeful Kent quarter sessions, ecclesiastical court records and other court records among other sources will prove fruitful. Like Lily, she is finding matters of vocabulary are proving difficult. However, from a cultural perspective this very diversity of terms and the changes over time should be extremely valuable. Although Tia is still at an early stage in her research, she is greatly enjoying the challenge, especially because much of her first degree was on the modern era and culturally this is very different.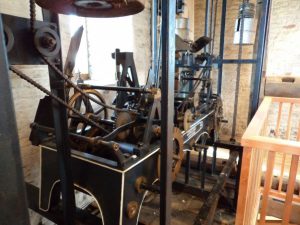 St Peter's church clock, Sandwich
Also focusing on 'history from below', Kevin Field is researching the medical care provided in Kent's workhouses between 1834 and about 1900. To a degree, he is building on his BA dissertation where he contrasted the experiences of urban and rural workhouses in east Kent. As he said, newspapers are good sources of evidence, and he is also using the records produced by the workhouses themselves, although these are extremely patchy and the survival varies considerably among the different institutions. Nevertheless, like all the others his enthusiasm and excitement about his discoveries thus far was obvious.
Jacie, too, is working on modern Kent. She is in her first year of a doctorate and is extremely interested in food history during the Second World War. Like Tia and Kevin, she wants to investigate lived experience rather than the ideal world of government directives. Consequently, she is focusing on food and rationing in the countryside during War time and is trying to look at features such a bartering and the black market. Newspapers are a potential source, perhaps also oral history, court records and recipes. She has found the training sessions in London particularly useful, not just for the information provided but to be able to talk to fellow postgraduates as well as specialists.
This took much of the two hours, but we did have time to draw out further some of the points raised during the presentations and everyone went away with something new. Furthermore, it was interesting that only one person had heard of the Kent History Project series and just two of the existence of An Historical Atlas of Kent, commissioned by Kent Archaeological Society. These books are part of the rich resources available for the study of Canterbury's and Kent's history at a range of levels and, in my opinion, this is yet another reason why places such as the Poor Priests' Hospital should be supported for the knowledge, enjoyment and excitement about the past they can provide for everyone.