This week features multiple activities of staff and students in the Centre which might be said to mark the end of the academic year and herald the start of summer. Consequently, after this post the CKHH blog will take a break for the rest of July, then come back for one post early August before returning in September. This will allow the CKHH team to get on with lots of things, including writing articles, conference papers and talks, some of which you can catch up on at other websites, twitter and Instagram.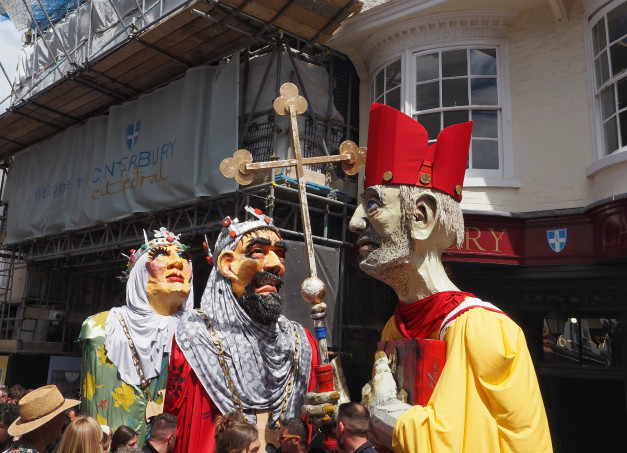 Thus, for those wishing to follow the progress of the 'green dragon' in the CCCU Becket Garden, please follow Dr Pip Gregory's #cccuclimatedragon twitter feed. For Dr Diane Heath's Lottery-funded 'Medieval Animals Heritage' which will feature Francis the Greyfriars Dragon and the 'Medieval Becket' play workshops at Sandwich in the first week of August, please see the project's website at https://www.medievalanimals.org/ that also has the regular 'Creature Feature' and much more. Sadly, Penny Bernard is not well, and Martin Crowther has stepped in to help run the Becket play workshops. Many of you will remember Martin, I'm sure, from a couple of weeks ago when the blog included the Dover Maison Dieu visit. Keeping with Dover, Dr Claire Bartram is continuing her IHR Centenary project on 'Imagining Dover' and expanding it to draw in student and staff work. To see the latest, please check out: https://www.instagram.com/ckhhkenthistoryheritage/ and the idea is to develop these various platforms. Additionally, Diane will be one of the leaders on 'Works like a Charm: Workshop Framing the Research Questions' with KMMS on amulets through the ages and around the world to take place on 25 July at DANA Studio Centre, Science Museum, London between 11am and 3pm – places limited so, please email: diane.heath@canterbury.ac.uk if you are interested. As well, Dr Martin Watts will be heavily involved at the Whitstable Harbour Days (13th and 14th August), for more details see: https://www.whitstablecoastaltrail.org.uk/harbour-day and Facebook for 'Whitstable Harbour Day'.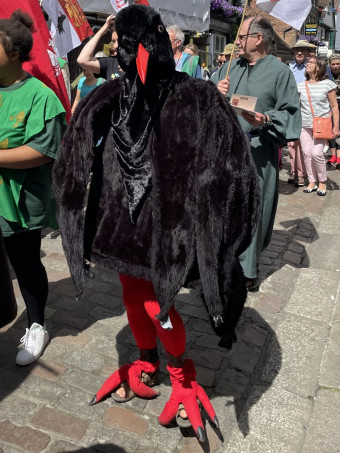 Returning to Canterbury, or at least to St Dunstan's church, the annual commemoration service for St Thomas More with a distinguished speaker will take place on Wednesday 6 July at 7.30pm, Linda Lee, a past President of the Law Society will speak on 'Thomas More – a modern lawyer's perspective'. If you would like to attend, you will be most welcome: https://www.dunstanmildredpeter.org.uk/fellowshipofstthomasmore.htm Furthermore, the Centre is hoping to be able to hand over the extra three pop-up history banners to the church in the next week. These are a product of a heritage-related study by Miranda Owens, a postgraduate studying for a Taught Masters in MEMS. These are not the only involvements CKHH has with St Dunstan's because I shall be part of a new, exciting initiative that could be said very loosely to be linked to several of the banners – more on that anon. Equally for the future, the Tudors and Stuarts History Weekend 2023 is coming along regarding the programme, and to alert you to the dates, it will be Friday 28 April to Sunday 30 April.
Although not run by the Centre, I'm regularly contributing to the Lossenham Project website through their monthly newsletters at: https://lossenham.org.uk/ while the project's wills group, in addition to their monthly meetings and great work on the wills database, will be holding their first outreach event in collaboration with Isle Heritage on Saturday 3 September. Entitled the Lossenham Priory Study Day, this event to engage with local societies and those in the heritage sector will feature an exhibition and talks.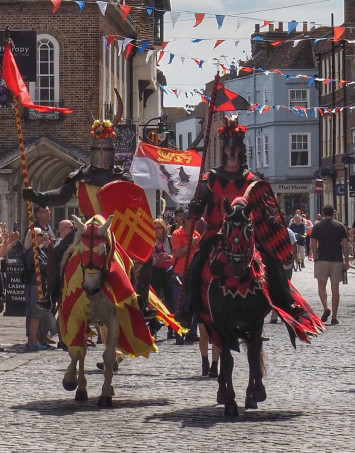 Moreover, for the Kent's Maritime Communities funded project, so far efforts have been concentrated on the database rather than the website, but the latter will be appearing shortly. This project with the University of Southampton has an allied dimension in the form of doctoral research and at least one of these postgraduates will be starting later this summer. Keeping to this county-wide approach, the programme for the joint Centre and Kent Archaeological Society in person conference on 'Resistance and Revolt, from the Conquest to the Present' at Canterbury will appear as soon as I can sort out the venue, and news of this will appear shortly, so please do save this date – 24 September.
Indeed, September and October will be a very busy month because I'll be speaking at the annual 'Fifteenth Century' conference at Cambridge, while plans are progressing for the annual joint CKHH and Brook Agricultural Museum Michael Nightingale Memorial Lecture on the evening of Tuesday 27 September. After that I'll be off to Yorkshire to give a guest lecture, and then on Tuesday 11 October the Centre will be hosting an 'in conversation' style event to mark the publication of Pamela Roberts' new book. Dr Ralph Norman will interview Pamela about 'The Adventures of a Black Edwardian Intellectual – The story of James Arthur Harley' and I am sure we will be in for a treat. October is, of course, the Canterbury Festival and as well as leading two walks, the Centre is intending to host several online talks as we did last year – again more on that anon.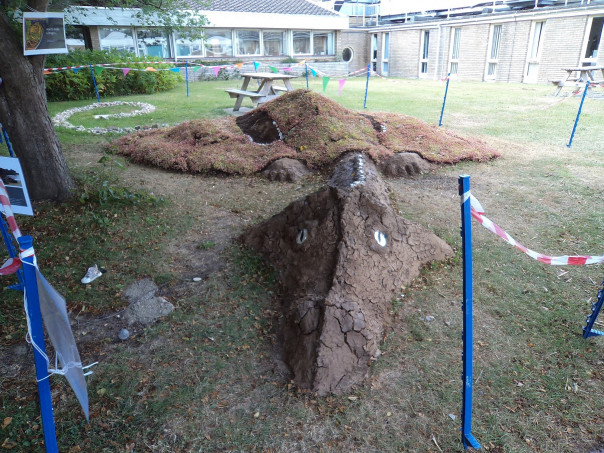 Thus, I hope you can see that the CKHH will remain busy throughout the next few months and to exemplify the number and range of its activities, here are three short reports on its involvement on Thursday, Friday and Saturday of last week. Thursday was the Faculty's Research and Enterprise conference under the banner of 'Sustainability and Creativity' and as well as having two posters Claire Bartram's on the 'Medieval Pageant' and mine on 'Kentish Saints and Martyrs', Diane Heath was speaking on the 'Medieval Animals Heritage Project'. This almost inevitably involved dragons, but also far more because Diane wanted colleagues in the Faculty to get an overview of the project's aims and how she and her team, including student volunteers, are using ideas about medieval animals and animals of today – the group's several workshops at Wildwood, to engage with children and their families and carers for whom life can be especially challenging.
Unfortunately, I was unable to attend Diane's session because I was speaking in another session at the same time. Having recruited Leo Dix, a 2nd year MEMS undergraduate student, to join me for a presentation on 'Working with Wills', I took the opportunity, like Diane, to introduce colleagues to the Lossenham Project, especially the community and voluntary aspects which have brought together a group of beginners and experienced researchers to work collaboratively on primary documents. Having very briefly run through how this has come about since late 2020, I turned to how similar ideas are part of the Dover Maison Dieu project and thus the links to outreach partners for the Kent's Maritime Communities project. At this point Leo took over and provided a clear and interesting summary of his work with Martin Crowther at the Maison Dieu as part of his 'Applied Humanities' module, and how using documentary and other evidence he had been able to engage the public at outreach events as part of his placement.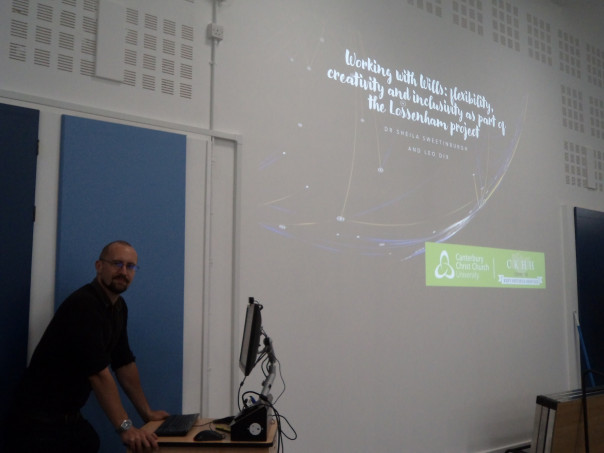 What might be seen as the same dilemma applied for the second set of parallel sessions because two members of the Kent History Postgraduates' group were presenting in different sessions. I have heard Peter Joyce speak before on ''The House the Rich built for the Poor': SPCK workhouses 1721-1776' see: https://blogs.canterbury.ac.uk/kenthistory/dover-becket-pilgrims-and-medieval-animals/ for a brief summary, so I stayed to hear Kaye Sowden. As a result, I ended up chairing the session because Claire Bartram was unwell, and we had three very interesting presentations, although here I'll just mention Kaye's. She is looking at society in early modern Pluckley and for this presentation she concentrated on the relationships between the local aristocratic Dering family and the midwives and wet nurses who served them. Such vertical social relations are fascinating, and Kaye was able to offer ideas about the lives of these different groups of women and the implications for all concerning the frequency and dangers of pregnancy and childbirth, attitudes towards young children by parents who would have seen very little of them, especially in the child's early years, and the social and communal standing of those who served the aristocracy in these ways.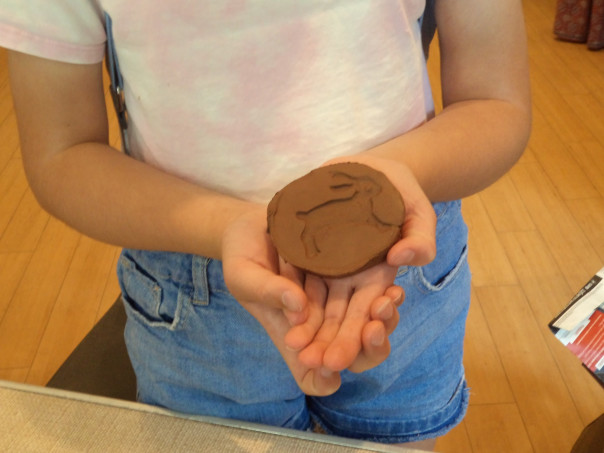 This highly interesting conference concluded with strawberries and cream, thereby providing opportunities for people to relax and discuss the many points of overlap across the Faculty. And this idea of complementary themes was in evidence the following day when the Kent History Postgraduates met for the group's penultimate meeting of the academic year, late July it will be Alison Norton's presentation on West Country castles. Postponed from the previous week due to the rail strike, those in person and online were given a great 'biography of things' type presentation on the roof timbers from the medieval manor house of Sandling, which was in the parish of St Mary Cray. Janet Clayton has done a brilliant job of tracking the history of the families who held this manor from the time of the Norman Conquest onwards, and then the Manor Farm's much later demise in the inter war years of the 20th century. She then traced the move and use of the timbers at Scadbury, their later removal to The Weald and Downland Museum, and the return of some of them to Scadbury in 2019, as well as the implications of the dendrodate of them and two other timber structures in St Mary Cray.
Keeping with this emphasis on the later Middle Ages and picking up on Kaye's theme of social relations – vertical and horizontal, Maureen Mcleod explored who, where and why poaching took place in and around Tonbridge using two documented cases from the 2nd quarter of the 14th century. These offer some intriguing insights into the identity of certain groups of poachers, and the emphasis here might be seen as the collective nature of such actions. For, yes, ideas about need certainly should not be discounted, but equally just as violence can be viewed as a means to negotiate with others (individuals/groups) by other means, poaching can offer a similar way whether we are looking vertically or horizontally.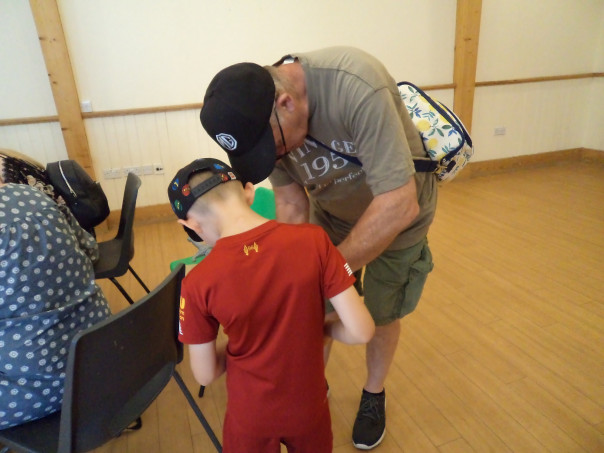 Again, relationships for this same period underscored Jane Richardson's presentation on the pious bequests to be found in the wills of those from Tonbridge and surrounding parishes. Of special concern for Jane's analysis is the level of support the canons at Tonbridge Priory enjoyed in these documents, and the answer is not much. To a high degree this seems to be replicated in much of the two Kent dioceses, but equally there are always interesting exceptions which at times throw light on evidence for other types of relationship, including the presence of corrodians at the county's religious houses. Furthermore, Jane also touched on bequests to the local parish church, and how they, too, seemingly reveal evidence of the presence of 'new' cults, possibly significant for Jane's analysis of the 'Little Dissolution' by Cardinal Wolsey.
Due to Kaye being online, she asked the first questions and the group afterwards adjourned to the Verena Holmes café to continue the discussion. This is the first time the KHP have met in the new building and next time we will be back in Anselm.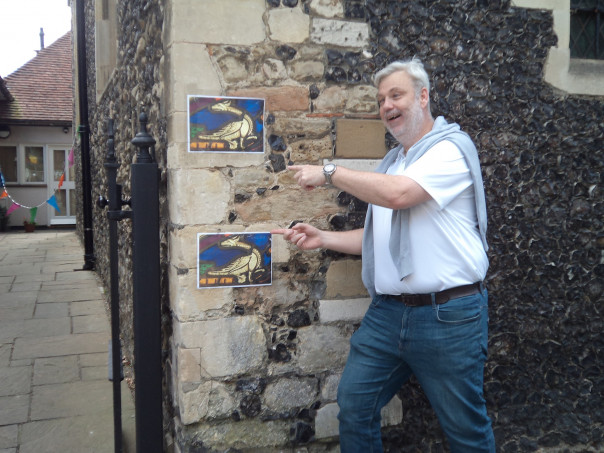 This brings we to my third event, the Canterbury Medieval Pageant, which this year has received sponsorship from the Faculty: https://www.canterbury.ac.uk/news/follow-canterburys-medieval-pageant and if you want to find out more about Canterbury and medieval pilgrimage, this may be of interest: https://blogs.canterbury.ac.uk/expertcomment/pilgrimage-and-late-medieval-canterbury/
I'll leave aside Dr Katie McGown, Head of Arts and Culture, and her team who were organising two of the Medieval Pageant sites on the CCCU campus except to say that I heard there had been over 500 visitors, which is excellent. Instead, I'm going to concentrate on the CKHH's contribution to this highly successful day for the city. Even though Claire was unable to be present on the day due to being unwell, she has been the Centre's representative during the organising phase, led by the Canterbury BID team.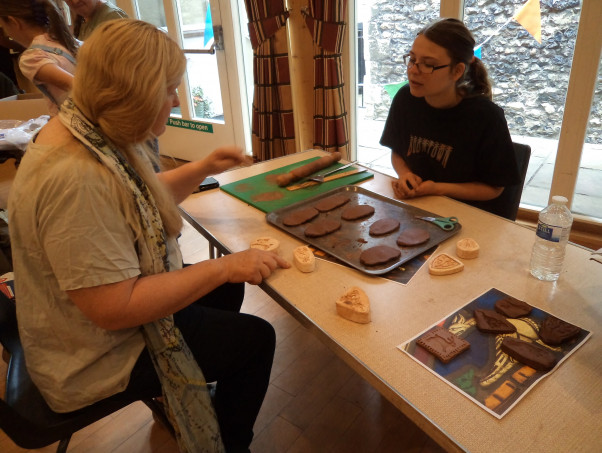 This year we were based at two places: St Paul's church and the 'Green Dragon' which meant the primary person at the dragon was Dr Pip Gregory, although Diane was there for the first couple of hours before coming to help at St Paul's – we had badge-making problems. This could be said to be somewhat ironic because one of the pieces we had on display for visitors to look at was the will of an early Tudor badge-maker who had lived in St Paul's parish. But to return to the dragon, with his/her/their new sedum coated body and wings, during the day Pip explained to the over 300 visitors why he/she/they were there in terms of engaging through education with the climate emergency and for the children there was the chance to spot little dragons in the tree, offer suggestions for a suitable dragon name and put their name on a piece of stone before adding it to the dragon's tail. The latter proved to be exceedingly popular, and we hope people will be delighted with the idea of having played a part in dragon-building.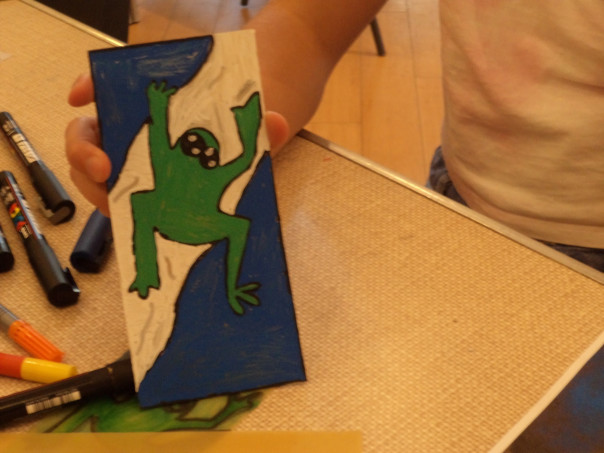 Back at St Paul's, we are very grateful for the help we had from people from the church and from Martin Crowther, who came for a couple of hours in the afternoon. I have already mentioned Diane, and it was her and Penny Bernard's ideas we used for the child-friendly activities of making 'medieval animal tiles', 'stained glass window panel' designs using lasagne – tip draw on the rougher side, and 'medieval animal' badges. We were very fortunate to have three student helpers, including two who had been at St Paul's last November. Marci is doing a Taught Masters in MEMS, Eli is a second-year MEMS undergraduate, and our new recruit was Eli, another undergraduate from the same year but studying English Literature who wants to be a teacher. Our ace team worked tirelessly from the arrival of the first of St Paul's visitors even before the Pageant until the last of the over 450 left the building at almost 5pm. Dragons (and wyverns) were popular among all three activities, but from among the other tile stamps, greyhounds and hares were similarly frequently chosen. Lion and hedgehog designs also caught the eye of eager young badge makers, and the lasagne 'stained glass' designs varied hugely from animals and people to abstract, colourful designs.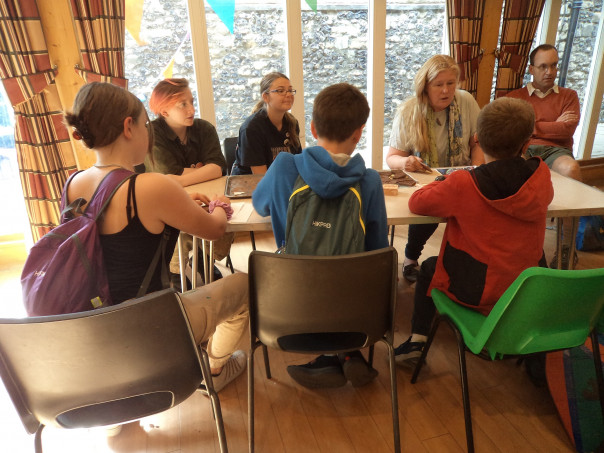 Thus, I think it can safely be said that a good time was had by all concerned, and after we finished at St Paul's and Diane had watered the sedum on the dragon's behalf, the verdict was another successful Medieval Pageant. And finally, following a contact from Cherwell School, 25 Year 12 students will be coming for a workshop on Canterbury and late medieval pilgrimage as part of the field trip on Chaucer, Canterbury and pilgrimage in about three weeks' time – busy times!