It is still possible to come to the 'Maritime Kent: Charting New Waters' conference this Saturday 6 November, 9.50 to 16.00, because booking remains open at https://tinyurl.com/maritimekent and you will be most welcome. This free conference is a joint venture between CKHH and KAS and marks the publication of Maritime Kent through the Ages.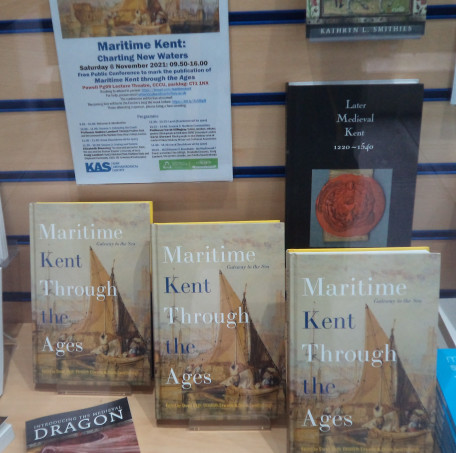 For those unable to attend in person, the intention is to livestream but not record on the day and for that the two Teams links are for the morning sessions: https://teams.microsoft.com/l/meetup-join/19%3ameeting_OWU2NzkxZGEtNDI0NC00N2Y5LWJkNmUtZjg0NmJhZDQ5ODcy%40thread.v2/0?context=%7b%22Tid%22%3a%220320b2da-22dd-4dab-8c21-6e644ba14f13%22%2c%22Oid%22%3a%225438ffb7-ff66-44f6-9ccf-cf504309571b%22%2c%22IsBroadcastMeeting%22%3atrue%7d&btype=a&role=a
and for the afternoon sessions the url is: https://teams.microsoft.com/l/meetup-join/19%3ameeting_YTlhMTZkNjMtYmJjYi00OWUxLWE0NmMtNmQwZmNkZDcxNmM0%40thread.v2/0?context=%7b%22Tid%22%3a%220320b2da-22dd-4dab-8c21-6e644ba14f13%22%2c%22Oid%22%3a%225438ffb7-ff66-44f6-9ccf-cf504309571b%22%2c%22IsBroadcastMeeting%22%3atrue%7d&btype=a&role=a
and as before if you don't have Teams, just watch on the web anonymously.
The two morning sessions are entitled 'Defending the Coast', where the speaker will be Professor Andrew Lambert, and 'Trading and Traders', where the speakers will be Drs Elizabeth Blanning and Craig Lambert. For the afternoon, it is first 'Maritime Communities' with Professor David Killingray and Carol Stewart, to be followed by a Roundtable involving the book's editors, Craig Lambert and Margarette Lincoln. Thus, it promises to be a fascinating and exciting day.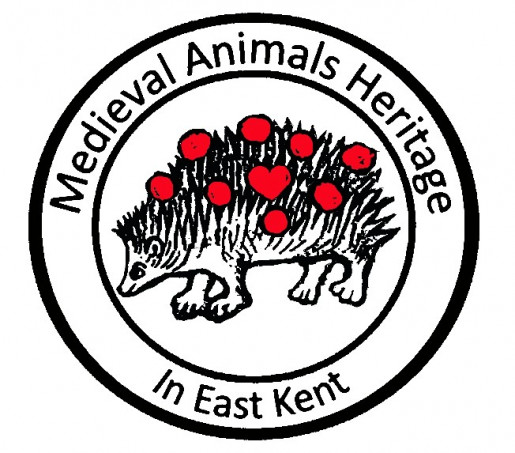 To complete what happened last Friday, Dr Diane Heath, Penny Bernard and the student volunteers had a very successful field trip to Wildwood with the families who are taking part in the 'Medieval Animals Heritage' NHLF-funded project. Fortunately, they managed to avoid the rain, unlike my Canterbury Festival 'Everyday life in late medieval Canterbury' walk, see the bears and other animals, and then have a brilliant time in the afternoon workshops, including animal story telling. Friday was also the day Dr Martin Watts was on television on Channel 5 as part of a 'Walking Britain's Lost Railway' programme.
So to come to this week and the Kent History Postgraduates' catch up meeting. We had a very good turn out today from people like Lisa and Janet who are nearing completion to Pete and Kaye who are just starting out on their doctoral projects. It was also great to have all three archaeology PhD students, as well as the more numerous historians.
We started with Lisa who said she had had a great deal of positive feedback about her online Canterbury Festival talk last week with Dr Jake Weekes (CAT) on Roman Canterbury and its people. Moreover, members of her family back in the States had heard it and this, Lisa feels, has now given them a much better idea about her research project. She is also busy writing up as well as doing more statistical analysis on the skeletons, and her results are continuing to produce exciting new findings. In this light, Janet commented that she had been over to Richborough recently where Historic England has been re-excavating the Roman amphitheatre there under Tony Wilmot. Janet had been able to tell him about one of the skeletons Lisa had talked about in her joint lecture which may have been that of a gladiator. He had not heard Lisa's presentation and was very interested, so the idea is now that Janet will put Lisa in touch with him because this could be mutually beneficial.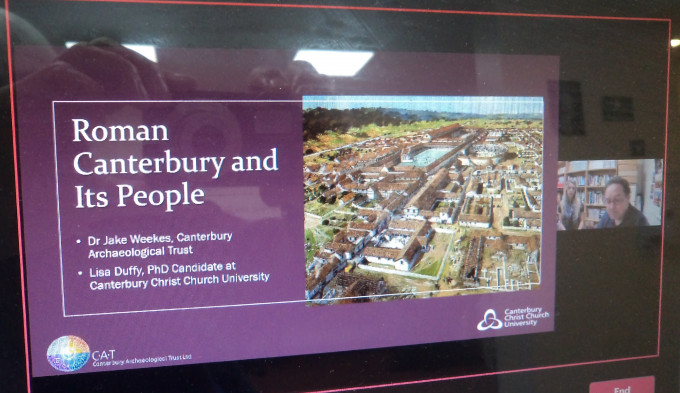 Richard spoke next and said that he had met up with Professor Paul Bennett, the recently retired Director of Canterbury Archaeological Trust, and had had a very informative and helpful discussion about late Roman Canterbury. In terms of his reading and thinking about the research approaches he might adopt, Richard has been investigating ideas from geography and psychology, especially cognitive mapping which focuses on how we use prominent features in the landscape to give us a sense of place and identity. He thinks this idea of visual anchors may be exceedingly useful for his research into Roman Canterbury, and that such an anchor may be applicable regarding the Roman theatre. I think this is also exciting and suggested that he should talk to Dr Lily Hawker-Yates who will be in Canterbury soon for her graduation and whose doctoral thesis explored medieval cultural interpretations of pre-historic barrows in the landscape, so other visual anchors.
Grace has started on the next stage of her research into community archaeological projects, especially those linked to Kent's coastal communities. This includes projects that have been completed from the funder's perspective, but there remain issues surrounding legacy for such projects and how they can continue to have meaning and value for the community. Often such excavations have produced more reports within the archaeological grey literature than fully published materials, and that too is posing issues concerning legacy, sustainability and the dissemination of findings and results. This is going to be another fascinating PhD.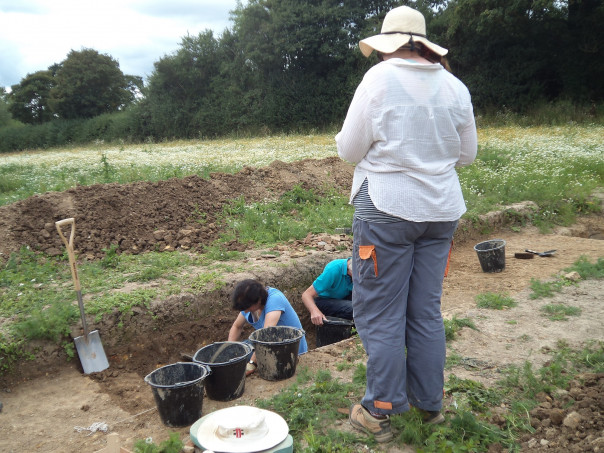 Kaye has been working on her literature review for her new project on early modern Pluckley. This is very much early stages, although she has been researching Pluckley for her own interest for some considerable time. However, now that she is doing it as a doctorate, she is making use of such tools as Ref works and other programmes designed to make writing easier.
Peter, too, is engaged in putting together his literature review for his doctoral project on the poor and poor relief in the lower Medway towns, villages and countryside within the context of the parochial system. Consequently, he has been working through Paul Slack's publications, amongst those of others in this field. He is finding this very interesting and he also intends to be at Saturday's conference because the maritime influence on 'his' communities was considerable.
Jacie has been working on her family and emotions chapter, using the results from her questionnaire. This is continuing to throw up gems from people's comments on their recollections about food production and consumption in the Kent countryside during WWII, and their emotional responses to these matters. As she works through the questionnaire, certain themes are becoming more noticeable, and this chapter is likely to be at the heart of her PhD.
Moving back into the medieval past, Jane has been expanding her work on the slightly later 'early' charters of Tonbridge Priory. She has also started to examine the cartulary for Bayham Abbey held at the British Library. Although the first pages are damaged – the Cotton Library fire – most of the manuscript is in a good condition. She hopes, even allowing for this damage, that she will be able to glean the necessary evidence from what are likely to be copies of the earliest/foundation charters in these pages. Additionally, she and Maureen have finally gained access to copies of wills from the lower courts as well as additional notes from the archives at Tonbridge which should be helpful for both of their projects.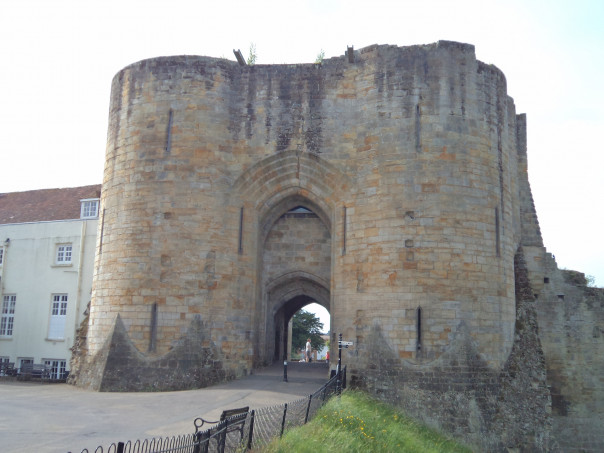 Maureen will be giving the Kent History Postgraduates group presentation in a fortnight on the iron masters of Tonbridge. For her next steps, she needs to return to TNA but in the meantime, she has returned to exploring the secondary literature on 16th- and 17th-century Tonbridge, the most notable historians being Michael Zell and Christopher Chalklin. In addition, she has been taking or is about to take a couple of the training sessions offered by the Graduate College including one on publishing your work.
Janet, like Lisa, is in the final stages of her doctorate and recently has been drafting her second chapter. This has taken her back to the Domesday Book to explore further the landholders in Ruxley Hundred. This has proved very interesting, if not a little frustrating, because she is finding it difficult to find detailed work on Kent for this period. She has found that among the landholders was a London moneyer who survived the Conquest, whose family were wealthy and involved in the importation of luxury goods. Although fascinating, and Janet is thinking it may form the basis of an article later, in terms of the thesis it may only become a few sentences and a couple of footnotes. Nevertheless, it may still be worth contacting Dr Chris Lewis at King's College London who has worked extensively on the landholders listed in Domesday.
As you can see, the Kent History Postgraduates are a very active and co-operative group, and at our next meeting we are hoping to celebrate with Drs Dean Irwin and Lily Hawker-Yates following their graduation the day before.