I thought I would start this week by saying that I really like the display in the CCCU Bookshop front window for Marc Morris' new book due out on 20 May For as well as Marc's very striking cover for his The Anglo-Saxons. A History of the Beginnings of England, Craig also has a couple of artefacts as part of the display that shout out 'Anglo-Saxon'.
For those interested in this topic, of course there is Marc's great, new book, described as 'A remarkable achievement' by Justin Pollard, which you can order from the Bookshop at: https://bookshop.canterbury.ac.uk/ but you can join the Centre for 'In conversation with Marc Morris' on Tuesday 25 May at 7pm. It will be on Teams Live Events and this public event is free. Booking is not required, just use the joining link which you will find at: https://www.canterbury.ac.uk/events/in-conversation.aspx and we shall look forward to your company.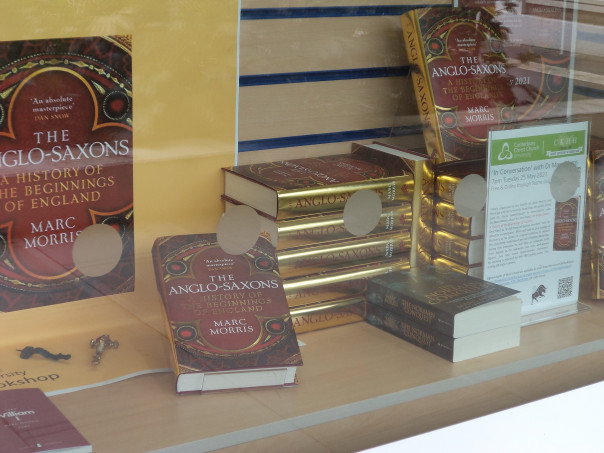 Coming back to this week, although a report will appear in next week's blog because it is not happening until Friday, Dr Diane Heath will again be at the Royal Harbour Academy, Ramsgate. This week she will be running workshops for Year 7 students on the Peasants' Revolt. As I understand it, she will be introducing the students to a couple of churchmen who were central to the course of the Revolt – John Ball the priest 'liberated' from prison by the rebels who became one of the key leaders, and Archbishop Simon Sudbury, seen by the rebels as behind the hated third poll tax, who was in close competition with John of Gaunt as the rebels' public enemy number one. Fortunately for Gaunt, of course, the rebels could only vent their anger on his Savoy Palace, but Sudbury paid the ultimate price, literally with his head. This gives a nice contrast and the students as part of the workshop will be making badges, either John Ball's windmill (to be explained next week) or a pilgrim badge highlighting Simon Sudbury's head, or perhaps even both!  
Coming back to this week's reports, the Kent History Postgraduates Group met on Wednesday for a catch-up session. Even though numbers were slightly down because Dean, Lily and Victoria were working, and Lisa is exceedingly busy working on her data analysis as she nears completion, we did welcome back Janet following her stay in hospital and Maureen after some technical issues was able to get in. Thus in time honoured fashion, I'll give a report on what people said they have been doing recently and, as often happens, others were able to chip in with ideas and suggestions for their peers.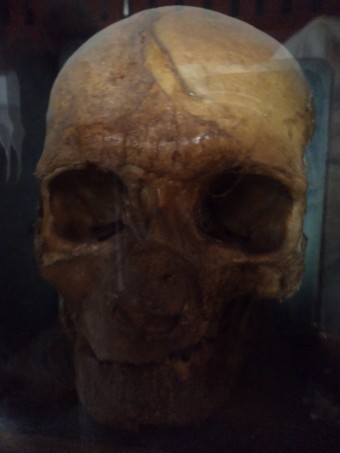 As always this is in no special order, although I did ask Jane if she would like to start the ball rolling because I knew she had been experiencing some issues relating to Research Space. In particular, this relates to students' individual training plans which may always have been important but have come to greater prominence with this still newish monitoring system. Having had considerable problems trying to upload information on the training she had completed, Jane eventually received a great deal of help from Rebecca Kent in the Graduate College. Jane is extremely grateful, but she wanted to highlight the issues for others so that they can avoid similar frustrations regarding the system. On a more positive note in terms of her research, Jane has started working on her upgrade substantial piece of work on lay patronage of Tonbridge Priory and Bayham Abbey, which for this section will feature the prolific Culpepper family.
Staying in west Kent, Maureen has also noted some 'interesting' entries on Research Space, but her primary focus has been first her periodic review and she too is now compiling a substantial piece of work for her upgrade. The focus of her piece is the history of the deer parks and chases around Tonbridge, taking them from their formation out of the woodland dens to their disparking in the early modern period. Even though this is a long period of time, sorting out the development of these areas Maureen feels is key to understanding the history of Tonbridge as an urban settlement under aristocratic (at times royal) lordship through relationships between the various lords and their tenants.
Grace, too, has been learning about the ways of Research Space, but respecting her research project she has been compiling her literature review and assessing her next steps. One of the issues she has been grappling with is how to analyse the projects she is following. Having adapted the idea of an evaluation matrix as used by museums for their collections, she now believes she is on the right track. Additionally, she had received a bursary that allowed her to attend a very useful conference, where she was interested to hear how public (community) excavations and those involved are viewed by some within the profession.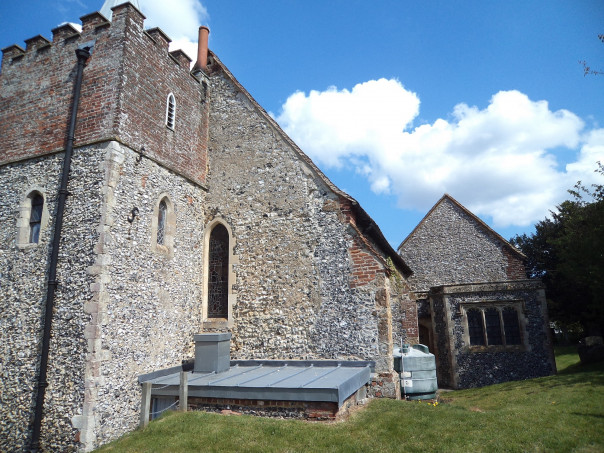 Moving next to Jacie, she has been reordering her notes of her different themes and has started looking in more detail at the results from the answers to her questionnaire. This is starting to throw up some good lines of inquiry in terms of the themes she is intending to develop into her various chapters. Consequently, she is now in a position to begin her next chapter, although she hasn't quite yet decided which of two topics she will do next. Both sound exciting and it will be great to see the next stage in this research project.
Pete, too, is setting up a new project which will keep him busy for the next 11 months alongside his work for the chaplaincy team. However, as he said, he is more than happy to do some printing for people using their account if getting to Canterbury is difficult. And in that capacity, he is soon going to print out the necessary number of copies Dr Dean Irwin wants of his recently completed doctoral thesis. Moreover, Pete showed the group how to use i-print which is a new facility available to students and staff at CCCU.
As Tracey said, Agnes de Condy has turned into a fascinating case study now that she has sorted out various genealogical issues surrounding Agnes' family and those of her two husbands. As a result, Tracey has a much better idea about why Wickham manor was important to Agnes, as well as the reasons behind her and her husbands' (especially her first husband) devotion to St Thomas. Furthermore, such motivation and patronage potentially has implications for those further down the social hierarchy, the knightly families being Tracey's primary focus group.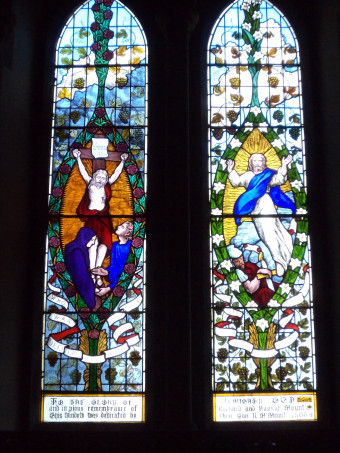 Coming to Richard, he is now back in Canterbury and is deeply immersed in his secondary literature. He did get to the GIS postgraduate training that Jane has hoped to attend, but whereas the lecture had been fine, IT issues after that had hampered the practical session. However, he does hope soon to use the skills he has acquired to start scanning in all the excavation maps and through his digitization work he hopes to build his integrated database of artefacts that are plotted on his maps to look for distribution patterns for specific object-types. Under these circumstances, I suggested that he ought to contact Dr Jake Weekes at CAT because he was the lead on the new Canterbury historic map. This map can be ordered from the CCCU Bookshop if they are out of stock.
As a consequence of her recent stay in hospital, Janet gave a resume of this time, but she hopes to be able to get back to her doctoral topic soon, albeit from home because this is going to be a slow process. However, the doctors are truly shocked at just how good she is at walking although they are still talking about the potential need for another hip operation. Thus ended another highly interesting session and it was great to hear from all the postgraduates about how they see their way forward.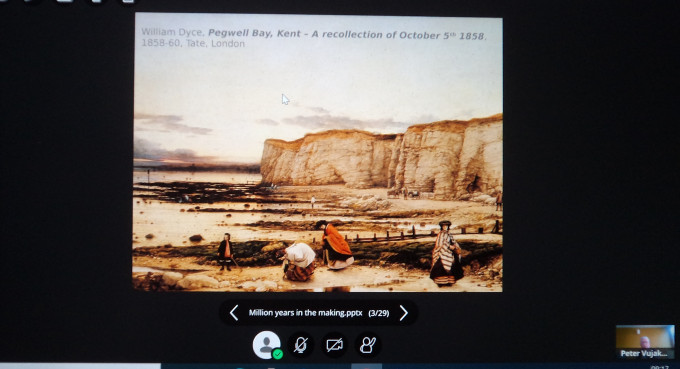 Even though I had to dip in and out, I had been at the start of the 3rd Kent Maps symposium and had heard the first part of Professor Peter Vujakovic's talk on chalk landscapes and the concept of 'deep-time'. Peter discussed this concept, starting with its conventual use regarding geological time before moving on to chalk – the story about its formation, and how this can be expanded using such concepts as deep-time, the map as biography, and how the marks left on the land offer ideas about liminality and movement across the landscape, from clay vale to chalk downs. Although only discussing the idea of Tim Ingold's 'taskscape' briefly, I had to leave his session just as Peter was introducing Hilaire Belloc's The Old Road.
Even though I wasn't able to rejoin the symposium until late in the afternoon, I did catch the session before mine which featured Dr Susan Civale and her analysis of writings involving women from the late 18th and early 19th century. Susan's focus was the way ideas about Dover and crossing the Channel were deployed. Again she drew on the sense of liminality and thresholds where physical movement could equate to new beginnings, shifts in identity and to loss, albeit what was gained often outweighed that lost.
She was followed by Katie Holdway who offered a very interesting assessment of how provincial newspapers in the mid 19th century, in this case the Kentish Gazette, put forward their own agenda through the judicial use of extracts from Charles Dickens' Pickwick Papers. By so doing editors were able to extoll the charm of the Kent countryside while retaining Dickens' humour but blunting or airbrushing out his satire of Kentish people. What the Gazette's readership thought of these approaches is more difficult to ascertain, but the frequency of these reprinted extracts suggests readers were prepared to follow the newspaper's lead or were not sufficiently affronted to complain through the writing of letters to the paper.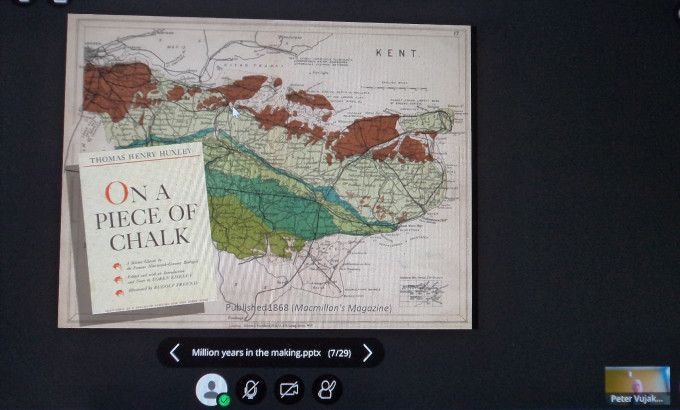 Michelle Crowther then introduced us to the Persistent Scribblers Society of Canterbury, a genteel group of mainly women writers who were active between 1875 and 1878. Almost all of these amateur writers of short stories or poetry had familial links to the Anglican Church. Two of the most active of these female writers were the Dean of Canterbury's 13-year old daughter and the far older daughter of a locally important lawyer. Michelle gave us brief biographies of these two women and then insights into their writings, showing how this outlet for their literary talents also provided them with sufficient freedom to move beyond the confining strictures of gender, class and the somewhat suffocating environment of cathedral life.
This brought the audience to the penultimate tea break, which was followed by two very different presentations: Elizabeth Waterman-Scrase's exploration of 19th-century capital punishment in Kent and my assessment of clerical friendship inside and outside the cloister in late medieval Canterbury. Elizabeth indicated how a Deal case had caught her attention and led her on a journey to discover the history of hanging in Victorian Kent, its myths as well as the facts, and that Maidstone took a central place in these proceedings. Moreover, she mentioned the importance of Penenden Heath as a site of execution, which might also be seen in relation to its earlier role as a place of hundredal gatherings, as well as a place of congregation by rebels during more than one uprising.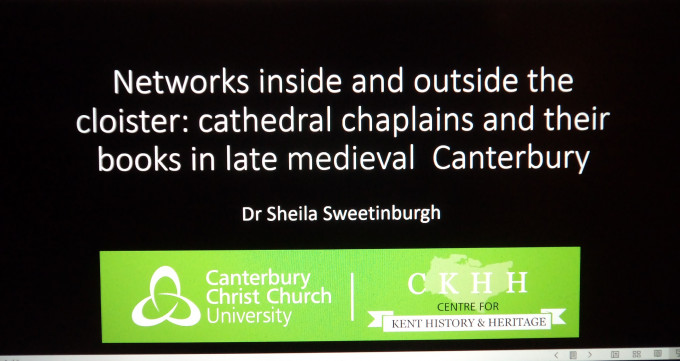 I was also dealing with death, but through the lens of wills to explore bequests, specifically books, to see how these clerical testators had deployed such items in the 'economy of regard' to strengthen the networks of personal and communal friendship at this time of heightened emotion. For these bequests can be envisaged as highlighting the personal, practical, aspirational and commemorative facets that could be engendered through gift-giving. Thus to give but one example, Robert Flete, the vicar at St Mary Bredin, wanted certain books he intended to name on his deathbed to be given to the master and hospital of St Bartholomew at Smithfield. The remainder were to be distributed by his executors to those seen as 'well-disposed priests' on the understanding that they would remember Robert's soul and in turn bequeath his books to other priests, who should do likewise.
Unfortunately, I could not stay for the keynote lecture because I needed to get to a FCAT committee meeting, but I am sure all those involved with the Kent Maps had found it an enjoyable and stimulating day and were very grateful to Professor Carolyn Oulton and Kate Minter for all their hard work to make it such a success. And next week we will have some medieval rebels!