June events and Canterbury pilgrims
Having discussed one event in the whole blog last week, I thought this week I would begin with news of three Centre events next month before turning briefly to one event that occurred yesterday and then even more briefly to one that took place last week.
The Centre will be running two conferences in June. The first, on Saturday 3 June, marks the seventy-fifth anniversary since the Baedeker raid that month when those at Shatterling (a village to the east of the city, about half way to the coast at Sandwich), saw the skyline above Canterbury as completely red, when a large part of city in the St George's and Burgate areas went up in flames. As well as the conference itself, the Canterbury Cathedral Archives and Library will provide a photographic display in the foyer of Old Sessions House to show just how much of the city and buildings in the cathedral precincts were damaged or destroyed that day in 1942. Dr Martin Watts and Professor Kevin Ruane will be joined by Jordan Newton, also from Canterbury Christ Church, and the fourth speaker will be Paul Bennett, who is well known to many of you as the Director of Canterbury Archaeological Trust. Paul's forerunners in the city undertook a considerable amount of rescue archaeology among the bomb sites at the Guildhall, St George's church, Rose Lane and elsewhere, and without this pioneering work even more would have been lost in terms of information about the Roman and medieval city. Tim Jones will lead the final morning session to provide a sense of the film record of the time, and in the afternoon Paul Bennett will take a smaller group on a walk to provide an idea on the ground of what was lost. To book either or both events, please go to www.canterbury.ac.uk/baedeker
A fortnight later on Saturday 17 June, also at Old Sessions House, the Centre is delighted to be hosting a conference on tithe, and the range of history topics that can be investigated using such records. Indeed, family, local, social, economic, cultural, political and religious historians, to name just some, have used these records and the various speakers from Cambridge, Durham, Leicester and Canterbury will highlight using their own research the potential of these materials to shine a light on past societies from medieval times to the twentieth century. For those not sure they understand how tithing worked, Elizabeth Finn (Kent Archives Service) will give a summary of the system as it existed in the Middle Ages until it finally disappeared following the Finance Act of 1977. The two speakers on medieval tithes will look at these records from the viewpoint of the monks (Dr Benjamin Dodds) and from that of the peasants (Professor Christopher Dyer). After lunch, we will explore rural tithing and resistance in the 16th century (Dr Paula Simpson) and urban tithe debates in 1630s London (Stuart Morrison), before our final session when Dr John Bulaitis will take us through the tithe rebellions in modern times. Again, for those interested, please look online at www.canterbury.ac.uk/tithe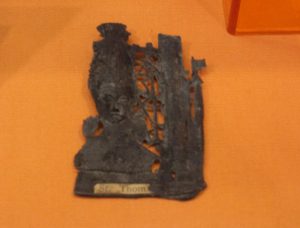 St Thomas pilgrim badge, Canterbury Heritage Museum
Also in June, the Centre will join with the Friends of Canterbury Archaeological Trust [FCAT] for an evening lecture by the Centre's Dr Diane Heath. This lecture will take place on Thursday 8 June in Newton on the Canterbury Christ Church Campus, Ng07, at 7pm. If this sounds interesting do come along and booking is not necessary. Diane will be discussing Nigel Wireker, a monk from Canterbury Cathedral Priory, who lived through the turbulence of Becket's martyrdom, the burning of the cathedral, the imprisonment of the priory monks in their inner cloister by their own archbishop, and the papal interdict under King John. She will explore how this monk survived and flourished when national and supranational interests clashed, even writing the poem, Speculum Stultorum (A mirror of fools) in which Burnel the ass satirises his times, by drawing on her extensive studies of the period, especially the medieval bestiary (book of beasts).
This brings me to the joint Centre and FCAT lecture last night on 'The pilgrim experience in late medieval Canterbury', and I'll just pick out a couple of points. It was excellent to see over fifty people in the audience, including some Canterbury Christ Church students and staff members, as well as people from outside Canterbury – from Herne Bay in the north to Shepherdswell in the south. The first point I'll talk about is smell and rather than consider the city, I'll direct this towards what would have happened when the pilgrims entered the cathedral. Today we are generally far less used to this sense of being bombarded by smells compared to our medieval forebears, but for them the everyday smells of the farmstead and town would have been far stronger. However, for anyone who has worked with livestock, for example, will tell you, after a time you just don't smell the pigs or other animals – as the advert says you become 'nose blind'. Yet those about you certainly do because it seems to get into the very pores of your skin however much you wash! This must have been equally the case in the Middle Ages, and yet it seems highly likely that the very different smell of incense that greeted the pilgrims would have assailed their senses, having the potential to heighten their affective (emotional) sensory experience. Furthermore, such experiences may have had a reassuring physiological impact, because, as the Regimen sanitatis taught, it was important to avoid corrupt air and instead to seek out pleasant odours, uplifting sights and harmonious sounds. Plague treatises endorsed such ideas, incense and perfumes being recommended not merely to mask bad smells, but also to combat infection by strengthening the body's vital spirits. Consequently, smell as one of the five senses is a valuable way to explore contemporary ideas about pilgrimage, and what such experiences may have meant to those who came to Canterbury.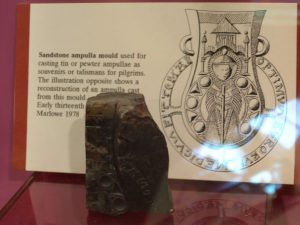 Stone mould for making pilgrim badges, Canterbury Heritage Museum
The second point I'll pick out similarly has modern parallels in that the prologue to The Tale of Beryn, a continuation of Chaucer's Canterbury Tales, mentions that some of the pilgrims went sightseeing and shopping in Canterbury after their visit to St Thomas' shrine. The idea I want to pick up here is firstly that unlike some towns such as Norwich or York, Canterbury was probably just too small to have craft or artisan enclaves beyond those associated with the butchery: that is close to the Bullstake (now the Buttermarket), the civic authorities seeing it as necessary to bait all bulls before slaughter. Nonetheless, Canterbury, as today, could offer an enjoyable shopping experience from the breadth of merchandise available, the opportunity to sample the medieval equivalent of fast food at cook shops and from pie makers, and the chance to have new clothing made or acquire a cap or hat for which Canterbury was becoming well-known. So what sorts of artisans would our late medieval pilgrims have found? In addition to the leather workers, including saddlers and shoemakers, there were tailors, hosiers and seamstresses, but fewer spicers, mercers, weavers, fullers, carpenters and smiths of various kinds. However, among the more unusual crafts in 15th-century Canterbury were bookbinders, whistle-makers, bottle-makers, spoon-makers, glaziers and surgeons. Thus, the medieval pilgrim had the potential to experience the spiritual and the material, a once-in-a-lifetime experience that might mean s/he was never the same again.
Finally, I thought I would report that several of the postgraduates working on Kent history topics had their second meeting last week. These meetings offer a chance for discussion about different issues relating to research approaches or to specific matters that individuals are currently exploring. Janet Clayton had offered to lead the first part of the session as a way to explore ideas about methodology, and just what sort of approaches she might use for her interdisciplinary study of Scadbury and the Cray valley regarding its relationship to London in the later Middle Ages. This provoked a lively discussion about the value of theoretical ideas from disciplines outside history and fed in to the second part of the session that focused on material culture and microhistory. At the conclusion, the consensus was that such meetings are worthwhile and next time, in June, Jacie Cole and Lily Hawker-Yates will lead the discussion.