Famous people in Canterbury: St Thomas and others
Next week is the 'Gender, Places, Spaces, and Thresholds' conference that Dr Diane Heath is running for the Centre at Canterbury Christ Church – for details see: http://www.canterbury.ac.uk/arts-and-humanities/research-kent-history-and-archaeology/crkha-latest-projects/place-space-and-liminalities.aspx but I thought I would also draw your attention to the Eleventh Annual Thomas Becket Lecture. Details of Dr Paul Webster's lecture are now available at: http://www.canterbury.ac.uk/arts-and-humanities/events/arts-and-humanities/ckhh/eleventh-annual-thomas-becket-lecture.aspx and it promises to be a very special occasion because Paul is a well-known expert in the early cult of Becket studies.
Across the academic world, in January seminar organisers display notices about the speakers they have enlisted for the coming term. The leaders of the various history seminars at the Institute for Historical Research [IHR] in London are no exception and yesterday I spotted that Professor Louise Wilkinson, the new joint head of the Centre, is due to speak at the 'Later Medieval Seminar'. Her lecture will take place on Friday 17 February at 5.30pm in The Small Conference Room, IHR, Senate House, London. She will discuss 'Royal Daughters and Diplomacy at the Court of Edward I', a topic she has been researching recently having discovered some particularly rich archival sources. If any readers of the blog are interested in this field and are likely to be in London that day, I would recommend attending the seminar.
Keeping with this idea of people and future events linked to the Centre, as well as the topic of kings and queens, I thought I would just highlight the opportunity of hearing from several experts in this field. Among the 'events' within the 'Tudors and Stuarts History Weekend' coming up between 31 March and 2 April are four that specifically cover such topics, although eagle-eyed viewers of the Weekend programme will spot others at different times that address allied topics.
However, keeping with the particular 'royal' lectures, participants at the Weekend will be able to learn about Queen Katherine of Aragon from the well-known author Alison Weir and discover what archaeologists have found out about Henry VIII's minor royal palace in Canterbury that he had converted from the dissolved great Benedictine monastery of St Augustine's Abbey. The latter is one of our Weekend visits that will be led by Professor Paul Bennett, the Director of Canterbury Archaeological Trust [CAT], whose knowledge of Canterbury's past is legendary.
https://en.wikipedia.org/wiki/Henrietta_Maria_of_France#/media/File:HenriettaMariaofFrance02.jpg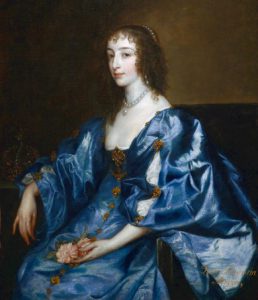 By Anthony van Dyck – San Diego Museum of Art [Public Domain]
Moving on to the Stuarts, who like their Tudor predecessors were very keen on material culture – the latest, most expensive, most luxurious, it is a very great pleasure to have Professor Maria Hayward as a speaker on the afternoon of Saturday 1 April. Maria is one of those amazing scholars who not only knows about royal clothing and jewellery from an academic perspective, but has also been heavily involved in projects regarding such artefacts from a practical stance. Consequently, I am sure her audience will be in for a great treat when she discusses 'Diamonds, debt and diplomacy: the role of jewellery at the Stuart court', not least because this is new research which will form a chapter in her new book. Keeping with jewellery and diplomacy, Queen Henrietta Maria and King Charles I were not adverse to such items. As Dr Sara Wolfson will discuss in her Weekend lecture on Saturday morning, Henrietta Maria's journey to Holland to escort her eldest daughter Mary to the court of the latter's new husband gave her full rein to use courtly spectacle. Yet the implications of this in gender terms were viewed at the time as controversial, and Sara will consider what this can tell us as historians about 'female agency'. Thus, again, the audience will be in for a feast and I would recommend anyone interested would do well to check the Weekend website: http://www.canterbury.ac.uk/tudors-stuarts or email artsandculture@canterbury.ac.uk or phone 01227 782994 [Monday to Thursday, office hours].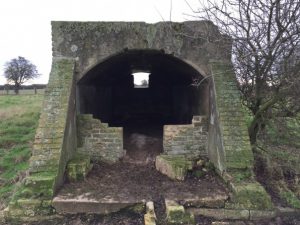 Reinforced storage building (photo: Martin Watts)
Finally, Dr Martin Watts has been very busy working with the local history group in Chilham and I'm delighted to be able to include a short report he sent me regarding their recent visit to the Faversham area, the site of a tragic event just over a century ago. Martin's report: 'On Saturday 31st December 2016, by invitation from the Chilham Remembrance Group, I joined a walk around the site (Uplees) of the great Faversham explosion of the 2nd April 1916. The explosion, which killed 109 people and injured many, many more, was a result of the mishandling of explosives at the Explosives Loading Company, which was working under maximum pressure to raise stocks of urgently needed ammunition for the western front. The explosion was heard as far away as Norwich, and windows in Southend were shattered by the blast. Three of the men (it being a Sunday no women employees were at work) who lost their lives were from Chilham, and having located the site of the seat of the explosion, they were commemorated with a wooden cross and a minute's silence.
The walk included Mary Kemp, a well-known researcher of the explosion, members of CAT, and was led by Chris and Heather Flood, the farmers on whose land the site is situated and by whose kind permission we were able to access the scene. As might be expected, not much remains, and the accompanying images show the site of various buildings belonging to the factory, with evidence of storage and internal light rail transport. The information gathered from the walk will be incorporated into CCCU's history module 'War on the Front Line: Kent and the two World Wars.'