I thought I would start this week by telling you about an exciting opportunity for someone who is interested in the History of the Book and who would like to undertake a postgraduate degree in the School of Humanities as part of the Kent History Postgraduates group.
So what is on offer? Well due to the generosity of a local benefactor there is the chance for one student to complete a partly funded MA by Research in the area of Book History and Material Culture. The successful applicant will have access to a unique Kent archive, with the scope to develop a Digital Humanities project related to local history, gentry culture and the country house library. The archive comprises an annotated leather-bound volume containing the handwritten 'St Albans Court Inventory of Heirlooms' for the will of William Oxenden Hammond (d.1903). This includes a substantial library collected in the eighteenth and early nineteenth centuries, which covers a very wide range of subjects. Annotations cover the period up to the auction of the library books in 1938 and the inventory also includes silver and plate, jewels, statues, objects of worth and paintings.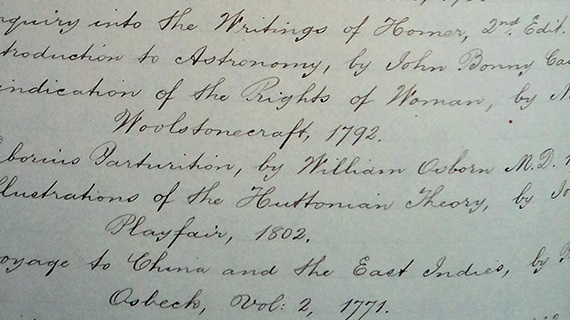 The successful applicant will be offered a bursary of £1000, with the possibility of applying for a further £1000 from the Ian Coulson Memorial Postgraduate Award fund. Those interested in applying should have a good first degree in English Literature or History and should be prepared to undertake some palaeography training if necessary. Experience of database-building would be an advantage but not essential because training can be provided. If this appeals to you, please contact Dr Claire Bartram or Professor Carolyn Oulton at claire.bartram@canterbury.ac.uk or carolyn.oulton@canterbury.ac.uk
Moving on to other Centre matters, Claire Bartram was at an online meeting recently about the virtual staging of the Medieval Pageant this year. The exact format has yet to be finalised but for CCCU Humanities may involve Creative Writing students and the production of short speeches or the dramatizing of events. Other writing opportunities may centre around Thomas Becket's life, while activities for primary and secondary school students as online packages are in differing stages of preparation by Lizzie Burton (Education) and Dr Diane Heath. As many of you may remember, last year the Centre was based in St Paul's church with Canterbury Archaeological Trust, and even though this will not be possible in 2020, we hope you will enjoy our contribution to the Medieval Pageant this year and we will look forward to seeing people in person again in July 2021.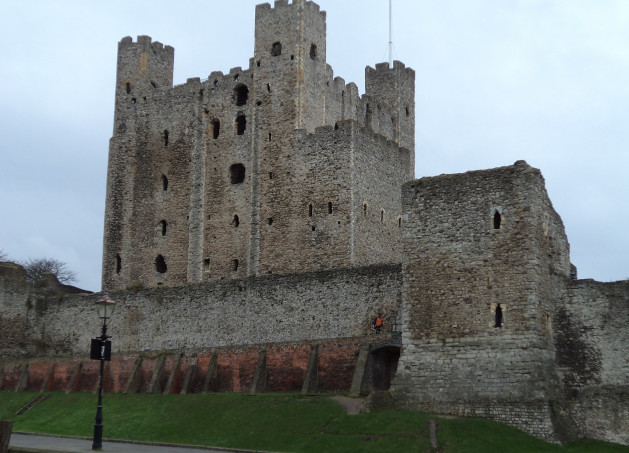 As part of Maritime Kent through the Ages, as well as the post-excavation process surrounding several digs in the St James' area of Dover, I have been in correspondence with Keith Parfitt about Duke William's march through Kent after Hastings in 1066, and in particular Keith's interest to locate all the near contemporary and slightly later textual sources for what happened at the town. This has been an extremely interesting exercise because we have been exploring a range of documents in translation, from the Anglo-Saxon Chronicle (various versions) and the Carmen de Hastingae Proelio to William of Poitiers' Gesta Guillelmi and Wace's Roman de Rou, for which there are useful modern editions. As an archaeologist with special expertise on Dover and its hinterland from the post-Roman to the late medieval period, Keith is especially interested in where and what the town and its defences comprised in the mid 11th century – how much and what was in the valley, and similarly on the eastern hill top. Although there are different issues that need to be taken into consideration with all of these sources, an idea is beginning to emerge from Keith's perspective that he will be feeding into his account in the volume, in addition to the publication relating more specifically to the excavations. Consequently if this sounds intriguing, I'll let you know when the essay collection comes to publication.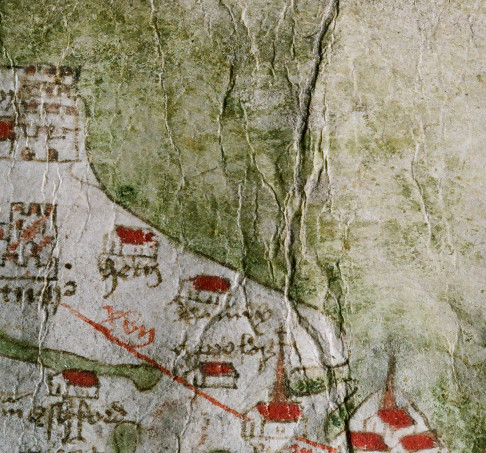 Another area I have been involved in this week relates to the Leverhulme-funded Gough Map project, led by Dr Catherine Delano-Smith. For the first time we had a meeting involving nearly all those working on counties south of the Trent. There will be a similar meeting soon for those investigating the area to the north. From a personal perspective, it was great to meet my fellow 'southern' contributors, as well as those working on the more technical aspects of the whole map. One theme that reoccurred during our discussions was the degree of inconsistency across the map, and often also within regions. Dating continues to be an issue for it is similarly becoming clear that as well as matters including a previous map(s) than this map now at the Bodleian, the Gough Map was not produced as a single enterprise, rather things were added as presumably more information became available and/or the interests (whatever they were) of the mapmaker(s) and/or their 'patrons' changed over time.
However, for the purposes of this short piece, I'm going to leave aside our discussion and give a few more thoughts on Kent and Surrey – 'my' counties, and I am indebted to earlier discussions with Dr Rebecca Warren (University of Kent) and the Kent History Postgraduates group. While places generally look to have been drawn before the rivers, and this also seems to hold true for Dorking and Reigate that aren't finished in terms of colouring in the buildings, the sheer dominance of certain rivers would seem to imply these were the guiding feature for the 'mapmaker'. Furthermore, as I mentioned awhile ago, there seems to be a hierarchy between the rivers flowing north into either the River Thames or Thames Estuary compared to those flowing east or south into the English Channel. Indeed, this may even have influenced the creation of an 'extra' branch of the River Mole, which is shown close to Horsham, for in reality the river near the town is part of the Arun that flows southwards to Arundel. For Kent, there is a similar anomaly if the broken red circle to the north of Rye does represent the Isle of Oxney because schematically it sits between two branches of the Medway river system rather than the River Rother. Furthermore, the River Rother is barely shown at all beyond it being one of two small inlets between Rye and Winchelsea.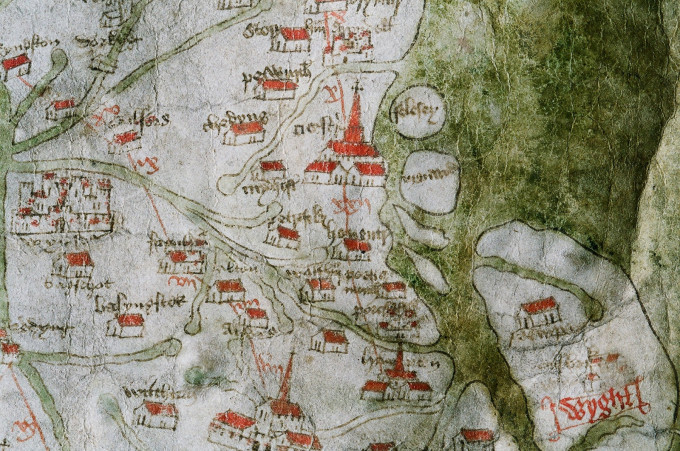 Keeping with the idea of the Thames/London supremacy in the mind of the 'mapmaker', and how this is seen through the number of northern rivers, working from east to west across Kent and Surrey, we start with the Westbrook at Faversham Creek, then the Medway river system that dominates pretty much the whole of Kent. In north-west Kent there is the River Darent (but not the River Cray) and the Ravensbourne, after which passing into Surrey we get the River Wandle, the Hogsmill River, the Mole with its 'extra' (and major) tributary, before reaching the river system of the Wey.
How places are depicted on the map is a big topic, although there is greater variety in other counties compared to Kent and Surrey. In part this is because in broad terms the 'mapmaker' had gone for the 'simple house' drawing for many places in these two counties. As mentioned before Rochester and Canterbury are the most lavish, each denoting a walled city, castle and cathedral. Albeit at first glance you would be forgiven for thinking Rochester was the more important, and perhaps for a London-based individual it was with its lovely new stone bridge crossing the Medway, recently completed between 1383 and 1391, that sealed its dominance.
Apart from some odd choices to include Appledore in Kent and Chiddingfold in Surrey – sorry people from either place, it is strange that neither Folkestone nor Chertsey were seen as sufficiently worthy of inclusion.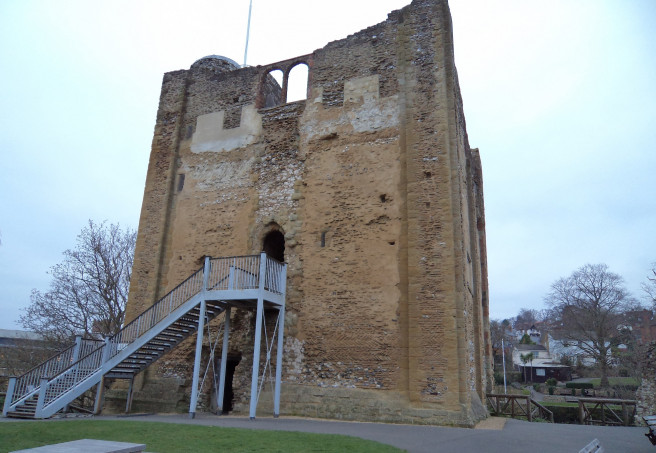 Finally thinking about castles, their depiction is at times rather idiosyncratic, especially for Dover and Queenborough, and why having put in the four red dots to indicate where to put Leeds castle it didn't happen is unknown. However, Tonbridge's 'keep' looks fine, but why no castle at Sandwich, and if you have Leeds near Maidstone why not Saltwood near Hythe? He wasn't any more consistent in Surrey either because Reigate castle is there, although the quality of the drawing is poor, but neither of the castles at Guildford nor Farnham, which were far more important places than Reigate.
Thus, I hope you can see why we had a busy meeting and it will be interesting to hear how the 'northern' people get on next month before we all come together in September.