First of all this week I should like to thank those who have been in touch about when the Tudors and Stuarts History Weekend details will be up on the Centre's webpages.I am delighted people are interested. The answer is that we had a slight set back but are working on it and now making good progress. However, it is not quite finished yet but the intention is that it will be live by the end of the month. As soon as it is, I will put a notice in the blog to let you know and will aim to keep you updated if there are any other issues in the meantime.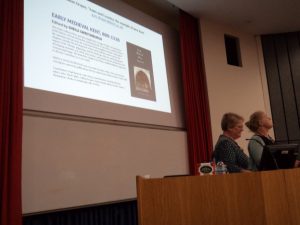 For later this month, I thought I would just mention the Nightingale Memorial Lecture on Wednesday 21 September at Old Sessions House because in addition to the lecture by Professor John Martin on 'Wartime Farm Revisited', Professor Jackie Eales, as head of the Centre, will be congratulating the first winners of the Ian Coulson Memorial Postgraduate Prize. We have five winners this year and hopefully three of the winners will be present. The Nightingale Lecture is an open lecture, so please if it sounds interesting and you would like to see the prize winners do come along at 6.30pm for the wine reception and lecture at 7pm. There are further details on the Centre's website.
Another event involving the Centre this autumn is the Place Names and Surnames conference, which is primarily being organised by Dr Mark Bateson as chair of the Kent Archaeological Society's Place Names committee. Such opportunities to work with local and regional societies is an important part of the Centre's remit because among other things it provides an excellent platform to present academic research findings to an audience outside the university system. The conference will take place on Saturday 12 November in the Powell Lecture Theatre and features Dr Michael Bintley, from Canterbury Christ Church, looking at wics and burhs in Old English poetry, and Dr Paul Cullen of the University of the West of England speaking on Kent field names in the morning and relational surnames in the afternoon. Other speakers will include Elizabeth Finn, an archivist at the Kent History & Library Centre, Maidstone, who will discuss court rolls, custumals and gavelkind, documents that she has been investigating in the funded manorial documents register project for Kent. For those interested in attending, please look at: https://canterbury.ac.uk/arts-and-humanities/events/events-list aspx  or email artsandculture@canterbury.ac.uk
Having provide some details about future events, I thought it would be appropriate to tell you a little about what happened yesterday because we spent the day celebrating the completion of the Kent History Project series by hearing eight talks that reflected material in Early Medieval Kent. As readers of the blog will know, this is the final volume in the series, which covers the development of Kent from prehistory to the 20th century – when envisaged the organisers believed it would be finished by 2000! In part, the idea was to honour the two men who had been most involved with the project: Nigel Yates the initiator, with Kent County Council's backing, and Ian Coulson who took on the mantle as the second Series Editor and whose death preceded by about six months the publication of Early Medieval Kent in June 2016. Consequently, it was great to see over 150 people in the Michael Berry Lecture Theatre in Old Sessions House for the packed programme.
Rather than give you summaries of all the talks, I shall just mention what I felt were the themes that came out across the day, noting a couple of examples in each case that the appreciative audience enjoyed. Two things struck me. Firstly, although this is hardly new especially because I often work with archaeologists, there was a considerable emphasis on the need to work holistically with respect to the evidence. Historians cannot exclusively keep to documentary sources any more than archaeologists can remain entrenched in the evidence from archaeological excavations, and it is this bringing together of a wide range of sources from landscape studies, documentary materials and archaeology that will provide a far better picture of past societies. Both Drs Gillian Draper and Hilary Powell, in their papers on settlement formation in west Kent and the early medieval saints' cults of Kent, respectively, drew attention to the importance of bringing together a range of approaches. These include observations in the field regarding landscape and land use, local knowledge with respect to place names, especially when linked to documentary and even literary texts, and archaeological fieldwork. Yet, it was probably Dr Jake Weekes, as the final presenter, who explored this most fully, not least because he underlined what archaeology could add to the already rich history of Angevin/Norman Canterbury produced by William Urry in the 1960s. Jake provided a number of examples showing how this relatively recent material from the Urban Archaeological Database [UAD] has been employed to create custom-built maps that enhance those produced solely using rental evidences. An even more ambitious plan is to create a whole new generation of inter-active maps of Canterbury deploying the new GIS system that will utilise archaeological findings from more recent work. Canterbury Archaeological Trust's new 'XX Centuries of Canterbury' project is exciting in terms of what it will give archaeologists, but its potentially broader uptake to a far wider audience of users is a truly great development.
This exciting new advancement brings me on to my second theme: the inter-relationship between professionals (archaeologists and historians) and those who may not actually gain their living from such occupations but who wish to engage with the findings and analyses through listening, questioning and discussing. Dr Andrew Richardson's assessment of the implications of early Anglo-Saxon finds by metal-detectorists when placed alongside previous analyses concerning contemporary grave goods has opened up the field of ethnicity and migration from the 5th to the 7th century, especially for Kent in relation to the more Saxon counties. Although there was relatively little time for questions at the end of his joint session with Richard Eales, who was looking at the impact of the Normans in Kent, both speakers drew a crowd of eager questioners during the coffee break.
Dr Diane Heath similarly took her audience with her as she explored Nigel Wiracker's satirical poem the 'Mirror for Fools' to show how a tale about the length of an ass' tail can be seen as far more than a popular comic beast poem. As she skilfully demonstrated, in the turbulent aftermath of Becket's murder and the desire by successive archbishops to move their cathedral to St Stephen's at Hackington, Nigel and his Benedictine brethren at Canterbury cathedral priory found themselves under sometimes even physical attack. As a way of countering such opposition, Nigel through his poem sought to underline the value of humility, celibacy and charity as the essence of monasticism in opposition to what he saw as the over-bearing masculinity portrayed by successive Angevin kings and their 'power-hungry' prelates. Moreover, Nigel had, indeed, 'practised what he preached' being the cathedral priory's almoner for several years before his death.
Finally, another who took his audience with him was Paul Bennett, the Director of Canterbury Archaeological Trust and recently appointed Visiting Professor at the Centre. He drew heavily on his joint chapter with Mary Berg on 11th century Canterbury in Early Medieval Kent as he guided the expectant audience through the history of this most turbulent of times. As always, Paul's lecture was a tour de force, as well as illustrated by some beautiful artefacts from the period and some of CAT's excellent reconstruction drawings. For many in his audience this was probably the first time that they had heard about the recent discoveries regarding the enormous size of the first Norman castle's outer bailey. Although the full implications of this have yet to be explored fully, Paul was also surrounded by a group of eager questioners at the conclusion of the session that he had shared with Jake.
Thus when Professor Jackie Eales brought the day to a conclusion, it was clear from the still full hall that people had had an exciting and enjoyable day, a fact reinforced by sales at the book stall – copies of Early Medieval Kent had sold out by the end of the lunch break.