Eanswythe, Westgate, Faversham and the Black Prince – another busy week
This has marked another busy week for the Centre, but before I come to that I thought I would let you know that tickets for the Tudors and Stuarts History Weekend on Saturday 13 and Sunday 14 April 2019 are selling well already. Among the talks that people are interested in so far are Dr Helen Castor's discussion of Elizabeth I; Dr David Starkey's exploration of aspects of Henry VII's 'highly idiosyncratic reign'; Dr Clive Holmes' examination of why Oliver Cromwell was not a persecutor of witches, and Professor Andrew Hopper's investigation into the human costs of the English Civil Wars, which draws on his exciting new work on petitions made by wounded soldiers and others who sought financial help from successive governments during the mid 17th century. Please do have a look at the full listing, then select to make your own choices within our pick-and-mix scheme to tailor 'your programme' to your interests, and perhaps those of your friends.
So what have we been doing this week? Firstly, Professor Louise Wilkinson and I have been working on preparatory tasks regarding putting together a funding bid for a project on late medieval urban Kent. I'll reveal more on this as things develop. Our colleague Dr Diane Heath is continuing to work with people from Education at Canterbury Christ Church, as well as Penny Bernard and staff in Architecture at the University of Kent, towards a funding application for a project on 'Medieval Animals' and how these creatures might be used to engage young people from widely different constituencies within society. They have already secured a small grant of £300 towards the production of teaching and other materials. Indeed, the two Knowledge Exchange Prizes the Centre won in 2017/18 have also gone towards developing this project through the commissioning of a translation of the Introduction to an Oxford Bodleian manuscript that features many of Diane's 'Medieval Animals'. Again, as this grows I will keep you updated about progress.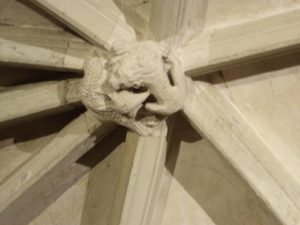 Lion and gryphon – Black Prince's Chantry
I thought I would also mention the 'Finding Eanswythe' project, led by Drs Lesley Hardy and Ellie Williams, that is currently undertaking an archaeological excavation to try to locate Eanswythe's watercourse – which is supposed to run up hill. Lesley and Ellie have a very keen group of volunteers, and as well as the excavation, others have been involved in translating the saint's life and other relevant texts. This will get you in to find out more: http://youngcurators.co.uk/finding-eanswythe/
Turning to the north coast of Kent, on Wednesday afternoon Diane and I went over to Faversham to meet up with Dr Pat Reid of the Faversham Society Archaeological Research Group. Pat had generously suggested that she could lend us even more finds from archaeological excavations that have taken place in the town, that is those organised by Faversham Society and those on the Faversham Abbey site led by Dr Brian Philp. Consequently, we went to the Research Group's stores and collected a couple of trays of finds Pat had selected to complement what we had on display at Faversham's 'Heritage Hub' already. Furthermore, Pat had kindly made a large information sheet for the display case and so we set off in Diane's car for 12 Market Place where we met Louise Bareham, Faversham Town Clerk, and between us we added the new pieces, rearranged those already there and generally made it more attractive, I hope, for visitors on Saturdays until November when the Heritage Hub front room will house the World War One finale exhibition, 'Medieval Faversham' retiring to the back room before it emerges again later in the year. In addition, and Diane is going to double-check, but the Swale Borough Council grant that went to Faversham Town Council to enhance the exhibition may have sufficient funds remaining for 2 more pop-up banners, one on a brilliant early Tudor map of Faversham creek and the coastline either side and another on Faversham Abbey's 'Book of the Dead', in other words a martyrology. Again, this is very exciting, and I'll keep you posted regarding how things develop.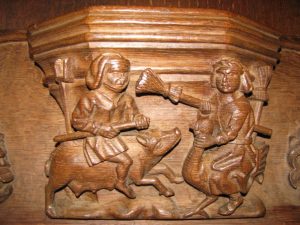 Bristol cathedral misericord – sorry I couldn't resist putting the sow in! (photo: Imogen Corrigan)
From my perspective Wednesday morning was equally busy because first the Taught Masters students studying 'Late Medieval and Tudor Canterbury' met for their seminar to explore religious houses and pilgrimage – I think they were surprised just how many religious houses there had been in Canterbury during the Middle Ages, the variety and implications of this on the city and its hinterland's spiritual economy. Then immediately afterwards it was the Kent History Postgraduate meeting. Although somewhat depleted in numbers because of sickness – a typical scenario near the beginning of term, and people with other commitments, the group listened to Lily Hawker-Yates' exposition on 'Kentish Barrows', especially their naming and the legends associated with them. As regular readers of the blog will remember, Lily has discussed several of these before at the Kent History meetings, including Kit's Coty House as Catigern's Grave and Julliberrie's Grave at Chilham, but she introduced her audience to several new ones.
Leaving aside for another time Chestnut's long barrow and Coldrum Long Barrow, I'm just going to mention her new interest in the Stanzaic Morte Arthur. This 14th-century Middle English poem of almost 4000 lines deals with the adulterous affair between Lancelot and Guinevere, Lancelot's betrayal of Arthur and Gawain's intervention on Arthur's behalf, as well as Mordred's treachery in his attempt to take both the crown and Guinevere from Arthur. It is Mordred's involvement that is pertinent here because the poet talks about a battle that appears to have taken place very near to Canterbury, which resulted in tremendous bloodshed with heaps of bodies buried in rows. This sparked Lily's interest because of the idea of 'hidden people' that occurs with respect to medieval and later stories about barrows, and, in this case, there are several Romano-British burial mounds outside Canterbury city wall on the Dover side that have given the place name 'hill' to several locations. Among the place names known from 12th and 13th century documents are Salthill and Oaten Hill, and there was the 'Little Donjon Hills' part of which still survives most markedly as the mound on which the old St Mary Bredin school is perched.
I'll pass over the second presentation which was me and 'Rethinking the medieval pig' because I have touched on pigs recently and instead turn to the Canterbury Historical and Archaeological Society's William Urry Lecture. This year it was given by Mary Berg. Among Mary's many interests, she is a volunteer at Canterbury Cathedral Archives and Library. Like the manager there she shares with Cressida Williams a deep interest in medieval seals and this has led her to a remarkable discovery among the charters belonging to Canterbury City Council. The city has a tremendous charter collection, the vast majority of which are charters granted to the city by various kings, a few queens and Oliver Cromwell. However, there is one very special charter dated 1261 that Mary believes warrants far greater consideration. The charter's contents were referred to by William Urry. the cathedral and city archivist in the mid to later 20th century, in his majestic study of Canterbury under the Angevin Kings but not being interested in seals he ignored it.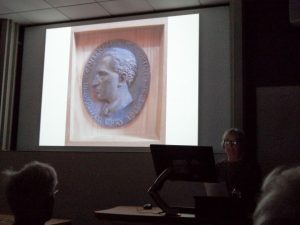 Medallion of William Urry, now in the Cathedral Archives
Yet, as Mary told her audience, this seal may show the only known representation of the 'old' Westgate before it was demolished c.1380 when Archbishop Sudbury was responsible for the rebuilding of the city gate. One special feature of the old Westgate was the positioning of a chapel on top of the gate, a feature known to have been employed at some other gates in Canterbury and possibly at all, at least for part of their history. The chapel was dedicated to Holy Cross and when the old gate was demolished representations were made to the king to ensure the parishioners could have a new church on a plot of crown land.
Mary also discussed the contents of the charter, including the personnel mentioned and especially Hamo Doge who was the alderman of Westgate and the first name listed, a feature that appears to be key to the identification of the gate, to the form of the charter's provisions and perhaps its survival among these royal charters. Again, as Mary demonstrated town seals quite often have gates on them. As well as the towns and cities she mentioned in England and abroad, it is worth noting that Dover's town seal has a gate and St Martin, who could be seen as the city's guardian saint. After this interesting talk it was clear that the extremely large audience was very appreciative of Mary's assessment of the charter and its seal, and her talk provoked a range of questions.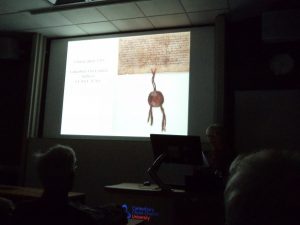 Mary Berg discusses the gate shown on the seal
Keeping with Canterbury, and linking to Mary's gate through the Black Prince, this evening I attended a tour run by the Friends of St Mildred's church to the Huguenot chapel in the cathedral crypt. The link, of course, is the point that the Black Prince's magnificent funeral procession came into Canterbury through the Westgate and the Huguenot chapel had been the location of the Black Prince's chantry, established in the later 14th century. For this evening tour of the chapel and western crypt, we were fortunate that Michael Peters was able to give his audience a history of the Black Prince and his wife Joan, the Fair Maid of Kent, with the associated story of the chantry before he turned to the coming of the 'Strangers', first the Walloons and then the Huguenots, and the history surrounding their use of this part of the cathedral. Coming from a family of these religious refugees on his father's side, he was able to shine a considerable light on the development of this French-speaking congregation and what the church is like today. Thus, we learnt that the men sat on one side, the women on the other and that the men kept their hats on, perhaps to demonstrate their total opposition to the idea of showing obsequiousness in church. Indeed, the placing of their pulpit and communion table at the western end of the crypt can also be seen in the same way.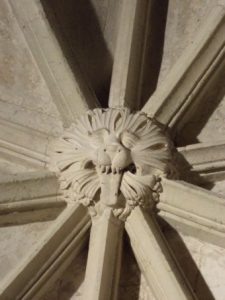 Lion head from the Black Prince's chantry
Just like Mary's lecture, Michael's audience were very appreciative of his knowledge and obvious enthusiasm for his subject and when I left there were still people talking to him. Moreover, such lectures do not stop there and next week I intend to report on Dr David Grummitt's paper at the History Staff-Student seminar on Tuesday and the second of the autumn series of the joint Centre and Friends of Canterbury Archaeological Trust [FCAT] lectures. This talk will be given by Dr Andrew Richardson of CAT on the finds CAT has unearthed in its various excavations over the years and which it is hoped will be moved to the Trust's new secure store in Wincheap very soon.