Canterbury's UNESCO World Heritage Site and Medieval Faversham
Last week I was in Belfast giving a paper at Queen's on 'Starting a new life in Ricardian and Henrician Canterbury' at the 'Migration to the Margin' conference, while Dr Diane Heath was working on her funding bid regarding 'Medieval Animals', so I decided to give the blog an Easter break. However, now that I am back in Canterbury, I thought I would provide a short update on the legacy of 'Tudors and Stuarts 2019' before moving on to Canterbury UNESCO matters.
Firstly, I want to thank Diane for collecting up the tweets during the History Weekend and for putting them together, please see: https://wakelet.com/wake/0552811e-f3af-4ac9-ac58-18311f929204
In addition, I want to thank Matthew Crockatt for adding Tudors and Stuarts 2019 to the Centre's website where you can see more on the speakers and students – the Welcome Team, as part of Matthew's photo gallery. The souvenir brochure is also available to download, please see: https://www.canterbury.ac.uk/arts-and-humanities/research-kent-history-and-archaeology/tudors-and-stuarts-weekend-2019/home.aspx . Moreover, thanks once again to our speakers, some of whom gave their time and expertise freely, and to our great audiences, we should be able to add about £6,500 to the Ian Coulson Memorial Postgraduate Award fund. This is another fantastic achievement – those of us at the Centre are extremely grateful and delighted that we will be able to continue to support CCCU postgraduates researching Kent history topics.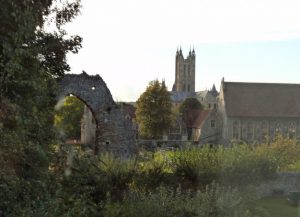 Looking at St Augustine's Abbey and Canterbury Cathedral from the CCCU campus
This week brings the Arts & Humanities Faculty conference, more on that below, as well as the launch today [1st May] of the Heritage A – Z masterminded by Professor Peter Vujakovic with help from Matthew Crockatt to get it set up on the CCCU website. This will come out daily, much like an Advent calendar, and will showcase aspects of Canterbury's UNESCO World Heritage Site, comprising St Martin's church, St Augustine's Abbey and Canterbury Cathedral. 'A' is for St Augustine and has been written by Revd Dr Jeremy Law, Dean of the Chapel of Canterbury Christ Church University. If you want to have a look at this and subsequent pieces, please follow:
https://medium.com/the-christ-church-heritage-a-to-z which will give you lots of fascinating and exciting details about the Site, the people who made it and what is here today.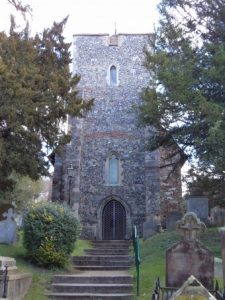 St Martin's church with its English yew trees in the ancient churchyard
Canterbury Christ Church University is proud to be leading this initiative because the university campus is within the outer precinct of St Augustine's Abbey, as well as being delighted to work with partners such as English Heritage, the parish of St Martin's, the King's School and the Dean & Chapter of Canterbury Cathedral. The Canterbury UNESCO Site is celebrating its 30th anniversary and as part of the festivities there will be a 2-day conference on Friday 24th and Saturday 25th May to explore Canterbury's heritage and to consider how it can be sustained for future generations. Among the distinguished speakers on the Friday will be Chris Blandford, President of World Heritage UK; Jane Gibson, Durham World Heritage Site Co-ordinator, and Neil McCollum, Head of Historic Properties Kent English Heritage; while on the Saturday CCCU will be welcoming Dr Charles Insley, Head of History at Manchester University; Dr Charlotte Young, and Heather Newton, Head of Conservation at Canterbury Cathedral, with Sarah Turner, Collections Manager at the cathedral. To book and for more details about the conference and accompanying Light Show at St Augustine's Abbey on the Friday evening, please check the website at https://www.canterbury.ac.uk/unesco-conference or call 01227 782994.
In addition, people are most welcome to take part in the St Augustine's Feast Day service on Thursday 23rd May and the accompanying Procession from St Martin's church to Canterbury Cathedral Chapter House. This will begin at 5.30pm and should be finished by 6.45pm. This is a free event and we should be delighted to see you for these celebrations.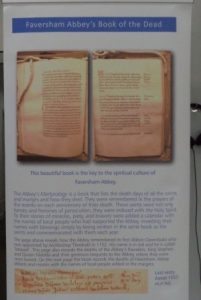 Diane Heath's pop-up banner on Faversham Abbey's 'Book of the Dead' borrowed from the 'Medieval Faversham' exhibition
Next Wednesday will provide a early opportunity to discover more about the UNESCO site because at 6pm (wine reception from 5.30pm) Paul Bennett (Director of Canterbury Archaeological Trust) will give a free, open lecture as Visiting Professor of Archaeology in Old Sessions. His title is 'The Canterbury World Heritage site – an archaeological perspective' – do come along, booking not required.
To return to the Faculty conference, which will also be a short report, representatives from the Centre for Kent History and Heritage took part in Panel 3: Enterprise, which drew on the 'Medieval Faversham' exhibition that had been created in 2018 to showcase Faversham Town Council's new Heritage Hub. Some of you may remember this from last summer, especially Diane's and Dr Harriet Kersey's Young Medievalists' Corner where the young and the not so young made 'Anglo-Saxon' brooches, 'medieval' tiles and other imitation artefacts as a way of engaging interest in the town's long and colourful history – from King Stephen and Queen Matilda to the town's prophetic chronicle and a fight over the burial of a Faversham parishioner.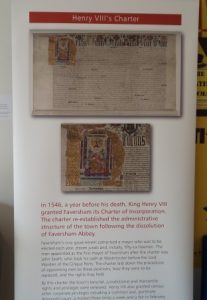 Also displayed today, Harriet Kersey's pop-up banner on Faversham's charter from Henry VIII
Thus the short presentation today discussed how the outreach project team of Diane Heath and me, with the help of Harriet Kersey, a doctoral History student (now a post-doc), and led by Professor Louise Wilkinson with Faversham Town Council (and sponsored by Swale District Council through their Heritage Grants scheme) worked to produce an exhibition on 'Medieval Faversham' that included several workshops for 'Young Medievalists' and several talks. This was an extension of Professor Louise Wilkinson's Faversham Magna Carta 2015 exhibition and my articles on the medieval town, as well as involving further research by the team at archives in Oxford, London, Maidstone and Canterbury.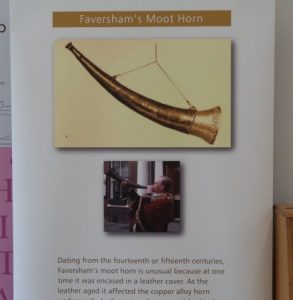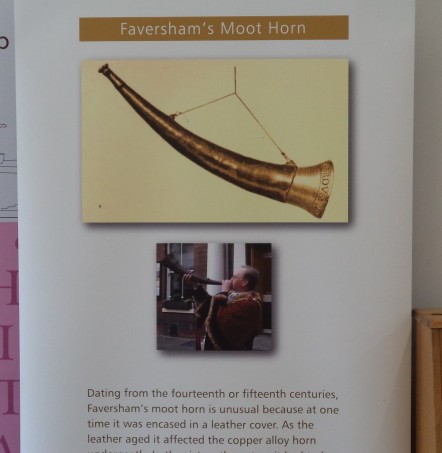 Similarly borrowed, my pop-up banner on Faversham's moot horn
Today, I underlined the importance of thorough and nuanced research to create an exhibition that explained the complex in language and ways that are applicable to a wide audience that may have little understanding of their town's history, or the past more generally. I also sought to highlight the value of the interplay between text and image in the production of exhibition materials as a way to engage people of different ages and backgrounds. Additionally, I drew attention to the continuing relationship between the Centre and Faversham that has involved, among other things, giving talks at the Faversham & Swale Heritage Fair this year, and soon Diane will be working with local secondary schools as part of the Impact Case Study in History on Magna Carta. If you didn't catch the exhibition, you might be interested in seeing: https://blogs.canterbury.ac.uk/kenthistory/showcasing-medieval-faversham-and-beckets-miracle-windows/
Next week I hope to bring you more on the Heritage A – Z and details of Diane Heath's 'Medieval Animals', including the first in the series of books on the Medieval Dragon, as well as information on a potential project involving Canterbury's medieval archiepiscopal hospitals.