I thought I would report that this week Dr Diane Heath had her 'Beastly Latin – Latinbarbus' monthly workshop in which her group of volunteers are translating the First-Family Bestiary. This month they have been continuing to work on the translation of the lion, the king of all the beasts, and Diane has already had some super stories based around the translation which Penny Bernard will illustrate – more on this soon. If anyone else would like to get involved, Diane would be delighted to hear from you at diane.heath@canterbury.ac.uk .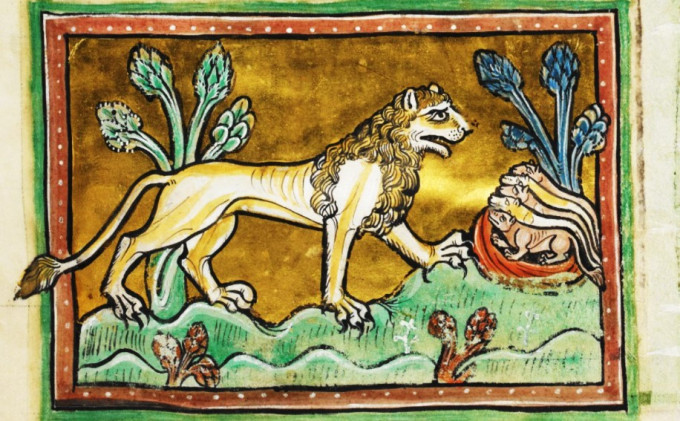 Secondly, before I come to the fortnightly meeting of the Kent History Postgraduates, I have been asked by Dr Alex Kent to let you know about a study day entitled Canterbury Maps and Mapmaking: Imagining and Re-Imagining the City that will take place on Saturday 26 March in Old Sessions House on the Canterbury campus and at Canterbury Cathedral Archives. The study day aims to provide a range of new perspectives on Canterbury that will establish its identity as a centre of cartography and offer fresh insights into the wider significance of the city's role in the history of maps and mapmaking.
The first session will explore medieval maps where Professor Paul Bennett will investigate Prior Wibert's Waterworks Plan before I examine another fascinating work in the form of the Gough Map. Then in the session before lunch we will look at different Canterbury maps and ways of mapping from the Tudors to the present day through presentations by Simon Pratt, Dr Avril Leach and Dr Jake Weekes. During the early afternoon Dr Alex Kent and Cressida Williams and then Professor Gordana Fontana-Giusti will consider map-making of Canterbury and east Kent, from estate maps to Packe's 'New Philosophico-Chronological Chart' (1743) before attendees visit a special exhibition at the Cathedral Archives.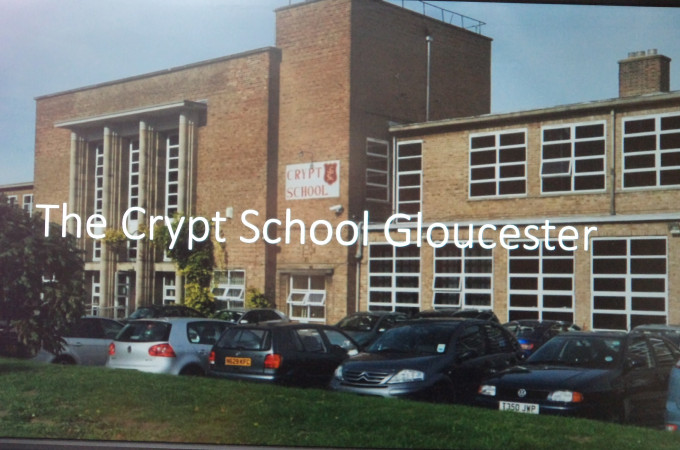 If this looks of interest, tickets are available: £25 (£15 for students) which includes refreshments, lunch, and visit to Canterbury Cathedral Archives. To register and for more details, go to: https://www.canterbury.ac.uk/science-engineering-and-social-sciences/events/canterbury-maps-and-mapmaking.aspx or contact Dr Alex Kent at Canterbury Christ Church University at alexander.kent@canterbury.ac.uk .
Next week I'll be reporting on the March meeting of the Lossenham Project wills group but for today I'm now turning to Kieron Hoyle's presentation to the Kent History Postgraduates on her research into the founding and early history of The Crypt Free Grammar School in early Tudor Gloucester. This school was one of a number founded across the country in the decades before the Dissolution and religious changes that brought a rash of such establishments in the last years of Henry VIII and even more during the reigns of Edward VI and Elizabeth I. Consequently, it is probably best understood in terms of mercantile responses in the late Middle Ages to the need to provide this level of schooling to produce educated boys who, as well as going on to gain university degrees often then entering holy orders, would go on to become merchants and civic officials or join the Inns of Court to become lawyers.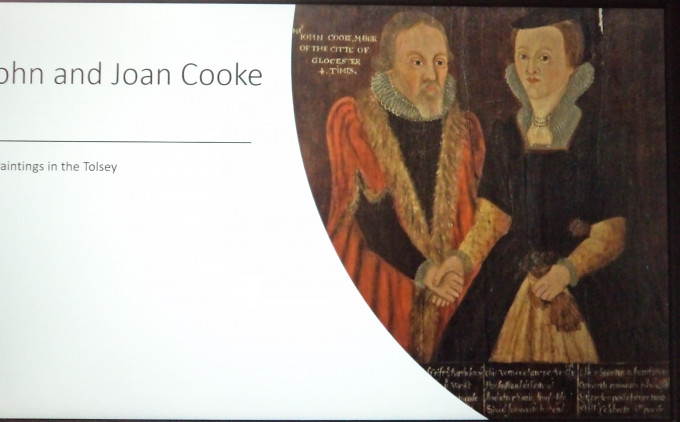 Not that towns such as Gloucester did not have any schools in this earlier period, but frequently they were under the control of the Church in the form of the religious houses. For Gloucester this was the fee-paying grammar school of Llantony Secunda and the almonry school at St Peter's Abbey. Yes, there was probably some educational provision at the numerous chantries in the town, as elsewhere the chantry priest providing some schooling that might include teaching polyphonic singing which had spread from the monasteries to the parishes, but for John and Joan Cooke this was not sufficient.
All of this meant that Kieron's investigation into the founding of the Crypt School had required her to set it in the context of the leading citizens' bid for greater civic autonomy in the 15th and early 16th centuries. At times this had brought Gloucester onto a collision course with Llantony, and even more with St Peter's Abbey, and again as elsewhere such strife had focused round matters of jurisdiction, financial control and access, whether we are talking about fairs and markets, the levying of tolls or the use of common fields and grazing rights.
Notwithstanding these clashes with the Church, Gloucester's ability to secure a royal charter from Richard III in 1483 was a turning point because it gave the town strong corporate status, including control over lands beyond the town, as well as it becoming a county in its own right. Moreover, this elevated status was symbolised through the gift of Richard's sword to the town and the right for it to be carried before the mayor, such civic rituals vital markers of the balance of power that would have been understood by all sides.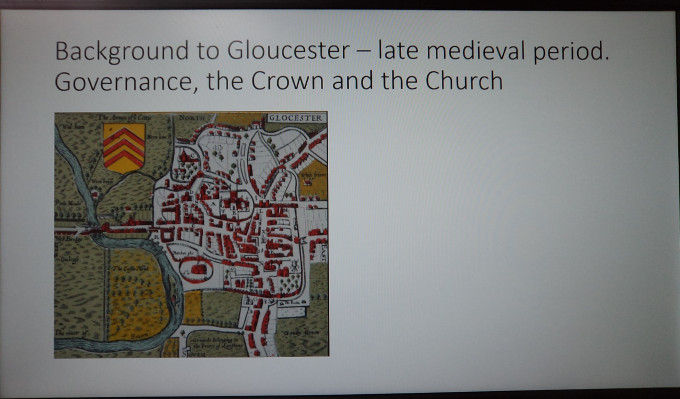 John Cooke was very much part of this new regime, and he served the town as first sheriff and later mayor in several years. Not that we know that much about his dealings as a brewer and mercer, but what we do have is his will. Consequently, Kieron took the group through the important aspects of his will, including his pious and charitable bequests, those relating to his family, especially his wife Joan, and most significantly the details surrounding his desire for her to carry on their project to establish the Crypt School. Additionally, Kieron looked at other aspects of his commemoration, both in terms of his place of burial and monumental brasses, as well as later portraits of the couple in the civic centre of Gloucester.
Nevertheless, as she explained, it is really to Joan that we should look for the success of the Cooke's project because she seemingly devoted her widowhood to ensuring that her late husband's wishes were fulfilled. She was what you might call a canny operator, for not only did she take advantage of the land that became available after the Dissolution, but she also had the school built next to the town's leading parish church and she sought to ensure a system of checks and balances as a way to protect the school long term by bringing in Worcester to keep a watch on the Gloucester civic authorities. As Kieron discovered, Joan's concerns were not without substance but even in old age she was apparently able to counter such threats to what had really become 'her' school. As a result, it survived and thrived, and today it still exists these days being a co-educational grammar school located on some of the lands Joan acquired for it almost 500 years ago.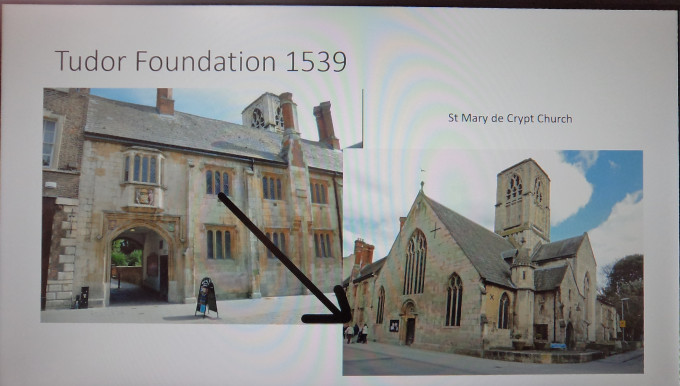 Kieron's excellent presentation generated questions and comments and even though she had had to combat considerable internet issues, we had a good discussion. Furthermore, it was great to be able to demonstrate common themes across the country because like Gloucester there were several grammar schools founded in Kent during the same period, including probably for similar reasons. Thus, thanks are due to Kieron and her fellow postgraduates for another great meeting and in a fortnight, we will have our regular catch-up meeting.