Again this week I'm primarily going to focus on upcoming events in September by adding the AHRC Aphra Behn project launch to the Nightingale Lecture and Institutional Care through the Ages conference. However, I'll give you a first flavour of what will be in store for those who decided to come to the CKHH's Medieval Canterbury Weekend 2024 – we have a great programme for you!
However, before I get to these exciting events in the future, I thought I would just mention that on Monday this week (11 September), the Royal Historical Society came to Canterbury. Consequently, Dr David Hitchcock, as the subject lead for History at CCCU, hosted an event that brought together representatives from the RHS and Humanities staff and postgraduates from both universities in Canterbury. The first part of the afternoon comprised a roundtable discussion with panellists from the RHC and historians from CCCU and Kent University, as well as comments from the floor, about how history at university can survive and thrive in the current context. As people acknowledged this is indeed challenging, and as well as the problems and issues that were identified from across the sector, a number of strategies were discussed that may help those beyond the Russell group of universities to recruit and retain more prospective students within this subject area, not least because History matters! For there was an overwhelming idea within the room that the value of History as a discipline goes far beyond just counting student numbers, and that understanding the past is key on such a wide range of different levels.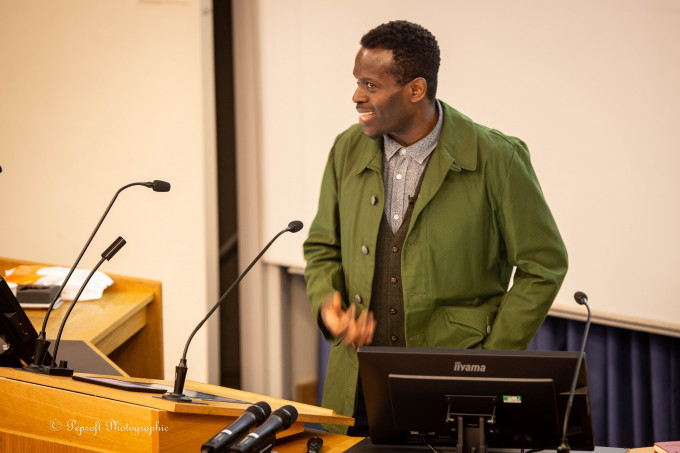 Following this session there was an extended refreshment break to give staff and postgraduates opportunities to find out about each other's interests across the two universities and the RHS. Such networking sessions are extremely important and hopefully there will be further chances to work together in the future. Although not everyone was able to stay on for the final session of the day, in some ways their places were taken by members of the public who joined the audience for Professor Will Pettigrew's RHS lecture on 'The Transatlantic Trade in Enslaved African People & the Emergence of New Relationships between State and Commerce in Restoration in England'. This was well received and generated a considerable range of questions from the audience, rounding off a highly successful day.
Keeping with students, the Kent History Postgraduate group will be online for a catch up as the first meeting of the new academic year on 27 September. The group will be expanding as we welcome new people to this thriving research community. Moreover, this month has seen Kieron Hoyle receive her Masters by Research degree at graduation, and two others who submitted earlier in the year are awaiting the next stage from their examiners – I'll let you know when I have more news and these are exciting times!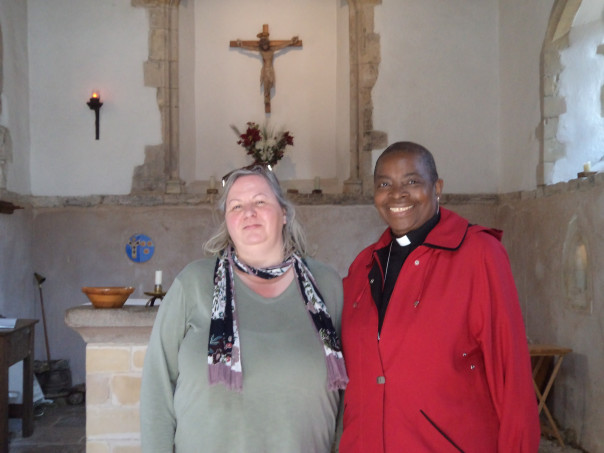 Furthermore today (Thursday) involved a Lossenham Project wills group meeting. A few members of the group are away or engaged in other matters but over a dozen people gathered online. Consequently, having confirmed details of the meetings for the next couple of months, including our November meeting at Lossenham, we next moved to discussing any matters arising concerning the Google drive database. Sue M mentioned that everything seemed to be working smoothly and Jason said from his perspective he is finding his feet regarding the data inputting which meant he was happy with progress.
As a follow-up item, we had a helpful discussion about how we might allow our work in terms of probate transcriptions to be used by someone outside the wills group if they are doing a research project. As a result, Sue M and Rebecca are going to draw up a system for us to decide on a case-by-case basis, as well as a proforma that any potential researcher will need to sign and abide by. For we want the whole process to work correctly, as well as giving the chance for 'our' research to be useful more widely.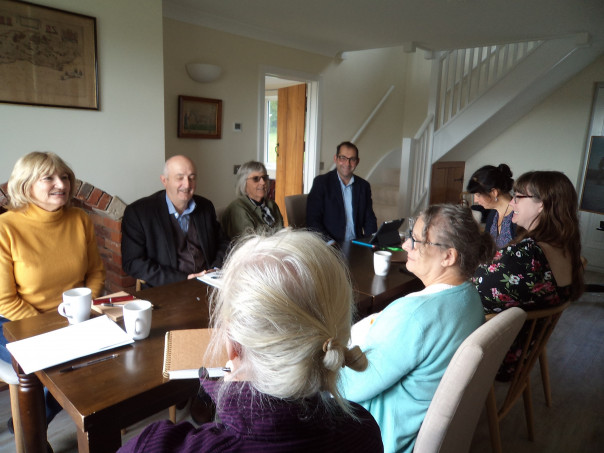 Moving on, we had another fruitful discussion about ways the Lossenham Project website might develop with a new editor at the helm. Consequently, I'll be passing on these ideas. As an allied topic on working with others and enhancing visibility for the Lossenham Project, Sue H provided a report on what she has been researching on behalf of Tenterden Museum and its various projects. This involves a whole raft of topics from late medieval/Tudor shipbuilding and Robert Brekynden at Smallhythe to the rivalry between the aristocratic Guildford and Neville families during the same period to the types of music enjoyed by different social groups in Tudor times and not forgetting cloth making and the activities of the clothiers of Tenterden and district. As a way to appeal to different audiences, Sue is involved in devising a range of products from short video 'Talking Heads' to displays to the 'travelling cloak' and for next year she mentioned that there may be scope for several events in Tenterden. Thus, as well as working with her fellow members of the wills group on content, the group might get involved in putting on workshops, talks etc. This is another exciting development for the wills group and, as matters develop, I'll keep this audience informed too.
Now to upcoming events involving the CKHH more directly. Before I reiterate a couple, I'll mention 'Canterbury's Aphra Behn Launch Event' on Wednesday 27 September at 5pm in the Daphne Oram Building on the CCCU campus. To mark the start of this AHRC funded project, involving CCCU and Loughborough University in partnership with a host of Canterbury organisations, the opening event comprises a talk by Behn expert Professor Elaine Hobby (Loughborough University), and music, objects, and pictures on Behn.
The idea behind the project is to celebrate the life and works of the first woman professional writer in English. For Behn was born in Canterbury in 1640, and at her death in 1689 she was a celebrated playwright, poet and novelist. However, the Victorians disapproved: she was too sexy, too outspoken, and despite her remarkable achievements and talent she slipped out of public imagination. Hence one of the project's aims is to increase her visibility for a new generation. Booking is required because space is limited, so please do book at https://www.canterbury.ac.uk/events/2023/canterburys-aphra-behn-launch-event to join the team for this launch event.
As a reminder, the day before on Tuesday 26 September at 7pm it will be the annual Michael Nightingale Memorial Lecture which is a joint occasion organised by CKHH and Brook Rural Museum. As usual, the lecture is open to all and will be held in the Michael Berry Lecture Theatre in Old Sessions House (CT1 1PL). We are very grateful to the Graduate College at CCCU for covering the cost of the wine reception beforehand ie from 6.30pm in the foyer at Old Sessions. This year our speaker will be Dr Adam Chapman, who is the General Editor of the Victoria History of the Counties of England (better known as the VCH) based at the Institute of Historical Research at the University of London. He will be speaking on 'Medieval Landscapes in the Victoria County History: from text, to pictures, to text again'. As he says, "The VCH project is England's – and possibly the world's – longest established place-based history, having produced histories based on the parish since the beginning of the 20th century. Its 'Big Red Books' and, more recently series of place-based paperbacks or 'Shorts' provide an essential introduction and overview to the recorded history of England's places having covered perhaps a third of England. It is active in 18 counties, and two Ridings of Yorkshire, but not – unfortunately – in Kent.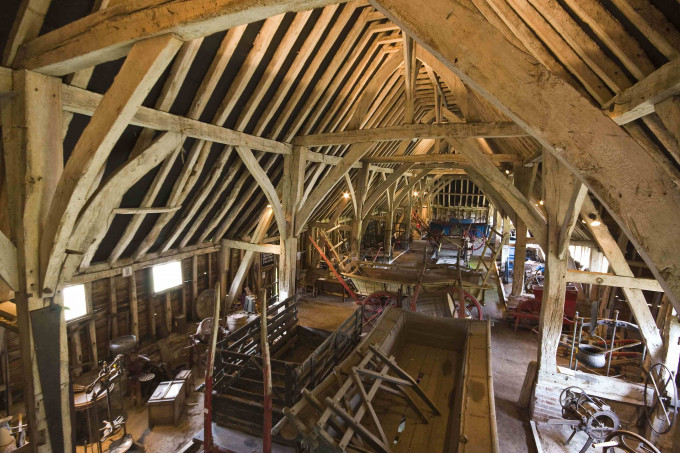 The histories the VCH produces are unique in scope, from the earliest recorded details to the ever-moving now and at the heart of it is the place of communities in the living, ever changing landscape. Adam will explore the sources, techniques, and processes used by the VCH with a selection case studies from existing work. and some examples from the Kentish landscape employing those approaches in Kent."
This promises to be a fascinating talk and we will be delighted to welcome staff, students and visitors to the reception and lecture, booking is not required. There will be a retiring collection, part of which will go towards the Ian Coulson Memorial Postgraduate Award Fund and Award holders for the new academic year will receive certificates from the Lord Mayor of Canterbury.
Then on the following Saturday 30 September, the CKHH is teaming up with the Kent Archaeological Society Publications Committee to hold a one-day conference in Powell Lecture Theatre, Pg09 (CT1 1QU) entitled 'Institutional Care through the Ages in Kent' beginning at 10.30am and due to end at 4.30pm. Confirmed speakers are Peter Joyce, Chris Rowley, Jane Joyce and Dr Sheila Sweetinburgh. This free conference is open to all, please book at https://www.trybooking.co.uk/CQCF but if you have any difficulties, please email: sheila.sweetinburgh@canterbury.ac.uk for assistance. The Touchdown café nearby should be open at lunchtime and at the afternoon break.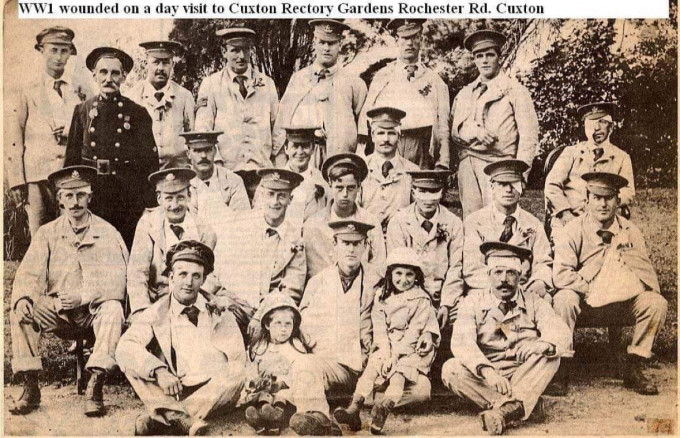 The conference will consider institutional care of the poor, infirm and disadvantaged in society, which has a very long history in Kent, starting from some if not the earliest hospitals in England up to the present day. For as is often said, the type and level of such care can tell us a great deal about society more broadly. Moreover, this conference will highlight new research that is taking place on different types of institutional care in Kent, from hospitals of different kinds to almshouses and workhouses, thereby providing insights concerning the lives of those inside and outside their gates.
As an advance 'save the date' notice it will be the Medway History Showcase at the Royal Engineers Museum, Gillingham on Saturday 21 October. This is a companion event to the very successful Kent History Showcase held at Dover Museum on 3 June: https://blogs.canterbury.ac.uk/kenthistory/the-first-of-the-lost-blogs/ Rebecca Nash from the Royal Engineers and Peter Joyce, a PhD student at CCCU, have put together a great programme and booking will be opening shortly.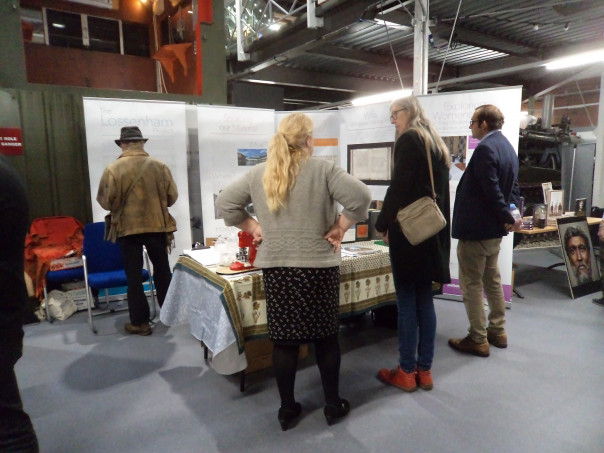 Now finally and very much as an advance notice, the Medieval Canterbury Weekend 2024 programme is almost finalised. The dates are Friday 26 April to Sunday 28 April and even if I say it myself, it is a brilliant programme and on the Friday evening we will be welcoming back Professor Louise Wilkinson who is now at Lincoln. Please do save these dates and I'll provide more details as a starting point over the next couple of weeks.