Student Fellows Scheme Conference 2017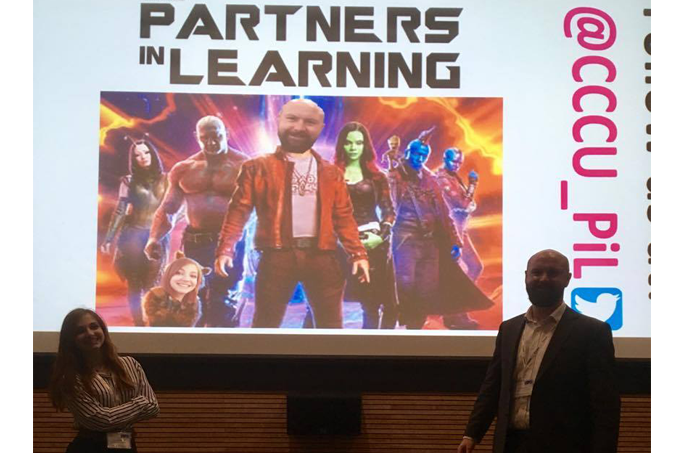 Phil and Georgia share the secret to authentic partnership to the University of Winchester at the Student Fellows Scheme Conference

The Student Fellows Scheme (SFS) at the University of Winchester is somewhat similar to Partners in Learning as students work alongside staff on educational development projects; however, their initiative differs due to their heavily research based approach and close links with the Student Union.
We had been invited to present the keynote address at the University of Winchester's Student Fellows Scheme Conference. The conference acted as a platform for SFS students and their staff mentors to share a snapshot of the projects they had been working on within a 15minute time frame, and we were delighted to have been invited to share our ethos of authentic partnership and best practice.
The presentations we attended covered topics of belonging (particularly for mature, international and commuter students), students' perceptions of teaching excellence and employability. It was great to see other students' passion whilst working in genuine partnership with their staff mentors.
Our keynote explored highlights and successes of key projects, the integration of a student-staff partnership ethos in university strategies, the opportunity to shape Partners in Learning for the coming year through the internship, broadcasting student voices through the blog and social media, co-creation and co-production of conference presentations and publications and what the future holds for us.
Our abstract read:
"Canterbury Christ Church University has an established reputation as being at the forefront of innovative practice regarding Students as Partners. From pioneering a new approach to student engagement in 2011 the award-winning SALT & Partners in Learning initiatives have now become embedded in the strategy and ethos of the University at every level. Founder and staff lead of the Partners in Learning initiative Phil Mooney and the 2016 summer intern and student team member Georgia Horsley will reflect on the successes and challenges encountered over the years and highlight some of the key projects undertaken. The speakers will explore how genuine partnership was developed through a culture of critical evaluation and enhancement and the key role the summer internship programme played in this process."
We received a positive response on twitter with delegates praising our presentation as "incredible" and "involving".
Ultimately, I hope we have inspired staff from a range of different institutions to evaluate their partnership approach and guarantee it is authentic and true and that they are respecting and recognising students as valuable co-producers.