Mark Weston, national champion, participated in many UK field events, within female athletics of the 1920's . One, of many, individuals in sport with intersex characteristics. Here's his story and an exploration of intersex within athletics and the Olympics.
English hero, Devonshire Wonder
Mark Weston was born in England on the 30th March 1905. Mark was assigned the gender of female at birth, but it is unclear if this was based solely on physical attributes or by choice. So for the first 23 years of Mark's life, he was brought up and lived as a female called Mary Louise Edith Weston.
Given the nickname 'the Devonshire Wonder', Mark soon became highly skilled in the British female athletics, specifically field events. He soon started to specialise in such events as javelin throwing, discus and shot put throughout the 1920's.
Notable achievements include;
Shot put – two hand aggregate, 8lb
1925 WAAA Championship, London, distance 17,69 metres – 1st place
1928 WAAA Championship, London, distance 18.89 metres – 1st place
1929 WAAA Championship, London, distance 19.04 metres – 1st place
Javelin – Single hand, 600g
1928 WAAA Championship, London, distance 29.70 metres – 2nd place
1929 WAAA Championship, London, distance 25.91 metres – 1st place
Discus
1925 WAAA Championship, London, distance 24.06 metres – 3rd place
1928 WAAA Championship, London, distance 24.74 metres – 3rd place
1929 WAAA Championship, London, distance 30.50 metres – 1st place
The above information and statistics have been collected by Athletics Weekly, 1999-2007 and the National Union of Track Statisticians, 2020.
Definition WAAA – Women's Amateur Athletic Association
In 1926 Mark also participated in the 2nd Women's World Games (at the time called The Women's Olympics; which was disapproved by many) in Sweden. He represented Great Britain in the Shot put and came in 6th place with a distance of 18.78 metres.
What does intersex refer to?
The term intersex or intersexuality was decided upon as a replacement for the term hermaphrodite and started to appear towards the start of the 1900's; taking shape in the UK in the 1940's. An individual with intersex characteristics is usually not identified until birth, however, some individuals do not show signs until they hit puberty.
'A baby can have genitalia with some male characteristics and some female characteristics. And even deeper than external appearance, some people are born with a mix of male and female biological features (such as a uterus and testicles) that can't be seen on the outside' (Healthline, 2019).
Mark made the decision in 1936 to fully identify as a male and began treatment and surgery that would help to establish this change in gender roles. Now, fully embracing the life of Mark, he retired from sports & competitions, and married his wife Alberta Bray. Mark lived a long, happy life until his death in 1978.
---
History of athletics and intersex part 1
Historical information concerning intersex individuals within sport is often entwined with trans-gendered individuals; The following focuses on the topic of this blog.
One of the very first high-profile intersex athletes was Stella Walsh, who won a gold medal in the 1932 Olympics. However, it was not confirmed until after her death, falling victim to a bank robbery shooting, that her intersex characteristics were discovered.
Stella Walsh encountered further discrimination due to her looks when she participated in the 1936 Olympics held in Berlin. This was due to the games being overseen by Hitler and the involvement of competing racer Helen Stephens, who also exhibited male features.
Around 1966 the IAAF had decided that all female participants should undergo tests to prove that they were female and permitted to participate. These tests were totally physical requiring the female athletes to appear naked before a panel and have their bodies examined.
Due to the physical examinations many female athletes, at this time, stopped competing all together. There is speculation that many of these individuals left due to having intersex characteristics, such as sisters Irina and Tamara Press.
By 1968 the IAAF had decided that performing physical examination wasn't enough and began gender testing to make sure all competitors had XX Chromosomes. This type of examination continued well into the 90's.
Intersex individuals in the athletic world
| | | | |
| --- | --- | --- | --- |
| Athlete | Dates | Country of origin | Athletic activity |
| Dillema, Foekje | (1926-2007) | Netherlands | Track |
| Koubek, Zdenek | (1913-1986) | Czechoslovakia | Track & Field |
| Klobukowska, Ewa | (1946- ) | Poland | Track |
| Negesa, Annet | (1992- ) | Uganda | Track |
| Patino, Maria | (1961- ) | Spain | Hurdler |
| Pramanik, Pinki | (1986- ) | India | Track & Field |
| Press, Irina | (1939-2004) | Russia | Track |
| Press, Tamara | (1937- ) | Russia | Shot put & Discus |
| Ratjen, Dora | (1918-2008) | Germany | High Jump |
| Schinegger, Erik | (1948- ) | Austria | Skier |
| Semenya, Caster | (1991- ) | Africa | Track |
| Soundarajan, Santhi | (1981- ) | India | Track & Field |
| Stephens, Helen | (1918-1994) | America | Track & Field |
| Walsh, Stella | (1911-1980) | Poland | Track & Field |
| Weston, Mark | (1905-1978) | England | Javelin, Shot put & Discus |

Table of intersex athletes; * Some of the above are only speculation, never being fully confirmed or denied.
History of athletics and intersex part 2
Most athletes either went along with the testing or just didn't compete anymore. That was until Maria Jose Matinez-Patino, an intersex female hurdler, decided enough was enough and protested such requirements. She found support from individuals in medical and scientific fields that supported her claims that she as female, even though she had a Y chromosome and should be allowed to compete.
By 1999 the IAAF decided that it was unfair to force the gender testing on an individual and so this was no longer considered compulsory.
However, the IAAF still made requests with individuals to submit to gender testing if male characteristics were prominent. This occurred throughout the 00's and culminated in Caster Semenya's first encounter in 2009 (see below).
Due to this blow the IAAF decided a new test needed to be used to make it fairer on competitors. Around 2011/2012 they decided that individuals could be tested on their testosterone levels and would have to meet a certain level. It was strongly believed this new test was brought in due to the previous Semenya situation, this time being established as the Semenya Case (see below).
The Caster Semenya case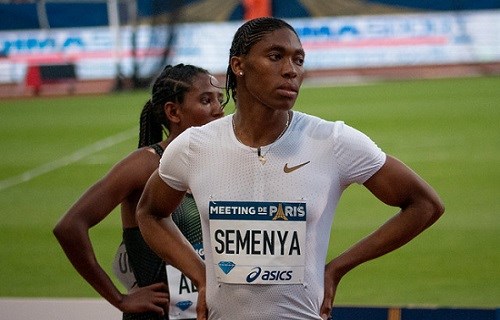 Caster Semenya is a young, African athlete, prominently appearing in the Olympics and other championship races.
She was born with intersex characteristics, including high testosterone levels; however, was raised and continues to associate with being a female. In 2009 she had her first encounter with the IAAF (International Association of Athletics Federations).
she was disqualified from participating in female events, while an investigation was carried out, due her increased speed and manly appearance. She was eventually allowed back into female races, however her intersex characteristics were now known.
in 2015 the IAAF introduced a new rule for female competitors like Caster Semenya, who participated in certain track events, stating they could not compete 'unless through medical intervention they lowered their natural testosterone to a level closer to what the IAAF calls the female range' (Gregory,S. 2019). It was strongly believed that this rule change was brought in due specifically to the IAAF's view on Caster Semenya. She followed this up with a legal case which unfortunately failed in 2018, altering the trajectory of Semenya's sporting career.
---
Interested in learning more?
Why not check out Librarysearch and see what you can find on Mark Weston, Intersex and sexuality in sporting events. Alternatively, why not have a look at my suggestions below;
Books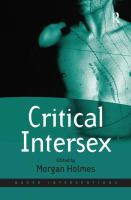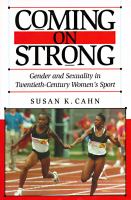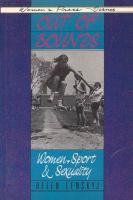 Kanopy
(You can access this resource through the database tab on the librarysearch homepage)
The first question any new parent asks… "Is it a boy or a girl?" But what happens when doctors cannot answer that question? One baby in 2,000 is born with genitalia that is so ambiguous that no-one can tell if the child is male or female.
In this groundbreaking documentary, intersex individuals reveal the secrets of their unconventional lives – and how they have navigated their way through this strictly male/female world, when they fit somewhere in between. (Kanopy, 2019)
Journal articles



(not accessible via librarysearch)
Reference List
Athletics Weekly (1999/2007) gbrathletics. Available at: http://www.gbrathletics.com/ (Accessed: 20 January 2021).
Erikainen, S.(2020) 'The Story of Mark Weston: Re‐centring Histories and Conceptualising Gender Variance in 1930s International Sport.', Gender & History, Volume 32 Issue 2, p304-319.
Gregory, S. (2019) 'South African Track Star Caster Semenya Won't Stop Fighting for Her Right to Run, Just As She Is', Time Magazine, Volume 194 Issue 4, pp. 14-15
Healthline (2019) Healthline parenthood: Here's what to know about having a baby who is intersex. Available at : https://www.healthline.com/health/baby/what-does-intersex-look-like (Accessed: 1st February 2021).
National Union of Track Statisticians (2020) N.U.T.S. Available at: http://www.nuts.org.uk/ (Accessed: 20 January 2021).