A rose by any other name?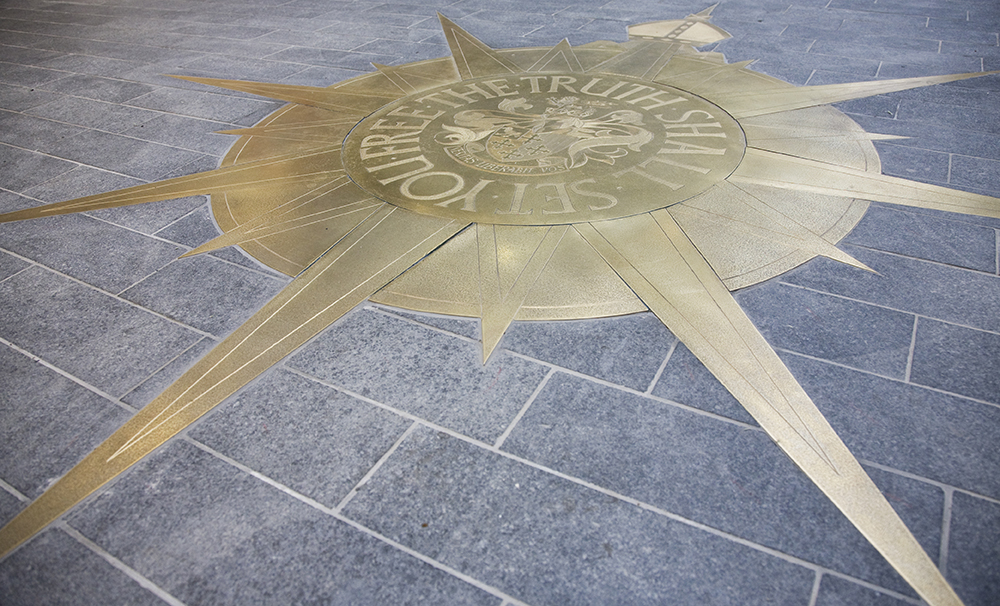 You have probably walked over it countless times…
You may never have even thought about what it is…
But the compass rose is a focal point on the ground floor of Augustine House. But why is it there? And what is its significance?
Let's take a closer look at one of the lesser talked about features of Augustine House.
Anglican Ties
The Compass Rose is a symbol used to identify those who belong to the worldwide Anglican Communion. More than 70 million Anglican Christians in 38 Provinces spread across 164 countries. The mother church for the Anglican Communion is Canterbury Cathedral and the compass rose on the floor of Augustine House is in fact a copy of the one that can be found in the nave of the Cathedral Church of Christ in Canterbury.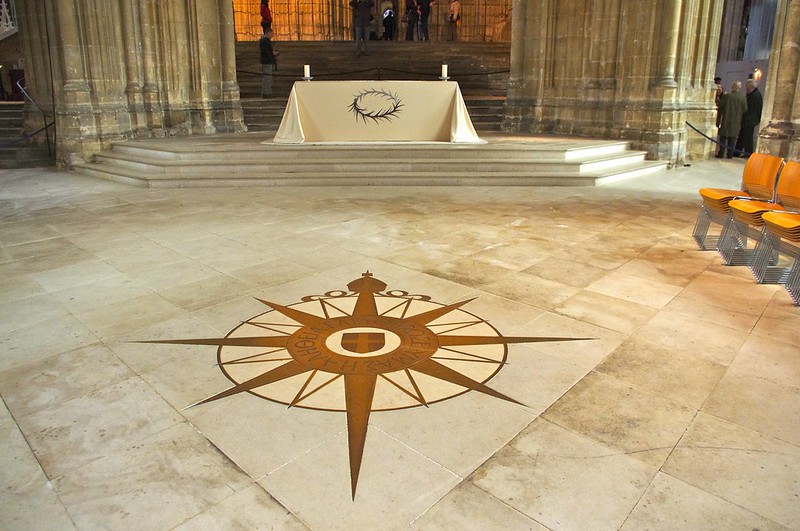 It was designed by Canon Edward West of the Cathedral of St John the Divine in New York City in the 1950s. It has a stylized compass in which the centre holds the Cross of St. George. It symbolizes the spread of the Anglican Communion around the world. A bishop's mitre atop the northern arrow of the compass emphasizes the centrality of the episcopate and apostolic order in the Anglican Communion. In 1988 the symbol was set in brass into the floor at the east end of the nave where it was dedicated by Archbishop Robert Runcie at the farewell Eucharist of the Lambeth Conference in the same year.
The truth shall set you free
If you look at the centre of the Cathedral compass rose you'll see an inscription in Greek (the original language of the New Testament). The inscription translates as "The truth shall set you free". Words taken from John's gospel. You will see those words in the centre of our own compass rose. The words have become the University's motto and I can think of no finer words to be on the floor of a place of learning.
For me a library plays a fundamental role in a University community. The resources and services we provide not only create opportunities for learning and understanding but can nurture the formation of new ideas and perspectives. Augustine House is now ten years old, a decade of learning opportunities across what must be hundreds of thousands of visits… millions.
Here's to the next ten years.
Resources
The book the Canterbury Cathedral nave : Archaeology, History and Architecture by Kevin Blockley, Margaret Sparks and Tim Tatton-Brown charts the history of the development of the Cathedral Nave including the addition of the compass rose. It can be found at 726.6094223 BLO. There are plenty of other books about Canterbury Cathedral in the same area.
If you're looking for a documentary about the history of Canterbury Cathedral. The Tony Robinson fronted "Britain's greatest Cathedrals" is well worth a watch and available via Box of Broadcasts https://learningonscreen.ac.uk/ondemand/index.php/prog/10DBFF69?bcast=126457365. If you've not used the service before check out our handy guide https://www.canterbury.ac.uk/library/docs/box-of-broadcasts.pdf