Student visit and archaeology round-up – exciting times in Canterbury
This will be the last blog before the rescheduled Becket Lecture, consequently I thought I would start by sending out a final reminder that it will take place in The Michael Berry Lecture Theatre, Old Sessions House, on Tuesday 6 March at 6pm. Dr Marie-Pierre Gelin will be the lecturer this year and her chosen topic is 'Thomas Becket and his Predecessors at Canterbury'. Everyone is most welcome, so please come along and bring your friends.
I am hoping to bring you a report about the Classics Sixth Formers and their encounter with medieval documents in the archives later on, but first I want to bring you Professor Paul Bennett's brilliant, as always, report on the activities for Canterbury Archaeological Trust in 2017. This annual lecture, as a memorial to Frank Jenkins one of the pioneers in Canterbury archaeology, is run jointly with the Friends of Canterbury Archaeological Society [FCAT] and Canterbury Historical and Archaeological Society [CHAS]. Now Paul spoke for two hours so I'm not going to be able to cover everything, rather I'm going to give you what I saw as the highlights and apologies if I have not included something you were specially waiting for. Moreover, having talked about St Alban's Abbey/Cathedral already when Ross Lane came to give a lecture to the Friends and the Centre, I'll leave that out and concentrate instead on the site of the new Arts building at Canterbury Christ Church; with some information on Canterbury Cathedral's water management on the south side and the cathedral roofs; further building recording at 5 Court Street in Faversham, and Yew Trees in Wye (Ian Coulson's residence until his death).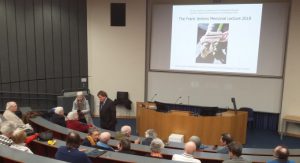 Paul just before he delivered his lecture (photo Diane Heath)
As those of you who have visited Canterbury Christ Church in the last year will know, the new Arts block is being built on the carpark on the north side of the campus nearest the ring road and city wall. The building is requiring multiple piles which allowed the archaeological team under Alison Hicks to undertake a considerable amount of excavation work in this relatively small area. The earliest archaeology related to the Bronze Age, showing that there was occupation in this suburban area which hadn't been known about before. The next period that has left considerable traces is the Anglo-Saxon and amongst the evidence uncovered were pits for rubbish of varying sorts and a large pond. The pond is very interesting because it seems to have been used to water animals because as well as metalling to make it waterproof, the archaeologists found a ramp which animals could have been led down to drink. Of the rubbish discovered, a significant proportion was debris from metal working, such as iron slag, indicating a sizeable area of industry in the vicinity of North Holmes Road. The timing of such activities seems to have been between 750 AD and 1300 AD.
A very major feature cutting across the excavation site is Abbot Fyndon's boundary wall, which extended or could be said to have enclosed a greater area within the inner precinct including what had been a hollow way, presumably used to get to the abbey's agricultural lands on the north-east side. Furthermore, to ensure the stability of the structure, a large buttress was built up against the wall on its outer side. This action on the abbot's part is recorded in William Thorne's Chronicle, a later abbey chronicler, and the bringing together of archaeology and documentary research is in this case a happy marriage!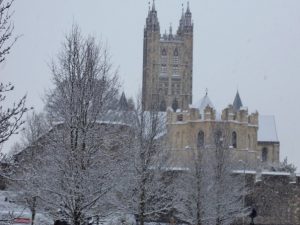 Cathedral roofs covered in snow
Turning to another part of the World Heritage Site, Canterbury Cathedral, the Trust has been busy at below ground level on the south side and way up in the nave roof. The former relates to schemes to take ground water away from the cathedral to ensure, amongst other things, that water doesn't get into the crypt. This has involved working with/around a 15th-century drainage system of Prior Goldstone II, very deep drainage pipes where there were dangers resulting from the build-up of poisonous gases and Archbishop Parker's drainage inspection facilities. A major point of all the archaeological activity was the number of burials from the lay cemetery in this area, the bodies being in three layers and at the base of the boreholes there was evidence of Roman buildings.
On the building recording side, Rupert Austin has been very busy up in the triforia roof spaces. As Paul said, this is one of the most complete medieval roofs that we have, and the beauty is that the nave roof is generally also documented so that we are looking at a 1390s construction, with later renovations but still a great deal of original timber. Moreover, when looking at the clerestory, there are remains of Lanfranc's work buried in the later masonry and at this level there is also evidence to show that the building campaigns of first William of Sens and then William the Englishman resulted in changing ideas – the timber work shows evidence of mortices, for example, that were then not used in the final construction. Paul was also keen to point out that much of this internal work is in Reigate stone, an early indication that masons had learnt that Reigate weathers too much as an external stone; yet is fine for such matters as these internal corbels.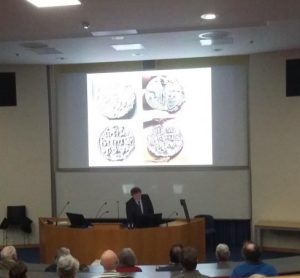 Paul discusses the copies of the papal bulls found in John of Whetehampstede's grave (photo Diane Heath)
So to Faversham and a newly discovered little hall house. Although much has changed this 'L' shaped hall house was floored over in the 17th century but Rupert has been able to identify the cross passage and service rooms, as well as the hall, which therefore provides the hall's orientation. Furthermore, this fascinating house has an inserted fireplace and a splendid staircase.
Keeping with the idea of building recording, Rupert has undertaken a further assessment of Ian Coulson's old home at Wye for the new owners. This is a truly lovely 17th-century house with projecting bay windows and early roof tiles, and among the fittings Paul showed a slide of on Saturday was an original 17th-century fire screen.
Another report I promised last week was one on the visit to the cathedral archives, under the direction of Cressida Williams, by a dozen Classics students to explore medieval documents, most of which were in Latin – a good test of their language skills because they also had to cope with handwriting they are not used to and the use of multiple abbreviations. Among the documents they looked at in this workshop were two very different charters, the earlier one being Henry II's grant to the city of Canterbury that gave the citizens various rights, including the provision that the Burghimote was to be held every 15 days and that the citizens can hunt where they had previously been allowed – these rights are echoed in the late 14th-century custumal now in a manuscript at the Bodleian. For some of the students, Henry's seal was of special interest, as one student has since remarked: 'I saw Henry II's seal!'; while another commented, 'It was interesting to see unique and important documents from so long ago! Very enjoyable.'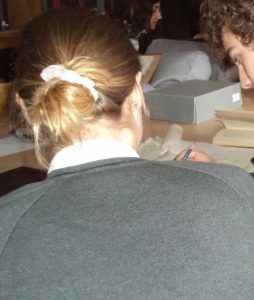 Sixth Formers looking at a range of medieval documents
Probably dated 40 years later, about 1200, the other charter was a confirmation charter by Aldith daughter of Henry Coppe of two pieces of land in Burgate, one belonging to St Augustine's Abbey, the other next to St Michael's church, Burgate. This allowed the students an opportunity to discuss the rights of women as landholders under the customary law of Canterbury that gave these women more rights compared to the common law; as well as the survival of female Anglo-Saxon names. Again, the students found this fascinating: 'It was amazing! I enjoyed reading the documents as they were very interesting, especially those including Canterbury!'
I had also ordered up, in date order, one of the rolls of the city's petty sessions from 1371 (a decade before the Peasants' Revolt); a rough accounts book compiled by the Canterbury city chamberlains' that included entries covering what was given in bread and wine to Henry IV's queen when she came on pilgrimage to Becket's shrine, and an inventory of 1501 concerning the furnishings and household goods, including relics and books at Canterbury College Oxford. This college at Oxford belonged to the Canterbury Cathedral monks until it was dissolved in 1540, the site acquired by Christ Church College.
However, what particularly grabbed their attention was an early-13th-century Bible from the library of St Augustine's Abbey. This manuscript is striking for the different hands who compiled it and the marginalia – annotations and drawings, features noted by one student, in particular: 'I loved seeing the doodles in the Bible and the different notation styles, I felt as though it humanised the authors and made the era more approachable.' Another student also commented: 'The Bible was so interesting, I particularly enjoyed the doodles of hands.' Just for good measure I had added in a volume compiled of various books, made probably in late Tudor times, because that offered a way to discuss with the students why their ancestors were interested in the Anglo-Saxons – laws and language. This generated a couple of comments, one student remarking: 'I thoroughly enjoyed the old English and Latin books'; while another said, 'I enjoyed looking at the various documents and comparing them.' It was amazing how fast the hour went, and, even though they stayed on a bit longer than originally intended with their teacher Hannah Warwicker, we had to draw the session to a close before many would have liked. Consequently, I hope this link will continue to flourish and more sixth formers will have the opportunity to 'explore the cathedral archives'.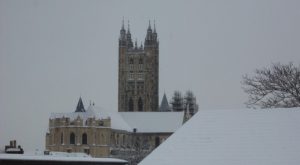 Snowy cathedral from the Centre's office.
I had intended to finish this week with a short report on Suzanne Coley's talk on Archbishop Baldwin of Forde for the History Staff-Student Research Seminar, but the snow has won out this time. Instead I'll just bring you a round-up of the Centre conferences due to take place over the next few months, especially now that Matthew has created the necessary web pages and links – thanks very much Matthew!
April brings a whole series of events under the Medieval Canterbury Weekend 6 – 8 April 2018, including our new ventures for young medievalists. The main site is at: http://www.canterbury.ac.uk/medieval-canterbury and the story-telling with a Canterbury twist on Friday 6 April is at: http://www.canterbury.ac.uk/arts-and-humanities/school-of-humanities/medieval-canterbury-weekend/medieval-canterbury-weekend-2018/chaucers-tales.aspx
Later in April the Medieval Settlement Research Group comes to join the Centre in Canterbury for a weekend conference on 'Forest, Woodland and Settlement' between Friday 20 and Sunday 22 April. See here for information: http://www.canterbury.ac.uk/arts-and-humanities/events/arts-and-humanities/soh/forest-woodland-and-settlement.aspx
Then to May and the Centre's joint one-day conference with the Kent History Federation on 'Tudor and Stuart Canterbury', featuring morning talks and guided walks. More information and how to book is at: http://www.canterbury.ac.uk/arts-and-humanities/events/arts-and-humanities/ckhh/tudor-and-stuart-canterbury-conference.aspx
Finally, for the time being, there is the 'Maritime Kent through the Ages' conference on Saturday 23 June (this requires booking), and a free, public lecture the evening before on Friday 22 June, which does not. Again more details can be found: http://www.canterbury.ac.uk/maritime-kent  or you can email artsandculure@canterbury.ac.uk or call 01227 782994.