Before I get to news of events next week, including the William Somner conference on Saturday 23 March, and a report on the Kent History Postgraduates meeting, I have a stop-press announcement to make regarding Tudors and Stuarts 2019. Unfortunately, Dr Clive Holmes has had to withdraw due to ill health. Thus, he will not be able to give his lecture on Oliver Cromwell and witches, but I am exceeding fortunate and grateful that Dr Rebecca Warren from the University of Kent and an expert on the period, has generously agreed to step into the breach. She will cover the same topic but from her own angle and her lecture will be entitled: 'Protector or Persecutor? Witches, the Devil and Oliver Cromwell'. Obviously, everyone at the Centre wishes Clive a speedy and full recovery.
Next week we have another busy week because the History Research seminar will be on Tuesday early evening at 5pm when Jordan Newton (CCCU postgraduate) will be speaking on "How would you like to go back through the ages – in search of yourself?": Time Travel Comics, Internationalism, and the American Century' in Newton, Ng01. Then on Wednesday, there is the Centre's workshop between 1pm and 2pm in Laud, Lg47 on women in the workplace in medieval times using archival documents in translation or transcription – palaeographical skills not required. Please book at https://www.canterbury.ac.uk/events/general/women-in-the-workplace-in-medieval-times.aspx .
For those interested in archaeology, there is the Lambarde Lecture the same day at 6pm, which will be in Old Sessions. Booking is not required, please come along to hear 'Artists, archaeology and ancient Egypt: Victorian Painters and their engagement with antiquity' by Professor Stephanie Moser (University of Southampton).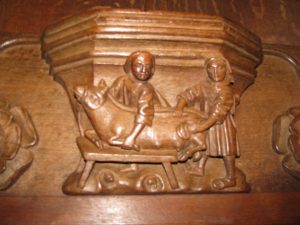 First of this week's peasant images – Bristol misericord for November [photo Imogen Corrigan]
Thursday evening is especially busy – I could have been in one of three places! However, I have decided the best decision is to represent the Centre at the opening of the Juxon Room in the medieval hospital of Eastbridge. I composed the text for the exhibition of 'Eastbridge Hospital through the Ages', which was on show in the undercroft last summer, thus it will be interesting to see the hospital's new exhibition space.
Then, of course, there is the 'William Somner, 1606–1669' conference, including an exhibition at Canterbury Cathedral Archives and Library. The conference will be at Old Sessions, and the speakers are drawn largely from Canterbury Christ Church and the University of Kent, although it will be great to welcome Rachel Fletcher as well, who is an expert on Somner's dictionaries. People can still book to attend at Old Sessions at a reduced price, but places for the exhibition have all been taken. Please see: https://www.canterbury.ac.uk/william-somner
Now to the Kent History Postgraduates Group seminar on Wednesday and Janet Clayton gave the first presentation. Having spoken in the past on woodland management and wool production in the Hundred of Ruxley, this time Janet gave us a fascinating discourse on peasants and politics in the later 13th century. She began by telling us about one of the Becket miracle stories where 'young Robert of Rochester' was revived by the saint after he drowned in the River Medway, his parents 'measuring' him for St Thomas and the whole episode endorsed by the family's neighbours. Robert was not the only lad in north-west Kent who played by rivers and 'young John' the son of Philip of St Mary Cray was equally accident prone because, in 1270, he fell in to the River Cray, although in this case this may have been one of the mill ponds along the waterway. He, too, was pulled out of the water by his father but instead of appealing either to saints at Canterbury or neighbouring Rochester, his parents sought help from 'Holy Simon' of Evesham. The boy was measured for the saint, ie a wax taper was made the length of the boy, and again the neighbours endorsed the decision of the father, culminating in a pilgrimage to Evesham.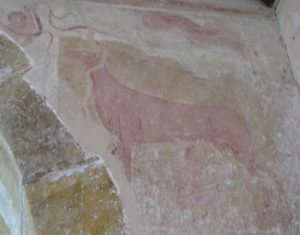 Eve milking – Hardham, Sussex [photo Imogen Corrigan]
Janet's question was why, what did Evesham offer that Rochester or Canterbury did not? Is this evidence of a politically aware peasantry in the aftermath of the baronial wars between Henry III and the Lord Edward against Simon de Montfort, his wife the king's sister and Simon's followers? Are matters of lordship important regarding de Montfort and his supporters/neighbours in the Ruxley area; and/or Kent more broadly? Janet is in the early stages of her investigation, but she has already discovered that this is not the only Kentish miracle that 'Holy Simon' is said to have performed during the short heyday of this 'political saint's' cult. Furthermore, de Montfort held Dover Castle, the fortress in the hands of his wife in the aftermath of de Montfort's defeat and death at the Battle of Evesham – it is worth noting here that Professor Louise Wilkinson has worked extensively on Eleanor de Montfort, including her defence of Dover Castle against royalist forces. Nor was this the only interests de Montfort had in Kent because he held strategic estates at Brabourne, Sutton Valance and Kemsing through his wife, as well as knight's fees in the honour of Newbury, including some in Ruxley Hundred that together comprised a sizeable block in the southern part of the hundred. Thus, Janet has found a de Montfort – Ruxley link, and taking this further, she has found similar links concerning de Montfort's neighbours such as the de Crevequers.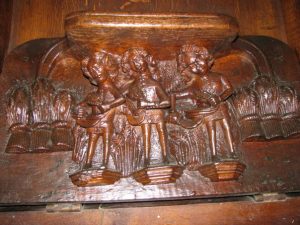 Reaping at Worcester [photo Imogen Corrigan]
Another family with lands in Ruxley Hundred were the de Mares. This family initially looked less promising because Robert had been part of the royalist party, but after his death in 1256 and the later remarriage of Sibyl his widow to William Marmyon, a major de Montfort ally, this began to look more hopeful. A further twist might be this widow's intransigence against her own peasants, although the most celebrated case involved her estates at Assheby Meares, not those in Kent. Yet it may indicate that some among the peasantry were aware of political developments such as the Provisions of Oxford, that they were prepared to work collectively to resist their lords by using the law courts, and that they were prepared to demonstrate their affinity through mechanisms including pilgrimage.
As you can imagine, this sparked numerous comments and questions before we moved on to the second presentation. Abigail Sargent is studying for her doctorate at Princeton University and is currently working in the archives in England. It was brilliant to welcome her to the group, not least because her research similarly focuses on the peasantry. Like Janet she has been making good use of the late 13th-century Hundred Rolls, as well as manorial documents at Canterbury, Maidstone and London; also, because she is examining peasant communities in Normandy, she has spent time in the archives there. Her three main research questions concern how rural communities related to authorities such as minor officials on a regular basis, how these communities sought to defend their resources, and how they might seek to perpetuate their position vis-à-vis their lords using means such a social memory and communal knowledge.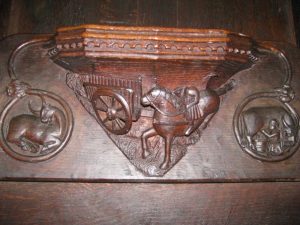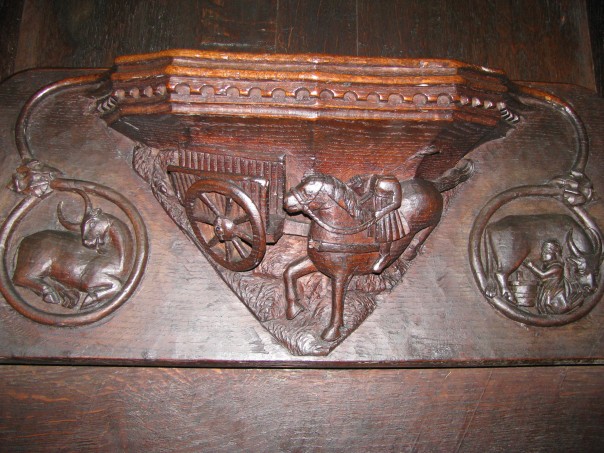 Putting the cart before the horse and milking – Beverley Minster [photo Imogen Corrigan]
Abigail is studying two clusters of peasant communities. Her Kent cluster is Hollingbourne and district, which is close to Maidstone, and, in part, she has selected it because of the extensive court baron and tithing records for this Christ Church Priory manor. Consequently, she has been able to explore how groups of peasants, those in the tithings (or Kentish borgs) were able to act collectively to negotiate, resist or obstruct those in authority. Among the areas that might become foci in this way were the state of the local roads and regulating ale under the Assize. From such cases, Abigail is seeing instances where peasants collectively invoked the importance of custom, ideas about 'time out of mind' to provide authenticity through antiquity respecting orality, as well as an appreciation and familiarity with written documents – where they could be seen to substantiate claims.
Again, Abigail's presentation generated questions, comments and suggestions, and, fortunately, we were able to continue beyond our 2-hour slot. In particular, there was quite a discussion about the nature of Kent as a county and how some of the specific features relating to lordship and landscape make it more challenging to study compared to some other counties. Consequently, even having extended the meeting, discussion continued after many of the group regrouped in the SCR, which indicates that we had had another successful seminar – thus, thanks once more to both presenters and audience members.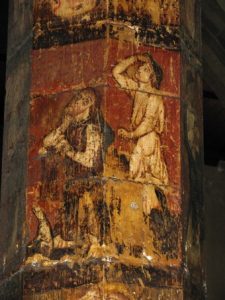 Annunciation to the Shepherds – Faversham painted pillar [photo Imogen Corrigan]
Finally, I'll just mention that Professor Jackie Eales gave a talk to the Canterbury Historical and Archaeological society [CHAS] on Wednesday evening. A sizeable audience were interested to hear about Kent and Turkish piracy in the 17th century. This included the exploits of Jack Ward, originally a Faversham fisherman, who became a notorious pirate whose base was in Tunis. These generally north African coastal pirates were a scourge for many European merchantmen, especially those sailing through the Mediterranean, albeit these Barbary pirates were known to raid Ireland and western England in the pursuit of captives to sell into slavery. The audience enjoyed Jackie's talk and asked several questions, as well as offering new ideas, comments and suggestions. And next week Jackie will feature again as a speaker at the Somner conference.