Please note change of venue!! Due to some technical issues, Dr Rachel Koopmans' illustrated presentation will take place at St Dunstan's church on Thursday 23 June at 7pm on the Becket Miracle Window that featured in the British Museum's Becket exhibition last summer.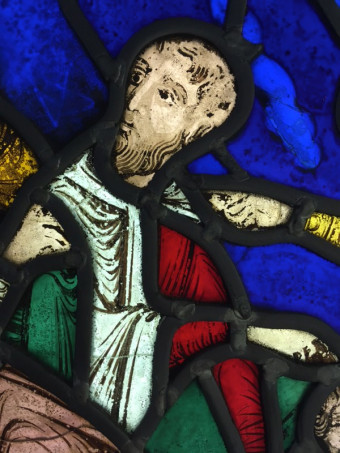 Rachel is currently in Canterbury for a very brief research trip and it is great that she has time to give us a presentation before she returns to Toronto at the end of June. Her talk is entitled 'What can a Window Tell You? Pilgrimage and People in a Thomas Becket Miracle Window', and she will consider people, including Kent people, as well as places and their representation within these stained-glass panels. Having seen several up close and heard some of Rachel's ideas, I know that her audience will be in for a great treat. We are able to livestream her talk using the link: https://www.dunstanmildredpeter.org.uk/livestreaming for those who cannot get to this free, public lecture, but for those who can, we shall look forward to seeing you (booking NOT required, do come along and bring your friends). This is a collaboration between St Dunstan's church and the CKHH as a friend of Rachel and Leonie and their great project, and for the benefit of the church we would like to encourage donations.
Looking to the Kent History Postgraduates, Alison Norton is working on early castles in the West Country and Kent. She will be holding an online conference on 'Imaginative Landscapes and Otherworlds' on 22 June where delegates will discuss and further explore the relationship between tangible landscapes – those inhabited by people of a particular culture, and imaginary landscapes – projections of possible landscapes. The conference's intention is to allow for a clearer differentiation between material and imaginary interactions within an environment and assist with discerning how these landscapes interacted with each other. Do contact her if this sounds interesting at alison.norton@canterbury.ac.uk for further details.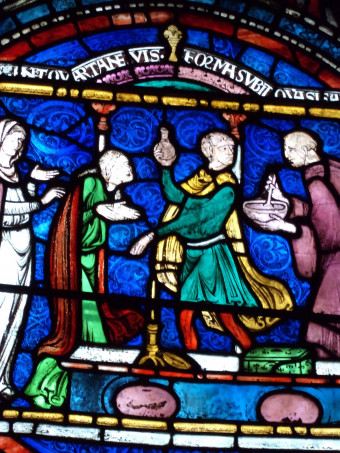 Then on Friday 24 June, it will be the KHP monthly meeting and again we will be in for a treat because it will be a multiple presentation session – like a conference single session, with papers by Maureen Mcleod, Jane Richardson and Janet Clayton. As regular readers of the blog will know, Janet is in the final stages of writing her thesis exploring the Hundred of Ruxley in north-west Kent with special reference to the High Middle Ages. As always, the influence of London is one of the key factors, as in many ways it is for the whole county, then and now, but especially so in the region around Orpington due to proximity and links via rivers and the Thames estuary.
The importance of rivers and waterways is equally the case for Jane's and Maureen's doctoral projects and continued to be so really until the coming of the railways to Tonbridge and beyond. Although for this session, Maureen, for example, will be returning to the topic of deer parks and specifically poaching, a subject that goes way beyond the idea of criminal activity, bringing in social memory, identity, transgression, liminality and at its root, 'history from below'.
Moving into July, it is that time again, known to all of those living in medieval Canterbury as the feast day of the Translation of St Thomas Becket, beginning at Vespers on the eve ie on 6 July. Then, at least from the early 16th century and perhaps earlier, the city's pageant wagon with its St Thomas Pageant was taken around the city streets – maybe those specifically paved as a consequence of the 1478 'paving charter, possibly joined every three years by the Dover porters carrying the town's great candle as the town's gift to St Thomas. The procession then as now often included giants, but today not the gunpowder – health and safety would condemn that!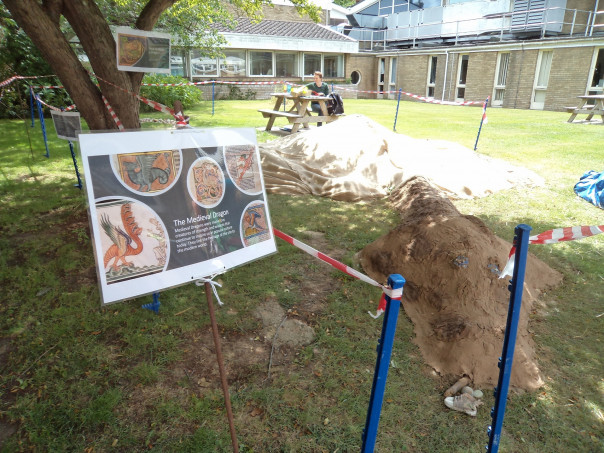 Even though it is not a giant as such, Dr Diane Heath's 'Green Dragon' as part of her Lottery-funded 'Medieval Animals Heritage' project may be said to be in attendance at today's Medieval Pageant. This will be especially for all those following in Bertha's footsteps as she made her way from Ethelbert's 'inner burgh' (within much of the cathedral precincts) to her church dedicated to St Martin of Tours, via Queningate and what would become the outer precincts of St Augustine's abbey (now the CCCU campus).
The development of the Green Dragon can be followed at #cccuclimatedragon which was set up by Dr Pip Gregory @FWWcartoonPip which shows how cob-making is continuing to be a challenge, and we haven't yet got to the 'moss-soup' stage! However, some great news, Diane and the Kent School of Architecture (Dr Ambrose Gillick and the winning team of students) now have HM governmental approval to construct the Greyfriars Dragon at the Franciscan Gardens – well done all concerned! But to return to the present-day Medieval Pageant, the Centre's contribution is being led by Dr Claire Bartram on Saturday 2 July, although I'm not sure whether we will be based in St Paul's or St Martin's church, but whichever please do come and join us for some family-friendly creative activities.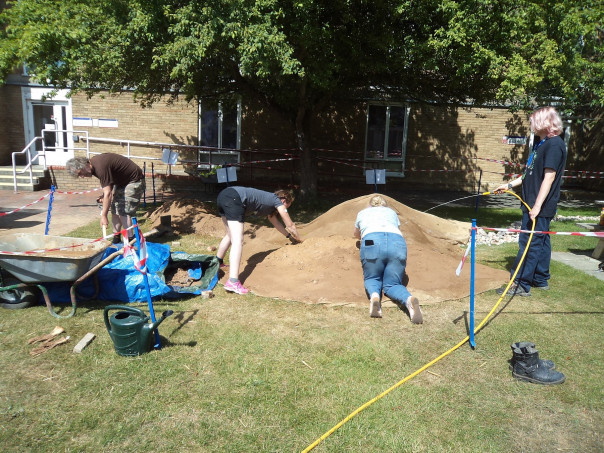 The second commemorative activity for July that I want to flag up is again 6 July because as well as the Becket link, it marks the execution of Sir Thomas More. Due to the presence of More's 'head' said to be interred in the Roper vault at St Dunstan's church, the church has for some years held a commemoration service on that day with an address by a guest speaker. This year for the Service of Commemoration for St Thomas More on 6 July at 7.30pm, Linda Lee, a past President of the Law Society will speak on 'Thomas More – a modern lawyer's perspective'. If you would like to attend, you will be most welcome.
Finally, as a quick round-up it was the last of this series of palaeography workshops this week working with enthusiasts from Kent Archaeological Society and new recruits for the Lossenham Project wills group. Additionally, I had two meetings covering matters relating to the same group's Lossenham Priory Study Day on Saturday 3 September and also good to report that the exhibition banners composed by members of the group are coming along well. Diane, Claire and I have all attended meetings run by Helen Wright the Faculty Research Impact Officer, which has given Diane some very useful ideas about how to assess impact, while Claire and I were at one with others from the Faculty on 'Imagining Dover: Place, Health and Wellbeing in England's Gateway (working title)'. This brings us back to Dover again and for me the most exciting discovery this week that I may just have got somewhere towards pinning down which of the 21 Dover wards were in St James' parish from W.H. Ireland's History of the County of Kent. And next week will be even more exciting because Diane's daughter is getting married this Saturday – congratulations and have a great time everyone!!