Material Culture explored in Canterbury and London
This has been a quiet week from the perspective of lectures and similar events in or about Canterbury, although, of course, the Canterbury Festival walks on behalf of Canterbury Archaeological Trust have been taking place all week, including my tour of St John's hospital. This hospital featured in the Canterbury Medieval Weekend last April because it is a gem of a medieval establishment having several of the original late 11th-century structures. Consequently, it was a privilege to guide an expectant group around the remains of Archbishop Lanfranc's great charitable institution and to show them how the Tudor refectory with its beautiful stair turret had used the back wall of the dorter and the front wall of the necessarium.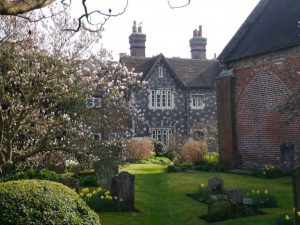 St John's Hospital – graveyard and chapel
However, next week will bring Dr Emily Butterworth from Kings, London, to Canterbury Christ Church to give a paper on Wednesday entitled 'Waste Paper: Early Modern Material Afterlives'. This will take place at 5pm in the Erasmus building. Hopefully, staff and students from Christ Church will be joined by their counterparts from the University of Kent, as well as any interested in this period and topic. Emily has a particular interest in deviant speech and language and works on early modern literature and thought. Her research focuses of the works of Montaigne and it is a throwaway comment of his on the paper his Essays were printed on that informs her title here. She will explore early modern writers' interest in what happened to their books once people stopped reading them – wrapping butter in a market, lining pie tins, and in the privy were all possibilities – and what this reveals about early modern attitudes to materiality and mortality. This sounds a fascinating topic and to have such an expert is excellent. Indeed, it is worth noting that currently Dr Butterfield is researching excessive forms of speech – babble, gossip and rumour – and why talking too much was considered so dangerous in the Renaissance. For those who would like to know more, do check out the AHRC-funded project 'Gossip and Nonsense in the French Renaissance' website: http://gossipandnonsense.exeter.ac.uk where she is a Co-Investigator.
Unfortunately, I shall have to miss this because I will be giving a talk in Orpington that evening on agricultural practices in the medieval Kentish marshlands. Being particularly interested in 'history from below', I shall concentrate on the experiences of the peasantry but will include some aspects of demesne agriculture because the evidence is more extensive. Nevertheless, as I discovered when I was researching and writing an article for Custom and Commercialisation in English Rural Society: Revisiting Tawney and Postan, edited by J.P. Bowen and A.T. Brown, the particular features of landholding and farming found in Kent offered evidence of greater individuality compared to that experienced by the peasantry of the Midlands. This holds true in general terms for the whole county, but is especially noticeable on the marshlands. For example, charters between named peasants and their associates, and the great ecclesiastical landholders demonstrate that the landlords needed the peasants to reclaim and maintain the new marshlands against the sea, the peasants in return receiving considerable freedom in terms of their agricultural practices. In addition, the survival of a sizeable body of testamentary evidence, albeit only from c.1450, offers valuable insights regarding how peasants and their families viewed land and landholding in the Kentish marshes, which complements the evidence provided by the relatively extensive series of manorial court rolls and their records of property transactions and partible inheritance for the same areas.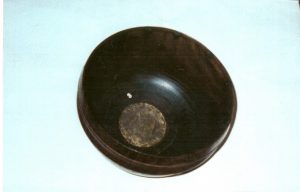 St John's Hospital mazer (photo Dean Bubier)
Keeping with this topic of post-mortem giving, a week tomorrow I shall be speaking at The Monumental Brass Society's meeting at St Bartholomew-the-Less in London. This symposium on 'Medical Aspects of Medieval Monuments' will bring together five speakers including Dr Elma Brenner from the Wellcome Trust Library and Dr Sophie Oosterwijk from the University of St Andrews. Using two case studies, I shall focus on gift giving and commemoration at a medieval hospital in Stamford and another in Kent. This will give me one monumental brass, although the other case study will explore an engraving on a mazer. Nonetheless, both offer interesting ways to examine issues surrounding material culture, including how donors and recipients may have used and understood such objects in the devotional and fraternal lives of these hospital communities. I visited William Browne's hospital at Stamford several years ago but until now had not had a reason to explore it further, so this is a valuable opportunity. Coming from Kent, I have looked at the St John's hospital mazer before and today it is at the Sandwich Town Museum. If you don't know it, it is well worth going to visit, and similarly there is an excellent collection of these decorated wooden drinking bowls at the Heritage Museum in Stour Street, Canterbury, with another in the Cathedral Treasury. Of course, these are not the only mazers nationally, and for those who are interested there are beautiful examples in the York Minster Treasury and the National Museum of Scotland in Edinburgh.
As a reminder, it is now just over a fortnight before the joint Centre and Kent Archaeological Society's one-day conference on names: 'Kent Places and People', which promises to be a fascinating event. Drs Paul Cullen (University of the West of England) and Michael Bintley (CCCU) are among the speakers and if you wish to book a place, please go to http://www.canterbury.ac.uk/arts-and-culture/calendar.aspx or email artsandculture@canterbury.ac.uk or phone 01227 782994. Finally, at the relaunch of the Centre on Tuesday 6 December Paul Bennett, the Director of Canterbury Archaeological Trust, will give his inaugural professorial lecture 'From Benghazi to Canterbury: an Archaeologist's tale' at 6.00 pm (wine reception from 5.30 pm) in The Michael Berry Lecture Theatre, Old Sessions House – all welcome to attend.