I thought I would start this week by giving you an update on the 'legacy' of the Medieval Canterbury Weekend, because apart from Matthew Crockatt's excellent gallery of photos and the best postgraduate posters that are now on the Weekend's webpage, Professor Louise Wilkinson, as the CCCU staff member on the organising committee, is in the process of finalising the Weekend's accounts. As a consequence of the phenomenal success of the Medieval Weekend and the generosity of sponsors, it will be possible to give each of the four iconic medieval buildings visited a donation of £1000, and there will still be a healthy sum to launch the Ian Coulson Postgraduate Bursary, details of which will be released shortly – an excellent result for this joint Canterbury Christ Church University and Canterbury Cathedral enterprise.
Yesterday I attended three more successful events, this time all at Christ Church and again featuring Louise Wilkinson, as well as her colleague in History Dr Sara Wolfson, Sara's talented undergraduate students and a further colleague within the School of Humanities, Dr Astrid Stilma who gave a public lecture as part of the university's celebrations to mark the 400th anniversary of Shakespeare's death. Each of these events would warrant a report all to itself so I'm going to try to give you a flavour by just picking out a few items that especially interested me.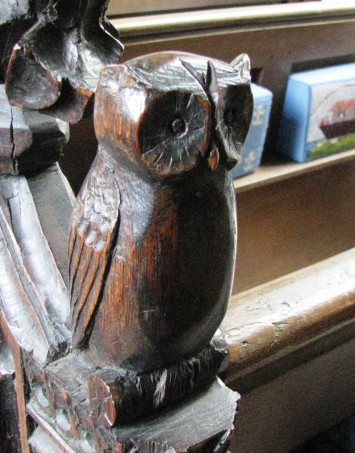 Working chronologically, I'll start with Louise's presentation on her involvement as one of the organisers of the AHRC-funded project 'The Magna Carta Project: Magna Carta's 800th Anniversary' that ran from 2012 to 2015, and may yet spawn a follow-up project. As she explained this iconic document still resonates throughout the English-speaking world, and even beyond as witnessed by interest in China that led to some of the organising team visiting the Far East to deliver talks on this medieval peace treaty from the early 13th century. Encouraging public interest, whether officially through the Foreign Office or primary schoolchildren making their own great charter and seal, was one of the project's key aims, especially in an academic environment where impact case studies are now viewed as essential and scrutinised carefully, both inside and outside individual educational institutions. Consequently at the heart of the project's website is a clause by clause commentary that is being provided at three different levels: for the general public; a full scholarly version; one aimed at secondary school level ie sixth formers.
An important first for the project was a detailed analysis of all the surviving copies of the 1215 charter, and it was this initiative, under Professor David Carpenter, that led to the damaged copy at the British Library being identified as having been at Canterbury. Thus when all four extant copies were sitting side-by-side in the British Library's Magna Carta exhibition last summer, it was great to see that Canterbury was recognised alongside Salisbury and Lincoln. For Louise this Lincoln connection proved to be especially fruitful (previously she had published a book and articles on women in medieval Lincolnshire) because it led to her doing a number of media events in the county, not least because Archbishop Stephen Langton came from there and, as people now know, he was a major player in the negotiations between the royal and baronial parties. Indeed Louise's involvement in the project also included giving 17 talks or workshops, organising regional conferences and exhibitions, the latter involving a variety of partners such as The Beaney, Canterbury Cathedral Archives and Library, Kent History Library Centre at Maidstone and a particularly energetic group at Faversham, that culminated in the touring exhibition 'Magna Carta Rediscovered'.
For Louise, therefore, this project, which in some ways grew out of the earlier Fine Rolls Project that she had collaborated on with David Carpenter, has seen her working at a wide range of different levels, from the highly exacting scholarship of the clause commentaries – her peers on the project being the lead academics in the field, to the creative challenges of producing resources for schools geared to key stages 2 and 3. And finally bringing her back to her earlier interests, she also produced for schools a section on 'Women in Magna Carta' for the Magna Carta Trust, which brought her into contact with yet another group fascinated by this, at least in the short-term, failed peace treaty that will give Louise and others another opportunity to explore a decade from now to commemorate its reissue (albeit somewhat modified) under Henry III.
So moving on swiftly, I'll start with the excellent poster exhibition put on by Sara's second-year undergraduates as part of the 'Sex, Deviance and Death' module. These posters featured different aspects of early modern society and their articulation in Shakespeare's plays. Thus there were posters looking at such topics as lunacy, folklore, medical practices, cross-dressing, homo-eroticism, witchcraft and much more. The use of images from contemporary woodcuts, pamphlets, literature and maps was extremely well done, and the students were all very happy to discuss their posters and the research that had gone into their chosen topic and play with an appreciative audience. I'm not going to single out any particular posters, rather as a group they and their tutor should be justly proud of their endeavours.
The exhibition was held at St Martin's Priory and the audience then walked down to the 'old courtroom' in Old Sessions House that is now a lecture theatre. There Astrid Stilma, a senior lecturer in English Literature, talked under the title 'Ungodly Creatures: Witchcraft and the Jacobean Imagination'. Astrid began by providing a brief reassessment of King James VI of Scotland and I of England in order to emphasise that the king had been astute politically during his reign and that he should be viewed as an intellectual whose interest in witchcraft was logical within the culture of late 16th/early 17th century western Europe. Indeed his treatise on the topic: Daemonologie, in the forme of a Dialogue (published in 1597), was seen as a didactic work that sought to make theological sense of the biblical references to witchcraft, as well as putting forward the proposition that belief in a personal God would require the acknowledgement of his antithesis – the devil. Furthermore in relation to the seeming attempts on his royal person through witchcraft, whether as part of the notorious North Berwick witch panic (1590-1) or the great Scottish witch hunt in 1596, James was to a degree also coming up against the Scottish Kirk and thus witchcraft could, as a crime, ideologically slip into treason, and that other member of the diabolical triumvirate: heresy. Consequently, James viewed his special relationship with God as making him into a divine instrument that through his faith and courage would bring down the devil (and his helpers) to the benefit of the kingdom of Scotland, and later England.
Having analysed the king's responses to this perceived threat to his royal person and the kingdom, Astrid briefly turned her attention to the portrayal of witches on the Jacobean stage, in particular she noted Shakespeare's 'Macbeth', Jonson's 'The Masque of Queens', Middleton's 'The Witch' and the multi-authored piece 'The Witch of Edmonton'. Interestingly, she noted that as with some of his other plays, Shakespeare had borrowed ideas from Holinshed's Chronicles, including the link between supernatural beings and the notion of treason. Moreover, as a general theme, witches were equated with chaos and this desire to bring order by overthrowing or vanquishing them was seen by playwrights of the time as popular, and in an age of the commercial stage this was vital. Thus, in conclusion, how much weight can be put on any link between the king's interest in witchcraft and their presence in the theatre remains a moot point. Rather witches were one element in a complex period where the continuing political and religious differences could, when particular circumstances came together, throw into sharp relief treason, heresy and the demonic – an interesting lecture.