Lossenham project – exciting new development
More excellent news, congratulations all round to Lily who is now officially Dr Lily Hawker-Yates because her internal examiner has signed off her corrections and her doctoral thesis is thus completed. Indeed, a copy is now with the CCCU Graduate College and Lily is turning her attention to what next. More on that soon after the next meeting of the Kent History Postgraduates group.
In the meantime, I'm reporting this week on the well-mananaged, socially-distanced inaugural meeting of the Lossenham Project that Dr Diane Heath and I attended at Newenden near the Kent/Sussex boundary on the Rother Levels. This will be a 4-year community archaeology and history project, led by Dr Andrew Richardson of Canterbury Archaeological Trust, to uncover what can be discovered about various sites in the local landscape, especially Castle Toll and Lossenham Priory. Consequently gathered in the well-ventilated barn and also taking part in the meeting online were archaeologists, both professional and amateur, of the latter specifically those from Hastings who have extensive experience of working in Kent as well as Sussex; historians, including members of Aylesford Priory which is still a Carmelite friary; a member of one of Kent's foremost re-enactment groups from Herne – a splendid Viking warrior; local farmers and landowners, and other members of the local community, including a representative from the Rolvenden local history society.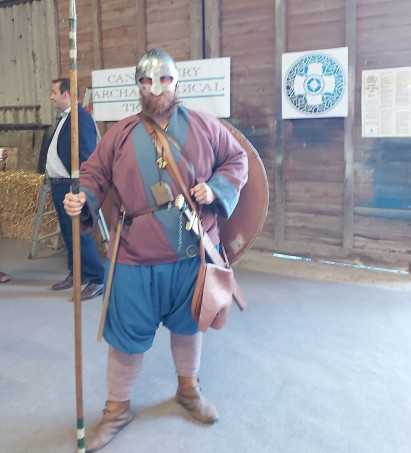 This exciting and excited group were keen to hear, after the various introductions, what Andrew had to say about how the project is envisaged. As Andrew was keen to stress throughout his presentation and the subsequent discussion, such a project will only work if the community is interested, wants to get involved and is keen to support a wide range of different aspects. Similarly, the project team want to give as many local people, and perhaps those from further away, a wide range of opportunities to try their hand at different archaeological techniques, under the eye of the professionals; the opportunity to engage in post-excavation activities – pottery washing might be such a task; to help perhaps by working with published documentary sources or other primary records, and, working with Russell, the project's artist in residence who has already designed the project's logo, to engage creatively with the landscape or with the idea of the long-departed friars, who had first come to Lossenham when the Carmelites were more hermits than mendicants. As background to the project, Andrew first outlined some details about the landscape – the wide, shallow valley with its channel and deep peat deposits, as well as the peninsula on which Castle Toll and a much larger and older enclosure are located. For one of the lines of enquiry Andrew wishes to pursue is whether this earlier enclosure has anything to do with a fortified settlement mentioned in the Anglo-Saxon Chronicle as having been attacked by Vikings in the late 9th century. Indeed, one of the ideas that has been put forward is that the fortified site at Newenden is Eorpeburnan, the only unidentified place in the Burghal Hidage, which is a list of fortified burhs from the time of King Edward the Elder.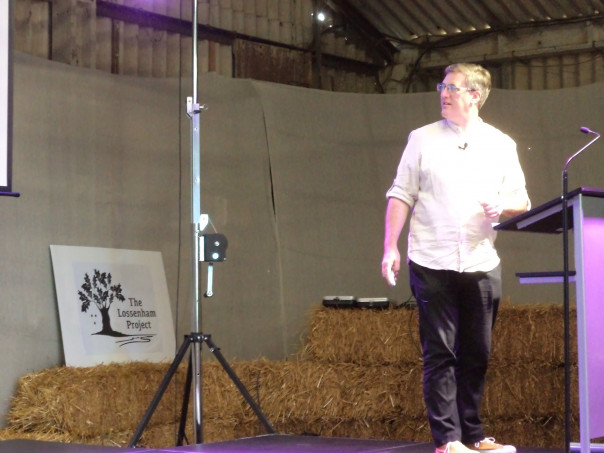 This strategic locus between marsh and forest equally fits the motte and bailey of Castle Toll itself. There appear to have been two phases of occupation there in the 13th century, as well as evidence of burning. Quite who held the place as a strategic centre during the early part of this century is unclear. Even though it is often believed that it was held by those loyal to the English crown in the civil war that drew in the French, it has been suggested that the French king's son's forces may have deployed it as a way of defending themselves against the English in the Weald. As a scheduled ancient monument, Castle Toll is protected, but appears to have suffered damage recently in several places, as well as earlier damage from ploughing. However, there are good 20th-century aerial photographs of the site that show various crop marks, which is a useful starting point. Regarding the recent damage, Historic England are investigating, and it is not impossible that the project may be able to take a look at some of these newly exposed spoil heaps.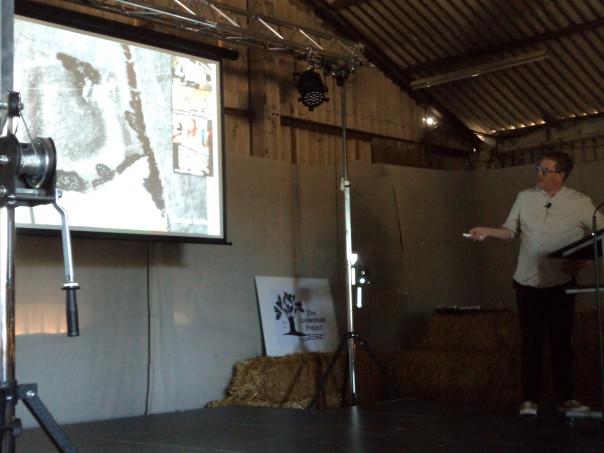 The other key feature is Lossenham Priory, and this part of the project will seek to investigate the priory itself, as well as its relationship with Newenden, a bridging point, site of an early market, as mentioned in Domesday, and a settlement on the road between the ports of Winchelsea and Rye, and London. Furthermore, the manor with it moat provides a neighbouring place of considerable interest, not least because we are dealing with two of the premier landholders in the Middle Ages through these two sites, the archbishop and the crown.
Having outlined this community project, Andrew drew on the expertise of those gathered there, starting with the documentary sources. Although coincidence, it is timely that Richard Copsey from Aylesford Priory has just published an article in Archaeologia Cantiana, the journal of Kent Archaeological Society, on the history of Lossenham Priory c.1243–1538. The other person there who has researched the history of the Carmelites, especially those at Lossenham and Sandwich, is Dr Helen Clarke, and having just finished another project, this new venture is now ideal from her perspective. Additionally, Åke Nilson, has published a small book on various aspects of the history of early Newenden, and is keen to be involved. Thus much of the research using the Carmelites own records and the printed crown materials has been done, but other avenues would seem to be the archiepiscopal and diocesan sources, and there are likely to be other materials at Kew, as well as in the British Library and the county record offices.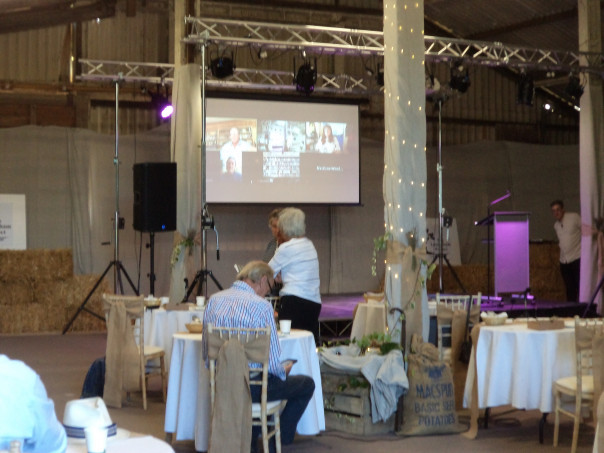 The discussion then moved on to non-intrusive forms of archaeological investigation, and the Hastings group will lead on this aspect because of their expertise. They intend to start working on this over the winter, not least because most fields are pasture and thus fine for techniques such as resistivity surveying and magnetometry, to locate and map ditches, the footprint of timber-framed buildings, wall foundations, hedges, banks and other features. As well as identifying potential areas of interest for excavation, all of this will feed into the map regression, use of aerial photographs and LiDAR.
In terms of identifying areas for fieldwork, to date iron slag, pottery and tile has been found close to the known site of the priory buildings, and this is a promising start. Boreholes may similarly yield valuable evidence, in this case of the depth of the valley sediments, especially in relation to the peat levels. Work of this kind was carried out by several geomorphologists including Dr Martyn Waller and Professor Anthony Long, about 20 years ago, as part of the Romney Marsh Research Trust, which means there is good comparable data. Additionally, there will be controlled metal detecting by reputable practitioners, and, like the excavation and post-excavation, there will be considerable opportunities for local people to get involved.
This brought the discussion to the matter of engaging the local community and how this might be best achieved for everyone's benefit. Among the various suggestions put forward were seeking to work with local primary schools, and where feasible secondary schools; having a project newsletter and website; offering opportunities for adults and families to take part in fieldwork etc; working in partnership to organise 'living history' events, and finding ways of 'capturing' people's experiences and engagement creatively through as many ways as possible. Furthermore, as Andrew had said at the beginning, this is a 4-year project which he intends will produce a book in the form of a collection of essays, and because of the presence of this Carmelite friary, such spiritual ideas will not be forgotten.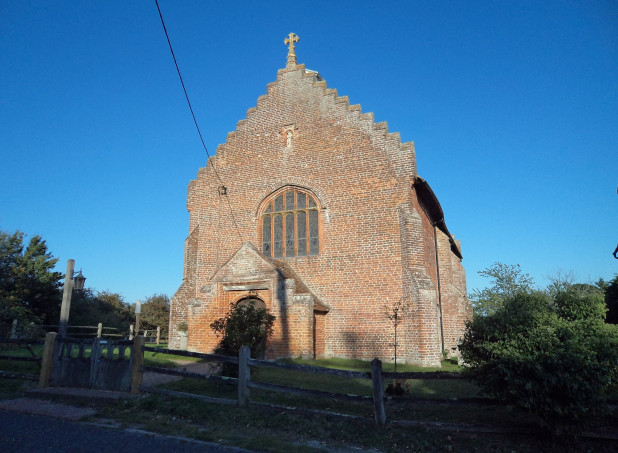 Everyone felt this was an excellent start and once the more formal discussion had ended, there were lots of smaller conversations among people who wanted to expand on the points so far raised. Diane and I needed to head off at this stage, but, as we left, a small group, being careful about socially distancing, had joined Andrew to visit the lake to gain a better idea of the terrain. Obviously as this project develops, I'll keep you informed, and it is possible Professor Peter Vujakovic and Dr Ellie William's new AHRC doctoral student will be keen to be involved too because she will be studying such community archaeology projects.