Future Centre and History events
I thought I would start this week by again drawing your attention to the showcase event that the Centre is planning in 2017 in case there are any new readers of this blog. The event I am referring to is the 'Tudors and Stuarts History Weekend' scheduled for 31 March to 2 April 2017. Details of all the different talks and other events that make up the Weekend, as in April 2016 this is designed as a pick-and-mix feast, can be found at http://www.canterbury.ac.uk/tudors-stuarts but if you have any problems do email artsandculture@canterbury.ac.uk because the Box Office team will be delighted to help you. Among the speakers, we will have Dr Janina Ramirez, Dr David Starkey and the head of this Centre Professor Jackie Eales; and the talks and guided tours are arranged under four headings: 'Kings and Queens', 'Social History'; 'the Church', and 'War and Politics'.
Far sooner is a lecture next week by a member of the History staff in the School of Humanities that will take place on Wednesday 19 October. As I am sure all of you know, this year and particularly this month has seen a considerable number of commemorate events concerning the Battle of Hastings. Canterbury Christ Church University's event is a lecture to be given by Dr Leonie Hicks at Old Sessions House at 6 pm. Dr Hicks' title is 'Reading and Writing the Battle of Hastings' and her talk will be preceded by a wine reception. It is hoped that staff, students and members of the public will come along to hear what I am sure will be a very interesting talk, and entrance is free.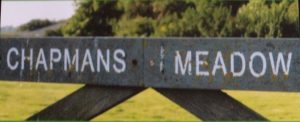 (photo: Paul Tritton)
Another event, and like the 'Tudor and Stuarts' organised by the Centre, is the one-day conference on 'Kent Places and People' that is a joint venture with Kent Archaeological Society. This will take place on Saturday 12 November in Powell Lecture Theatre, beginning with coffee at 9.30 am. Among the speakers is Dr Paul Cullen, an authority on English place names. In his first lecture, he will focus on field names because they provide valuable reminders of the past and can reveal much about the countryside, as well as the earlier presence of orchards, gardens and meadows within the town. For example, in Canterbury such reminders include Solly's Orchard, Miller's Field and Beverley Meadow that are now respectively a garden, mostly covered by a car park, and a public park. Paul will also look more widely and such examples will include Fairmeadow in Maidstone where the town's fairs were once held but the area is now part of a multi-lane highway to the M20.
Another of the speakers is Dr Mike Bintley, senior lecturer in medieval literature at Canterbury Christ Church, who will consider the use of the terms 'wic' and 'burh' in Old English poetry. Further details about the conference and a programme are available at:
http://www.canterbury.ac.uk/arts-and-humanities/school-of-humanities/research/research-kent-history-and-archaeology/crkha-latest-projects/kent-places-and-people-conference.aspx
It is excellent that the relaunch of the Centre will be marked by the inaugural professorial lecture by Paul Bennett because this is keeping with the idea of the Centre's collaborative approach, and the desire to look outside the narrow confines of the university sector. As many of you will know, Paul is the Director of Canterbury Archaeological Trust and his knowledge of Canterbury's history is comparable to his expertise on Libya's ancient history. Indeed, Paul will bring these two places together in his lecture which is entitled 'From Benghazi to Canterbury: an Archaeologist's Tale' and is scheduled for Tuesday 6 December – details of venue and time to follow. However having seen Paul this week, I can report that he had a very satisfactory trip to northern Iraq recently, the highlight being his excavation of a Homo neanderthalensis. Consequently, I am sure the audience will be treated a fascinating evening on 6 December.
This sense of the excitement of exploration was well portrayed by Felicity Aston at the first Public Lecture of this academic year at Canterbury Christ Church. Again, as many of you probably know Felicity is one of those intrepid explorers who relish a challenge, and for her this always involves some form of polar expedition. On Tuesday, she gave the packed lecture theatre some insights into her latest adventure that involved driving thousands of miles along frozen rivers and icy roads to visit the coldest place on Earth in deepest Alaska. The Royal Geographical Society sponsored her undertaking providing a brand new and specially equipped vehicle, and it was in amazingly good condition at the end of the journey. The idea was to discover how various cultures think about winter and perhaps not surprisingly this differed considerably. From the questions afterwards, it was clear the audience had been enthralled. Yet, I must admit from a personal perspective, the 'cult' of the giant bulls particularly fascinated me. As Felicity said, these statues of bulls found in parts of Alaska relate to the tradition of skeletons having been found buried deep underground in the ancient past, thereby giving them a mystical status. To finish, the Kent connection was not totally absent because Felicity had grown up in Tonbridge and her parents still live in west Kent.