As we hopefully begin to get some idea of the government's timetable and strategy regarding how to get out of lockdown, I thought this week I would use the idea of time – in the form of clocks, and bells – the latter because as a mark of the 8pm Thursday clapping for keyworkers, the bell at Canterbury Cathedral tolls for two minutes. Nevertheless, before I come to my topic, I want to report on the fortnightly meeting of the Kent History Postgraduate group.
As an outlet to talk through serious and not so serious issues facing postgraduates doing a wide range of research topics that in some form or other link to Kent or regional history, these meetings are a valuable forum, especially during this period of lockdown when access to archives, libraries and other networks have all but disappeared, notwithstanding the work of the CCCU librarians and help provided by national archives such as TNA. Moreover, postgraduate research is almost by definition a potentially isolated process, which means such self-help groups are brilliant and a credit to the postgraduates involved.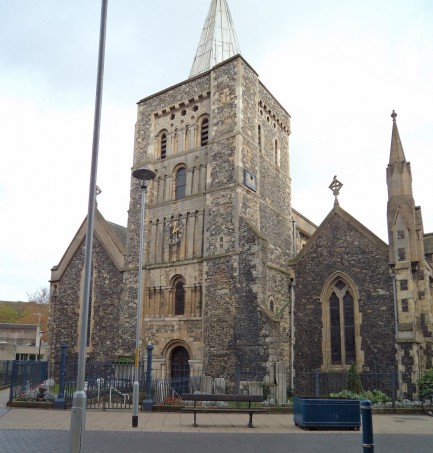 This time we had everybody except Kieron who is not at all well. Hopefully it is not the virus, yet, being one of those seen as especially at risk and living in a virus 'hotspot', she is taking time off to rest – we wish her a speedy recovery. As before, I'm going to give a short update about what people have been doing regarding their research and again there is no special order. Beginning with Jane, she has been concentrating on secondary reading and now has a copy of Monastic Hospitality. Due to TNA's new facility to download freely PCC wills, she has been collecting the late medieval Tonbridge and its hinterland ones, and what she is finding is that those on the Kent Archaeological Society's website, though useful as a check, are highly abridged. Consequently, she is finding considerably more references, including detailed ones, regarding bequests to Tonbridge Priory – a lesson to always go back to the documents themselves! Dean followed and noted that he has barely had a chance to look at his thesis at all in the last couple of weeks because he has been marking undergraduate dissertations and has been working on the proofs for an article. The latter has thrown up a number of queries and errors, presumably due to the intervention of the copy editor, which he has had to sort out to get his article back to where it should be. Lily, having almost completed her thesis corrections, she is about to add the necessary extra sections about her methodology to her introduction and conclusion, has also been involved in an archaeological project about locating sheep folds in the Scottish border landscape. Tracey is busy sorting out her primary sources into her three thesis sections so that she will be in a position to start writing her first chapter soon. She has a few things to do on her draft introduction and has also been in contact with Peter Hobbs regarding their shared interest in the family who held land at Nonington. Peter has been very busy working as part of the chaplaincy team at CCCU, as well as resubmitting his MA thesis in response to the examiners' comments. Having started in theology, Peter found his research increasing led him into history and trying to marry the two disciplines has been challenging. Ideally once the MA is completed, he would like to continue with his 'bottom-up' approach, rather than the usual 'top-down', to examine the relationship between the Rochester diocesan and parish clergy, and the poor in the 18th and 19th centuries. This week Janet was concerned to find out that her first supervisor has very recently left the university. Fortunately, because her research bridges archaeology and history, her second supervisor, who is an archaeologist, will now take over, to be joined by a medieval landscape specialist, and because she was about to tackle the archaeological evidence regarding analysing parks and land use, this will work well. Nevertheless, it has been an unsettling time. Finally, coming back to Tonbridge, Maureen has been writing a section using three detailed manorial accounts to explore ideas respecting estate management in and around Tonbridge from the early 14th to the early 15th century. Her special focus has been on the effects of different management regimes – hands-on compared to absentee landlords, as well as the impact of the Black Death and the shift towards renting out the demesne lands. Thus, we had a series of fascinating discussions which meant the hour expanded considerably! Thanks everyone
Now for something a bit different – for clocks, bells and time keeping, I'm going to focus on late medieval Kent but before I get to this, and especially what was happening in 15th and 16th-century Dover, I thought I would just provide a little background information. To do this, I'm primarily drawing on Professor Caroline Barron's chapter in an essay collection in honour of Professor Carole Rawcliffe entitled A Verray Parfit Praktisour, published by Boydell in 2017. However, if you want more information, please also see Gerhard Dohrn-van Rossum's History of the Hour: Clocks and Modern Temporal Orders (English translation in pbk in 1996).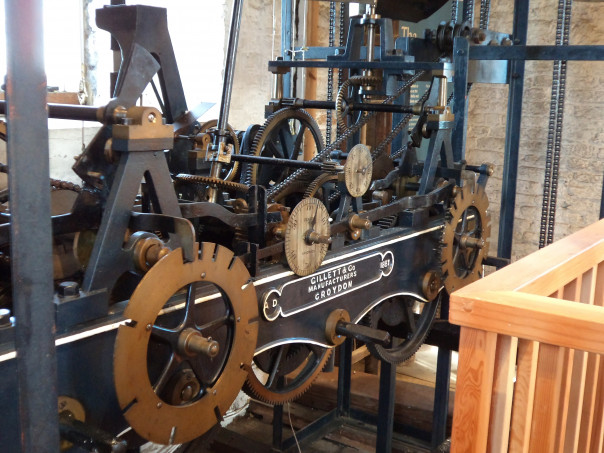 Now people have become interested in late medieval clocks, and here I'm thinking about public or communal not personal items, because they are envisaged as part of the cultural shift from ecclesiastical (monastic) time to commercial or civic time, which, even if not a power struggle between Church and laity/civic/king, did denote a change in the ways people described time, as well as the reasons for wanting or needing to tell the time. This means the chronology of the arrival of such clocks, that is "a wheeled clock (clockwork) with a pendulum controlled by an escapement. The time (divided into 12/24 hours of equal length day and night) is indicated by a sound made by the clapper/jack on the clock bell and the number of hits indicates the number of hours passed since midnight or midday." (as Caroline describes it), is significant, but equally important is where they were placed. For unlike the 15th-century developments in the great cities of the Low Countries, such as Bruges and Ghent, which you might have thought England, especially Kent and East Anglia would have followed, in this country purpose-built civic bell towers were not constructed, nor were clocks added to the often new civic town or guildhalls.
Clocks were being developed in western Europe from the 12th century, but the first documented examples of mechanical clocks in England come from the early 14th century, and hardly surprisingly they are at religious houses, such as Norwich Cathedral (the early 1320s) and St Alban's Abbey church (pre 1336). If anyone knows of any from this period at Kent's cathedrals or other religious houses, I would be interested to hear, but what is perhaps a more significant development from a Kent perspective is that during the 1360s one of the clocks Edward III had installed at his various residences was at Queenborough. As a matter of interest, he also had one installed at the palace of Westminster in a new clock tower with his bell called 'The Edward of Westminster'.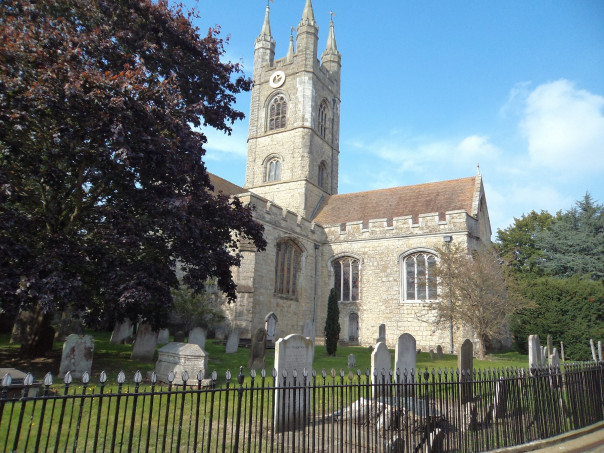 Thus, even if such clocks were not in civic buildings per se, they were no longer exclusively within the ecclesiastical domain. Furthermore, by the later 14th century in London clock time was well on the way to replace religious services when designating times for guild and civic meetings, as well as when the curfew bell was to be rung. Caroline argues that the clock in question was the one at St Pancras church near the centre of the city of London. It is feasible such developments were taking place elsewhere and this may be more a reflection of London's early extant civic and testamentary records because clocks were beginning to appear across the country. For example, at Gloucester there was a move in the 1370s to acquire the site of St Martin's chapel at the town's central crossroads in order to build a clock tower. For these two developments are linked in that the clock needed to be audible to the townspeople to be useful, especially concerning markets, civic meetings, etc and the rule of thumb for this seems to have been about a mile and three-quarters, although that only comes into play in large towns.
Getting back to Kent, similar developments may have occurred during the late 14th century but the surviving records where clocks might be mentioned: wills, churchwardens' accounts, civic documents have very rarely survived from before the 15th century, and even then become more abundant from the middle of the century. Consequently, we just don't know and instead have to rely on first references from the 15th century to such clocks. Nevertheless, the relatively widespread nature of these references, I think, would suggest Kent wasn't that far behind London and may be contemporaneous. For there were clocks at Sandwich (at least one in St Mary's church), St Lawrence's church at New Romney, at St Martin le Grand at Dover, with others at Hythe, Lydd, Faversham, Wye, Chislehurst, Dartford and Lenham parish churches, and several in and around Canterbury.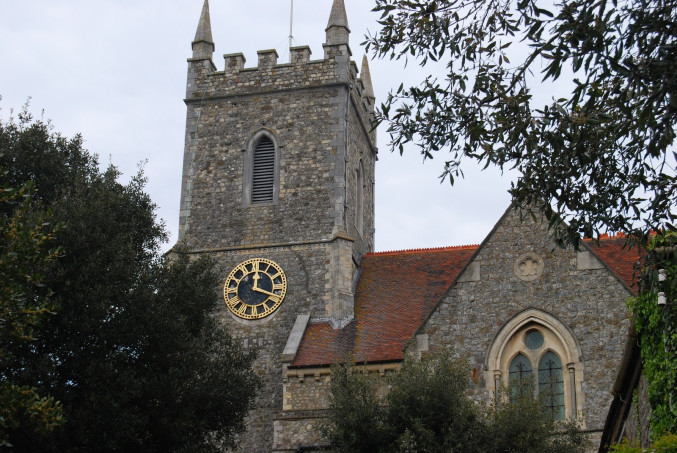 Now you might say, hold on a minute these clocks were all in churches so how can you say this marked a shift away from the Church's dominion over time. The answer, I think, is whereabouts in the church these clocks were located, and the corollary as to who controlled this space. For these clocks were sited in towers, either at the centre or west end of the church and consequently in the area which was the responsibility of the parishioners – lay space. And if you think about it, church tower building was 'popular' during the 15th century, as seen in will bequests. Furthermore, and even if not common, there are testamentary donations towards clocks, such as William Benet of Canterbury's gift of 4s 4d annually to sustain the clock at St Andrew's his parish church. Even more telling, the money was to be in the custody of the parson with the two church wardens and two of Benet's feoffees. The latter were leading civic officers, just as Benet had been, and St Andrew's parish, although not the closest parish church to the Guildhall, was at the most important crossroads in Canterbury and within easy hearing distance of the city's various markets and the Guildhall.
Such civic control of the public clock even by proxy was similarly taking place in Lydd and Faversham where the churchwardens of the only parish church in the town were also answerable to the civic authorities. Furthermore, at Dover civic control was even more overt. From the early 15th century if not before, the Dover chamberlains were paying the sacrist at St Martin le Grand to maintain the clock there. This great church was right next to the town's main marketplace and the town hall. In addition to this regular expense, the chamberlains were quite prepared to pay out extra sums towards its maintenance, such as the 6d paid for mending the clock in 1463. Moreover, in the early 16th century when town revenues were under pressure, the chamberlains were prepared to expend considerable sums such as the 8s paid to a man from Sandwich for mending the town clock and a further 11s the following year, with more money spent a few years later.
This control over the regulation of time in Dover took a new turn following the Dissolution and the desire to place the town's clock in a parish church untainted by such direct links to Dover Priory. Thus, in 1539, the mayor and jurats sanctioned the expenditure of £8 5s 5d to set up the town clock in the steeple of St Mary's church – what is today the town's sole surviving parish church. At first sight the choice of St Mary's rather than St Peter's parish church where the town's mayor-making took place annually may seem surprising. However, the civic authorities may have been guided by the idea that through this use of St Mary's they were appropriating another of the town's ecclesiastical institutions – sacred space had become civic space over which the mayor and jurats exercised social responsibility for the benefit of the whole community. Just as their fellows had done in Sandwich where St Clement's and St Peter's were deployed for civic elections and St Mary's had perhaps the town's earliest clock.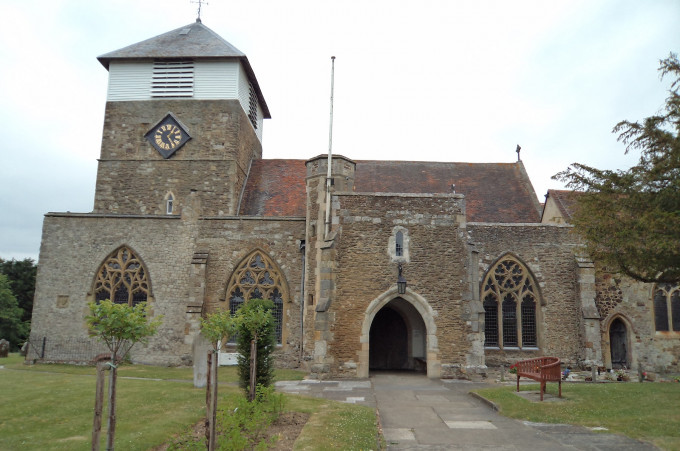 Now Professor Barron thinks that in London this shift to the use of clock time was pragmatic rather than contested – not a power struggle between church and civic, and she may be right. However, elsewhere I think things may have been less straightforward. Yes, clock time was as valuable for denoting the time of the Morrow Mass, the first mass of the day – said to be 6am in summer and 7am in winter at St Peter's church in Dover according to Henry Fravell's will, as it was for the opening time of the fish market or saying when aliens should be under curfew, but potentially it was more than that. The denoting of hierarchy through precedence in terms of timing, in this case the elevation of the Host in the Mass, at first the main and then the two subordinate parish altars in St Martin le Grand, was well understood; and in the civic authorities' construction of civic identity having responsibility for communal time was vital. Furthermore, concern over identity was interlinked with a desire for greater self-government, and, even though Dover was a royal town rather than having an ecclesiastical overlord, found at many of the other Cinque Ports, Dover Priory, as the successor to the canons at St Martin le Grand, could be said to have, at times, enjoyed a somewhat uneasy relationship with Dover's civic authorities. This is not to see who controlled Dover's town clock as confrontational, but it was a matter of pride and had the potential in the late Middle Ages to be a significant aspect of the mayor and jurats' 'armoury' in their relationship with other institutions inside and outside the town – just like the town's seal. Thus, I hope you are happy to agree that clocks matter, both regarding their physical appearance and what they can mean to civic authorities and 'their' communities.