Chaucer's Canterbury and Shakespeare's Dover
I thought I would keep it short this week, not least because I'm pretty busy doing things for the Medieval Canterbury Weekend. Just in case you have missed this the box office at www.canterbury.ac.uk/medieval-canterbury in terms of ticket sales will close this Friday, but tickets will be available to buy at Old Sessions, Canterbury Christ Church on Saturday 2 April (cash payments only) and at the Cathedral Lodge, the Precincts on Sunday 3 April (same arrangements). So please if you are interested do come along. There are lots of fascinating talks, and just considering those under 'Books and Manuscripts', there will be two great lectures on Anglo-Saxon Manuscripts. Firstly on Friday evening Richard Gameson will consider the fabulous St Augustine's Gospels, seen by contemporaries as relics in their own right, and then on Saturday morning Michelle Brown will look more broadly at the manuscripts and documents produced in Anglo-Saxon Canterbury at two of the most important scriptoria in the land. Sunday will bring us forward in time to the 'Age of Chaucer' and Peter Brown's entertaining assessment of what was being produced by way of texts by Chaucer's contemporaries – another treat.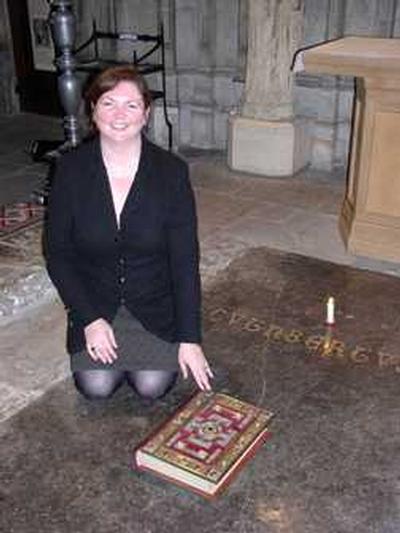 I have also heard from Martin Watts, who tells me that tickets for his 'Richborough through the Ages' are selling. This one-day conference on Saturday 25 June promises to be a great day. Now as a medievalist I am particularly interested to hear what Ges Moody has to say about the area as a contested landscape and Paul Dalton's assessment of Richborough's medieval context also looks to be in my area. However I'm sure the modern history lectures will be exciting too, and as an ex-dairy farmer I'll be interested to hear what John Bulaitis has to say about G.C Solley of King's End Farm, whose activities in the early 20th century extended well beyond farming!
I'm also thinking about the autumn, when hopefully the first recipient of an award from the Ian Coulson Memorial Postgraduate fund will be embarking on his/her new research project towards a higher degree on a Kentish history topic at Canterbury Christ Church. At the moment I'm looking at a one-day conference on 'Early Medieval Kent' on 10 September, and possibly towards another joint lecture with Brook Agricultural Museum, the Nightingale Memorial Lecture. Last year we were treated to a brilliant talk by Canterbury Christ Church's own John Bulaitis on the 'tithe wars' in early 1930s Kent, a lecture that is still discussed in glowing terms. Indeed it was one of the topics raised at a meeting of the Trustees of the Brook Museum yesterday, and hopefully the next lecture will be equally successful. I have an idea for a potential speaker but before I reveal anything more I want to talk to a few key people. However I am really excited about the prospect, so do watch this space.
This concept of joint conferences and lectures has been actively embraced by the Centre and I believe the Kent Archaeological Society's Place-Name conference for 2016 will also take place under such a scheme. Again when I know more details I'll let you know. To a degree keeping with an archaeological theme, it is probably worth mentioning that Canterbury Archaeological Trust's '40 years' exhibition at The Beaney will be opening at Easter and will be in The Front Room there for about a month. Andrew Richardson of CAT has also been involved as the honorary curator of the KAS in overseeing the cataloguing of the Society's artefact collection held at Maidstone Museum. In addition, photos of the pieces are going on the Society's website making a fantastic resource for teachers, students and those having a more general interest in the county's archaeological heritage.
Finally, it was good to see this evening that the BBC's regional news programme was actively exploring links between Shakespeare and Kent under the banner of the regional and national aspect of Shakespeare 400. Thus it was excellent to watch Liz Finn at the Kent History Library Centre in Maidstone pointing out entries in Dover's chamberlains' accounts relating to early modern players, in this case the theatre company linked to the Bard, the King's Players, who visited the town on more than one occasion. The camera crew had also been to Dover Museum because we were treated to Jon Iveson pointing out details on William Eldred's fascinating map of the town dated c.1641. So it was great to see Kent's history brought to life in this way, and it would be equally fantastic to do the same for Canterbury, although hopefully we will not have to wait until the 2020 anniversary of St Thomas Becket's Translation.