Now that the Easter holidays have arrived, I thought I would ask local readers if they have spotted the two posters in Waterstones advertising 'Saturn's Fury' – the puppet show that will be taking place in the children's area on the first floor of the book shop on Friday 6 April starting at 11am. Saturn, the green dragon, is making a guest appearance from The Canterbury Tales and would like as many young children and their parents, grandparents and others as possible to come along to help him find his roar which he has lost. This event is FREE and booking is not required. It forms the opening event of the Medieval Canterbury Weekend, and for slightly older 'young medievalists' and adults there is the chance that afternoon at 3pm to hear 'Campfire Tales – with a Canterbury Twist' in the garden of The Canterbury Tales. To book this and other events at the Medieval Canterbury Weekend, please visit: https://www.canterbury.ac.uk/medieval-canterbury or after the Easter weekend phone 01227 782994.
In many ways this week is the calm before 'the storm' or in this case final preparations before the Medieval Canterbury Weekend and then the Weekend itself. Consequently, next week will be taken up doing risk assessments at the buildings used for the guided tours, including a new one this year – the Canterbury Blackfriars, as well as with Paul Bennett (Canterbury Archaeological Trust) for his tour of the Poor Priests' Hospital. Also printing the Souvenir Brochure and fliers for future Centre events, which is in the hands of Dr Diane Heath who has plenty of experience having in the past run her own marketing company before discovering the wonders of medieval animals – see last week's blog. Other tasks will include checking the lecture theatres with the very helpful AV Team; working with Ruth Duckworth, the exceedingly well-organised and helpful person at Canterbury Christ Church's Box Office based in Augustine House; liaising with Hospitality, Housekeeping, Security and most importantly Matthew Crockatt, the School of Humanities brilliant web designer, as well as ensuring that everything is ready in Old Sessions by next Friday to welcome people, including the Sheriff of Canterbury, who will be attending the first lecture, Leonie Seliger's talk on medieval stained glass.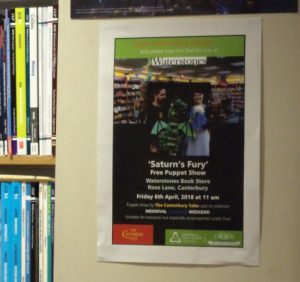 One of two posters in Watersones – come and help the dragon!
Nevertheless, even though this week has marked something of a lull compared to last week and what is to come, it has not been without incident, some joyful, but one sad occasion. I'll start with the joyful because yesterday at CCCU Harriet Kersey had her viva for her doctoral thesis on thirteenth-century aristocratic women. She is one of Professor Louise Wilkinson's postgraduate students, and, following her successful viva, soon to be a post-doc once she has completed her 'minor corrections'. Some of you may remember Harriet from her continuing work on the 'Medieval Faversham' exhibition that the Centre is undertaking for Faversham Town Council. However, she has also been a stalwart helper at many of the Centre's conferences and other events over several years, and she with Abby Armstrong organised a highly successful conference about this time last year – you can read about it here: https://blogs.canterbury.ac.uk/kenthistory/canterbury-and-huddersfield-medieval-family-power-and-religious-material-culture/
Harriet and Abby will be helping at the Medieval Canterbury Weekend this year, and, as at the Tudors and Stuart History Weekend in 2017, they will also each be chairing sessions – all good experience for an academic career because Abby, too, is another of Louise's doctoral students. Abby will be chairing Dr Paul Dalton's lecture on the Norman Invasion of 1066, where he will be discussing some of the less familiar strategic aspects of William the Conqueror's campaign. Harriet's chairing duties will be later on Saturday when she will chair Diane Heath's lecture on the weird and wonderful world of the medieval bestiary, where Diane will discuss how it was completely different from the zoology and natural history of today.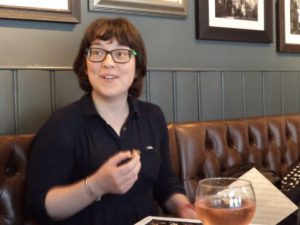 Harriet celebrating with gin and chocolates.
In ensure that our student helpers or 'front of house organisers' knew each other, and us, and knew what they would be doing, Diane and I met up with them all for coffee and various other beverages yesterday afternoon. As before, the idea is to combine friendliness with efficiency and we ran through the types of things that will be required, such as checking tickets at the lecture theatre entrances, handling the roving mics for Q and A sessions at the end of lectures, providing directions when asked, and helping at Reception that will include a temporary Box Office. Among the group were veterans like Abby and Harriet, those who helped last year or at other Centre events, such as Fleur and Victoria, and newcomers, such as Dean, Callum, Michael and Edward. Furthermore, this opportunity has attracted History students from Harriet, our new 'post-doc' to Edward in his first year as an undergraduate at CCCU.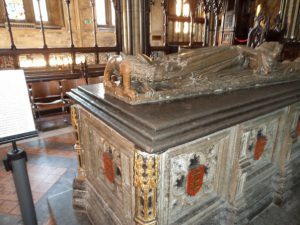 King John's tomb at Worcester Cathedral – John will be the subject of Dr Marc Morris' talk.
Diane and I are also exceedingly grateful to the associate lecturers and salaried CCCU staff members who have similarly volunteered to be part of the Weekend, including giving lectures, chairing sessions and being the 'tail-end Charlie' for guided tours. To ensure this also goes as smoothly as possible, a couple of days ago I was busy emailing out details of 'their' speakers to those due to chair sessions; and giving directions to those on guided tour duties. Among these latter two groups are several modern historians, such as Dr Dave Budgen, Dr Seb Browne and Dr Pip Gregory, and I'm especially grateful that they are happy to step out of period. Although Pip has said she always liked medieval history, Dave is a Robin Hood fan and Seb has visited many of the Middle Eastern fortifications Richard Eales will be discussing in his Saturday morning lecture on Crusader castles, which Seb will be chairing.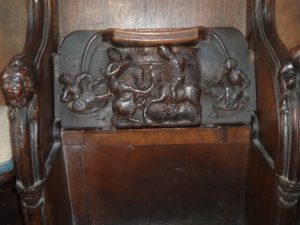 Knights jousting – Worcester Cathedral misericord.
Finally, I feel it is important to report this week's sad occasion because on Monday I was part of the packed congregation in Holy Cross parish church at Bearsted for the funeral of Dr James 'Jim' Melvin Gibson. As a native of Aberdeen, South Dakota, he never lost his America accent but in other ways he had become a 'man of Kent' having brought up his family in the Maidstone area and much of his meticulous scholarship was deeply associated with the county. I knew about his work with the Records of Early English Drama (see below), the Rochester Bridge Wardens' Trust, the Richard Watts and the City of Rochester Almshouse Charities, and the Kent Archaeological Society (KAS), he became a member in 1987 and served on the Society's publications committee between 2000 and 2007, including as secretary from 2004, but I only knew dimly about his work as a lay preacher and his many other activities in association with his parish church and the Anglican Church more widely. With such a broad range of interests from the scholarly to the spiritual, including what his son and daughter recalled of what he saw as his greatest achievement – bringing up his family that now includes two granddaughters, it was hardly surprising that the large church was full.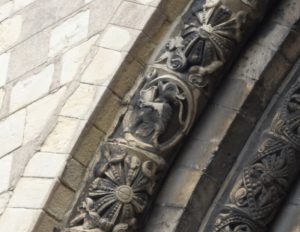 Detail from the Mint Yard gate, Canterbury Cathedral
As someone interested in medieval Kentish society and culture, I met Jim over twenty years ago when he came to give a paper at what was then the University of Kent's Centre for Medieval and Tudor Studies. Indeed, it was there that I first met Professor John McGavin from Southampton University, who was also at Jim's funeral, during what was a great time to be working on medieval studies at Kent. So, it was as a doctoral student I found out about Jim's great project on the diocese of Canterbury to produce, as it turned out, three REED volumes to cover the diocese. After our first meeting, I often saw him in the Kent County Archives (Centre for Kentish Studies) at Maidstone, at Whitfield and at Canterbury as he combed through all the records he could find on 'early drama', and I'm pleased to say I found an obscure reference in a will that he included, with acknowledgement, in his magnun opus (more recently he had been working on Rochester diocese). At these chance meetings in the archives we often talked about medieval drama and about other medieval topics because Jim, as the archivist for the Rochester Bridge Trust, and more latterly the Richard Watts Charities, had a great breadth and depth of interest and knowledge.
Moreover, he was very generous with his time and expertise, and after hearing an early version on Canterbury's early Tudor St Thomas Pageant at the Leeds International Medieval Congress many years ago, he offered some ideas from his wealth of experience. This finally made it into print a couple of years ago as an article in KAS's Archaeologia Cantiana. In addition, wearing his Rochester Bridge Trust archivist's hat, he invited Kent TV's film crew into the Trust's building by the bridge when I was filming with them a piece on Chaucer's pilgrims on their pilgrimage from Southwark to Canterbury. During the visit he showed us the chapel, his magnificent office with its breath-taking view across the River Medway, and down into the archives themselves, where the awe in the production crew's voices was unmistakable.
The murder of Thomas Becket, The Commandery, Worcester
Now, lots of people knew Jim far better than I did, and it was interesting to hear the stories from others and to see the many photographs the family had collated to show how the young boy with his book became the gentle, warm-hearted and generous scholar who had not long before his death celebrated his 70th birthday. And, in some ways very appropriately bearing in mind how I had known him, I discovered a memorial in Bearsted churchyard that I knew nothing about and is fascinating, for it marks the burial of John Dyke, the last man hanged at Penenden Heath in 1830. He had been convicted of rick/barn burning during what is known as the Swing Riots, a reminder of just how often men from Kent became involved in resistance, riot and rebellion across the centuries, and so appropriate in a week when the final proofs came for my article on the Canterbury men involved in the Fauconberg Revolt of 1471, soon to be published in Southern History.