Canterbury Medieval and Early Modern Studies
I thought this week I would provide photos from two events that I attended over the last three days because they involved several people – staff and students – from Canterbury Christ Church. However before I get to that I thought I would share with you other matters, and the prospect of an exciting event next Saturday. It is now just six days before the 'Richborough Through the Ages' conference and Dr Martin Watts and I will be sorting out the final details early next week. Numbers have greatly exceeded expectations and it will be great to welcome a hundred or so participants what to looks like a very exciting programme exploring Richborough down the centuries, including its very important role during the Great War. In addition, I would just like to point out that Early Medieval Kent 800–1220 was published by Boydell yesterday – a major milestone in terms of the Kent History Project (primarily funded by Kent County Council) that is now complete. As I have mentioned before, there will be a one-day conference to mark this publication on Saturday 10 September at Canterbury Christ Church. Details of this event will follow shortly. Among the contributors to this volume is Dr Diane Heath, who has taught on the History undergraduate programme at Christ Church over the last few years, and this publication marks Diane's second article this week. On Thursday she received notification that her essay on Burnellus, a rather special ass in terms of medieval beast literature, has been published in the South Atlantic Review. This is an excellent achievement.
Now turning to the events, these were organised primarily by postgraduates and post-docs from the Medieval and Early Modern Centre at the University of Kent, but they are important for this CCCU blog because they highlight the value of shared intellectual experiences among those in the academic community. The first of these events was a day-long symposium on 'Illuminating the Past: A Workshop on the Making & Meaning of Gothic Colour' that was held in the upper chapel in Eastbridge Hospital at the invitation of the Anglican Franciscans. Indeed they were extremely hospitable and in addition to holding the lectures in the chapel and the various workshops and displays in the refectory, they very kindly allowed participants to enjoy the master's beautiful garden during the coffee breaks and afterwards for the wine reception.
As the AHRC Cultural Engagement Fellow on the 'Illuminating the Past' project, Dr Jayne Wackett was the driving force behind the planning and organisation of this day, with Dr Emily Guerry, the project's Principal Investigator, and they were ably assisted by postgraduates from Kent and by Dr Diane Heath. The day comprised a number of sessions on Gothic architecture, sculpture, painted decoration, and the way texts can help us understand what these great craftsmen were doing in the High Middle Ages as they created the great Gothic cathedrals, some of which we can still see and appreciate today. What was particularly good was that Jayne had put together a programme that included scholars from different stages in their academic careers – from MA students to full-time lecturers. There were a number of highlights for me but I'll just mention two briefly. The first concerned Emily Guerry's discussion regarding what looks to be a fantastic set of wall paintings about the life and miracles of St Maurille in the cathedral of Angers. These wonderful murals were hidden from view for centuries due to whitewashing and a great wooden screen. Even now they are very difficult to see and photograph – the cathedral authorities like their screen, but part of the project has been to photograph the paintings in order to aid conservation but also, and excuse the pun, to put them on the map. Although some way to go, this project has demonstrated that the paintings were to be read from south west to north east, which is the opposite way round compared to what would be expected because, like reading, the 'normal' way would be right to left, west to east, darkness to light. There wasn't that much time to discuss the implications of this finding but it would be very interesting to know how the cathedral authorities intended pilgrims should approach the shrines at the east end because I feel this may be one of the keys.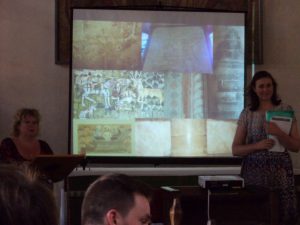 The second lecture that I found especially exciting was Jayne Wackett's presentation of her discoveries of traces of colour in Canterbury Cathedral. As she explained, it is amazing what you can see with the help of a torch, patience and a willingness to look into corners, cracks and other hidden spaces. Perhaps the most exciting finds so far are a likely Annunciation and a St George. Jayne has also been into the cathedral archives and library and this has also proved to be very fruitful in terms of etchings, paintings and sketches from the 17th to the early 20th century, indeed it is surprising how much paintwork survived into modern times. This study is not yet finished but these findings demonstrate what a rich vein of research this project is tapping into.
Over the last two days the Medieval and Modern Studies Summer Festival has been in full swing at Kent. Among the speakers yesterday were two staff members from Christ Church. In a session entitled 'Book Culture in Tudor England', Drs Claire Bartram and Lorraine Flisher looked at two Kentish case studies to explore authorial intensions and book ownership. Claire began by examining the text created John Tooke in his campaign over the siting of Dover harbour, a contentious issue that to a degree set him in opposition to royal authority in London. Her paper showed how Tooke used a number of literary forms in order to present his case, from prose accounts of the history of the harbour that drew on several contemporary chronicles to an imagined dialogue between Reason and Opinion. Claire has explored other aspects of this case study in 'With the consent of the towne, and other skillfull marryners and gentlemen': an examination of textual negotiations in the Elizabethan restoration of Dover Harbour 1582-1605' in Negotiating the Political in Northern European Urban Society, c.1400-c.1600, and it is great to see her returning to this very interesting case.
Lorraine's paper examined what inventories from the late 16th and 17th centuries can tell us about book ownership and book use among the parishioners of Cranbrook and surrounding communities. Even though it might be expected that religious books, especially the Bible would be heavily in evidence in this strongly reformist part of Kent, and this is indeed true, it was the other types of book that especially caught Lorraine's eye. Among these other books are Gervase Markham's The English Huswife (1623), John Speed's History (1623), Raphael Holinshed's Chronicles (1577) and Erasmus' Adagia. As she noted, the presence of a local grammar school and other educational opportunities are presumably important, leading to levels of literacy in the community that meant books might even be found in the inventories of farm labourers. Lorraine also discussed the availability of scientific and medical works, including the value of detailed woodcuts that helped to order and name plants of all kinds. She is hoping to develop this by investigating a particularly colourful individual who had a wide range of books, and I shall look forward to seeing the results of her investigations.
The third speaker from Canterbury Christ Church was Harriet Kersey who spoke this morning on female inheritance among the great aristocratic families of 13th-century England. She is working on her PhD under Professor Louise Wilkinson and is concentrating on the many female descendants of William Marshal and Isabel de Clare. The Marshal family was extremely fertile producing large numbers of children which, although it had certain advantages, meant that when the direct male line failed there were numerous daughters who had to have an equal share of the patrimony. Moreover, these women were perfectly prepared to go to law against their sisters and others to protect their inheritance, and it is these activities that Harriet focused on to illustrate the roles these women were prepared to undertake in the defence of their rights.
Thus together these participants over the three days demonstrated the vibrancy of the academic research that is being conducted by academics from Christ Church. Furthermore, the atmosphere that was generated by all the participants, whether actually giving papers or not, meant there was a real buzz and the organisers should be congratulated for planning a very exciting festival of ideas.