A native American in Canterbury
By and large I'm going to stick to the early modern theme this week, not least because I attended an exceedingly interesting lecture on Wednesday by Dr Catherine Richardson (University of Kent). Like the Centre here, the Centre of Medieval and Early Modern Studies at Kent holds joint lectures and conferences with different organisations and the one on Wednesday was with Friends of Canterbury Archaeological Trust (FCAT). Next month Professor Louise Wilkinson will be delivering a similar joint lecture at Christ Church between FCAT and the Centre for Research in Kent History and Archaeology on 'Women in the Age of Magna Carta'. But to return to Wednesday's talk, as Dr Richardson explained, her paper was part of a wider project into the significance of material culture in everyday domestic life for the 'middling sort' in early modern society. This is a joint project with Dr Tara Hamling at the University of Birmingham, and follows on from their earlier collaboration regarding a study of 'everyday objects' which resulted in a major essay collection. Their new book should be coming out in 2016 under the title: A Day at Home in Early Modern England: The Materiality of Domestic Life, 1500–1700.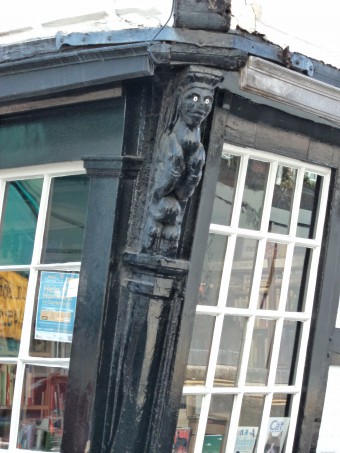 A native American as depicted on an early 17th-century house in Canterbury
On Wednesday Dr Richardson concentrated on issues concerning meals – how and where they were prepared, matters regarding sourcing the ingredients, the role of the mistress of the house, and how and where meals would have been eaten, in both households of the yeomanry and their urban counterparts. As she noted, the kitchen is actually one of the most difficult rooms to investigate in terms of structural features because relatively few examples survive which have not undergone major modification over the last few centuries. And yet the early modern period is an exceedingly important time in the development of the kitchen, not least because of the move from detached to integrated kitchens, the introduction and role of the chimney, changing eating habits including the introduction of exotic foods and the greater consumption of vegetables, and the greater availability of printed instruction manuals on housekeeping that contained numerous recipes.
Drawing on examples from Kent and the Thames valley, she outlined how a wide range of documentary sources can be used fruitfully when studied in conjunction with artefacts, especially when these findings can be tested by exploring reconstructed buildings and experimental archaeology, as happens at the Weald and Downland Museum at Singleton near Chichester. For those who do not know this Museum, it is a fantastic place, as well as a safe haven for numerous medieval and early modern buildings that otherwise would have been lost forever. But I digress, Dr Richardson discussed the various utensils that would have been in the kitchen and in storage areas such as the buttery, to demonstrate how much space would have been needed by yeomen farmers, the sort of people who would have lived at Bayleaf Farm, one of the Museum's iconic buildings, to preserve and store grain, fruit, meat and dairy products produced on the farm, as well as items purchased at shops, markets or ordered and brought in by pedlars and other dealers who had London and other 'big' city connections. This potential for bountiful storage may have been especially important in the difficult years of the 1590s and the early decades of the 17th century, a time when England remained harvest sensitive and when dearth could still lead to death from starvation and associated diseases. Consequently for the yeoman who could provide for his household – family and servants – at such times, the satisfaction of having sufficient stores to sustain them through the winter must have been considerable. Moreover, the ability to offer special or unusual dishes at significant events in the household's lifetime, for example baptism, the churching of mothers or funerals, was an important aspect of its status and honour, for it provided tangible evidence of the master, and mistress' place in the community, their role within the commonweal that was paramount in early modern society.
Some of these aspects will be explored again and in other ways on Saturday 28 March at the 'New Directions in Kent History' conference. Consequently it was excellent to hear Dr Richardson's views on the allegorical link between wives and glassware, as it was expounded by Robert Cleaver in 1598, because this opened up a number of debates on gender issues as well as ideas about the value and availability of glass vessels. Although not expressed in the same terms in early twentieth-century Kent, society's views on wives and their role and place were similarly complex and mutable, at least to a degree during and after the Great War. Ideas on how the sexes were seen, and the differing but sometimes complementary at other times contradictory roles they undertook in the home, at work and at leisure, will be among the areas examined at the one-day workshop in May. In addition, such ideas will be extended to investigate children and their experiences, an area of research that Dr David Budgen has explored extensively, his colleague Dr Martin Watts providing the analysis on adults during the Great War and subsequent decade. The third element of the day will be a consideration of the role of memorialization by Drs Andrew Palmer and Sally Minogue, using amongst other examples materials from Folkestone, a town with which the Centre is building important links through the ongoing work and commitment of Dr Lesley Hardy and members of the Folkestone People's History Centre. Dr Hardy is engaged in several projects in the town, including work on 'Finding Eanswythe', an education project that has secured a KCC Community Grant to fund school workshops. Such collaboration between academia, and communities and special interest groups would seem to be a vital ingredient in the desire for a greater understanding of our predecessors' history in the county, and also more broadly, for diversity is as important as similarity and change needs its corollary continuity.