by Professor Mohamed Abdel-Maguid BEng, MSc, PhD, SMIEEE, FCMI, FIKE
Pro Vice-Chancellor for STEM and Dean of the Faculty of Science, Engineering, and Social Sciences at Canterbury Christ Church University, and Professor of Smart Systems
Digital Transformation (DT) has become a buzzword! It was typically used by Information Technology (IT) managers and management consultants to encourage businesses and organisations to adopt digital technologies, before it became a mainstream catchphrase.
Digital Transformation has evolved since the introduction of personal computers in the late 1970s (https://www.youtube.com/watch?v=M0zgj2p7Ww4), accelerated with the wider use of the Internet in mid 2000s and has seen an exponential growth over the past five years.
Technologies such as smart phones, 5G mobile, the Internet of Things, Cloud Computing, Artificial Intelligence and 3D printing are becoming more affordable, accessible and pervasive enabling many Digital Transformation initiatives.
The COVID-19 pandemic has been a game changer when it comes to increasing the rate of digital technologies adoption. Up to 70% of businesses worldwide have increased their use of digital technologies as a result of the pandemic1, however, this still sits against a longer-term trend of Small and Medium Size Enterprises (SMEs) lagging behind their larger competitors in Digital Transformation. Kent and Medway has a high proportion of SMEs, this points to a need to rapidly increase the adoption of digital technologies and Digital Transformation within the region. A SELEP survey in July 2020 identified that 40% of regional businesses are looking to diversify, and turning to digital technologies to do this2.
Here at Canterbury Christ Church University's Kent and Medway Engineering, Design, Growth and Enterprise (EDGE) Hub, we believe that digital transformation is essential to driving regional recovery and growth. We have just opened the Verena Holmes combined research and education facility, adding more than 200,000 square feet of well-equipped specialist STEM and Digital Transformation capabilities to the Kent and Medway region. The EDGE Hub is working in collaboration with Locate in Kent and other partners to support the region's SMEs – working across the technologies, talent, behaviours and market forces to drive this change.
So, what is Digital Transformation…
Digital Transformation (DT) is a phrase originally used by IT and management consultants in the context of how a business can grow in an increasingly digitally enabled world.
While technology is an essential enabler, Digital Transformation is essentially about people. It is about redefining an organisation's culture to embrace the integration of the new and continuously evolving digital technologies in all aspects of the organisation, resulting in fundamental changes to how the organisation operates, makes decisions and delivers value to its customers, staff and the wider community.
Why should businesses care about DT?
The success of a business depends upon its ability to create value for its customers. A significant proportion of customers now are Millennials and Generation Z, who grew up taking smartphones, high speed wireless internet and being connected 24/7 on social media getting instant responses to their needs as basic facts of life. This new trend in customer requirements is sometimes called customer 4.0. Customer 4.0 demand personalised, near instant services. They are empowered customers who are centred around their own needs and will choose only businesses that can help them achieve their goals.
A business must be able to keep up with the sophisticated customer 4.0 demands, while cutting down operating costs, improving efficiency and minimising its risks. It is almost impossible to achieve this without taking a transformational approach to holistically leveraging digital technologies so it can automatically understand and respond to the continuous shifts in its consumers' behaviour and demands.
Digital Transformation is no longer optional for any business that wants to thrive in a world dominated by Customer 4.0.
The Digital Transformation road map
There are typically three steps to achieve Digital Transformation: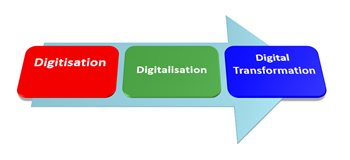 Digitisation is about converting content from paper and all non-digital format into a suitable digital format. For many businesses this can be associated with going paperless.
Digitalisation is about redesigning all business processes and workflows around the newly established fact that all content is now digital. For many businesses this can be associated with creating an entirely new Business Process Management (BPM) becoming a digital-first organisation.
Digital Transformation is about implementing an organisation wide strategy across every aspect in the organisation. A process that involves a complete cultural change within the business so it can embrace an iterative experimental approach to business improvement based on leveraging appropriate digital technologies in a cost effective and responsive manager. This will enable a business to become a digital leader.
The Digital Maturity Model
The number of organisations that embarked on Digital Transformation is significant, however, the number of true successes leave a lot to be desired. Some of the research suggested using a simple digital maturity model based on two factors:
Technology (acquisition of digital technologies and systems)
Leadership, People and Skills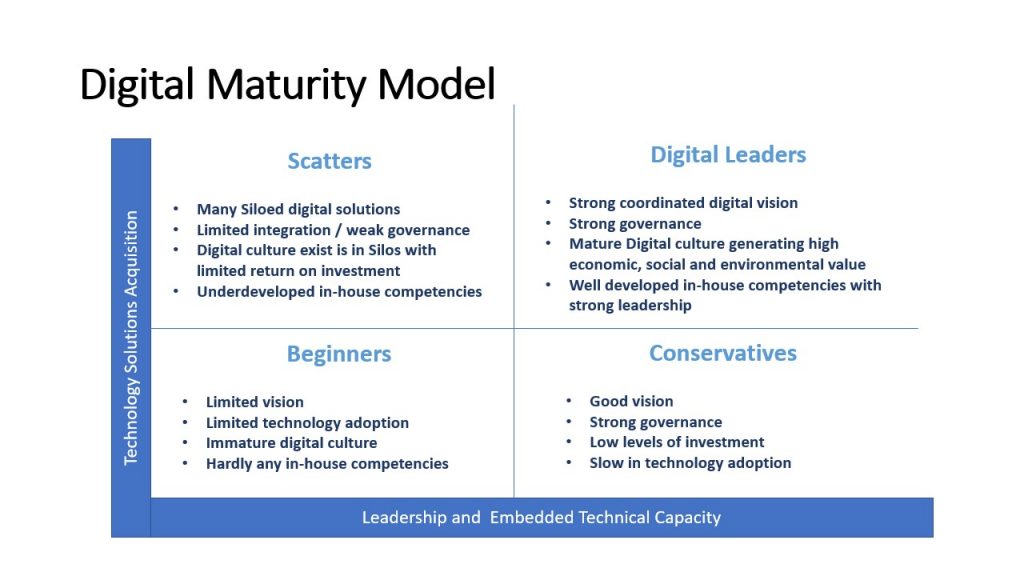 Digital Transformation is not a change project with start and end dates. It is about integrating digital technologies to induce a complete change to the DNA of an organisation. Creating a new Business-As-Usual (BAU) that embraces experimentation and iterative improvement in a way that can meet the demands of the ever increasing Volatile, Uncertain, Complex and Ambiguous (VUCA) business environment.
Where is your business in the Digital Maturity model?
We would like to invite you to take moment and reflect where do you feel your business is on the Digital Maturity model and get in touch with us on edgehub@canterbury.ac.uk. We want to work with you to support your Digital Transformation journey – from workforce development and graduate talent, to accessing our ground-breaking expertise and local networks.
To find out more, contact us on edgehub@canterbury.ac.uk.
---
References
1 Executive summary | The Digital Transformation of SMEs | OECD iLibrary (oecd-ilibrary.org), February 2021
2 Businesses diversifying as digital emerges as frontrunner for post-COVID economic recovery – The South East Local Enterprise Partnership (southeastlep.com), July 2020