by Mark Haslett, Hamilton Architects
A profound sense of place lies at the heart of the design inspiration for the creation of a new education facility for the 21st century on the complex historic landscape of Canterbury Christ Church University.
The vertical brick piers and complex layering of the facades on Building 2 express a strong appreciation of heritage which is reflected in the nearby 19th century prison buildings as well as the ancient aspect of St Augustine's Abbey.
The building's footprint provides a vista towards St Martins Church (recognised as having the longest continuous history as a parish church in the English-speaking world). A new public plaza, Abbey Square, completely changes the centre of gravity within the CCCU North Holmes Campus and becomes its nucleus.
The design maximises stunning views of the Abbey and Canterbury Cathedral with large glazed sections in the façade of the south west section describing a very direct relationship between the building and its surroundings.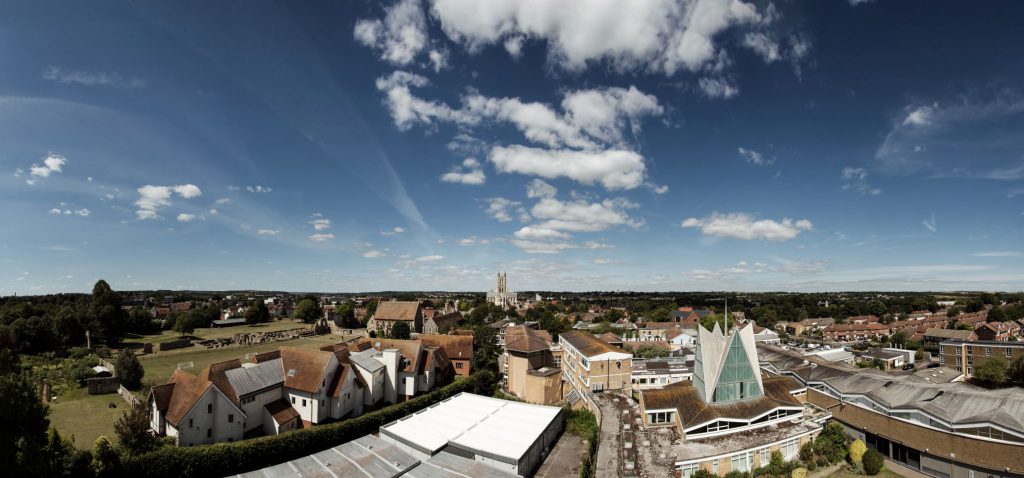 Innovative teaching and learning accommodation for STEM subjects – with M being for Medicine in this case! – is provided over four storeys with a total area of 17,000m2.
Overall, the structural concept is one of honesty: in situ concrete with a flat slab left exposed wherever possible and a contemporary brick façade which echoes the adjoining prison and, indeed, the 1960 Christ Church Campus buildings.
One of the challenges of the project was the complexity of the brief. Internally, there are very few 'standard' rooms and very little use of corridors. While virtually every space is purpose-designed, flexible areas throughout the structure provide bespoke teaching areas surrounding large scale social learning spaces.
The internal design has a functional aesthetic with exposed services, exposed concrete walls etc, so that the engineering for the building is very much part of the design. Specialist areas include a Sports Science bio mechanics lab, an Anatomy teaching Lab, simulated hospital words, X Ray suite, hydra suite, collaborative lecture theatres and a super science lab for 160 students.
Atriums to both the northern and southern sections of the building form the epicentre of social learning and recreational areas. The best example of this, perhaps, would be the 1st floor Maker Space within the Engineering area – a triple height top-lit space sits at the heart of this space with the aim of encouraging sharing with group projects for all subjects.
Ultimately, the design for this innovative teaching and learning facility flowed from an intensive collaborative process involving end users and departments. The success of that process should be measured by the reaction of staff and students not just to the functionality of the accommodation, but in the joy of those spaces.