Professor Helen James is the inspiration behind the new £65m Verena Holmes Building. Like Verena Holmes, she is mechanical engineer and passionate advocate for women in science and engineering. Her deep commitment to equality, diversity and inclusion has shaped her drive and ambition, starting as a shipyard apprentice at the age of 16 through to Deputy Vice-Chancellor at the University today. Here you can read more about her professional and personal journey, and how she shaped an exciting new stage in the University's journey.
Opening a new STEM building for the region
Q: Tell us about the new facility
The Verena Holmes £65m building is awe inspiring and stands proud on our Canterbury campus. It has been designed to provide multidisciplinary spaces where science, engineering, technology, health and medicine students, researchers, academics, professionals and businesses can come together for education, problem solving, society and shaping the professions of the future.
It includes professional specification equipment and a huge 'maker space' in the central atrium so students are exposed to the business environment, as well as providing researchers with the kit and collaborative environment to share ideas, work and create solutions for the future challenges of society and the economy.
It has the most amazing views over Canterbury Cathedral and will be a truly inspiring building for students, staff and stakeholders to study and work in.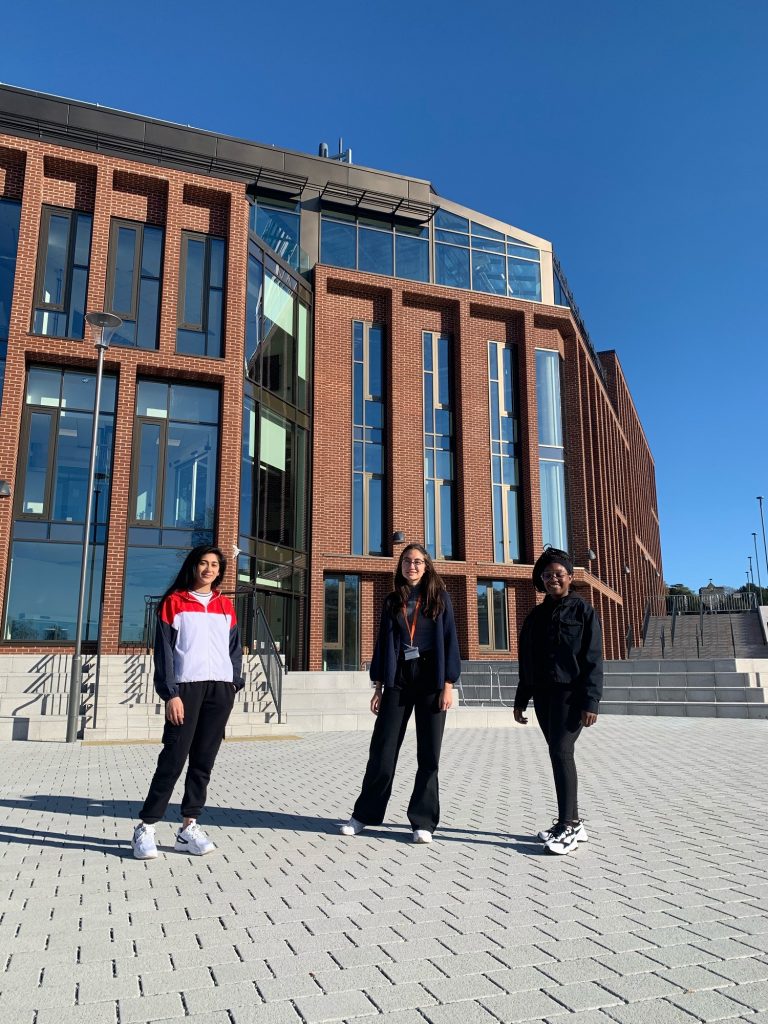 Q: How important is the connection to Verena Holmes?
I was desperate for the building to be named after a woman mechanical engineer and preferably not one of contemporary significance. As you can imagine I had to be a little careful in how my expectations were communicated!
Verena Holmes was apprentice served, technically educated and graduated from Loughborough Engineering College in 1922 with a BSc (Eng) degree. The vision underpinning the development of this new building was founded on the importance of mechanical engineering infusing everything we do; the importance of STEM businesses to our region's economy and that everything we do should be accessible to all.
---
"We are passionate about opening up engineering to shine a light on how engineers and scientists are contributing to our daily lives, our world and our own region."
---
Fundamental to our vision is equality, inclusion and diversity. We are passionate about opening up engineering to shine a light on how engineers and scientists are contributing to our daily lives, our world and our own region. In particular, we have some amazing local women that are running marine companies, directing research and development in medical devices, leading teams at a major port and leading and supporting research and education at Canterbury Christ Church. Verena challenged the norm and was part of a movement; I believe we are challenging modern day norms, delivering a new vision for engineering and we are doing it in partnership with business.
Q: Can you tell us about the significance of this facility for the South East?
The Verena Holmes building is a series of physical spaces where multi-disciplinary research, innovation and education takes place with a core purpose of supporting our region's society and economy. A home where we can inspire future generations of scientists, engineers, health professionals and medics building our own region's employment and innovation ecosystems and attracting inward investment.
Our commitment to inclusion infiltrates curriculum design, staff appointments, outreach into schools and business engagement, in essence, it is everything we do; in doing so, we expect to widen the pool of students joining our courses, increase the flow of students into STEM and build sustainable regional workforces that support growing businesses and healthcare systems that compete on the international stage.
The Verena Holmes building is a fundamental part of our region's vision, business led with Canterbury Christ Church at its heart, to grow the Kent and Medway regional economy through science, engineering and technology. A brave and bold ambition since at its inception STEM had minimal visibility across the region and our young people had nowhere locally to study mechanical engineering – the foundations of so many industrial sectors, jobs and applications.
Q: How do you see this space being used one year from today?
When I think about this question I am filled with excitement and emotion. I see a building that is buzzing as students, researchers and businesses share ideas, work on problems, co-create solutions for society and the economy, locally and globally. The maker space in the heart of the building being used by engineers, medics, care professionals interacting with students and researchers deriving innovations, developing prototyped products and inspiring school pupils and teachers as they visit. And what amazing talent and opportunities exist within our region.
It is a building for everyone. The inspirational informal learning spaces invite all staff and students to meet, collaborate and share stories and ideas perhaps over coffee whilst overlooking the cathedral and city scape of Canterbury. What could be better than that?
From idea to reality
Q: Where did the idea begin and why was it so important to you?
When I apply for a job, I research the region's social, education and economic contexts. I could see very little about the region's commitment to STEM as a priority of economic growth. This surprised me as in economic development terms STEM is normally recognised as a driver of higher wages, higher skills, inward investment and economic growth. The education landscape showed that young people left the region to study mechanical engineering not surprisingly because Kent had no offer. On graduating, these young people didn't return to Kent because they were being employed where they were studying; in essence there was a brain drain out of Kent. The lack of STEM visibility was impacting on businesses as they couldn't retain graduate engineers due to the lack of a STEM ecosystem. They needed to develop a local sustainable workforce but this was proving to be challenging.
On being appointed as the new Vice-Chancellor in 2013, Professor Rama Thirunamachandran embarked on a new Strategic Framework and two priorities jumped out at me when in 2014 I was contemplating applying for a job: developing engineering and medicine. This was a bold ambition and would require significant transformation of the University. This would include new courses and research, adjusted staff and student gender and diversity profiles, how we work, greater commercial focus and deeper reach into business. We would have to be at the leading edge of technology and digital transformation not only for ourselves but to be a catalyst of economic growth in the region. What a fabulous opportunity! I was so excited.
It was an opportunity for me to bring my entire career together for a purpose, to test bed my research into women in engineering education and business, to drive new ways of widening the pool of young people, all genders and ethnicity, entering engineering and not only increasing the numbers from the same narrow pool typically entering university engineering courses.
---
"It felt to me a wild, exciting, and serendipitous opportunity. The University, regional businesses, investment organisations, schools and colleges also thought our ambition was bold and innovative."
---
I could influence our widening participation commitment into offering brave and bold entry requirements, removing physics and maths which are cliff edges for many young people. Fundamentally, however, we had an opportunity to work differently with our regional businesses. I had extensive experience in working in economic development with the advanced manufacturing sector and commercialising intellectual property. I was convinced that I had a genuinely unique offering to the University and region.
It felt to me a wild, exciting, and serendipitous opportunity. The University, regional businesses, investment organisations, schools and colleges also thought our ambition was bold and innovative. And plausible that Canterbury Christ Church University would move into engineering working collaboratively with business, with its strong and unwavering commitment to equality and diversity it could further impact the society and economy of Kent and Medway. The vision of the Engineering, Design, Growth and Enterprise Hub was born and brought to life.
I was over the moon when I was offered the role. However, developing the above was not part of my core portfolio so we had some manoeuvring to do!
Q: How important were industry in shaping this major project?
Absolutely fundamental. Christ Church needed to stretch its existing reputation which was based largely around its contribution to public services. In order for this proposition to be taken seriously, within and outside the University, and brought to life from being an objective in an institutional strategy, this had to be developed as a 'movement' and one that had to capture the imagination of influencers and big investors and to do that we had to deliver something special, bespoke, unique to impact our regional society and economy but have national and international impact.
Business leaders were critical. Their voices would secure the investments. This could not be a university supply led offer to the region but rather a demand led, needs must, collaborative endeavour with job creation, developing sustainable workforces, product innovation, business growth and inward investment proposition.
Businesses were crying out for graduates in engineering and were passionate about attracting a more diverse workforce. They recognised we needed to expand the pool of young people going into STEM and women were crucial to this as were men who had typically been put off by traditional perceptions of engineering. Our region's businesses are diverse and they understood the wider applicability of engineering beyond the fast cars and jet engines. We had a coming together of vision and a commitment to change.
The EDGE Hub has a Strategic Industry Advisory Board which has strong representation from women leaders in the region's engineering ecosystem. We have recruited amazing engineers to lead the work. Dr Anne Nortcliffe, the founding Head of School of Engineering, Technology and Design, is realising our ambitions through developing courses jointly designed with industry, projects for students are provided by industry, assessments are contributed to by employers and research and development is influencing the build of new factories informed by industry 5.0.
Industry, industry leaders, Leaders of Councils and economic agents of change are at the heart of the EDGE Hub.
Q: Were there challenges along the way?
Oh wow, yes. Every step of the way. There were doubters in the University who thought we couldn't or shouldn't move into engineering, that the investment secured should be spent on them, that the new building wasn't needed, and our role was in public services and that's where it should stay.
Businesses rightly challenged our existing reputation in public services whether we would be able to shift it; they questioned the market size and willingness of schools and colleges to support our student recruitment targets and critiqued our research and innovation ambitions when there are existing established university providers that our business can go to.
The biggest challenge was securing a tight compelling narrative that was accessible and translatable to all audiences. What we are doing is ground-breaking. We are challenging the norms, existing ways of doing things, busting the myths and realities of engineering education, creating new narratives for inclusion and business partnerships and ultimately creating a new regional engineering and technology based ecosystem drawing on multi-sector and agency engagement.
---
"We are challenging the norms, existing ways of doing things, busting the myths and realities of engineering education, creating new narratives for inclusion and business partnerships…"
---
This language, however, does not secure investment. Jobs, students, research investment, new company formation and relocation does. However, underpinning it all is inclusion. The number and proportion of women engineering staff and women students.
Our ability to deliver the targets for increasing women engineering and technology staff and students was under significant scrutiny by one of our key education funders. Challenging how we knew our strategy would be successful and wanting to see evidence of its success elsewhere. This was impossible as by definition our approach was new. All other approaches across the sector had failed or had limited success. We were inviting an opportunity to orchestrate a new holistic solution based on years of direct experience and research across industry, further education, higher education, economic development teams and working with schools. It was bold, yes, but how else were we going to meet the skills deficit and gaps? Invest to test the concept and maybe succeed unlocking vast new potential or don't invest and continue to have skills gaps and businesses unable to grow because there are not enough STEM graduates. Simple. Give it a go!
Q: How does it make you feel seeing the building and the transformation of the campus?
It is a statement! It draws inspiration from our heritage including the pilgrim's way, the adjacent old Canterbury prison and offers leading edge functionality of specialist facilities, equipment and learning spaces. It has presence and exhumes confidence yet is inclusive. I couldn't be prouder of everyone who has made it possible. A massive thank you. It brings me to tears to see it, to think of the journey and today to welcome engineering students into it for the first time.
I am in awe of all those who made it possible. My particular thanks go to Professor Callum Firth who has worked with architects, colleagues and students to translate our vision into tangible education, research and social spaces that I have no doubt now lead the UK sector.
It is transforming our campus. It is epic. It is a building that will draw collaboration across the professions, which is what our University is built upon.
Q: What do you feel when you look back over the journey of the past 6 years?
Disbelief. Anxieties as I relive the investment pitch moments. Elation when we secured our first £7m, followed by another £6.5m, followed by other investments and of course relief when the University's Governing Body also agreed to fund the big vision. We were off!
Today we are opening the building and welcoming students and staff. Now they must populate it, own it and make it theirs. This is the next stage of the journey.
Personal journey
Q: Tell us about your own education and career in science and engineering, from where it started to where you are now?
It all started for me when I was 15 living in the working-class industrial shipbuilding town of Barrow in Furness. The eldest of four children, the only girl, I attended a secondary school, my dad had just left home, and we were being asked to identify what jobs we might apply for. Using a career's database, I entered the subjects I enjoyed (maths, physics and music) and what I was good at doing (maths, physics and music) and low and behold engineering kept coming up. I had no idea what it was, I didn't know anyone who was an engineer but I did know that it was a man's job and that meant it would pay well as men were able to keep families. All the stereotypes wrapped up in one!
I decided to apply for an apprenticeship in the shipyard. The school thought I was mad, my dad was disgusted, and my mum knew I would do what I wanted to do regardless. I was one of four of the first girls to be taken on as an apprentice mechanical engineer and the only one not from a grammar school. So, at 16, I started my apprenticeship experiencing all the trades for examples welding, fitting, turning, electrician, plating before going out into the shipyard to work alongside a journeyman – an experienced fitter, in my case. I worked on missile launchers, field guns and tanks before going into the drawing office, which I soon realised was not for me. Thankfully I had achieved high grades in my engineering qualifications, achieving various prizes and so the company sponsored me through university. The most prestigious prize I achieved was the overall best apprentice not only of my year but across all four years of apprentices. I was thrilled and I treasured this.
After spending time in the armament design office and the metallurgy lab and achieving my engineering degree I left to take up a job at Marconi Space Systems in Portsmouth. After a stints as an environmental test engineer and systems engineer I left to go into further education lecturing. During this time, I also undertook consultancy work in vibration testing satellite equipment for the European space agency.
Once I become competent in jobs and learning is harder to extract, I get itchy feet and move on. I moved up and down the country from the south of England to the north (back to Barrow), back south, this time to Brighton and then after three fabulous roles at the university, and ten years later, I was head hunted for a senior management job in north Wales and an objective for the team was to create a university for north east wales; this was achieved in 2008.
Throughout my time in universities I have continued to engage with industry, been an active Member and later Fellow of the Institution of Mechanical Engineers, including chairing the south east region's branch. I was appointed by the Welsh Assembly Government to sit on an Advanced Manufacturing Board which I did for many years supporting the economic growth of north wales. My other sustained passions that have driven me throughout my career is engaging in schools and women in engineering. In 2005, I was awarded Woman of the Year for Science Engineering and Technology; an award which I was proud and thrilled to receive.
Since 2014, I have been a member of the Senior Management Team (SMT) at Canterbury Christ Church University and I am now Deputy Vice-Chancellor. I believe things happen for a reason and sometimes we can be lucky in life and the moons align. This is how I felt about applying and securing the role at Christ Church.
---
"…the disciplines of creativity, problem solving, having to optimise over many variables and making compromises, teamwork and taking responsibility for complex and holistic systems has been fundamental to my career."
---
I think I happened to have the right skills set, experiences, technical reputation and industry background and available at the right time to be of value to the journey of change the University was seeking to deliver. I thrive on significant change projects and over the seven years that I have worked with the Vice-Chancellor, SMT, colleagues, students and stakeholders we have collectively shifted our business model responding to changing demographics, repositioned our subject expertise into engineering and medicine, built international partnerships, navigated our way through COVID-19 and today we open the Verena Holmes £65m building!
I still consider myself a mechanical engineer and although not involved in technical aspects anymore the disciplines of creativity, problem solving, having to optimise over many variables and making compromises, teamwork and taking responsibility for complex and holistic systems has been fundamental to my career. I never forget my apprenticeship and what I learned as it was the most self-defining aspect of my career. The final point I would make is the importance of people, role models (positive and negative) and those who have given time tirelessly so I could be the best I could be. I am humbled by working with some amazing people. Thank you to every one of you!
Q: Were there barriers or challenges that you needed to overcome?
Prejudices of class, accent, gender and role expectations feature highly. Some were probably over exaggerated in my own mind particularly when I went to university as a student. I will never forget feeling 'thick' because I didn't talk posh like most other students. I was not worldly and lacked social capital (as I understand it now), I felt inadequate because most if not all my cohort had gone to grammar schools or private schools. How on earth I got through it all I have no idea – well actually it was my husband. He was brilliant in building me up. I had been going out with him since I was 15 and we married when I was 20, after year 1 of being at university.
In the shipyard there was constant banter most of it was a laugh. Remember this was 1978-81 and women engineers were a novelty. However, every now and again it would tip over and real deep prejudices would seep through, mainly from older men, about 'women should be in the home', I was 'taking a job away from a man who needed it to support his family', I would 'leave and have a family' and it was a huge waste of money to train me up. There was no arguing about it – I would listen, not agree but let it rest.
At a very basic level language was important. All the time being referred to as 'he' despite being in the room, assumptions that students or engineers were he and this being ingrained into speech in meetings for example. Apprentices were the subject of jokes such as being told to go the stores for a 'long stand', or a 'glass hammer' and never being quite sure if you were having the micky taken. Thankfully this didn't happen to me but I know many others, male and female that it did. Starting out in my apprenticeship silly things like staff assuming knowledge of objects such as claw hammer, open ended spanner, ring spanner, screws and bolts etc and I remember making guesses until I could confirm them. Sounds silly and small but if you don't have access to the language of the discipline it is a barrier to learning and building confidence.
Q: How did your own experience drive a desire to change diversity in science education and industry?
I was acutely aware of my own journey. I had the most amazing experiences and I loved my time as an apprentice, as an engineer and working in and with industry throughout my career. I had amazing mentors, (male) role models and journeymen from whom I learned my trade, discipline and ultimately my profession(s).
There were career defining moments that made me stop, check, ask myself why I chose engineering, was I somehow abnormal because I didn't want to do what 'normal women' do, or why couldn't I be happy 'just' being a wife and mother meeting up in the park for a walk or having coffee etc. Ultimately, I accepted I had other paths to travel. When I used to go into schools, I was acutely aware of society norms, peer pressure, family expectations and how hard it can be for some to challenge those and choose a path that is right for them; a key message I would emphasise.
I was acutely aware through my studies in college and university of the examples used in the curriculum; they hardly ever related to everyday life but rather fast cars and jet engines. I don't ever recall applications to healthcare or medicine, yet mechanical engineers are involved in designing medical devices and instruments. Curriculum was gendered. Surprised? Nah. In the mid-nineties, I got a bee in my bonnet and started researching gender, technology, education and perceptions of engineering education. I hypothesised that engineering education was designed by men, for men, delivered by men and assessed by men; why would we think that (other than exceptional) women would ever want to go into engineering let alone succeed in it! But we did! Thankfully the EDGE Hub is well and truly changing all that.
---
"…engineering education was designed by men, for men, delivered by men and assessed by men… Thankfully the EDGE Hub is well and truly changing all that."
---
I experienced one incident that did almost make me leave my profession although it wasn't engineering; it was engineering education. This incident made me acutely aware of the power of position and how easy it is through behaviours, storytelling and language to make people feel excluded and unworthy. We should t urn that on its head so we are kind to others, respect difference and accept we all have different journeys to tread. No-one is more important than others.
Q: What hopes do you have for future generations of students and their influence in society?
As a mum of two children, one boy and one girl, and nanna to two grandchildren, again one boy and one girl, a Trustee of a Multi Academy (Primary and Secondary) Trust and Deputy Vice-Chancellor of a university I have high hopes for future generations of students.
Our students will be representative of society. They will contribute to the exponentially developing technological revolution in artificial intelligence, the Internet of Things and Industry 5.0 whilst ensuring they are accessible to all in all walks of society. They will respect our world and strive for equality across everything they do.
I hope that future generations of students will influence a more equal and just society where child poverty is eradicated and everyone has the opportunity to reach their potential.
Find out more
To find out more about the Verena Holmes Building, EDGE Hub and STEM at Canterbury Christ Church University email edgehub@canterbury.ac.uk.