You came to Uni to get your degree, and ultimately to Launch Your Career. This is a week dedicated to preparing you. Are you a current student, or alumni within 3 years of graduation? Don't miss out…
This January, we are bringing you Launch Your Career week – a whole week of activities to help you prepare for your next steps, whether you've just begun your degree, or you're all ready for your first graduate role. So, take a look at what we've got coming up below, and make sure you don't miss out!
We plan for our workshops to be delivered virtually, and repeated in person – so however you prefer to engage, we'd love to welcome you! If you want to come in person, look out for the red timetable– and for online stuff, look for the green timetable (at the bottom).
Below we've listed off what's happening, and how to access/ book/ get involved, so do read up carefully, or email careers@canterbury.ac.uk if you have any questions.
In person events – no need to book for these! Just turn up at the room on the timetable (Lg25 for Monday, and Lg27 for Tuesday – Friday) and we'll look forward to seeing you there.
Online events – you need to book for these, using this booking link, or click on each session title below to book that session. The morning of the workshop you'll be sent the Microsoft Teams joining link.
So… what's coming up?
Scroll down further to see the infographic timetables of what is when!
Careers Clinic – this is a 40 minute slot, where you'll be 1:1 with a member of our careers team. Bring along your CV, a cover letter, a current job application you're working on or even your LinkedIn profile – we will focus on you and whatever you have brought, and we guarantee that during the session we will add value, make it better and move your job-hunting forward . Hopefully, you will leave with something that you are proud of and that is ready to submit or use to make applications. To book, email careers@canterbury.ac.uk with your name, whether you'd like Monday or Friday, and in person or online, and we'll get back to you with a confirmation of who you'll see, where and when.
Make Your CV Shine – This session will be led by our Careers Advisor. We'll be giving advice and guidance on targeting your CV to the job/further study opportunity you are applying for. We'll tell you about CV360, and other ways you can quickly and easily make a difference to your CV.
Making the most of LinkedIn – Do you know your connections from followers? Do you know how to network through the biggest online professional platform? Find out where to start, and how to make the most out of this fantastic tool for your future.
Interview Preparation – One of our Careers Advisors will be facilitating this session. They will be showing you the different types of interviews that recruiters use and teaching some top tips on how to prepare for your interview, even in this digital world. Explore the different types of questions you are likely to be asked at interview and how best to formulate your responses to these questions.
Being Your Best You – What are your strengths? How do you work best? We'll be exploring some practical ideas and solutions to help you get to know yourself better, and whether it be Uni projects or life in the workplace, you'll be able to identify things that might be able to help your efficiency, focus and enjoyment of your to do list…
Graduate Scheming – Graduate schemes offered by large companies are often a great way for graduates to gain a variety of experience in different roles at the early stage of their careers.  In this session we will show you where to find these roles; show you how to decode their job adverts; tell you what you can expect from the application and selection process and help you use the resources available to turn your application into a job offer and launch your career!
Want to know how to 'Get Hired'? – This Launch Your Career Week, the GradForce team is here to introduce the Get Hired! programme to you and tell you all about the great resources they have on offer!  GradForce: Get Hired is a programme exclusively for final year students and recent graduates of CCCU, with a "bootcamp" of 5 core sessions created to ensure you are prepared to go directly into employment after graduating. We also have a targeted focus on students from under-represented groups such as BAME students, students from low-socio economic backgrounds, students with disabilities, and Care Leavers. Following Bootcamp, you will have access to exclusive, graduate roles with local SME's in Kent sourced especially for you by the GradForce team. So, if you want to get ahead and kickstart your Career, come along to this session to see how you can make sure you Get Hired!
Action Tutoring Volunteering – Action Tutoring is an education charity that supports disadvantaged young people to achieve meaningful qualifications in maths and English on leaving primary and secondary school. Our support is needed more now than ever before, to help make up for the education lost over the pandemic! They will be hosting a presentation and Q&A session for anyone interested in finding out more about volunteer tutoring. Join to find out how you can support these pupils while gaining excellent skills and experience along the way.
Pilgrims Hospice Fundraising & Volunteering – Join Canterbury Community Fundraising Manager at Pilgrims Hospices, Leila Ilkhan, for a session on volunteering and fundraising. Leila will be talking about skills you can gain through fundraising and how to impress potential employers with your volunteering and fundraising experience. Leila will also be talking about how you can get involved in supporting the important work of the hospice.
Managing Debt – We'll take a quick dive away from traditional careers information to learn in a speed-session about how you can manage your finances, especially if that includes debts. This is a webinar through zoom, and hosted externally by a trusted partner.
Microsoft Workshops – (a range of dates and times)
These are run in partnership with our IT training team, and are available in Word, PowerPoint, Excel and Outlook. The workshops are great training to understand the software better, but also prepares you to take an exam if you choose to, that you can then put on your CV. If you pass 3 of the 4 exams, you can call yourself a Microsoft Specialist Associate!
There is also the opportunity to become an 'Expert'. Once you've completed 3 exams above, and you're a Specialist Associate, you're welcome to book on to our two Expert sessions as they come up – Word and Excel, and take your knowledge and skills to the next level! To find out more about these workshops, click here to be re-directed to a blog with a great infographic and some FAQs.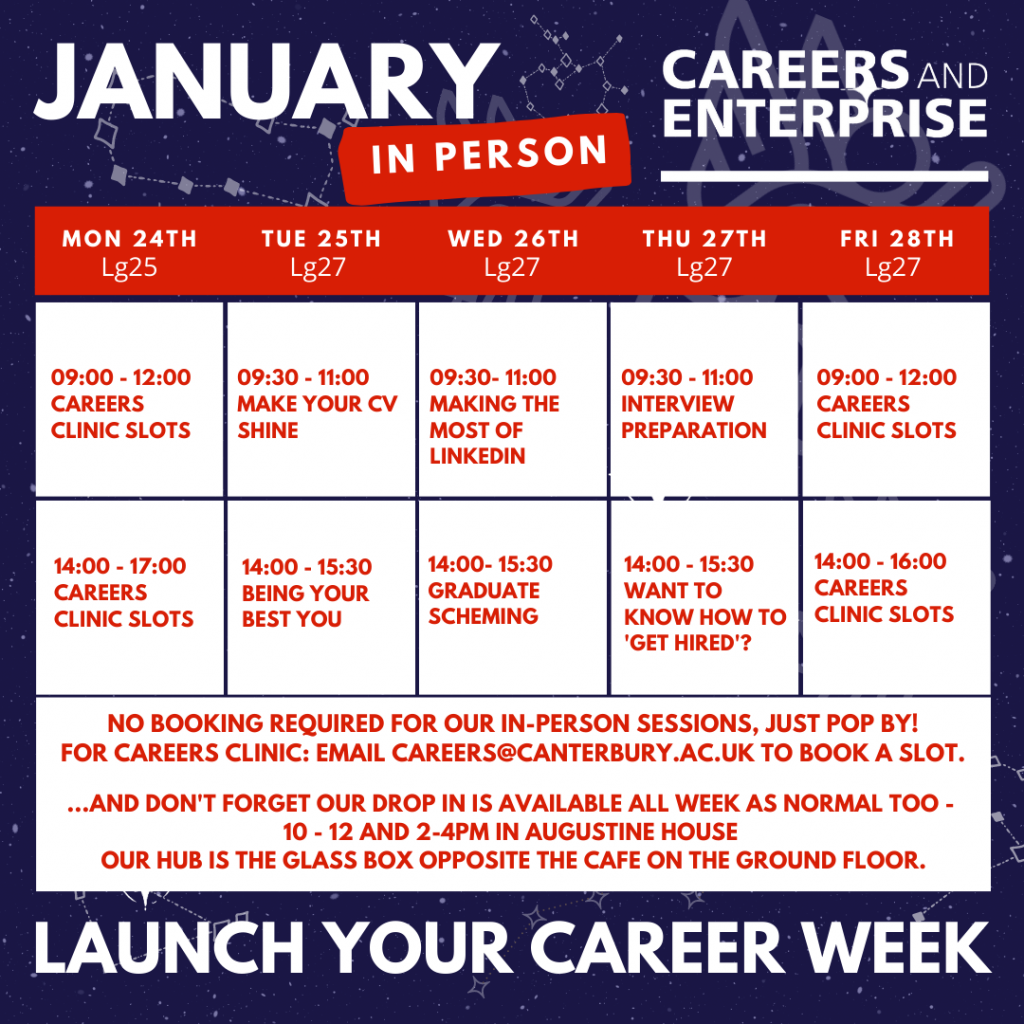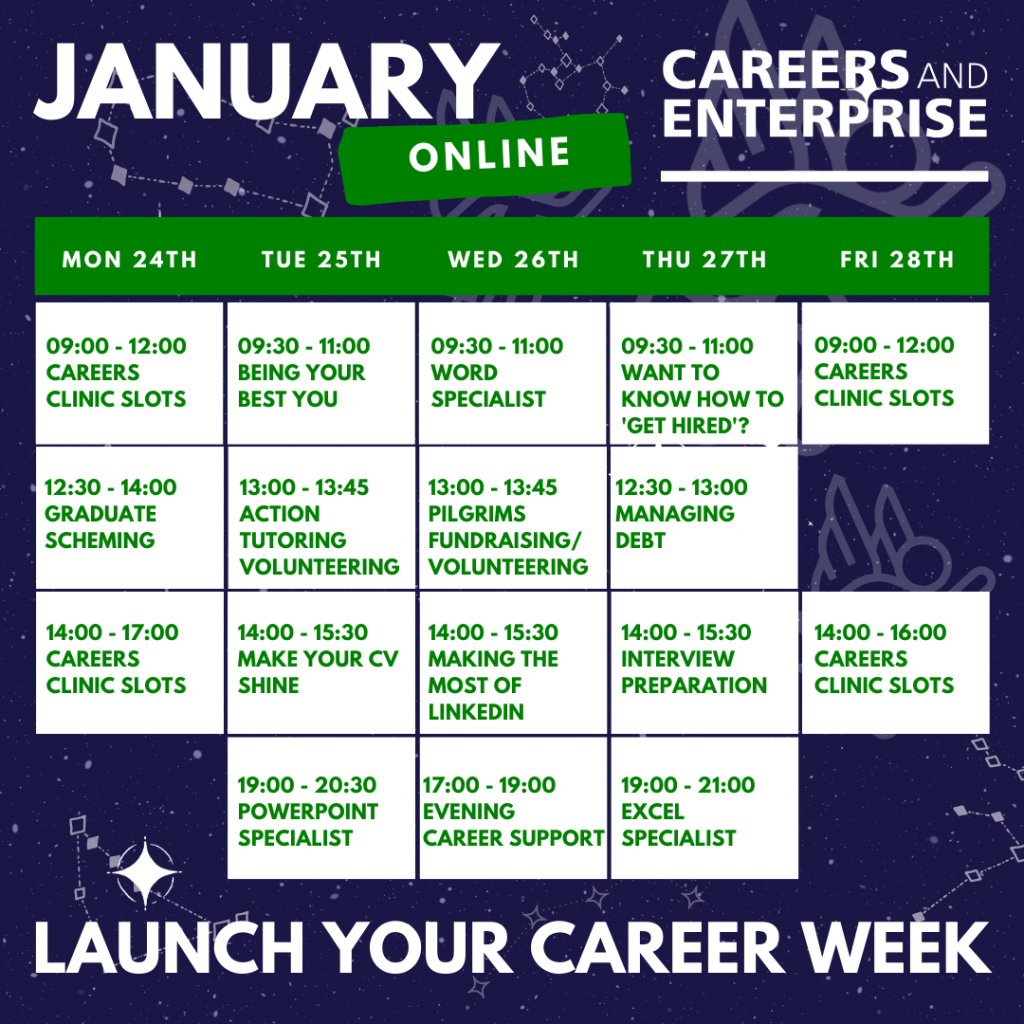 Getting further support from The Careers and Enterprise Team at CCCU
You can get ongoing careers support via the following ways: