Look at what we've got coming up… and click on the titles to go to the booking page!
Do come and join us as we journey through different areas of employability, and keep an eye on our social media, as there'll be more blogs, videos, and other ways to connect with us. All our workshops remain online, free and accessible to all CCCU students and Alumni (within 3 years of graduation). You can reach us from the comfort of your living room, or any of our campuses, just log in and join in – we look forward to seeing you!
Here's the fuller line up, or scroll down to the visual calendars of what's on when. Click on each title to book that specific workshop, or click here to get to our Eventbrite booking pages and browse on there. Any questions or problems, just email careers@canterbury.ac.uk
April
Your Career Support – Monday 11th April, 1:30 – 2:30pm
Find out about the wealth available from your Careers & Enterprise Hub here at CCCU, both whilst you're a student as Alumni once you've graduated too!
Making the Most of LinkedIn,Tuesday 19th April, 1-3pm
Chiara will be presenting this workshop, which is hosted in collaboration with GradForce. Do you know your connections from followers? Do you know how to network through the biggest online professional platform? Find out where to start, and how to make the most out of this fantastic tool for your future.
cccuUpreneur: Create a Clear Business Message, do your customers get it? Wednesday 20th April, 1:30-3:30pm
Marketing, Marketing, Marketing.  Do we know who our customers are? Where they are?  This session gives some top tips on these questions, and many more. To learn more about our cccUpreneur programme, click here.
Job Hunting: Finding the right role for you – Thursday 21st April, 1-1:45pm
If you are looking for a graduate role but don't know where to start or how to go about finding the right type of role for you, this session is a great starting point. We will look at the current market for graduate level jobs; the different types of graduate jobs available, and where to find them. We will also look at job adverts and job descriptions and help you decode them so you can find the right job for you. There will be lots of tips and practical help on how to use the Careers Team to help you with finding roles, making good quality applications, and smashing any interviews or assessment centres.
May
cccuUpreneur: Driving Clear Communications, have your customers got it? Wednesday 4th May, 1:30-3:30pm
How to create opportunities, sales, value added and more! Lets learn how to avoid missing out on business opportunities that come our way. To learn more about our cccUpreneur programme, click here.

Allianz on Campus – Thursday 5th May, tbc.
Make Your CV Shine – Tuesday 10th May, 1-2pm
In this session, we'll be giving advice and guidance on targeting your CV to the job/further study opportunity you are applying for. We'll tell you about CV360, and other ways you can quickly and easily make a difference to your CV.
Disability in the Workplace – Tuesday 17th May, 1-3pm
Charlotte will be presenting this workshop, which is hosted in collaboration with GradForce. Whether you have a disability yourself, or you're trying to understand and support others better, you're very welcome. Get some advice in disclosing a disability, your legal rights and the support available. We look forward to welcoming you!
Elevator Pitch – Wednesday 18th May, 1-2pm
Presenting yourself in an engaging way, in what might be only a brief discussion, is a learned skill. In this interactive session we will be looking at various ways you can best present yourself to a potential employer from looking at ways of introducing yourself and understanding the employer's needs through to highlighting how you might be just the potential recruit they are looking for.
Neurodiversity in the Workplace – Wednesday 25th May, 2-3pm
Join Susannah from Careers, and Helen from the Disability team as we understand what Neurodiversity is, what it can mean in a career, and how to support neurodiverse colleagues. Whether you are neurodiverse, or want to be able to support those who are, come along and join in the conversation.
June
Barracudas Opportunities – Tuesday 7th June, 1-2pm
Are you a fun and professional team player? At Barracudas, they offer high quality and exciting activity day camps for children aged 4½ – 14 and need YOU to join them at one of 40+ locations in 2022! They're looking for people to join camp teams and work in a friendly environment to provide fun activities for children! Sound like you? Then why not help them ensure that they give every child such an amazing experience they can't wait to come back?! This session is a presentation with Q&A from Barracudas representatives.
Interview Success – Wednesday 8th June, 1-2pm
One of our Careers Advisors will be facilitating this session. They will be showing you the different types of interviews that recruiters use and teaching some top tips on how to prepare for your interview, even in this digital world. Explore the different types of questions you are likely to be asked at interview and how best to formulate your responses to these questions.
Lion Leadership – Thursday 9th June, 1-2pm
Grant from Lion Leadership will be running a workshop on 'Developing Leadership Character'
Microsoft Specialist Workshops – (a range of dates and times)
These are run in partnership with our IT training team, and are available in Word, PowerPoint, Excel and Outlook. The workshops are great training to understand the software better, but also prepares you to take an exam if you choose to, that you can then put on your CV. If you pass 3 of the 4 exams, you can call yourself a Microsoft Specialist Associate!
There is also the opportunity to become an 'Expert'. Once you've completed 3 exams above, and you're a Specialist Associate, you're welcome to book on to our two Expert sessions as they come up – Word and Excel, and take your knowledge and skills to the next level! To find out more about these workshops, click here to be re-directed to a blog with a great infographic and some FAQs.
Also, don't forget we have a partnership with HSBC's Financial Wellbeing team. To find out more about their free workshops and 1:1 advice and support, click here.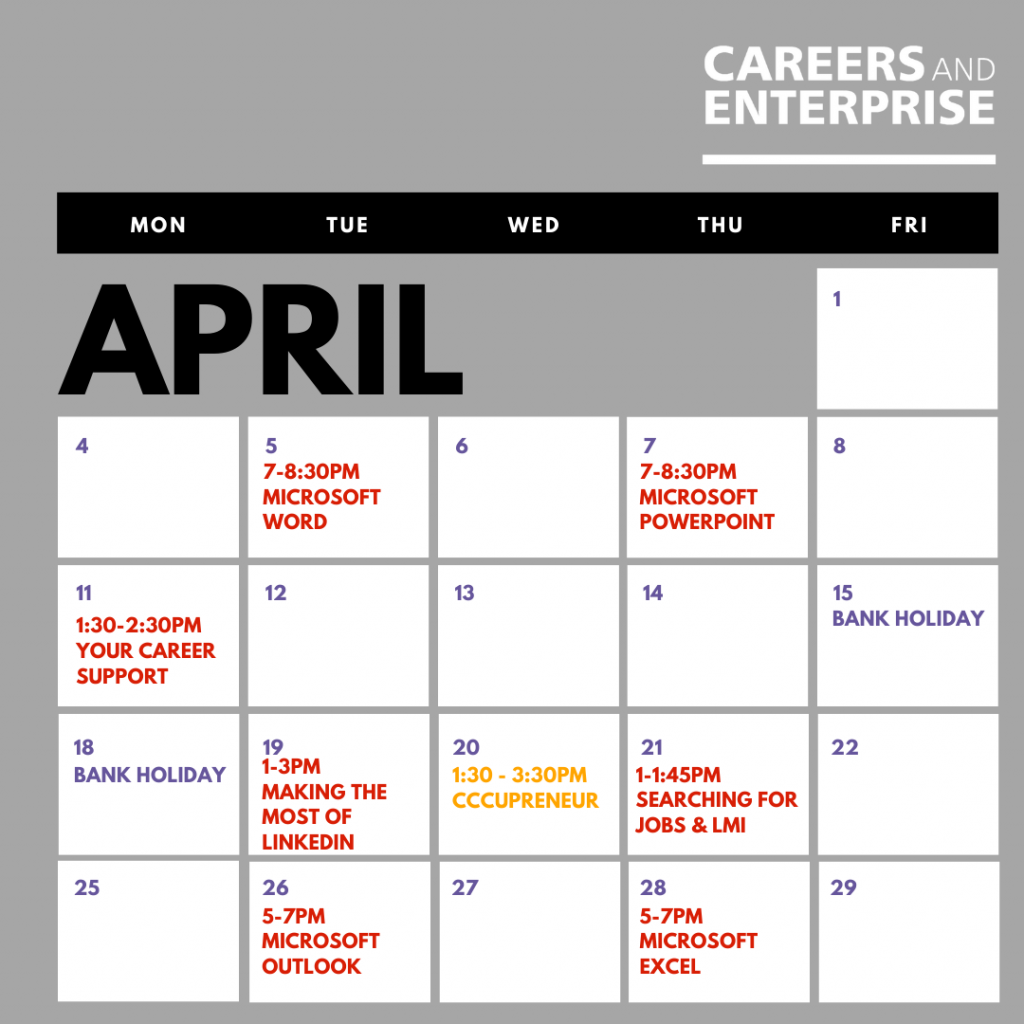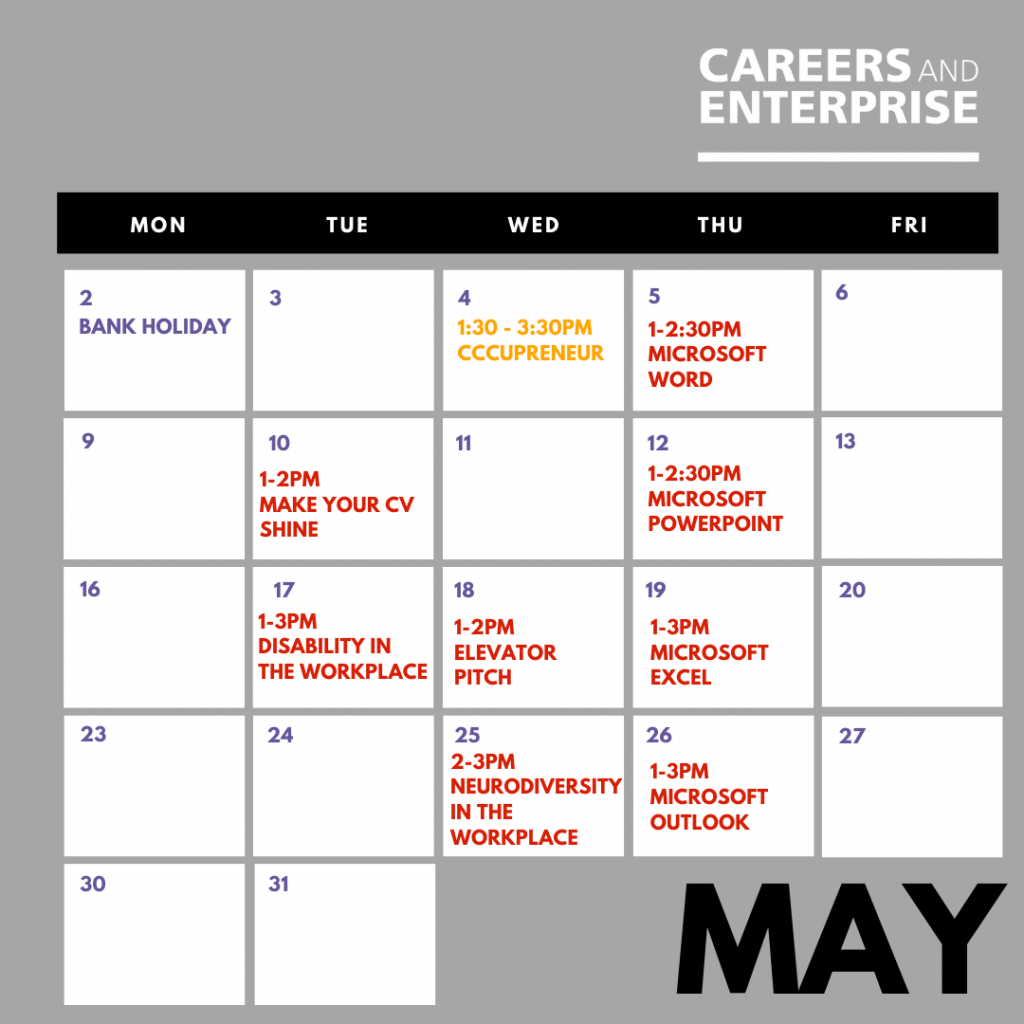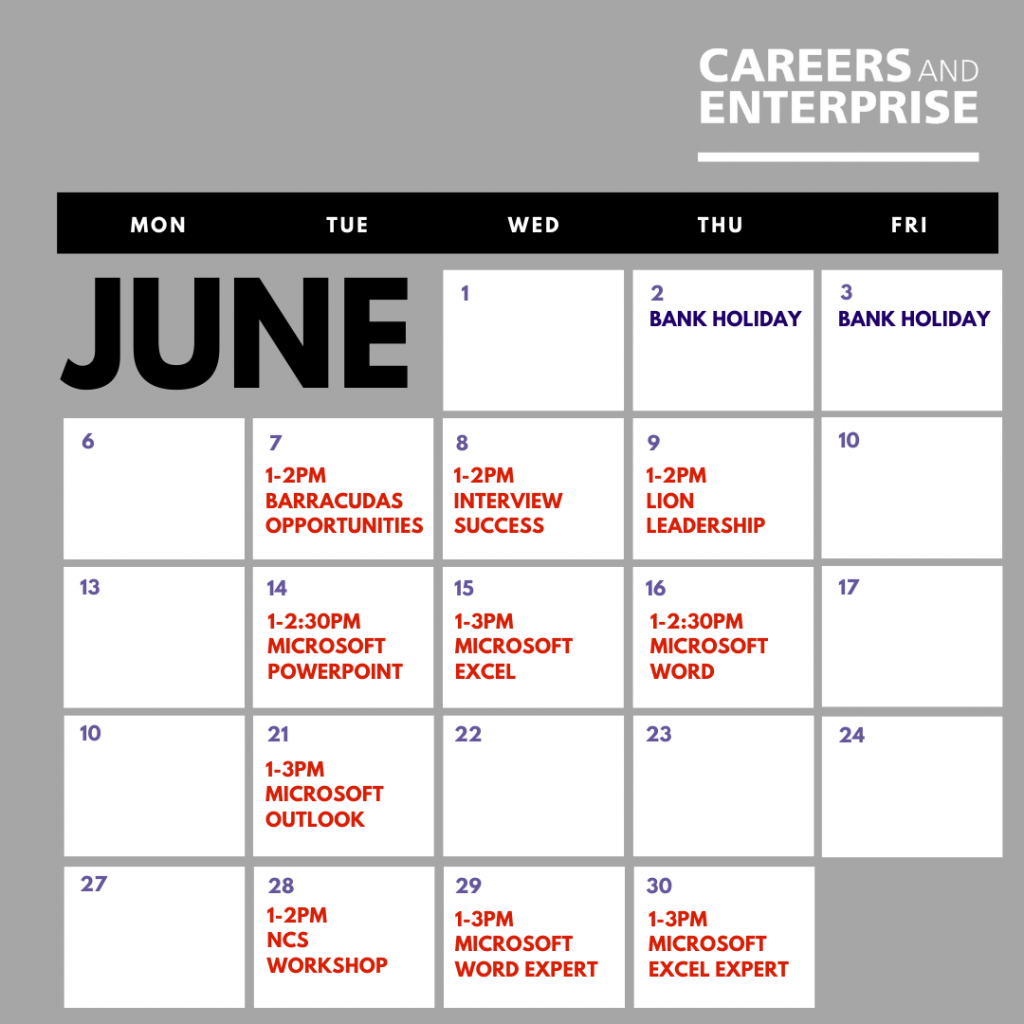 Getting further support from The Careers and Enterprise Team at CCCU
You can get ongoing careers support via the following ways: