Love it or hate it, numeracy/ mathematical skills are an important component to your skills matrix. Whether an employer needs numeracy skills in the literal sense, or in a less overt way, you can be sure to stand out from the crowd if you demonstrate this skill as being an extra string to your bow.
Even if, in the unusual circumstance, you find yourself in a role/ applying to a role that doesn't appear to require this skillset daily, you'll often need the same problem-solving and critical thinking abilities used in mathematics. For example, time management, problem solving, abstract thinking, research, forecasting and just general attention to detail- hence we have the term 'transferable skills'.
Okay, these examples are great, but how can this look, in a real-life work setting?
Facilitating a solution focussed discussion
Mental arithmetic- i.e. expenses/shift patterns/ till counts/ holiday pay/ timesheets/ budgets to name a few!
Providing evidence based proposals- i.e. have you ever suggested a new way of working? Maybe you suggested a new process, or a more efficient one and provided qualitative (this could be feedback from colleagues) or quantitative (i.e. time lost using the old process) to back it up?
Analytical thinking
Reporting on KPIs (Key Performance Indicators)- have you ever had to provide stats to demonstrate return on investment (ROI) or been given targets?
Can you relate to the above?
Be empowered to use your own experiences and provide examples of where you've used numerical skills. You can call on your degree course too! Did you conduct a research project for your dissertation? Are you looking at data to draw conclusions?
Hopefully the above has given you an insight into how these skills are often needed in a work setting, and how we can most likely demonstrate an instance where we've needed this skill for job applications.
But how else are these skills useful?
Cue curveball interview question…
Example curveball question: What is 70% of 7?
It is unlikely you'll get this exact question, but random maths questions do pop up as curveballs to throw you and may very well be included in interviews for certain roles that require maths skill, such as science, engineering, or finance. However, in any situation, it is still a slightly left field question, and the interviewer probably just wants to see how you react. Even if you go completely blank at anything maths-related, just smile and take it in your stride.
Key points-
If this is a complete curveball in terms of the role you're applying for, you will be forgiven for smiling and admitting that your mind has gone blank- be professional, be measured and try to remember you're not expected to be a human calculator.
If there is any chance a maths-related question could be asked in your profession, do make sure you brush up on your basics: fractions, decimals, percentages and the tricks to figure out simple sums quickly.
Remember-
In either case, this is probably designed to throw you off, so take a deep breath, think and respond calmly.
Don't panic and assume that not knowing the answer will lose you the job – this is more about testing your mental agility and ability to deal calmly with unforeseen circumstances.
A note on aptitude tests…
It wouldn't be a Transferable Skills series blog on Numeracy if we didn't mention Numerical reasoning tests…
A numerical reasoning test is a form of psychometric assessment commonly used in the application stages of the recruitment process.
Differences in people's test scores are often down to factors completely unrelated to their ability, some include:
The candidate is not familiar with the format
Poor timing
Silly mistakes
Nerves.
Firstly, practice makes perfect.
Why not do some sample tests? Have you done these yet on the Hub? You can access them in the top ribbon of the Hub under: 'Resources'>'Practice Aptitude Tests'>'Numerical Test'.
If you don't feel this is enough, there are so many more free resources online, just type 'free numerical reasoning test' into google and hey presto.
Give them a try and see what you're made of! Once you get used to them, they're not that bad, promise.
So, whether your career will require overt numerical skills or not, don't be fooled, the percentages you hated at school, may be useful in a work setting and not in the way you may think! These skills are sometimes developed in ways that aren't always obvious.
If you need help with teasing these out, contact us at careers@canterbury.ac.uk
OR
Did you know we have several business numeracy courses available to you? These can be found via the Careers & Enterprise Hub shown below: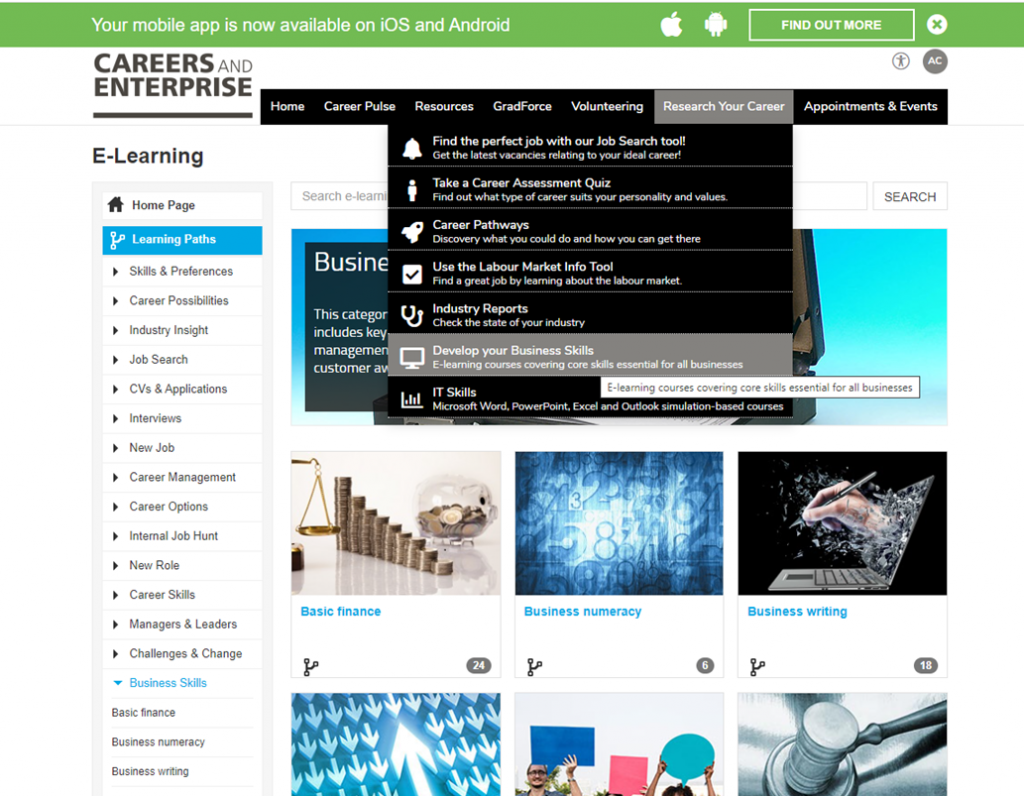 Want to find out more about jobs that suit your skills?
Go on to the Careers & Enterprise Hub, and under 'Resources' click on 'Labour Market Information'. There, you can 'explore by skills' – just click on at least 3 skills, and it'll show you job roles that match!
If you click on the job role, it'll give you more information about average salary, what the role entails etc.
The Careers and Enterprise team Christmas hours:
We'll be open until the end of 17th December, and then will re-open on 4th January. We'll be checking our emails until 24th December, so feel free to catch us on careers@canterbury.ac.uk
We look forward to seeing you in 2022!
If you're reaaaaaaalllly keen then here's 4 ideas:
?If you're a final year student or recent graduate, you're welcome to apply for the GradForce programme
?Check your CV on CV360 via the Hub
?Practice your skills using AI technology with Interview360 via the Hub
?Read a few more blogs… scan through our blogs for some encouragement, insight and great tips
But most of all, we wish you a restful Christmas, and a hope-filled New Year, from all in the Careers & Enterprise team!