Throughout the Summer months, we have some VERY exciting workshops for you to look forward to.
The Careers and Enterprise Hub have been working hard to bring you a wonderful range of sessions to upskill you for the future workplace. We want to share an overview with you here, as we build excitement and anticipation for the release of the events. We've spoken to employers, and based our workshops around what they want to see in applicants. You don't have to stick with things related to your degree course, in fact, we urge you to try something new and different.
EDIT: Workshops will begin going live from 10:30am on Wednesday 1st July. Keep an eye on our Social Media for updates!
From Tuesday 30th June we'll begin to release our workshops for July and August, and a calendar to visually show you what's happening when, with bookings made possible on our Eventbrite page. Here's an idea of what's coming up…
Quick Note: FAQs –
All sessions will be delivered remotely and online. You'll need to sign up on Eventbrite as the sessions are released on 30th June, then you'll be sent a link and joining information 24 hours before your course begins.
Sessions are only available to all current students, and to those within 3 years of graduating. They are free for you, but as there is a cost to us (and in the interest of fairness) we request that if you book on, you make it your priority to attend. If you have any questions or problems, please email careers@canterbury.ac.uk
There will be a waiting list activated for each event, so even if the event is fully booked, do register for the waiting list and we'll let you know if a space becomes available.
When the events go live, you'll notice some come up on more than one day – these are repeats, so please only book in to one of each titled session. Repeat bookings will be cancelled.
So, here's the line up…
Social Media at Work – in this comprehensive 2 hour session, you'll learn about how to make social media work for advertising and building business. You'll hear great examples of how it's used in industry, and be able to hold a strong grasp of the benefits. You'll be able to ask questions, and at the end there'll be a short quiz to check you've got it, so we can give you a fun e-certificate of participation!
Digital Storytelling and Smartphone Content Creation – this is a one day course, and you'll need access to a smart phone to take videos. It's for you if you're completely new to these areas – as an entry level AQA. It starts with two hours explaining pre-production, planning, finding an audience and giving hints and tips for production. Then, there will be a break for you to film your content, followed by another two hour session on post-production, looking at editing your footage, uploading, and sharing it. There will be a short quiz to demonstrate what you've learned. You will receive AQA certification for this.
Adobe Photoshop Essentials – this is a two day course. You'll need access to Photoshop for this, but if you don't have it, please email and let us know – don't let this be a prohibiting factor for you. This will help you navigate the software, and use Photoshop's tools to work with digital images. Although Photoshop is used by a variety of professionals, from marketing departments and organisations, from photographers to designers, this introduction course focuses primarily on the photography component. The course is suitable for anyone using Photoshop CS5, CS6 or CC.
Learn to Code – Using JavaScript – this is a one day course. Even for the simplest webpage, working with JavaScript has become an essential skill for any developer or designer. This course looks at first principles in how to start using JavaScript to interact with the page. If you are new to programming and need to learn how to wrangle this powerful and flexible language, you will find this course an essential skill.
Microsoft Office Specialist – after our very successful trial in June, we'll be running more Microsoft workshops. There are three main ones; Word, PowerPoint and Excel. Once you've completed the workshop, you'll be invited to choose an exam slot. If you pass all three exams, you'll be able to call yourself a Microsoft Specialist Associate on your CV and LinkedIn. Completed all 3? Why not try the new additional session we'll be running on Outlook – familiarise yourself with the platform many organisations use to manage emails, calendars, to do lists and more…
Have you heard about the CCCU Careers and Enterprise Online Award? The option will be presented after you've completed the Career Pulse, or you can find it under the Career Pulse tab. Work through a range of tasks and content, and complete the award! Then take your Career Pulse again, and see if you've grown in confidence… the first 50 students to complete the award will be eligible for a £50 Amazon Voucher! Read more about it here!
Can you show me this visually? Sure! See below: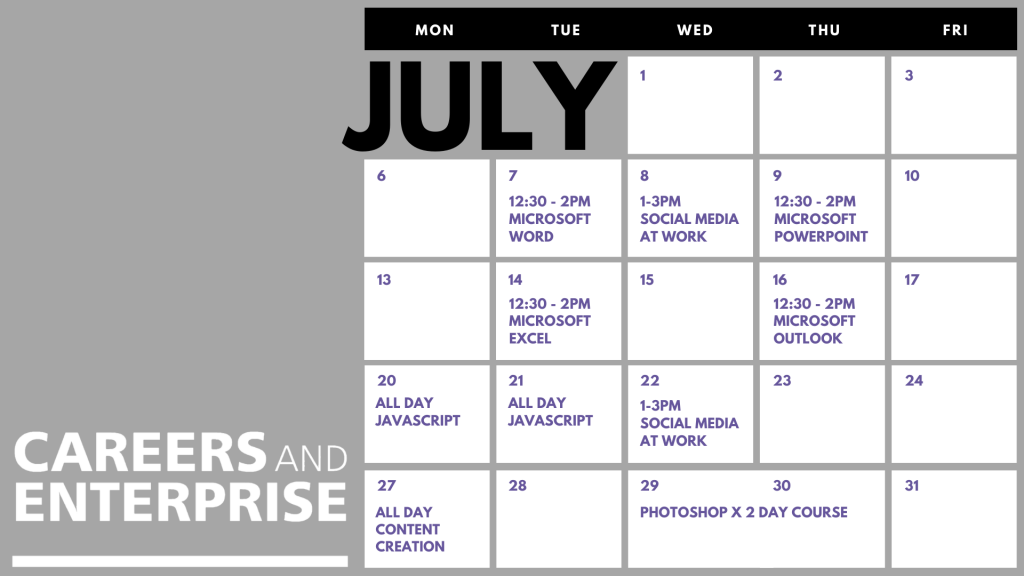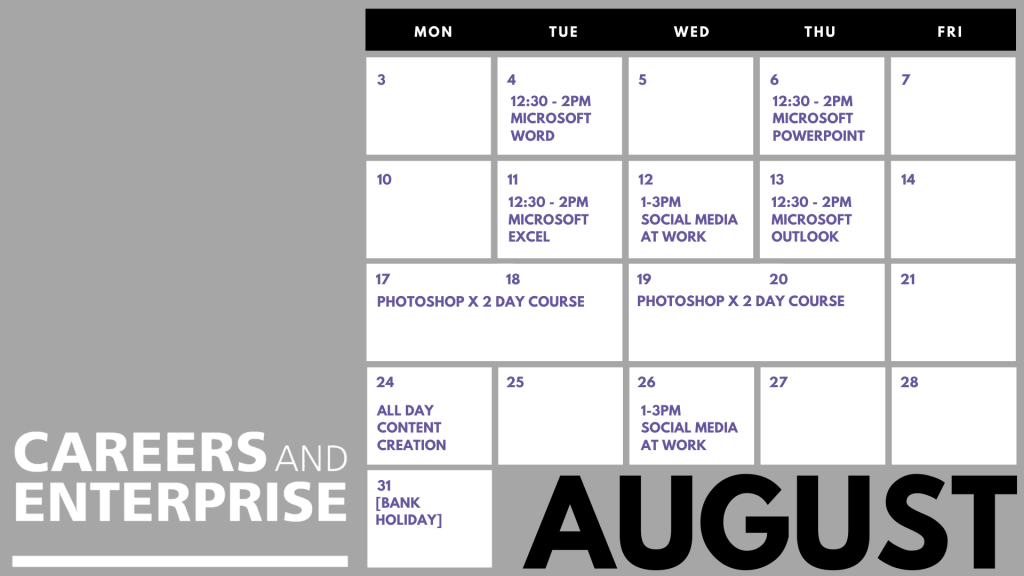 So, what I do now?
Follow us on our Social Media! This is the best way to find out exactly when our workshops will be available for booking as well as when new ones are coming up! Here are our channels:
We are on Facebook, Instagram & Twitter! Check out our exciting news below:
Getting further support from The Careers and Enterprise Team at CCCU
You can get ongoing careers support via the following ways: