Another Heritage & History post is here! In this post, we hear from Maz Hamilton, the Sustainability Coordinator at CCCU with some input from John Hills, the Sustainability Project Officer at the University. We will be discussing the Johnson Community Wellbeing Wildlife Garden and I will be handing the mic over to the people who are heading up the project. I hope you find this an interesting read and it inspires you to check out the garden or even encourage your tutors to promote it is a whole group activity.
A little about Maz…
She has worked in the Sustainability team since 2012 as the Sustainability and Futures Initiative Coordinator. Her job is a varied one and doesn't have a set job description, so here is a little more about what she does on the team. She is responsible for dealing with all incoming enquiries to the Academy for Sustainable Futures (formerly the Sustainability Team) and liaising with local community groups who are focusing on climate action. Much of her work focuses on the Sustainable Development Goals, biodiversity loss and ecological breakdown, as well as being the main administrative support to the rest of the Academy team.
Whilst a self-proclaimed non-gardener herself, Maz does love walking, running and cycling outdoors and believes passionately in the power of nature to enhance our wellbeing, understanding that we as humans are part of nature, not separate from it!
To that effect, here is what Maz had to say about the Johnson Community Wellbeing Wildlife Garden…
What is the Johnson Well-being Garden and where can it be found?
The Johnson Community Wellbeing Wildlife Garden is situated between Johnson and the Daphne Oram buildings. Until 5 years ago, it was a neglected corner of the campus that few people knew about or used. The Sustainability Team took over responsibility for maintaining it, arranging for the pond to be re-filled and a shed to be built. In February of 2018, after another year of neglect whist the Daphne Oram building was being constructed, we employed Jo Barker, a local garden designer to help us transform it into a welcoming, relaxing space for all staff and students to enjoy, as well as local wildlife!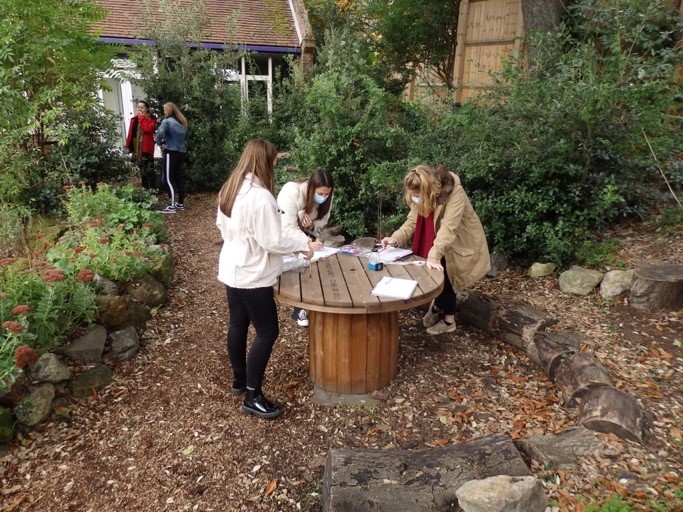 Who is the garden for?
The Garden is for everyone and anyone who works or studies at the University and wishes to use it. This means it is available for students, staff and the wider University community to use. Sometimes tutors and their groups of students use it for field work as part of their curriculum, which is what you can see pictured left from October 2020. If this is something you're interested in finding out more about, please do get in touch with us.
Why do you think it benefits CCCU to have this on their campus?
The potential benefits to the wellbeing of members of our University community are immense, as the Wellbeing Garden provides a quiet, beautiful space to be in, to either to relax or connect with nature. There are also opportunities to take up a bit of gardening, either by adopting one of the allotment plots on the site, or by assisting with the many tasks necessary to maintain and develop the place.
Has access to the garden changed because of lockdown?
The Garden is always open to visitors, although currently it is only accessible via a few concrete steps, which we plan to remedy by enabling wider access as soon as possible.
John Hills, Sustainability Project Officer, has taken the lead on the Garden's upkeep, and since the start of this academic year has been doing a brilliant job of weeding, tidying and developing the garden. Throughout the spring lockdown the plants went rampant and grew in abundance, so when he was permitted to go back on campus, John took on the mighty job of clearing all that overgrowth and taming it back to a manageable state. He has been documenting his weekly work in a series of short videos which you can view on our facebook page under videos.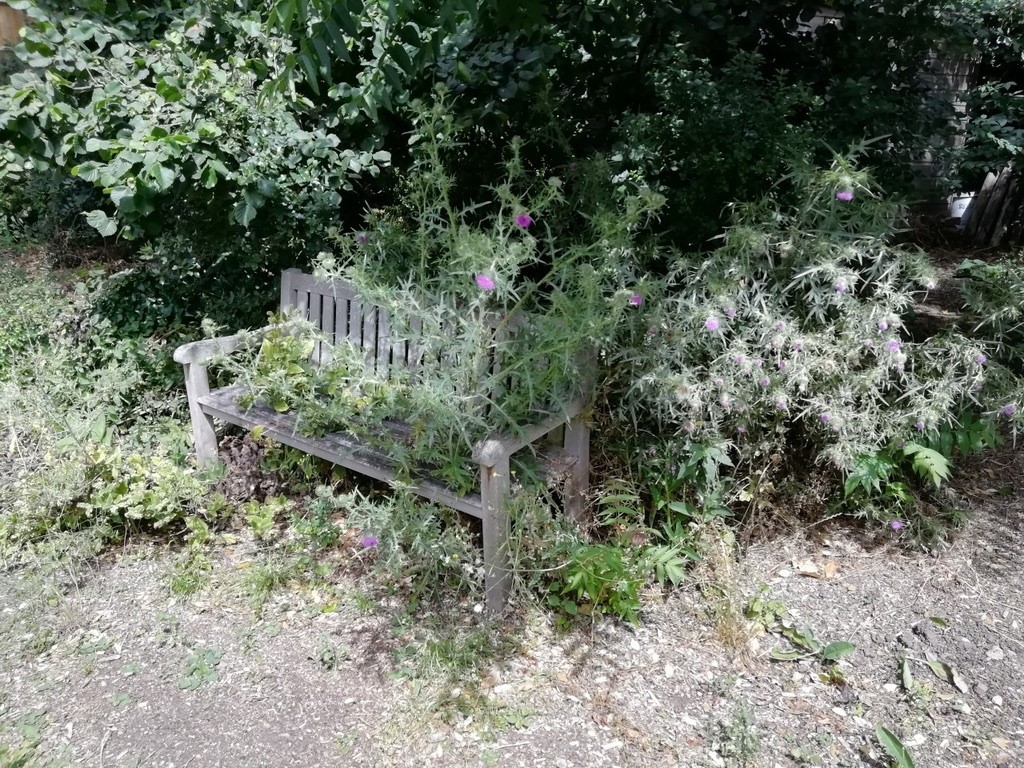 He works there most Tuesdays, and any staff or students who might be up for offering him some help, spending some time outdoors getting their hands dirty, are made most welcome! We are calling those 'Potter and Prune' sessions. In case you were wondering gloves are provided and social distancing is of course adhered to at all times.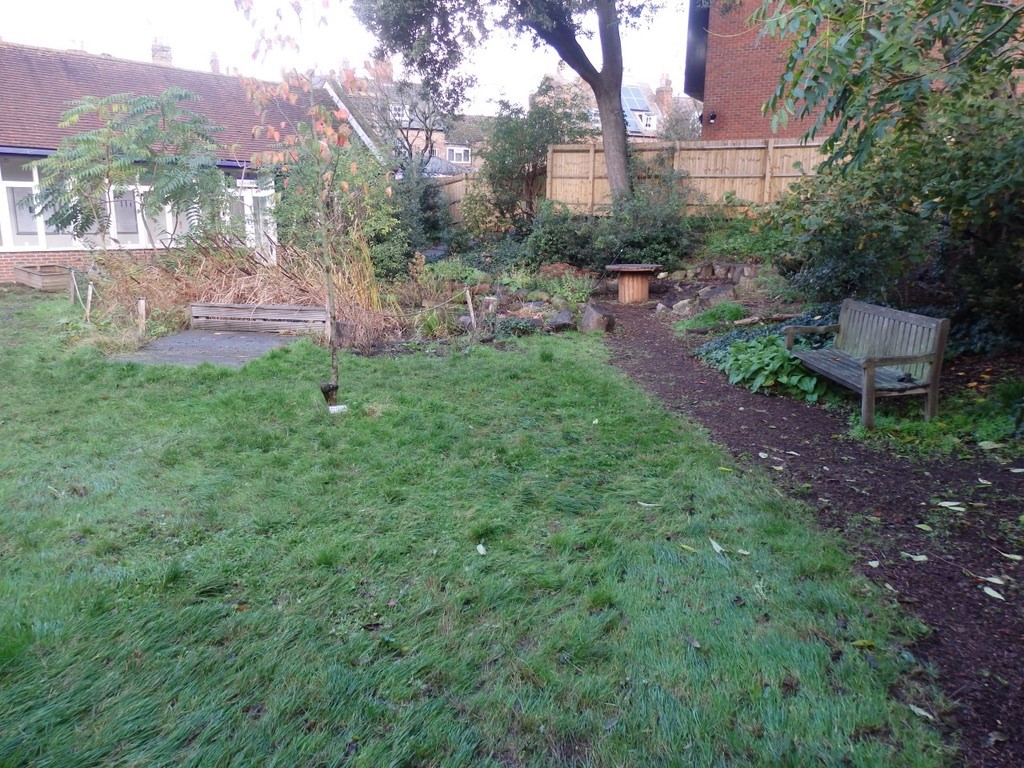 From the early Spring of 2020, the Academy for Sustainable Futures had planned to run a series of regular events in the garden to help anyone reconnect with nature. The garden designer Jo Barker was also going to offer some outdoor workshops about discovering the different seasons. We hope that we will be able to proceed with those at some time in the future, but at present maintenance of the garden is the only activity permitted under COVID-19 restrictions. An early example of one of the events that we run is pictured below: it was a Foraged Tea event in March 2019.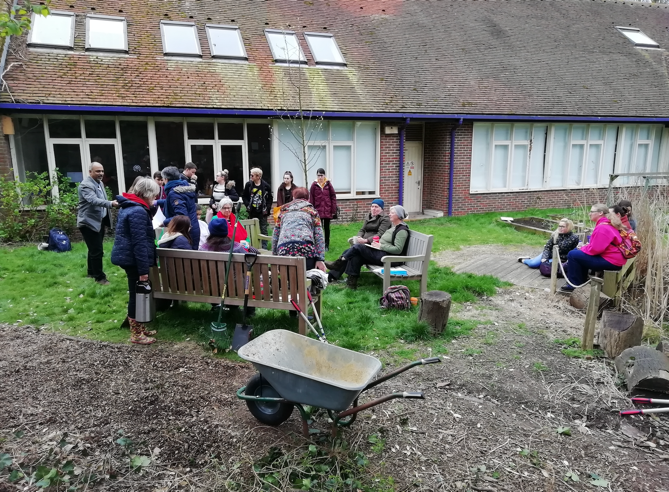 What lessons do you think we can learn for the garden?
Gardening tasks can also be enjoyable, and you don't have to think of yourself as a 'gardener' for them to be rewarding. For example, in the early weeks of revamping the Wellbeing Garden, several groups of staff who work together, helped clear the overgrown allotment plots. Their feedback was how surprised they all were by how much they enjoyed the experience and how it had also made them feel more bonded as a team.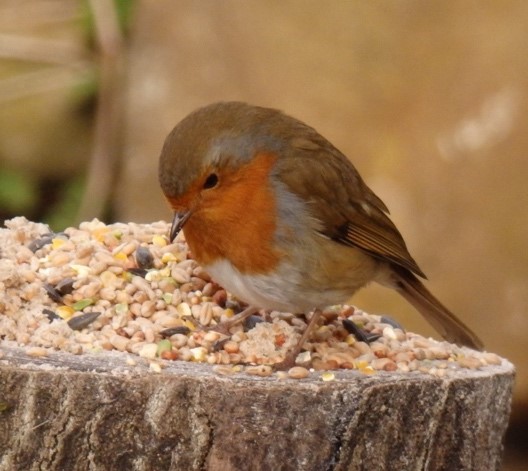 The main thing that we hope people can learn from the Garden is that it you don't have to venture out in the wilds of the countryside to enjoy and get the benefit of being in nature. There is so much wildlife all around us in this relatively urban setting! For example, last year we had a friendly, resident robin (pictured above) who came along every time the ground was being dug up; indeed, quite a few of the local birds would show up when we were working in the Garden and they are not the only ones (squirrel pictured below)!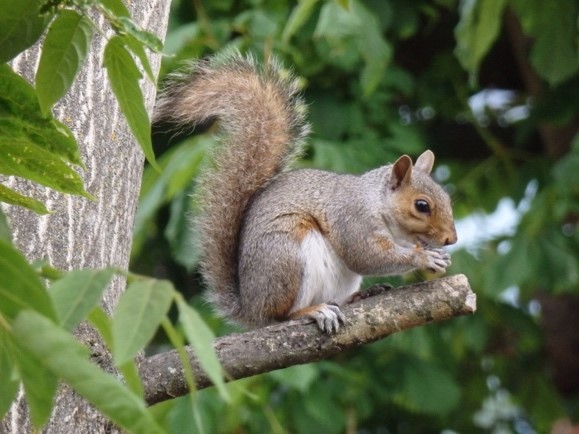 The pond has also attracted newts and dragonflies, and let's not forget that all the plants and trees, however seemingly ordinary, contribute to making this a unique and lovely place. This autumn we have seen some fungi growing in the garden. Looking closely at the intricacies of a leaf or the patterns in the bark of a tree, for example, gives you a different perspective on the wonders of nature. Even taking a few moments to stop, and look up at the clouds, or listen to the sounds around you, can have a profoundly beneficial effect and contribute to your wellbeing.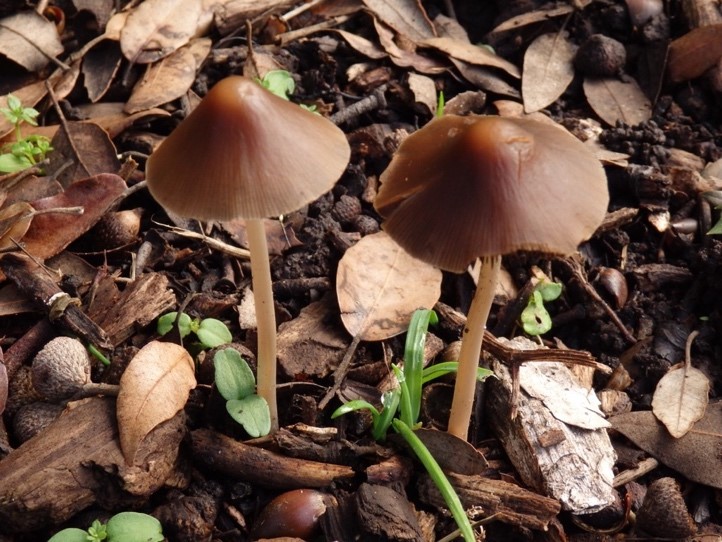 I want to say 'thank you so much' to Maz and John for their contributions on this collaborative piece, we hope you learnt something and that it has inspired you to get involved with some of the work on the garden!
If you would like to find out more about getting involved, pop Maz an email or head to our Social Media pages and we can put you in touch with the right people for what you need.
by Fran Allen, SGO Projects Officer #learningforthefuture in conversation with Maz Hamilton, Sustainability and Futures Initiative Coordinator