This month, we're doing two types of movie and TV show recommendations for Women's History Month – the historical kind, looking at real life women from history and their stories – and this kind, the girl power kind, which is the one I wanted to write more, anyway.
Already this month we've posted a history of girl power, based in 90s Riot Grrrl culture and being mass marketed through the Spice Girls, but that doesn't cover the TV and movies of the girl power movement. For instance, Xena: Princess Warrior, Buffy the Vampire Slayer and Sabrina the Teenage Witch all coming to our screens with strong and complex leads, aimed specifically at girls.
In terms of movies, they were more often than not aimed at teenage girls, who have tended to be the arbiter of trends for much of modern history. Girl power movies tend to be funny, light-hearted, with an underlying edge of honesty. The comedy is whip-smart, the fashion iconic and, often, easy to replicate. These movies of the 90s and 00s became cult classics and must-watch viewing for the young girl growing up in a world where the feminist landscape was changing quickly.
We're not talking the teenage-oriented romcom like 10 Things I Hate About You (although I do, thoroughly, recommend it) – we're talking the movies with girls supporting girls and doing incredible things, whether there's a romance involved or not.
As done before, if the title is accompanied by a 💕, it means I've watched (and loved) the film myself.
I refuse to recommend garbage.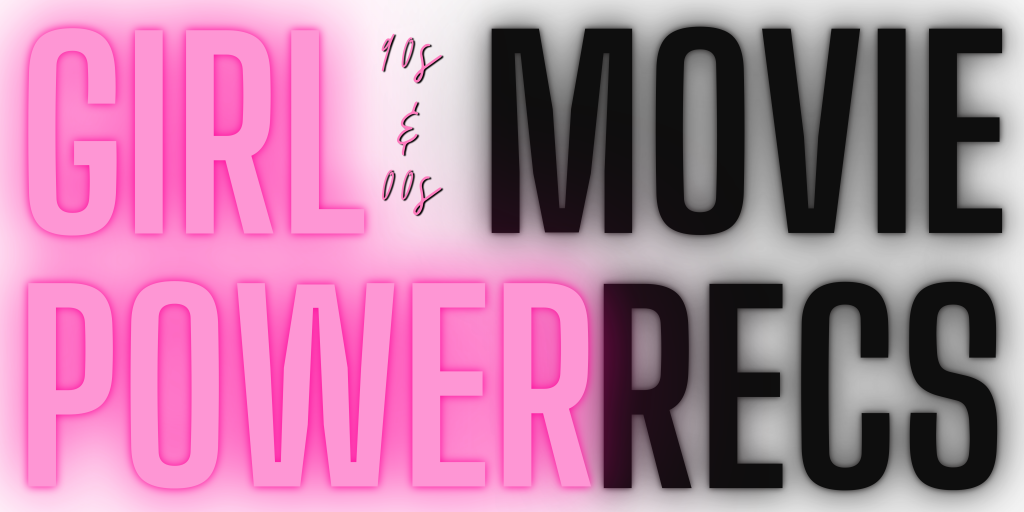 Stick it, dir. Jessica Bendinger (2006) 💕
Haley Graham was once an up-and-coming gymnast until she walked out of the World Championships mid-competition. Now, lost and facing juvenile detention, she's sent back into gymnastic training – a world of ultimate perfection for girls, and all-too-strict ruling. Includes incredibly fun camera angles and shots of the gymnastics and an incredibly grumpy mentor-mentee relationship.

Jennifer's Body, dir. Karyn Kusama (2009) 💕
Although practically laughed out of the cinemas when it premiered, Jennifer's Body has become a cult classic. The dark comedy about a violated cheerleader getting revenge on men and the relationship with her best friend who's in love with her will become a quick favourite as long as you're willing to sit back and occasionally say "Huh, good for her."

Clueless, dir. Amy Heckerling (1995) 💕
With iconic outfits and hilarious dialogue, Clueless is about high school popular Cher proving that she's not just her vapid lifestyle as she takes a transfer student under her wing in attempt to make her popular, too. Includes the timeless line "May I please remind you that it does not say 'RSVP' on the Statue of Liberty."

Bend it Like Beckham, dir. Gurinder Chadha (2002) 💕
Starring young Parminder Nagra and Kiera Knightley, this movie is about a talented British Indian football player and her traditional parents who don't want her to play. Themes include: fighting for your dreams, female friendship and whether David Beckham really is the best football player of 2002.

Mean Girls, dir. Mark Waters (2004) 💕
Of course Mean Girls is on this list. It's a classic. New student Cady (Lindsay Lohan) decides to befriend the popular girls in an attempt to halt their reign of terror and bring them down, but finds herself becoming one of them in the process.

Angus, Thongs and Perfect Snogging, dir. Gurinder Chadha (2008) 💕
Chadha directs another life-changing teen girl movie with Angus, based on the book series of the same name. The film centres on a teenage girl keeping a diary of the ups and downs and downright embarrassings of her life, and features a young Aaron Taylor Johnson before he appeared in the MCU for all of five minutes.

Bring It On, dir. Peyton Reed (2000)
A championship-winning high school cheerleading team discovers its previous captain stole all their choreography from an inner-city school and now must scramble to come up with a new routine for competition.

The Princess Diaries, dir. Garry Marshall (2001) 💕
Awkward teen girl Mia (Anne Hathaway) discovers that her absent, recently deceased father is actually the heir to the throne of the small country of Genovia. Her grandmother (Julie Andrews) must teach her how to become a princess, and, later – in the sequel – how to become Queen.

Whip It, dir. Drew Barrymore (2009) 💕
The most recent on the list, right at the end of the 00s, Whip It is a brash, messy movie about a women's roller derby championship and a seventeen-year-old who joins despite her mother's wishes for her to be a pageant queen competitor instead.

Legally Blonde, dir. Robert Luketic (2001) 💕
Fashion-forward sorority queen Elle Woods decides to go to Harvard Law School to chase her ex-boyfriend who has recently dumped her. Once there, she discovers she's more than just her looks (but the looks are fun and important too).


What's your favourite girl power movie? Have I forgotten something that absolutely belongs on this list? Let us know! Treat yourself to a little walk down girl power memory lane this Women's History Month (or wait a week and see what our historic women's movie recommendations are!)

By Bethany Climpson, Sustainability Engagement Assistant