As we welcome a new cohort of students, Director of Undergraduate Programmes, Dr Demetris Tillyris explains the secret to our recent success in the Guardian League Tables.
No doubt, University League tables have their flaws; for, they tend to measure different variables which do not always accurately capture students' actual, lived experiences and satisfaction with teaching and learning. Yet, we are extremely proud and delighted that the Guardian University league tables – University rankings which focus more heavily on student experience and learning – placed our programme as the 9th best Politics and IR programme in the UK and the best in the South East!
Our programme is ranked ahead of numerous Russell Group institutions (e.g. UCL; The University of Manchester; University of Leeds; University of Edinburgh; University of Glasgow; University of York; University of Exeter; Queen Mary University of London; University of Sheffield). Indeed, what is also noteworthy is that we are the only Politics programme from a post-92, widening participation University which has made the Guardian top 10!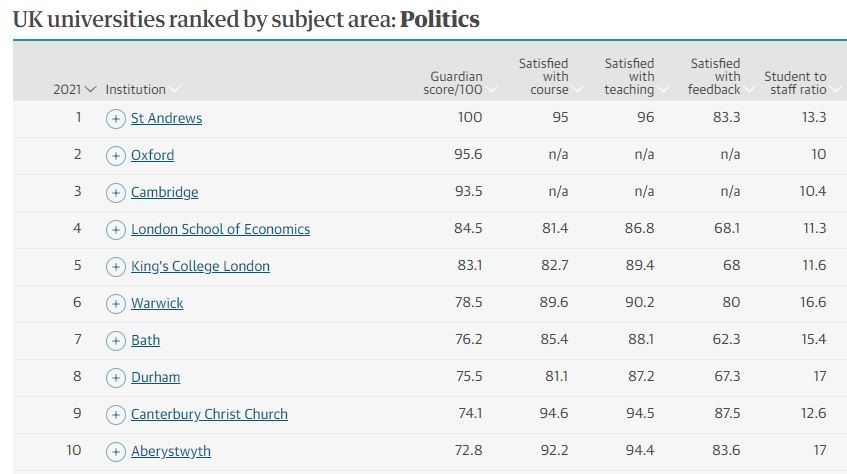 More specifically, we have been ranked as one of the best Politics and IR programmes in the UK in the following categories:
Student Satisfaction with the Course: 4th (94.6%)
Student Satisfaction with Teaching and Learning: 4th (94.5&)
Student Satisfaction with Feedback: 1st (87.5%)
Value Added (a measure of how students' academic performance improves at university): joint 4th (7/10), with University of Oxford, University of Leeds, QMUL, Birmingham, Nottingham, and Warwick (amongst other Universities). Given the lower UCAS tariff for entry to our degrees compared to the others, this is a clear sign that our work to widen participation is succeeding!
These scores reflect our team's hard work and commitment to teaching excellence, and our endeavour to create democratic, supportive and inclusive spaces of learning which empower students, and which equip them with the intellectual tools to establish and lead meaningful and successful lives and professional careers.
In particular, these successes demonstrate the effectiveness of some of the pedagogical innovations which we have introduced:
The disruption caused by the Coronavirus in 2019/20 has not yet gone away. However, this acknowledgement and celebration of our focus on supporting students to achieve their full potential has given us a wonderful boost. The Guardian League tables are based on the NSS scores, and we would thus like to express our gratitude to our current students and recent graduates for their vote of confidence and support.
As we begin 2020/21, we hope that all of our students, new and continuing, will work in partnership with us to make the very best of whatever circumstances we may face.
There can be no doubt – choosing to study with us will be a decision you won't regret!