Women's History Month – Daphne Oram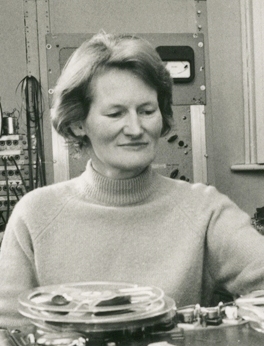 Daphne Oram
Pioneer and Audio Visionary
When CCCU announced that the new creative arts building on the North Holmes Road campus was to be named after Daphne Oram I must admit I knew very little about the British composer and electronic musician who lived and worked in Kent, and lectured at the university. With the building having recently been opened and March being Women's History Month, this is a timely opportunity to use the library's resources to find out more about the life and work of the woman described as an 'unsung hero' of electronic music, who generated a whole new way of creating and thinking about sound.
BBC Beginnings
Born in 1925, Oram turned down a place at the Royal College of Music in 1942 to become a Junior Studio Engineer and 'music balancer' at the BBC. It was during this period that she began to experiment with sound using tape recorders, splicing, looping and changing playback speed and direction. Oram also composed a number of pieces including 'Still Point', considered the first composition to combine acoustic orchestration with live electronic manipulation. The piece, rejected at the time by the BBC, remained unheard until it was performed for the very first time at last year's Proms:
If you would like to watch the performance of 'Still Point' from 'Prom 13: Pioneers of Sound', it is available on Box of Broadcasts, an incredible online resource containing millions of television and radio broadcasts from a wide range of free-to-air channels.
Oram's success in producing electronic themes and sound effects, including a composition for the play 'Amphitryon 38' which was the first wholly electronic score in the history of the BBC, led to a growing demand for programmes to be scored in this way. Oram campaigned for dedicated facilities and in 1958 the BBC's Radiophonic Workshop was established with Oram as its Studio Manager. If you'd like to read further about the history and work of the workshop, there's a brilliant article on the database Rock's Backpages here. Despite her success in having established the workshop, Oram was not involved in its activities for long. Inspired by musicians across the channel and increasingly frustrated by the BBC music department's attitude towards electronic composition and its refusal to make it a focal point of their activities, she resigned from her post less than a year into the workshop's existence. However, through her pioneering achievements she made possible the work of later workshop musicians such as Delia Derbyshire, composer of the iconic 'Doctor Who' theme tune.
A Brand New Sound 
Upon leaving the BBC, Oram set up her own studio in Fairseat, Kent, for the composition of electronic music. The innovative technique she created called Oramics, for which she built her own unique machine, involves drawing directly onto film strips which are then read by photo-electric cells and converted into sound. In Oram's own words:
"Every nuance, every subtlety of phrasing, every tone gradation or pitch inflection must be possible just by a change in the written form."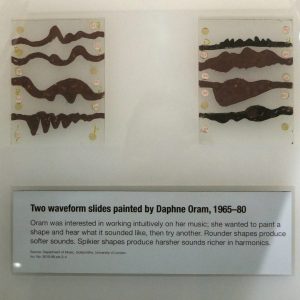 In addition to lecturing on electronic music and studio techniques at Canterbury Christ Church, Oram continued her work as a commercial composer to fund the development of Oramics, using her system to make a wide range of music and sounds for radio, television, theatre, film and exhibitions. She received two grants from the Gulbenkian Foundation and was able to produce 'Contrasts Essonic' in 1963, the first entirely sound-drawn piece using the machine. Oram's research evolved to look at the behaviour of the ear and perception of the brain's interpretation of the world, studying vibrational phenomena and describing Oramics as "the study of sound and its relationship to life."
The Legacy of Oramics
A series of strokes sadly forced Oram to stop working and she died in 2003 but there is no doubt that her methods, techniques, and explorations of sound theory and music philosophy have been hugely influential through the decades since the creation of the Radiophonic Workshop and the Oramics machine, and that her work has paved the way for contemporary music production. Oram's insight allowed her to see the future impact of her work, knowing that she was laying a foundation that could be built upon as technology advanced. Indeed, Oram saw electronic music as a field in which women could thrive and was excited at the prospect of her work planting seeds that would blossom in time:
"My advice to women composers – get going now but be patient. Give it plenty of time to develop. Remember the piano – invented just before 1700, yet what are considered to be the first real piano compositions (Clementi's sonatas) did not appear until some 75 years later. Mozart took to it around 1777. Beethoven showed what really could be done, truly pianistically, more than a 100 years after its invention. Many musicians feel that there is something "lacking" in computer sound. To my mind they are quite right- we are well aware of it- we have neither had sufficient length of time to work on it, (the 75 years referred to above!), nor subtle enough hardware for the job. But the home computer is today a very sophisticated machine, getting better every year. How exciting for women to be present at its birth pangs, ready to help it evolve to maturity in the world of the arts. To evolve as a true and practical instrument for conveying women's inner thoughts, just as the novel did nearly two centuries ago."
Oram's archive currently resides at Goldsmiths University in London, where it can be seen and accessed by the public and is used for ongoing research. A compilation of Oram's music was released in 2007, and in 2016 a new edition of her book, 'An Individual Note of Music, Sound and Electronics', originally published in 1972, was released. Oram has been featured in radio and television documentaries, and in 2017 a play about her life and work premiered, live scored with electronic music, titled 'Daphne Oram's Wonderful World of Sound'. 2017 also saw the inauguration the of the Oram Awards, launched by the PRS (Performing Right Society) Foundation and the New BBC Radiophonic Workshop to celebrate "emerging artists in the fields of music, sound and related technologies in honour of Daphne Oram, and other pioneering women in music and sound."
Unsung No Longer
While researching Daphne Oram using the resources found on LibrarySearch, I came across an article about an exhibition at the Science Museum, London, in 2011, 'Oramics to Electronica', which put Oram's fragile machine on display and featured a virtual version of the machine that allowed visitors to compose their own pieces. I was most disappointed to have missed it! But I then discovered that the BBC had included a section on Daphne Oram and the exhibition on their technology show Click, which is available to watch on Box of Broadcasts. LibrarySearch also showed me that Drill Hall Library in Medway has a CD copy of a compilation titled 'An anthology of noise & electronic music', which contains some of Oram's work and which I shall be requesting in the near future using the library's hold request service.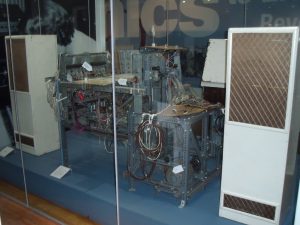 The Oramics machine on display at the Science Museum
Daphne Oram is a pivotal figure in the development of electronic music and its applications, and it is most fitting that CCCU has dedicated the new creative arts building to this woman of extraordinary vision and innovation. I would like to think that Oram would be thrilled at the prospect of future generations of creators honing and developing their skills, and making their own trailblazing discoveries, under a roof bearing her name.