This post was written for History Day 2020, part of the Being Human Festival 2020: New Worlds.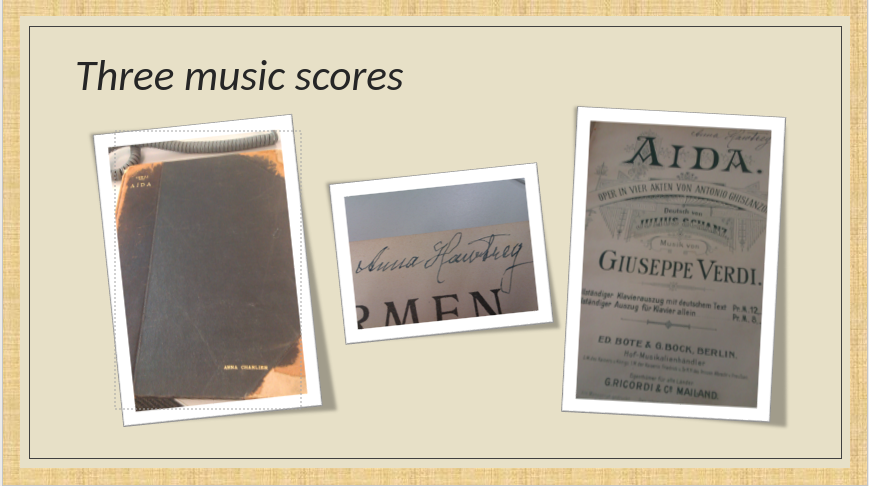 Three seemingly 'ordinary' early-20th century music scores. But behind their ordinariness lies a tale of love and loss to rival even the most dramatic Victorian fiction. I found the scores in our collection over a period of time, firstly through cataloguing, then actively looking to see if there were any others. What is special about them is that they belonged Anna Charlier, later Anna Hawtrey after her marriage. But who was she?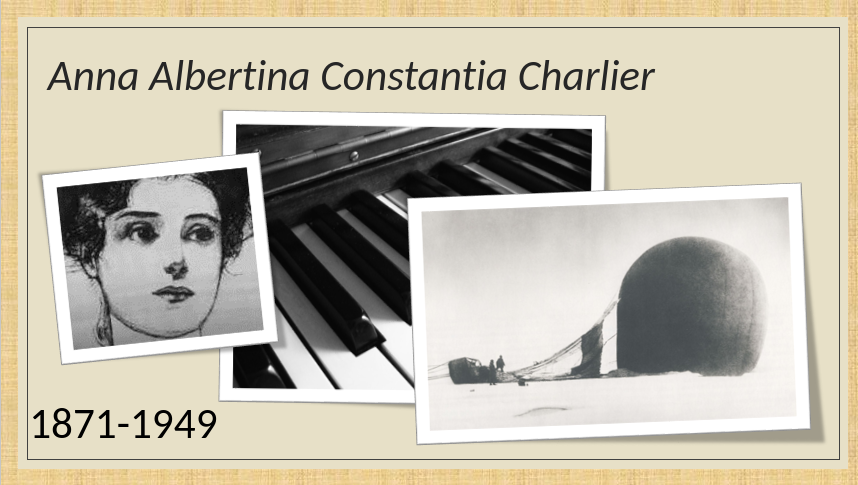 Anna was born in Sweden on 25th July 1871. During her long life she moved from Sweden to America, and then to England, where she died in 1949. She wanted to become a concert pianist, but in the end her life was dominated by her relationship with Nils Strindberg, a trainee engineer/photographer who became an explorer.​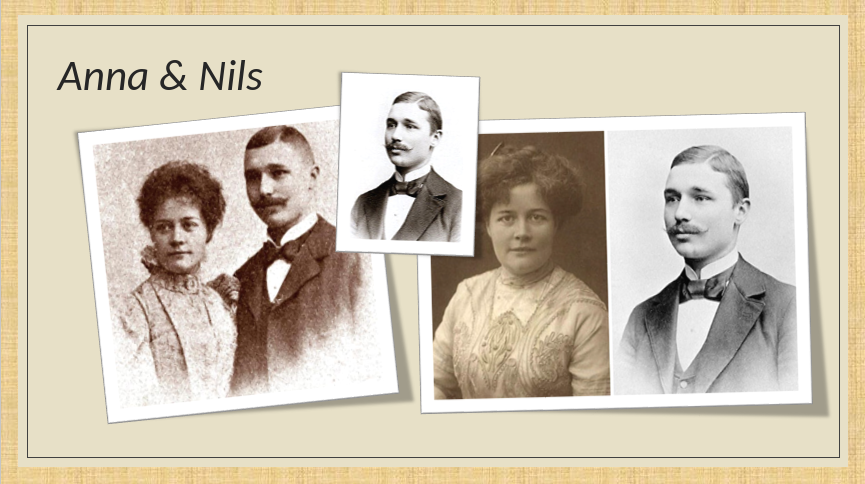 Anna met Nils in 1896, while she was working as a governess in Stockholm, among other things giving piano lessons to 12 girls – Nils was a tutor for one of the families she worked for.​ Nils is reported to have been shrewd, friendly, polite and well-mannered, and was becoming one of Sweden's most famous men due to his involvement in Salomon August Andree's planned balloon expedition to the North Pole. He was also the cousin of August Strindberg, one of Sweden's most famous writers at the time.​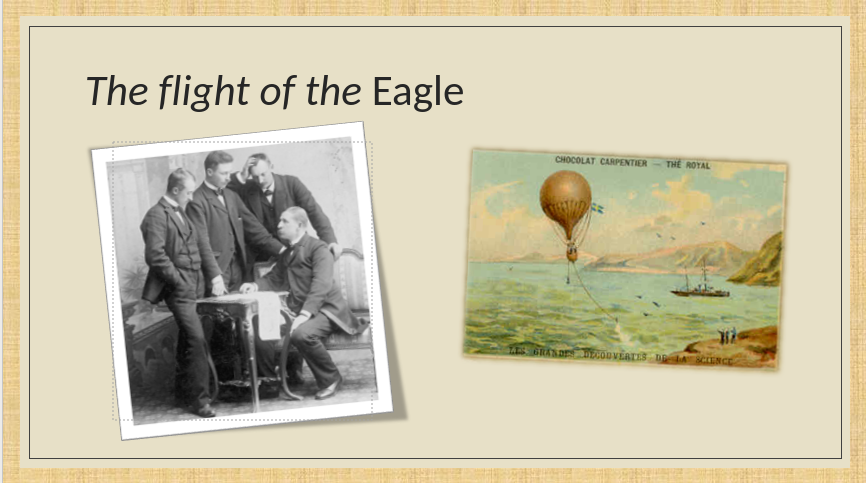 There was a team of four men involved in the planning of the flight of the Eagle: the reserve Vilhelm Swedenborg, Nils Strindberg, Knut Frænkel, (aged 27) and their leader, Andrée (see image above).​ Nils was working as a teaching assistant at the Technical University in Stockholm, where he had achieved high marks in maths, chemistry and astronomy. He was also a keen and talented photographer, so Andrée employed him on the expedition as second-in-command and the official photographer. ​
​The balloon set off from Svalbard (650 miles from the Pole) on 11th July 1897, when Nils was 23 years old. According to onlookers, he cried when he left Anna.​ Anna moved in with her future father in law, and moved to a new teaching post in Väddö.​
The men never returned, and there was no news of them for another 33 years, when their bodies were finally discovered in 1930.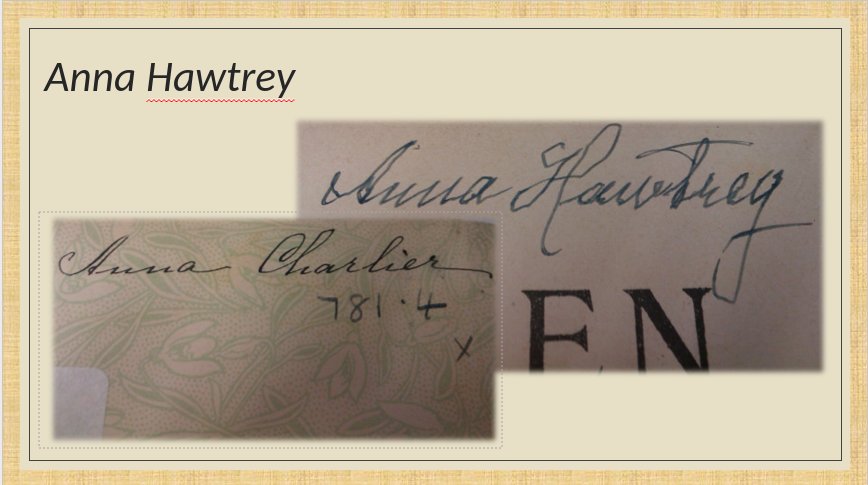 Following Nils's disappearance, Anna continued to work as a piano teacher, but seems to have had Parkinson's disease or similar (see handwriting above). She kept in touch with Nils's relatives in Stockholm. 13 years later, she married an English French teacher, Gilbert Hawtrey, and moved to her own 'new world', the United States. She later moved with Gilbert to England, where she lived until her death in 1949. ​It looks like the music scores moved with her, as they contain both her maiden and married names.
"Anna's husband…was a wonderful human being who tried in all possible ways to help his sorrow-ridden wife to forget. But it was all in vain. Anna could not forget"

Ulla Strindberg, Nils's sister, who visited Anna in Torquay in 1947.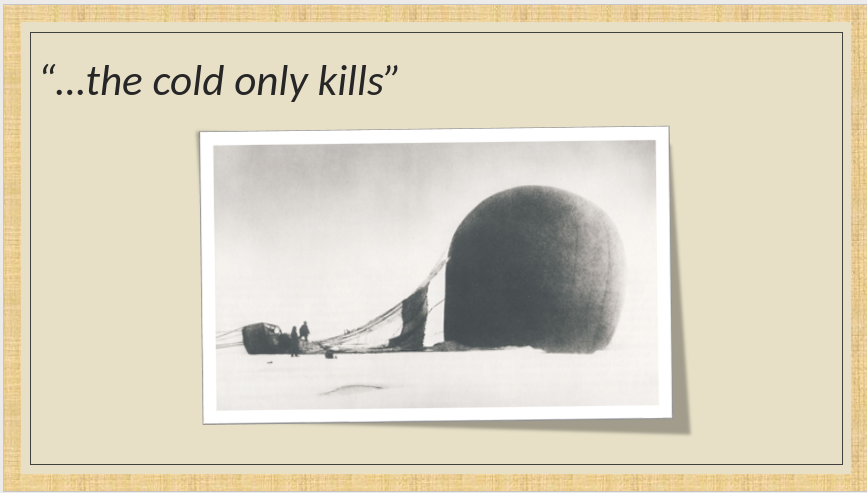 Alongside the men's bodies, diaries and letters were found. These detailed some of what had happened to them, but the cause of their deaths remained a mystery until fairly recently.​ Bea Uusama has written about her obsession with his mystery in her book, The Expedition. She believes that Strindberg, at least, was killed by a polar bear.​ ​According to the diaries, the balloon's steering lines came unscrewed, ice weighed down the balloon, and the men were forced to make an emergency landing after only three days. This picture above, taken by Strindberg, shows the crashed balloon with Knut Frænkel and Andrée standing beside it. Between 4th August and September 9th, when Andrée stopped making diary entries, the ice had carried them approximately 80 miles south-southeast, when they had been trying to travel the same distance southwest.​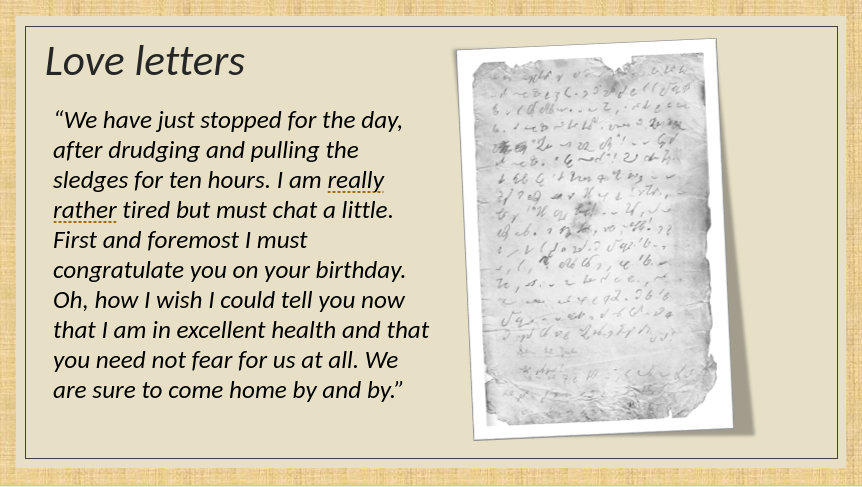 Among the remains are a locket containing a lock of Anna's hair that Nils wore round his neck, as well as letters (in shorthand) that he wrote to Anna. "These tend to reflect his insistence on believing that he would return to her, which is perhaps what sustained him", says Alec Wilkinson in his New Yorker article about the expedition. On Nils's birthday, Andrée gave him letters that Anna and his family had written before the expedition left – "It was a real pleasure to see how glad he was", Andrée recorded in his diary entry for that day.
There was national mourning in Sweden when the remains of Andrée, Strindberg and Fraenkel were returned to their homeland. Anna had returned to England by this time, but she left a wreath next to the men's grave "To Nils, from Anna". ​Nils's brother, Tore, sent Anna the letters Nils had written to her.​
Anna died aged 78, and is buried in Torquay in Devon. At her request, her heart was cut from her body and cremated separately. The ashes were put in a silver box, which was sent to Tore Strindberg by Gilbert Hawtrey, and buried with Nils's remains (by his brothers) in the Northern Cemetery in Stockholm on 4th September 1949, what would have been Nils's 75th birthday.
"Ashes from near the heart of ​
Anna Albertina Constance Hawtrey (née Charlier)​
To be placed near the grave of Nils Strindberg​
To whom she was engaged in 1897​
– And may the Great Conductor allow them both to share in the Music of the Spheres"
I'm still trying to find out how the music scores came to be in our library. I would be very interested to hear from anyone who might be able to shed light on this mystery.
Image credits