One of the frustrating things about lockdowns, self-isolating and restrictions is not being able to get to libraries and archives close to home. To celebrate History Day 2020, Michelle Crowther looks at some of the freely available online collections of Kent history and recommends some of her favourites.
Centre for Kent History and Heritage
The Centre for Kent History and Heritage is based at Canterbury Christ Church University. Researchers and staff produce fantastic research about the locality, which you can find on the university's Research Space Repository. You can read about topics such as civic charity in the Kentish Cinque Ports or early Elizabethan Reformation in Canterbury. The centre has recently published a listing of online resources for Kent researchers. and produces a regular blog featuring news about local history topics.
Kent Digital Map Project
If you want to know more about which literary giants spent their holidays on the Kent coast, then this is the place to come. The Kent Digital Map project is run by the School of Humanities at CCCU in conjunction with JSTOR Labs and is an ever evolving space dedicated to mapping Kent historical and literary events. It's a collaborative venture, so if you want to get involved they are always keen to work with volunteers to tell Kent's story. Find out more about Charles Dickens and his Kentish connections in the Dickens Land visual essays.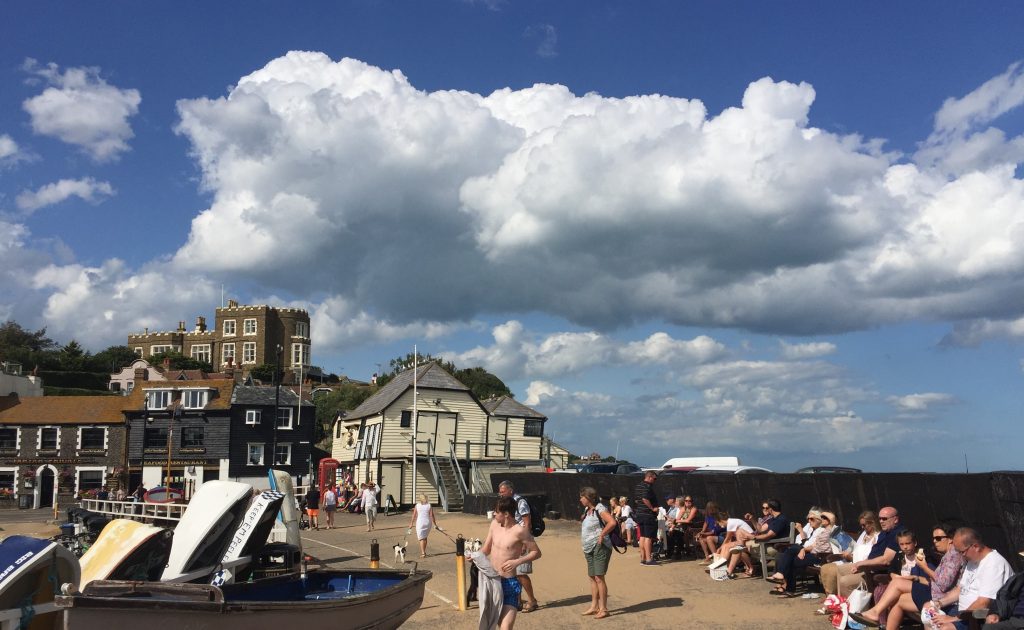 South East Archive of Seaside Photography (SEAS)
This gallery of family seaside photos curated for the Beyond the View exhibition, provides useful insights into commercial photographic practice from approx. 1850-1900. Bathing machines, goat carts and sailors suits abound. You can read more about the project on the SEAS website.
Canterbury Amateur Film Archive
A wonderful collection of amateur film showing scenes of local life. Watch Count Zborowski home movie shot in the summer of 1924 or scenes of Dover, Whitstable, Herne Bay or Margate life in the 1930s and beyond. You can search the blog to find out more.
Screen Archive South East
You can watch some delightful footage of Kent life from the turn of the century onwards, including the Canterbury Cricket Festival, Hop Picking, Armistice Day, the Leas Cliff railway, Folkestone, the Great Storm of 1953, Kent County Agricultural Show, Broadstairs in the 1930s, a holiday in Sandgate and Dreamland, Margate. Indulge your love of Kent history with these atmospheric clips of times gone by. You can search the site to find out more.
Folkestone Museums – Learn with Objects
Folkestone Museum's Learn with Objects is a great resource for trainee teachers. If you are doing a PGCE or a Schools Direct programme and are teaching significant historical events, people and places in their own locality as part of Key Stage 1 or undertaking a local history study with pupils then you'll find resources and activities to support you. The site includes pieces written by Lynn Turner, Harrison Grist and Jordana Slater, Applied Humanities Work Placement Students, from CCCU, so we're especially proud of their contribution.
Other Local archives
You can find other interesting local history objects and stories via online exhibitions and blogs.
Medway Archives currently has three online exhibitions: DickensLand; William Cuffay and Chatham; and Percy Hetherington Fitzgerald.
Kent Archives has a series of recorded talks inlcuding 'Bookishness': Writing, Sharing and Collecting Books in Early Modern Kent by CCCU Lecturer Claire Bartram.
Canterbury Cathedral Archives have some fantastic images, blogs, podcasts and collections, including A History of Canterbury Cathedral in 20 documents.
This blog was written by Michelle Crowther, Learning and Research Librarian – Humanities, Languages and Health.