It's been a strange winter in the archives and we'd like to tell you more about some of the exciting things we have been doing and the volunteers who help curate the collections. So read on…
This semester has been a very productive time in the archives. Volunteer numbers have been buoyant and so we have had the chance to work on several projects.
Braddon Archive
Jane, Iva and Sadie have been creating an inventory of the Mary Elizabeth Braddon material. This has allowed us to reappraise the material. There are several manuscripts written by Braddon's son W.B. Maxwell and her grandchildren Barbara and Henry, so we feel that this is much more of an intimate Maxwell family archive than we originally realised when we started on the project.
In fact, Sadie is working on a blog post about W.B. Maxwell, so you can find out more about his life and work and we look forward to sharing that with you soon.
Bernice created catalogue entries for all the Maxwell books that are in the collection, which involved measuring each item and uploading key bibliographical data onto a spreadsheet, so that staff in the office (thank you, Dan) were able to add them to Library Search. Did you know that W.B. Maxwell wrote 38 novels of which we have 28 in the library?
As a result of our investigations into the life and work of W.B. Maxwell, a blog post was written about his wartime experiences and the Humanities in a Digital World students staged a mini wiki-edit-a-thon to improve the W.B. Maxell Wikipedia entry. A shout out to Amy Green who meticulously examined Maxwell's diaries looking for clues about his life.
Sarah Grand
A query from an Oxford researcher led to the digitization of some of the Sarah Grand collection, including her cheque stubs, which revealed that she paid for a nurse and her gas bills (she could afford them). We also examined her passport more closely which revealed her love of Germany during the 1920s, which got her into hot water in her home town of Bath, but there will be more on that in a forthcoming blog post. You can watch a video of Iva, who enjoyed updating the inventory and discovering that Sarah Grand left cigarette burns on some of her papers.
We had a visit from English literature students investigating the Sarah Grand Collection with Professor Carolyn Oulton.
Sidney Cooper Gallery
Lily-Belle, Katarina and Ester have started an inventory of the Arts and Culture posters, fliers and ephemera, including material from MA exhibitions which were held at the Sidney Cooper art gallery from 2004 to 2019. This is quite an interesting collection to catalogue as material ranges in size from A5 to A0, so it needs to be housed in boxes and rigid portfolios. There is still some work to be done on this but we are looking forward to completing this in the Autumn.
Henrietta Vaughan Stannard
The Henrietta Vaughan Stannard (John Strange Winter) collection was catalogued by Katarina and Iva who enjoyed taking a peek inside these stories of cavalry life. We have 76 of her novels in our special collections. A Wakelet was produced to share the inventory itemising letters, photographs and other printed ephemera.
Dover Methodist Scrapbook
The Dover Methodist Scrapbook was photographed by three Applied Humanities: employability in practice students and you can read more about this in our earlier blog post: The Dover Methodist Scrapbook, Herbarium Apuleii Platonici and all things Dickensian. Students studying Theology, Religion, Philosophy and Ethics were invited to look through the scrapbook and were fascinated by the Sunday school registers, which led to a discussion on how to engage children in church activities.
Kent Authors
We received a donation of novels set in Kent from Professor Carolyn Oulton, which she used in the research of her book Down from Kent: seaside reading in the Victorian age. We look forward to cataloguing those and hope that students will be keen to find out more about literature written in Kent.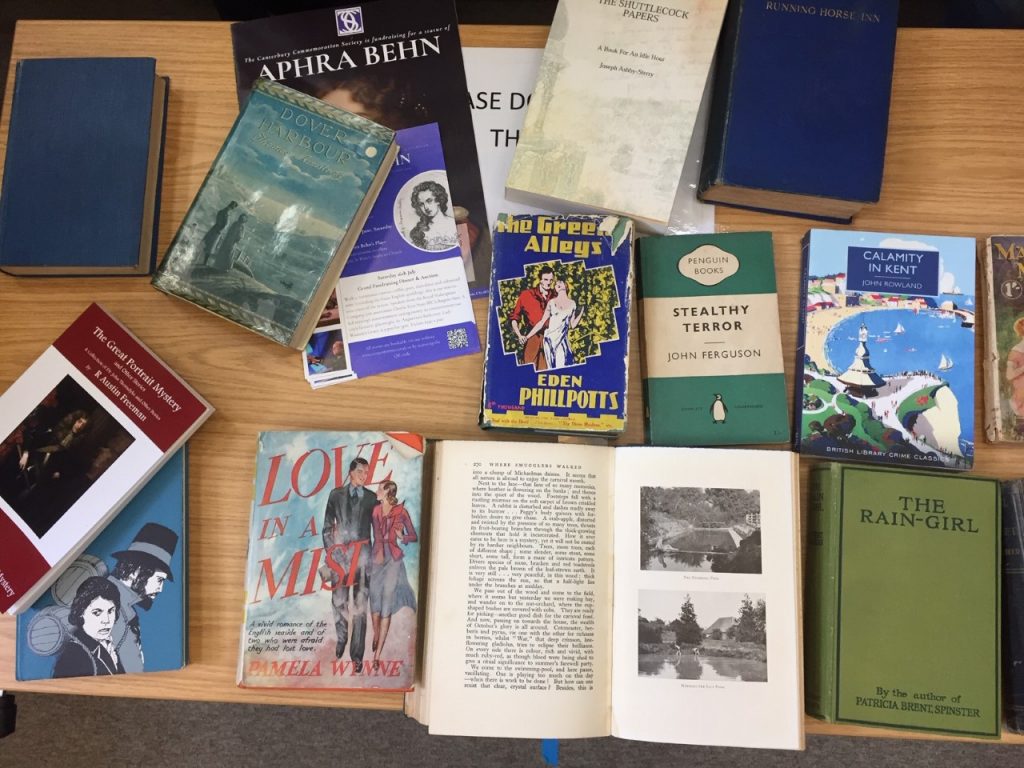 You can read more about some of these authors on Kent Maps Online e.g. John Ferguson and Pamela Wynne.
Nina Wilson photographed an old map of Kent for use in the Kent Maps Online project. This will be used to illustrate articles about the eighteenth century.
The University Archive
The University Governors were treated to a display of archives material representing all our collections during a visit to the library. This included material from the university's history, but also Maudson's chemists prescribing book, which is a gem for anyone interested in medical humanities or local history. Jane Joyce, who has been volunteering with the library since May 2019, was on hand to talk about the material.
What next?
A laptop has been re-imaged for student use so that the volunteers can now convert slides and negatives to photographs. There are boxes of slides in the archives and it will be interesting to see the early days of Canterbury Christ Church brought alive for a modern audience. We have already had an opportunity to use it, converting slides of the Dickens Festival at Broadstairs c. 1980s for the Dickens Museum, Broadstairs. Future projects include converting the university's slide collection to digital images. Here are two of the slides that we have converted to digital images (and a taster of things to come!):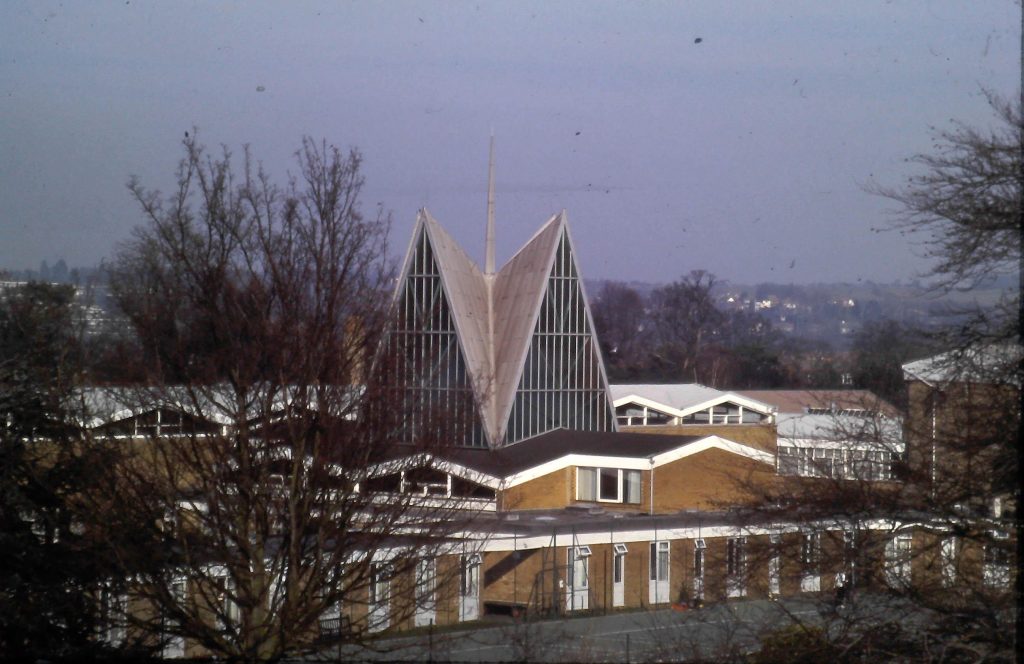 If you'd like to join us volunteering in the archives we meet on Thursdays at the Bridge Seating Area in Augustine House, but do sign up via the Volunteering portal or contact the library to express your interest.